Instant Pot Holiday Cheesecake Mini Jar Recipe
As an Amazon Associate and member of other affiliate programs, I earn from qualifying purchases.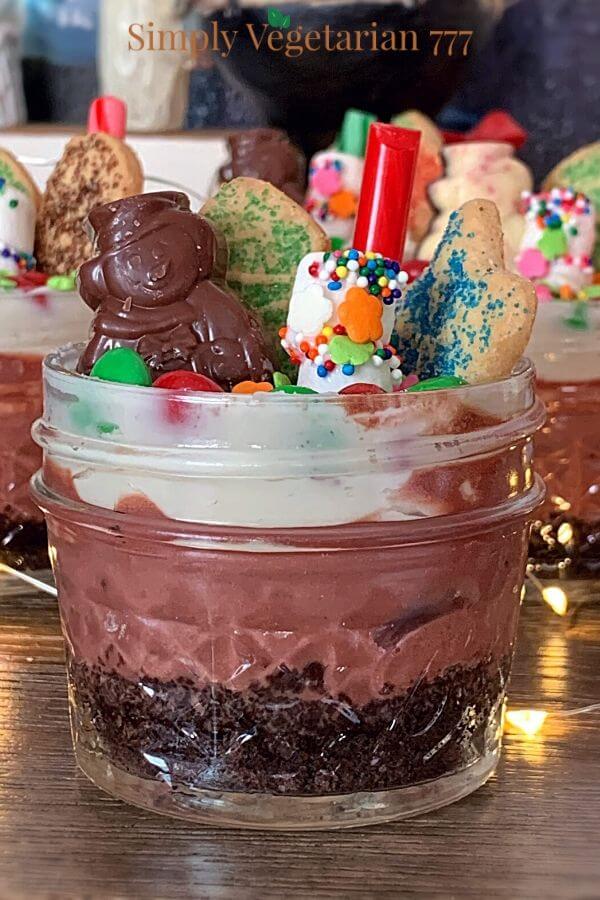 This Instant Pot Holiday Cheesecake Recipe will make your happy hormones go crazy. It is so simple to make and loaded with all the holiday fun stuff. These mini jar cheesecakes are perfect as HOLIDAY GIFT.
Have you checked our very famous and tested & tried 3 other cheesecakes? Do check these out – CHOCOLATE CHEESECAKE, NEW YORK STYLE CHEESECAKE, PUMPKIN CHEESECAKE. And the best part is that all of these are made in 4-ounce Jars recipes.
Important – Although the recipe is given in a recipe card at the end of the post. In between, you will find tips and other information related to the recipe.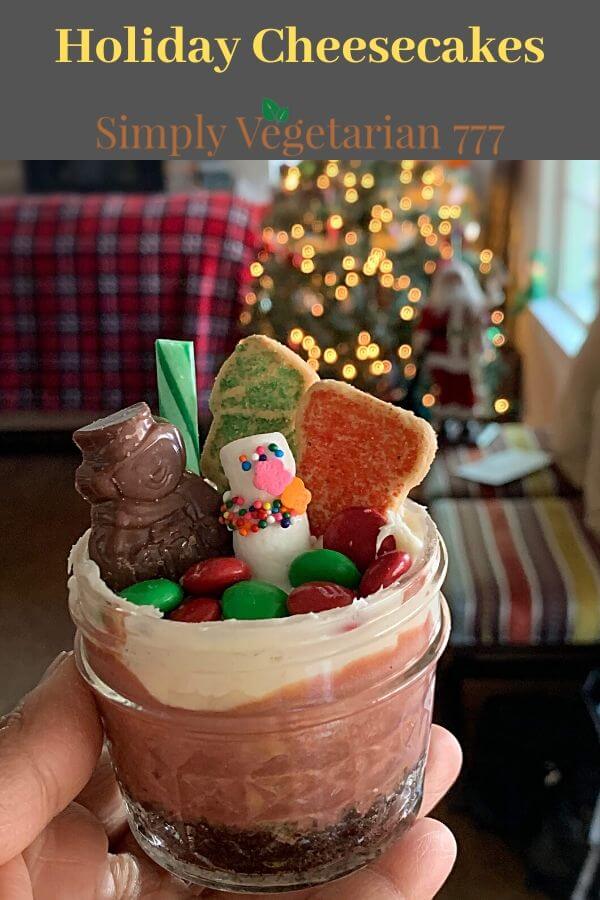 Easy Instant Pot Holiday Cheesecake Mini Jar Recipe
So, I made these for my 9-year-old daughter's Holiday Party early this month. And needless to say that the kids loved it. They decorated their Ugly Sweater Cookies first and then gorged on these Loaded Holiday Cheesecakes.
I know you might be thinking….too much candy and sugar there….but you'll…this mama doesn't go crazy on the other days of the year. So. it is ALL GOOOOD!! 😀
Psst..can I share a secret? Actually I was all set to make Red Velvet Cheesecakes for this recipe. But somehow, the color and chocolate proportions didn't work out and hence this CHEESECAKE was invented. Now that recipe is for later.
Please check out more PORTION CONTROL DESSERTS or DESSERT IN A JAR here – mocha express pudding, no-cook chocolate pudding, no-bake key lime cheesecake,no-bake cheesecake, no-bake mango cheesecake, black forest cake in a jar, and more.
WHY MAKE MINI CHEESECAKES IN JAR?
I have very simple reasons –
Portion control is a biggie for me. Just the right amount.
I have no stress about making a big pie of cheesecake and not able to get it right out of the mold. Individual jars are mess-free and easy serving.
Cracks or no cracks, these mini cheesecakes are perfect on their own with beautiful toppings and sauces.
Perfect for guest entertaining. These look more sophisticated for a party.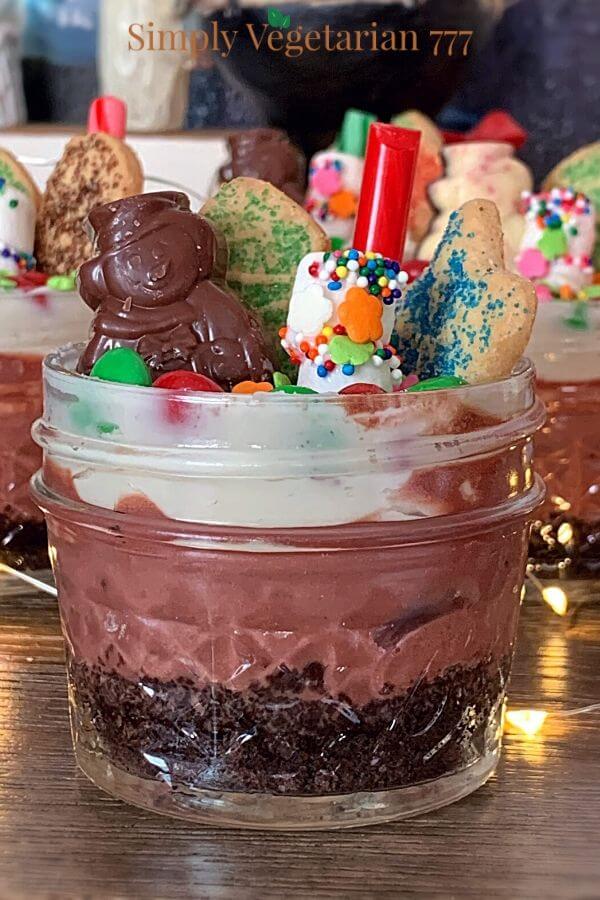 HOW TO MAKE A CHEESECAKE?
Any cheesecake has 2 components – The Crust and The Cheesecake Filling.
The crust is the base of the cheesecake. Since it holds the cheesecake at the base, it is made with cookies and/or crackers.
Most of the recipes call for graham crackers for the base. You may use ginger snap cookies, biscoff cookies, vanilla Nila Cookies, Oreos, or cookies of your choice for the base of the cheesecake.
Since it is a cheesecake, cream cheese is the main ingredient of the filling. Sour cream and eggs are used in addition to the cream cheese. As this is a Holiday Cheesecake recipe, we have used a bit of cocoa powder & edible red food color.
Important Tip – This recipe is more about the decoration part of the Holiday Dessert and creating the feel of festivals. You may use any Cheesecake base for this recipe and top it as directed for a holiday feel.
IMPORTANT TIPS TO REMEMBER WHEN MAKING CHEESECAKE IN IP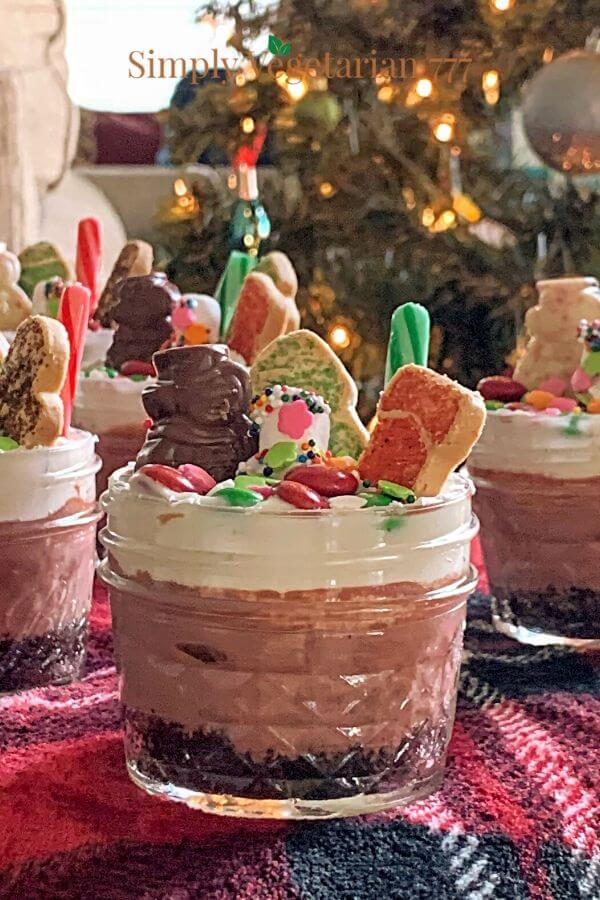 INGREDIENTS USED IN THIS RECIPE
Cream Cheese
Egg
Sour Cream
Butter
Toppings Used in the Recipe
Cream Cheese Frosting, Holiday M&Ms, mini marshmallows to create Snowman, colorful sprinkles, writing gel to bind the sprinkles and snowman, small holiday shape cookies, Ghirardelii's Snowman chocolate, Candycane sticks.
KITCHEN GADGETS USED IN THE RECIPE
4 ounce Mason Canning Jars – very important that you use canning jars to use in instant pot.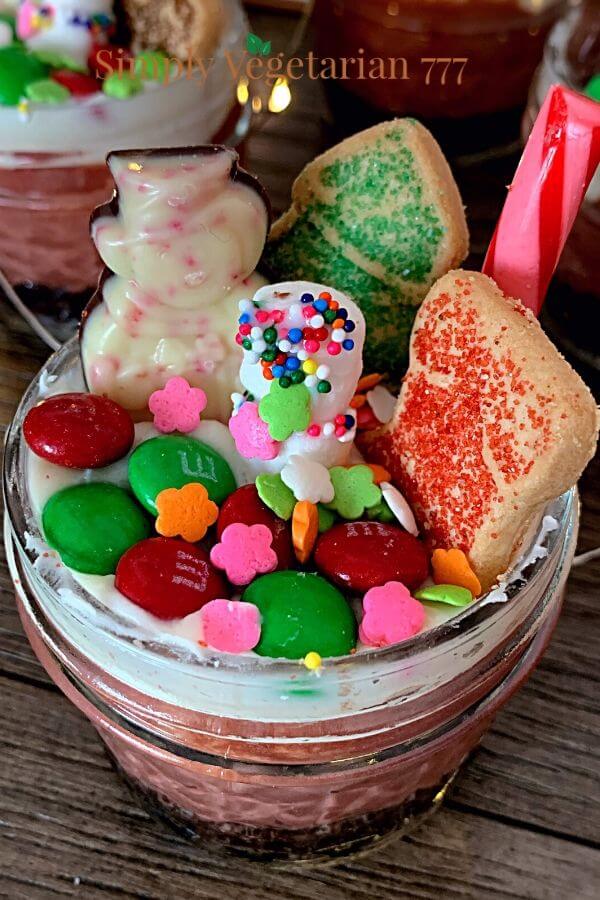 INSTANT POT HOLIDAY CHEESECAKE RECIPE
Complete Recipe is given further down in the Recipe Card.
Watch this New York Style Cheesecake Recipe Video for reference.
PREP THE CRUST
PREP THE HOLIDAY CHEESECAKE FILLING
MAKING MINI CHEESECAKE IN IP
HOW TO STORE CHEESECAKE?
Refrigerate it. It will stay good for a week when refrigerated.
You can follow us on Facebook, Instagram, Pinterest & Twitter for regular updates. And don't forget to sign up for our E-Letter whenever we publish a new post.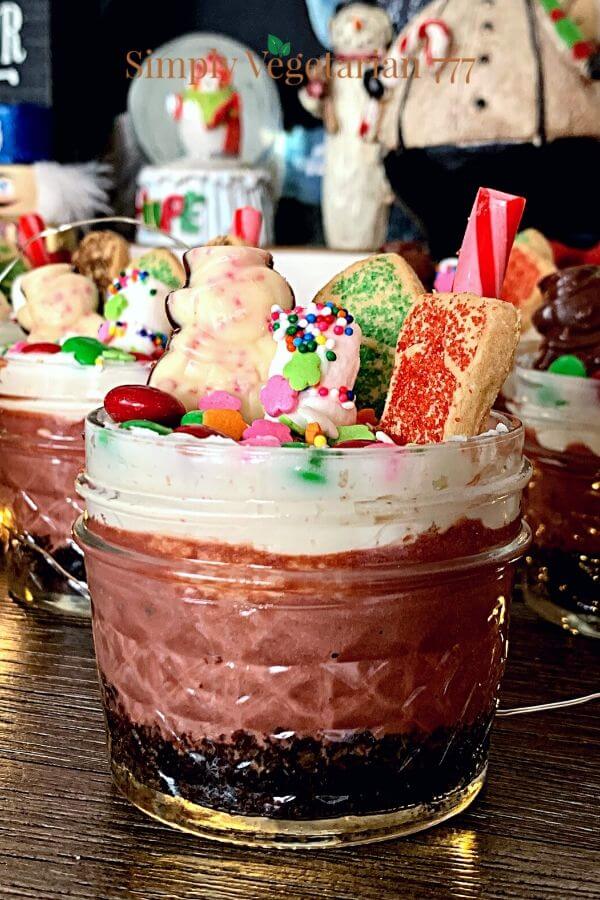 SIMPLYVEGETARIAN777 INSTANT POT CAKES
Red Velvet Cake, Chocolate Cake, Banana Bread, Funfetti Cake, Chocolate Cake in a Jar
SIMPLYVEGETARIAN777 INSTANT POT BREADS
Focaccia, and Muffin Tray Dinner Rolls
Instant Pot Holiday Cheesecake Mini Jars Recipe
This Holiday Cheesecake made in mini jars inside an Instant Pot is so easy and delicious. It is perfect for Holiday Parties and as Holiday Gifts.
Equipment
Instant Pot 6 quart and a Trivet

Measuring Spoons, Measuring Cups, Stirring Spoon,

4-ounce mini Canning Jars

Food Processor

Electric Egg Beater

Aluminum Foil
Ingredients
1 packet/

8 ounce

Cream Cheese

room temperature

1/3

cup

Sugar

1/4

cup

sour cream

room temperature

1&1/2

tbsp

Cocoa Powder

1

Egg

room temperature

1

tbsp

Red Food Color
Crust Ingredients
5

slabs

Chocolate Graham Crackers

1

tbsp

Butter

melted
Toppings
1

small box

Cream Cheese Frosting

1

small pack

Mini Marshmallows

1

small pack

Holiday M&Ms

1

small pack

mini sprinkles

1

small pack

Ghirardelli's Snowman Chocolates

or chocolates of your choice

1

box of

Holiday Cookies

from the local grocery store or use any cookies of choice

1

small pack

candy canes

I used jolly ranchers. Use any.
Instructions
PREP THE CRUST
In a Food Processor, add graham crackers. Pulse till you get fine crumbs. Add melted butter and pulse till it all combines well. Now distribute this crumb equally in 7 mini jars (4-ounce canning jars). Press them down lightly. Refrigerate for about 10-15 minutes till you work on the filling.
PREP THE HOLIDAY CHEESECAKE FILLING
Now add sour cream + cocoa powder + vanilla extract + red food color to the bowl. Blend it well for about 1-2 minutes till all incorporated. Scrape from the sides if needed. Now add the Egg. Blend it gently only till it is incorporated. No OVER MIXING or OVER BEATING please at this point. The filling is ready.
MAKING MINI CHEESECAKE IN IP
Place the inner pot inside your Instant Pot. Plug it in. Add 1&1/2 cups of water to it. Place the Trivet in it. Bring out the refrigerated mini jars. Fill them up with about 1/4 cup filling each. Level them out. Tap on the kitchen counter to get rid of any air in between.

Cover all the mini jars with a piece of aluminum foil. Place them side by side on the trivet. A 6 quarts IP can easily accommodate small jars side by side on the trivet. Place the lid and close it. Put the valve on SEALING. Set the timer for 6 MINUTES on Manual/Pressure Cook Mode. Once the timer goes off, follow NPR (natural pressure release). Take the jars out. Remove the foil. Let these sit on the counter till these come at room temperature. Now place the lids of these and refrigerate at least for 4-6 hrs before eating.
DECORATING THE HOLIDAY CHEESECAKE
I found these mini holiday cookies at my local grocery store. They came perfect size and in shapes of stocking, gingerbread man, Christmas tree and star. You may make your own cookies or use cookies of your choice. The point is to give it a festive look. So use your imagination and decorate it.
How to make Mini Marshmallow Snowman?
Take 2 mini marshmallows. Join them together on top of each other with either some cream cheese frosting or any cookie decorating icing gel. Then give them a character with some sprinkles of choice. Use a white cookie icing gel as a glue for this work.
HOW TO STORE CHEESECAKE?
Refrigerate it. It will stay good for a week when refrigerated.
I am sure you will be making it soon. Please leave your feedback under the comments section when you try it.


Sonal