Smokey Veg Taco Soup
As an Amazon Associate and member of other affiliate programs, I earn from qualifying purchases.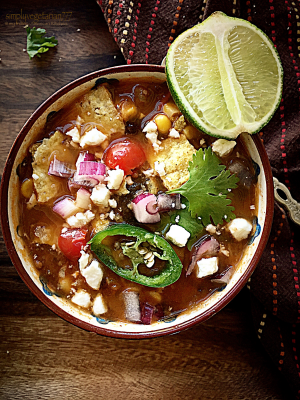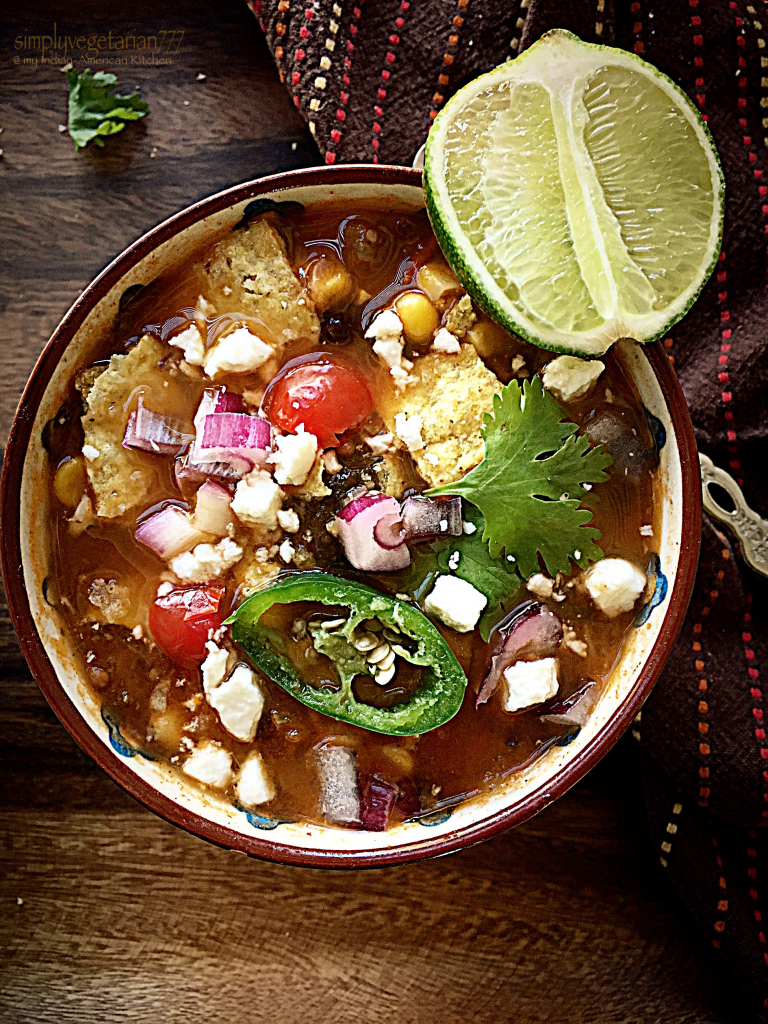 I love good Mexican food and yes I can eat it any day! Actually, this soup is not purely Mexican but a fusion of Mexican flavors, broiled in Texas, USA.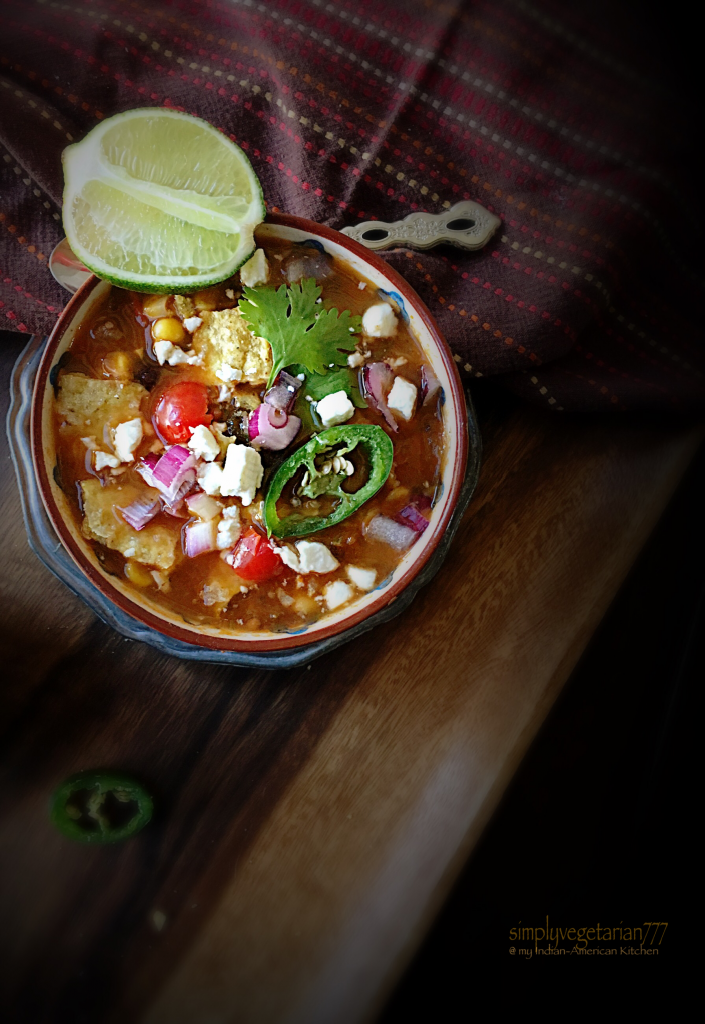 Most of the restaurants serve it with chicken and not one place serve it for the vegetarians. I do not eat chicken but whenever my husband orders it, I drink the broth and I absolutely love the flavors. I searched some recipes and discovered a way to make quick and flavorful taco soup.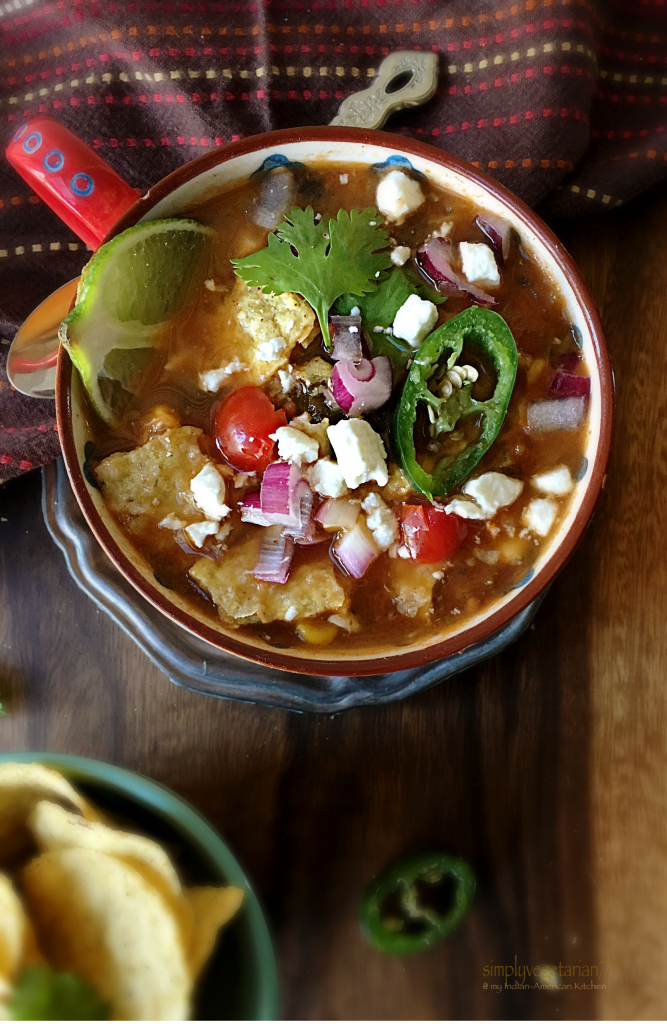 Honestly, this is a very simple soup, more like dump everything and let cook kinda soup. Sounds interesting? Oh yes!! Anybody would love it. Perfect for any weeknight meal, a good pot of it will make your guests happy – a perfect party hot pot meal. Smokey flavor comes from the jalapeño grilled directly on the flame. You may use canned chilli too. A mix of fire grilled jalapeño, onions, tomatoes, corn kernels, black beans, salsa, Corinader leaves, oregano, paprika, cumin – together make it  a fabulous soup. Topped with cheese, finely chopped onions, jalapeño and a handful of crushed taco chips – ah, this is so mouthful and so delcious!
This is how I made it!
Smokey Veg Nacho Soup
Servings: 4-6
Difficulty: easy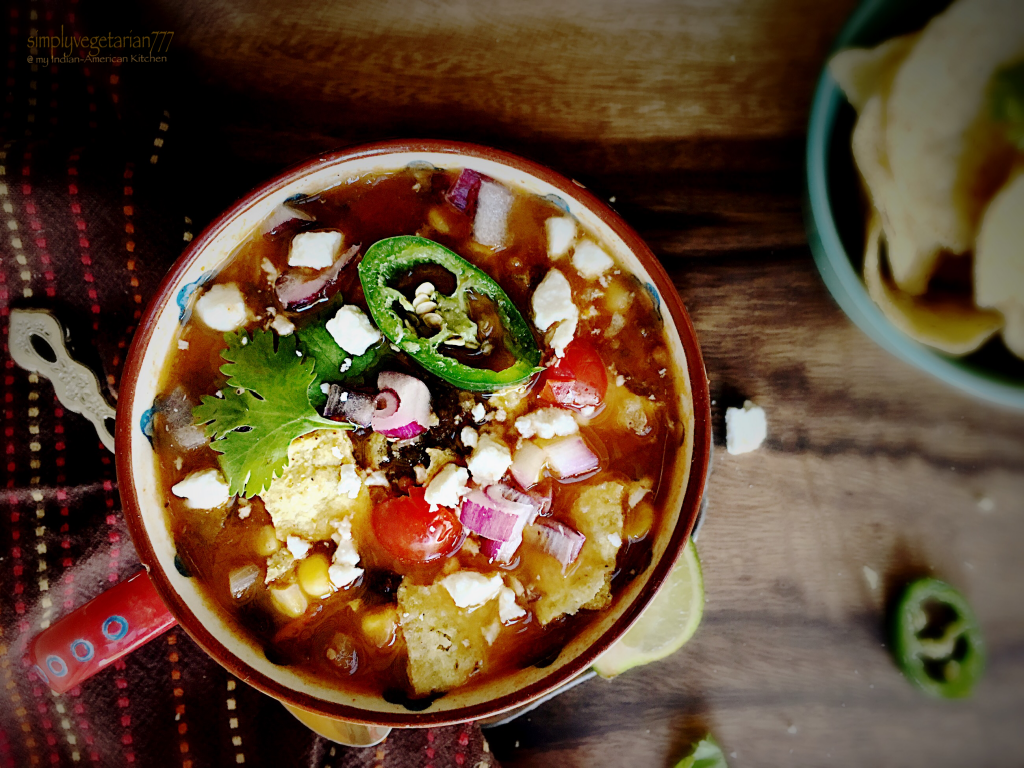 Kitchen Equipments Required
Chopping board, knife, Heavy bottom sauce pan with lid, stirring spoon.
Ingredients
Onions – 1/2 cup, finely chopped
Garlic – 2 cloves large, minced
Tomatoes – 3 large (approx 400gms), puréed
Jalapeño – 1
Corn kernels – 1 cup
Black beans – 1 cup, canned or cooked (optional)
Salsa – 1/2 cup, home made or market bought
Coriander / Cilantro leaves – 1/2 cup packed, roughly chopped
Water or Vegetable Low Sodium Broth – 4 cups
Nacho or Taco Chips – 1 cup, crushed lightly
Oils & Spices
Oil – 1 tbsp
Cumin powder – 1 tsp
Oregano – 1/2 tsp
Fancy Paprika – 1 tsp. You may use Degi Mirch or Kashmiri Mirch
Salt to taste
Garnish
Any Mexican Cheese like Monterey or Queso. May use feta also. Sliced Jalapeño, Chopped Cilantro/Corinader leaves, Lime wedges, Tobasco sauce, finely chopped onions and tomatoes, avocado pieces.
Method
Grilling & Prepping the Jalapeño – Grill the jalapeño on direct low flame, till it is slightly charred. Refer to the picture towards the end. Put it on the chopping board. Slit it open and chop in small pieces. You may keep the seeds like I did, for more smokey and spicy flavors. You may also remove the seeds to keep it milder.
Now heat the oil in a heavy bottom pan. Add onions and garlic to it and sauté on medium flame for 3-4 minutes to sweat the onions till they are slightly pink.
Add corns and black beans to the pan. Sauté for another minute. Add pureed tomatoes, grilled jalapeño, Corinader/cilantro leaves, salsa, all the spices as mentioned above and the water or vegetable broth to the pan. Stir.
Bring it to a boil. Lower the flame to lower medium and cover with lid. Let simmer like that for good 15-17 minutes.
Smokey Veg Taco Soup is ready to be served.
Serving Suggestion
This soup is served at the restaurants with a load of roughly crushed crispy taco chips. A good dash of lime juice, some cheese, jalapeño slices, finely chopped onions and tomatoes and cilantro leaves are added. Just dig in and enjoy a bowl full of winter goodness.
Note
You may easily make it in a pressure cooker or a slow cooker or even crock pot. For pressure cooker, after adding all the ingredients, cook for 1&1/2 whistle. Remove from the flame. Let the pressure escape and then open the lid, stir and serve warm.
Grilling the Jalapeño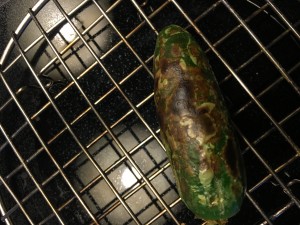 I had a great time making this smokey soup in my Indian American kitchen. I hope you will enjoy it too! I promise if you will make it once, it will be a regular feature at your home!
Sonal