Dal Makhani with No-Yeast Tawa / Griddle Naan !
As an Amazon Associate and member of other affiliate programs, I earn from qualifying purchases.
I know Nancy and Seana are going to love this post! Nancy has tried my earlier version of whole wheat naan and Seana loved my Dal Tadka! So this post is dedicated to you gorgeous ladies, as a part of my thanksgiving series. Thanks for trying my recipes and being so supportive and encouraging all the time!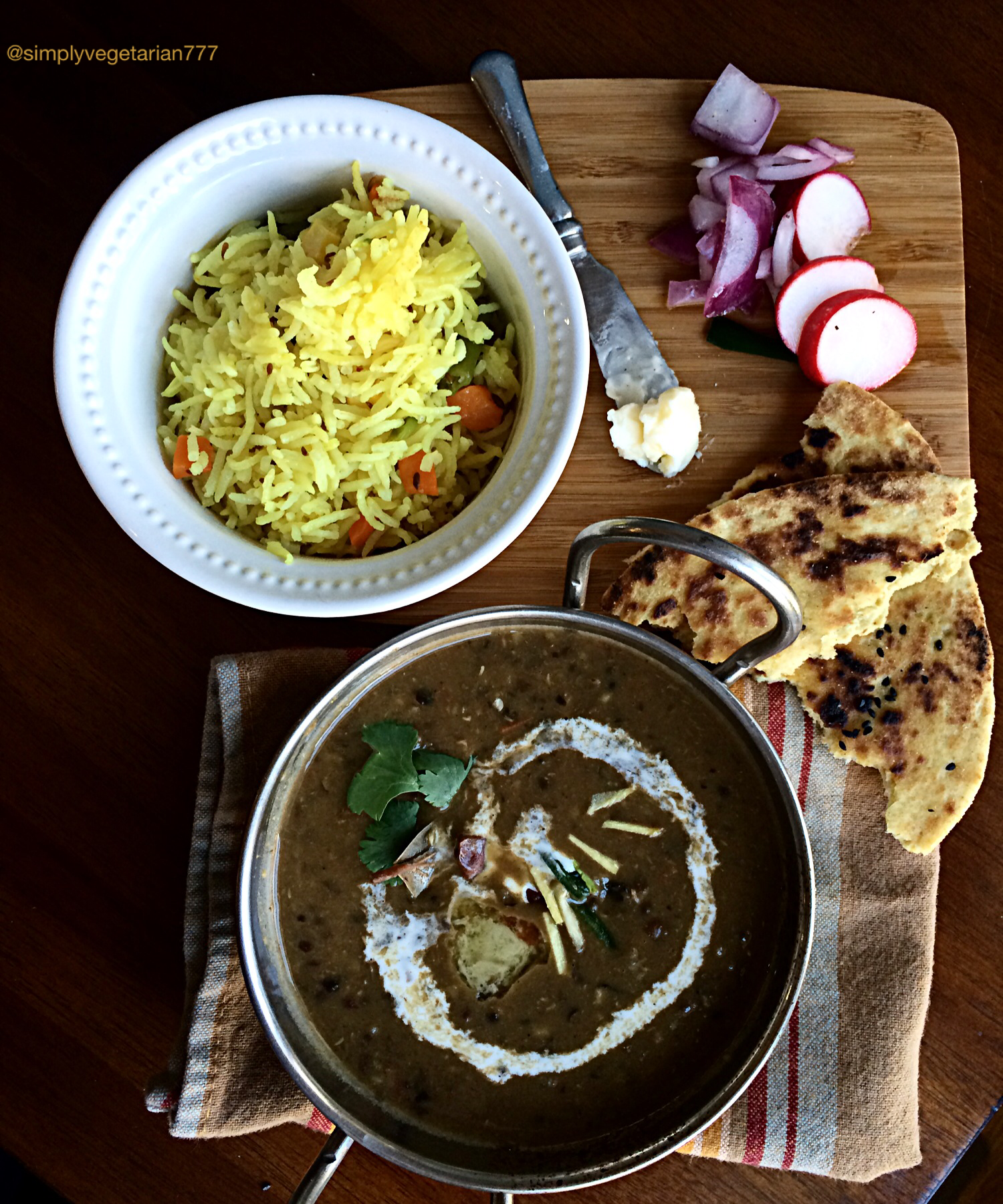 Dal Makhani is a staple stew of dried beans made in northern India. It hails from the state of Punjab! This is more of a richer version of Dal Amritsari or Mah ki Dal, that I blogged earlier. If Dal Langari is a home staple, then Dal Makhani is dhaba / diner staple. Made richer with the addition of butter and cream, ummmm…it's finger licking delicious! I am bringing a less loaded recipe yet so tasty and comforting that you won't miss the overload of butter and cream. Yes I have cut that to half, making it more heart and health friendly.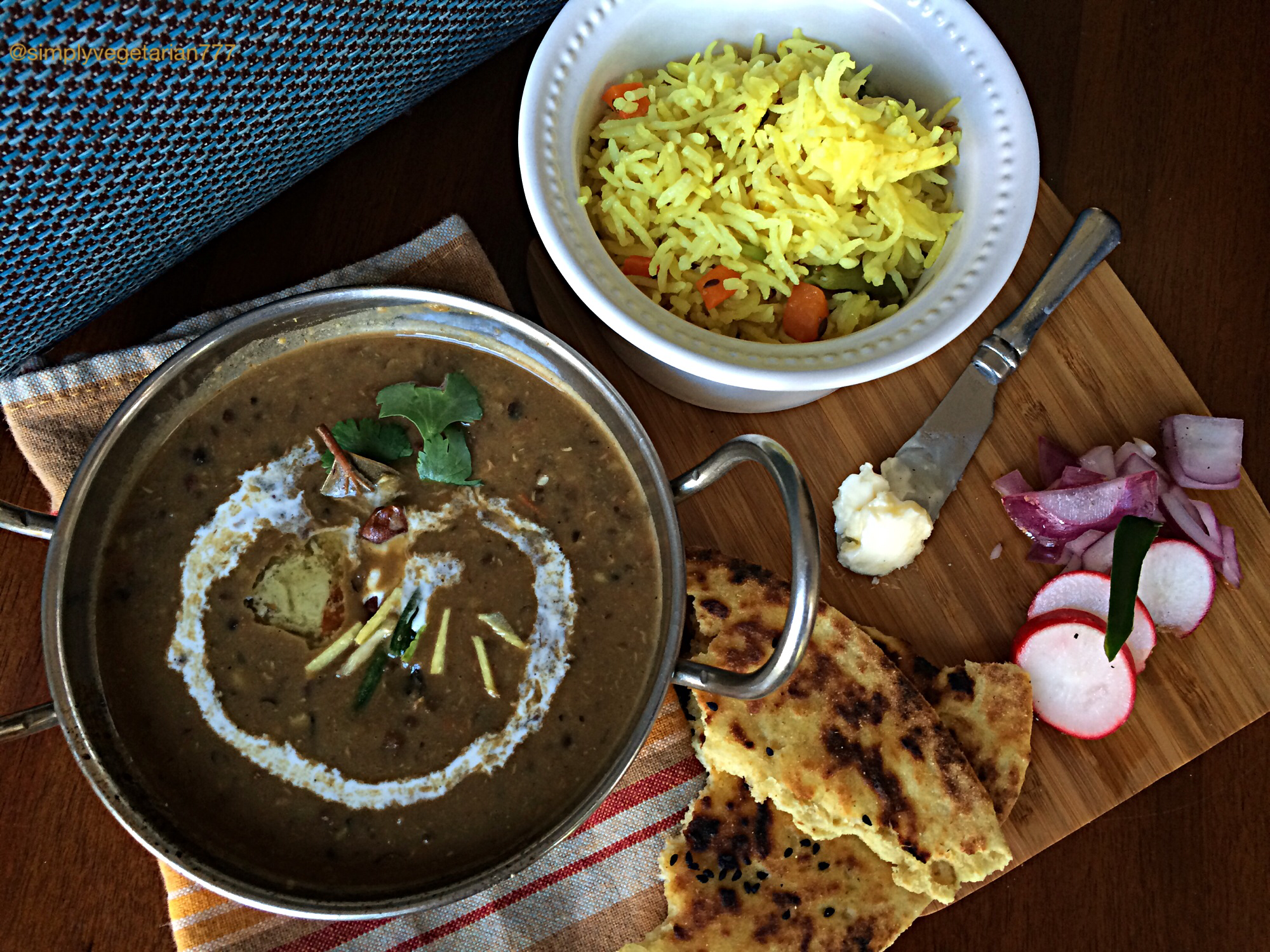 Dal Makhani and No-Yeast Tawa / Pan Grilled Naan!
Dal Makhani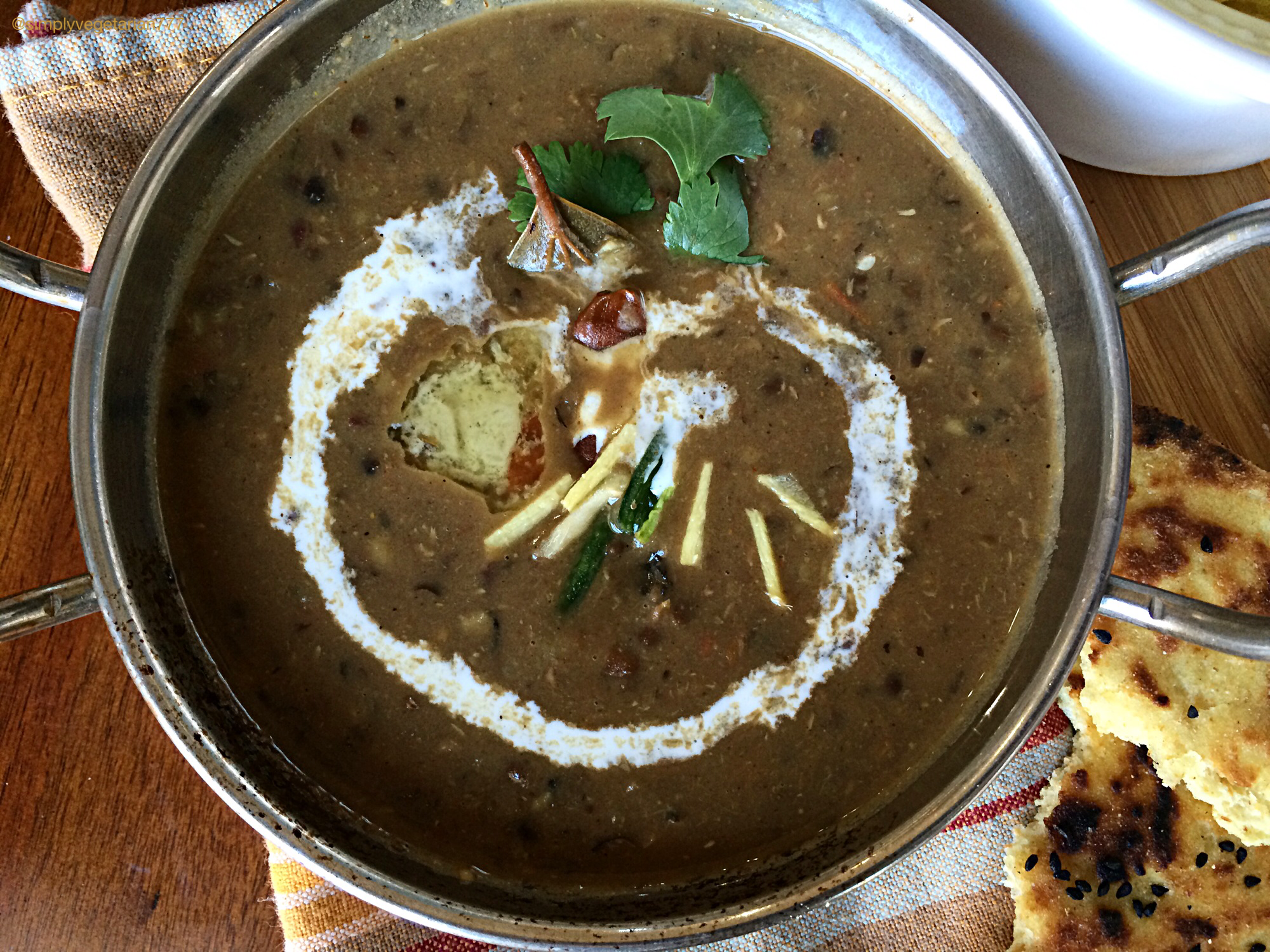 Serves : 8
Ingredients :
Urad Whole : 1&1/2 cups
Rajma / Red Kidney Beans : 1/4 cup
Red Lentils / Lal Masoor : 2 tbsp
Water : 5 cups + 2 cups
Oil : 1/2 tbsp
Butter : 1/2 tbsp
Tomatoes : 3 medium, chopped fine
Onions : 1/2 medium, chopped fine
Green chili : 1, minced
Ginger : 1 tsp minced
Garlic : 1 tsp minced
Spices
Asafetida/hing : a fat pinch, optional
Bay leaf : 1
Black cardamom : 1
Cinnamon stick : 1 small piece
Cumin seeds : 1 tsp
Red dry chilies : 2
Coriander powder : 1 tbsp
Turmeric powder : 1/4 tsp
Red chili powder : 1/2 tsp
Garam Masala : 2 to 3 tsp
Heavy cream : 3 tbsp
Salt to taste
Toppings and Garnish
Cilantro : 1 tbsp, to garnish
Ginger. : julienned, 1 tsp
Heavy cream : 1 tbsp
Butter : 1 tsp
Green chili : julienned, 1 tsp
Method :
Wash the urad, rajma / red kidney beans and lal masoor / red lentils thoroughly. Soak them in 4 cups clean water for 4-6 hrs.

Pour the soaked beans in a pressure cooker with the soaking water and additional 1 cup water. Add bay leaf, black cardamom and cinnamon stick to the beans and pressure cook. This adds more flavor to the lentils.

After the first whistle or Pressure sound, lower the flame and cook on simmer for 1/2 an hour. In care you are boiling in an open pan, then add 2 more cups of water to the soaked beans and bring it to a boil. Simmer and boil till they are super soft. Add more water if desired. You may cook these overnight in slow cooker too without soaking.

Meanwhile heat the oil and butter in a heavy bottom pan. Add asafetida/hing and cumin seeds to it.
Once the cumin seeds crackle, lower the flame and add onion, ginger and garlic. Roast the onions on medium flame till they turn golden.

Now add green chili and tomatoes to the pan. Stir well. Add all the other bday spices along with the salt. Stir again. Cover with lid and cook on medium low flame till tomatoes merge well with the onions and become one. It would be a thick paste by now. Switch off the flame.

Open the pressure cooker once the pressure escapes on its own. Take a potato masher and mash the beans couple of times. This leads to formation of more dense flavors and makes the Dal more thick. In Hindi we call it "lehs", a desired creamy texture. You may also take a 1/4 cup of boiled dal and process in food processor and add it back to the beans for the same creamy texture:

Add the tomato onion paste to the boiled beans. Add 3 tbsp heavy cream and 1 to 2 cups of water. Adjust salt. Stir well! Bring it back to boil and cover & simmer for another 1/2 an hour while stirring occasionally. Here is the tip : The more you simmer this dal, the more flavor it picks up.

When ready to serve, pour in your a favorite serving bowl. Garnish with julienned ginger & chilies, butter and heavy cream and top with chopped cilantro / coriander leaves.
Serving Suggestions : Serve with Cumin Rice, Naan, Roti or Parantha.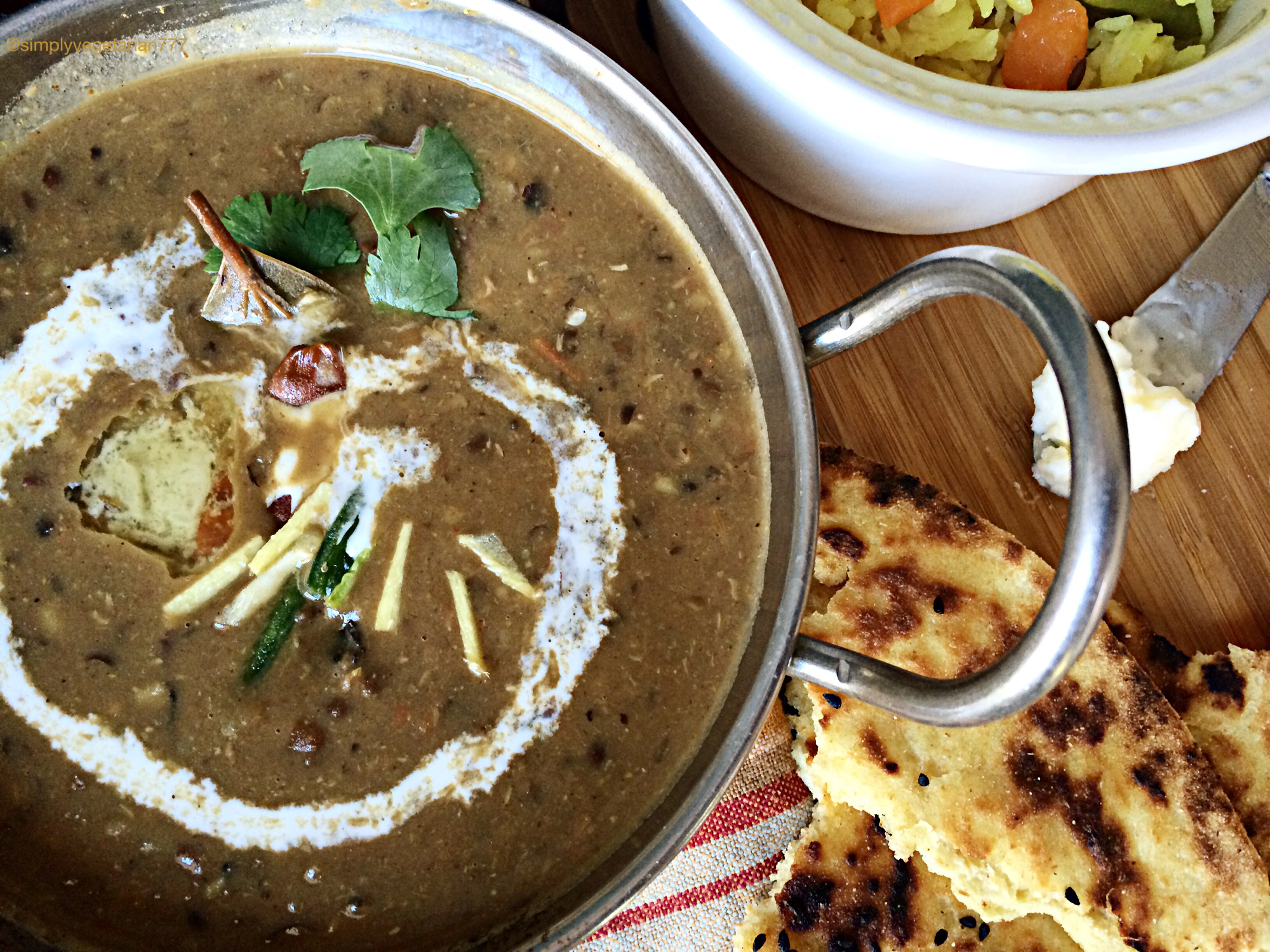 Here is a super simple, no yeast recipe for Naan lovers. I have used 1/2 of whole wheat and 1/2 of all purpose flour in this recipe.
Half and Half No-Yeast Tawa Naan
Ingredients :
Whole wheat flour : 1 cup
All purpose flour / maida : 1 cup
Oil : 1 tbsp + more
Yogurt : 1/2 cup
Lukewarm Water : 1/2 cup + 1 tbsp
Baking soda : 1 tsp
Baking powder : 1/4 tsp
Salt : 1 tsp
Sugar : 1 tsp
Nigella seeds / Kalonji to top
Butter to another on top.
Method :
Take a bowl and add all the dry ingredients in it. Stir well with a fork.

Make a well in the middle. Add oil and yogurt. Rub it with dry ingredients till fully incorporated.

Add water a little at a time and make a soft dough. Leave it for 5 minutes and then knead it gently with oiled hands again to bring it together in a pliable dough. Cover with a damp cloth or plastic wrap and let it rest for 1 hour.

Take the dough out and divide in 6 to 8 equal portions.

Heat a tawa or griddle or pan over high heat.

Spread some dry flour on your working surface or rolling board. Take a roll of dough. Roll it out in either oblong shape or circular. Smear a little oil on top and press some nigella seeds / Kalonji on top.

Place this rolled out naan on the hot tawa / griddle / pan with seeds side down. Lower the heat to medium. You will see it bubbling on top after 1/2 a minute. Peek through the lower side. If you see golden spots, then gently flip it on the other side. And then cook it on the other side till it develops golden specks. It takes around 3 odd minutes to cook 1 naan on the tawa/griddle. If you want extra texture, grill it on the open flame till it crisps a bit. Take it off the flame. Slather with butter or ghee.
Serve and enjoy warm with Dal Makhani, some cut onions and red radishes ! A pure heaven on earth !