Sooji ka Halwa / Semolina Pudding
As an Amazon Associate and member of other affiliate programs, I earn from qualifying purchases.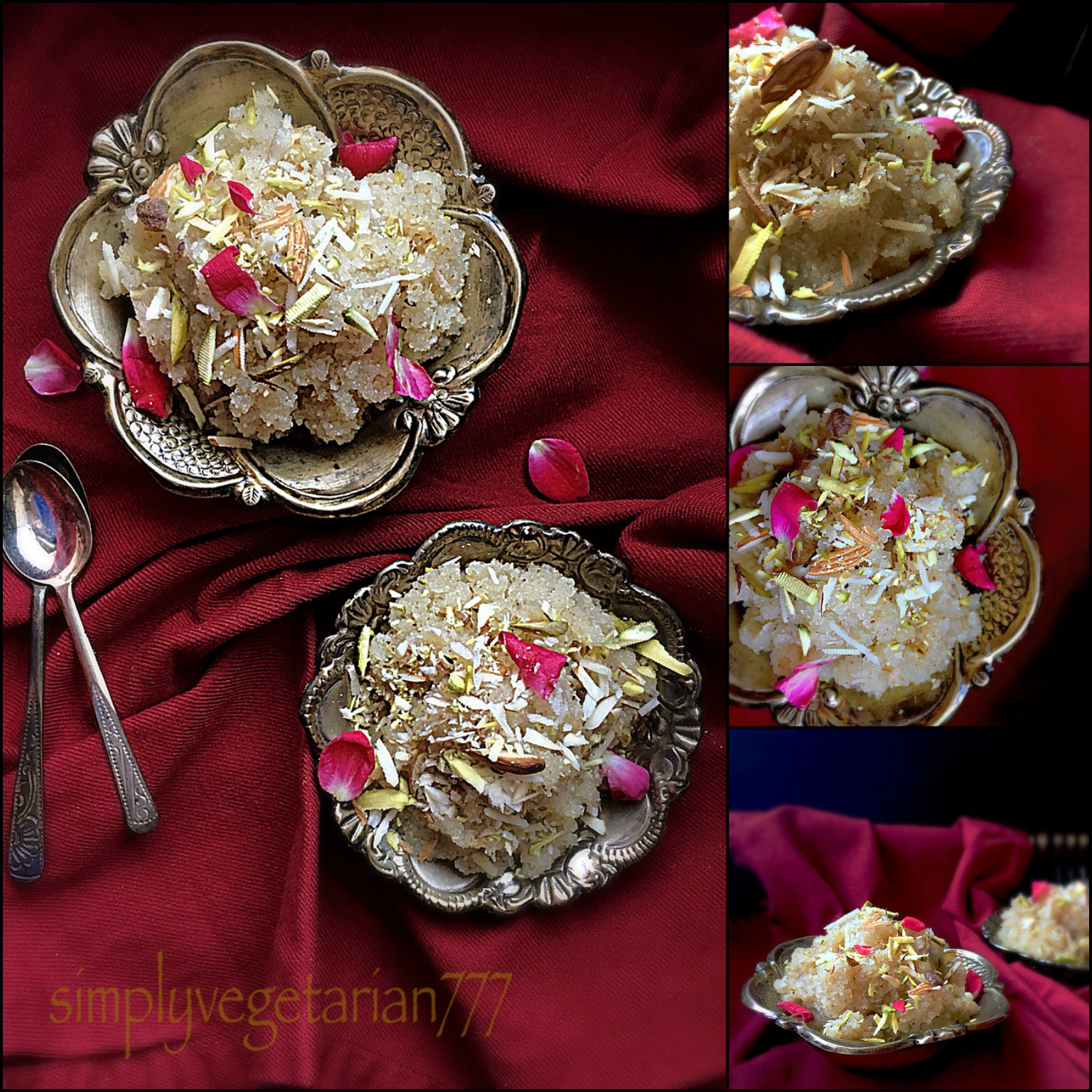 Sooji ka Halwa / Semolina Pudding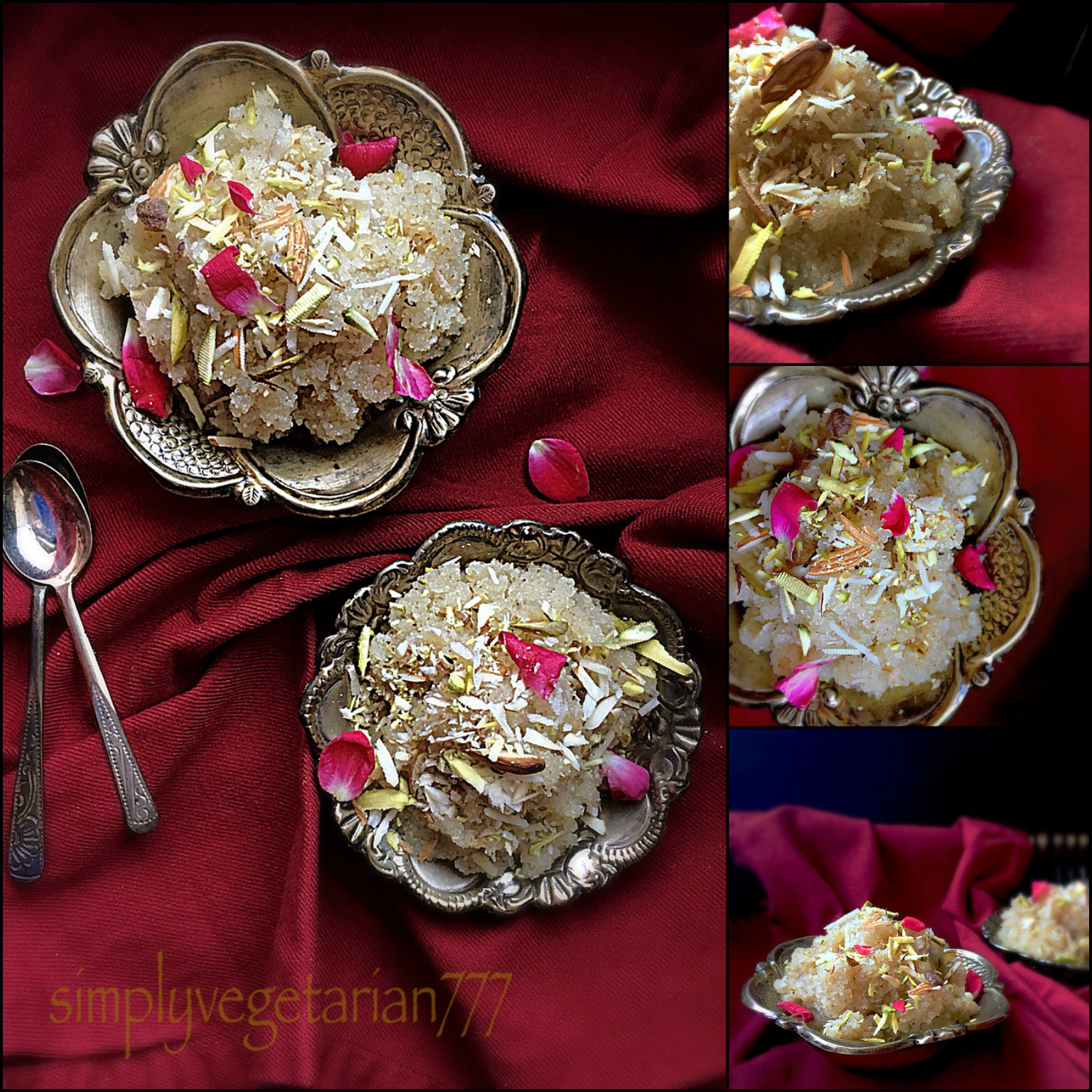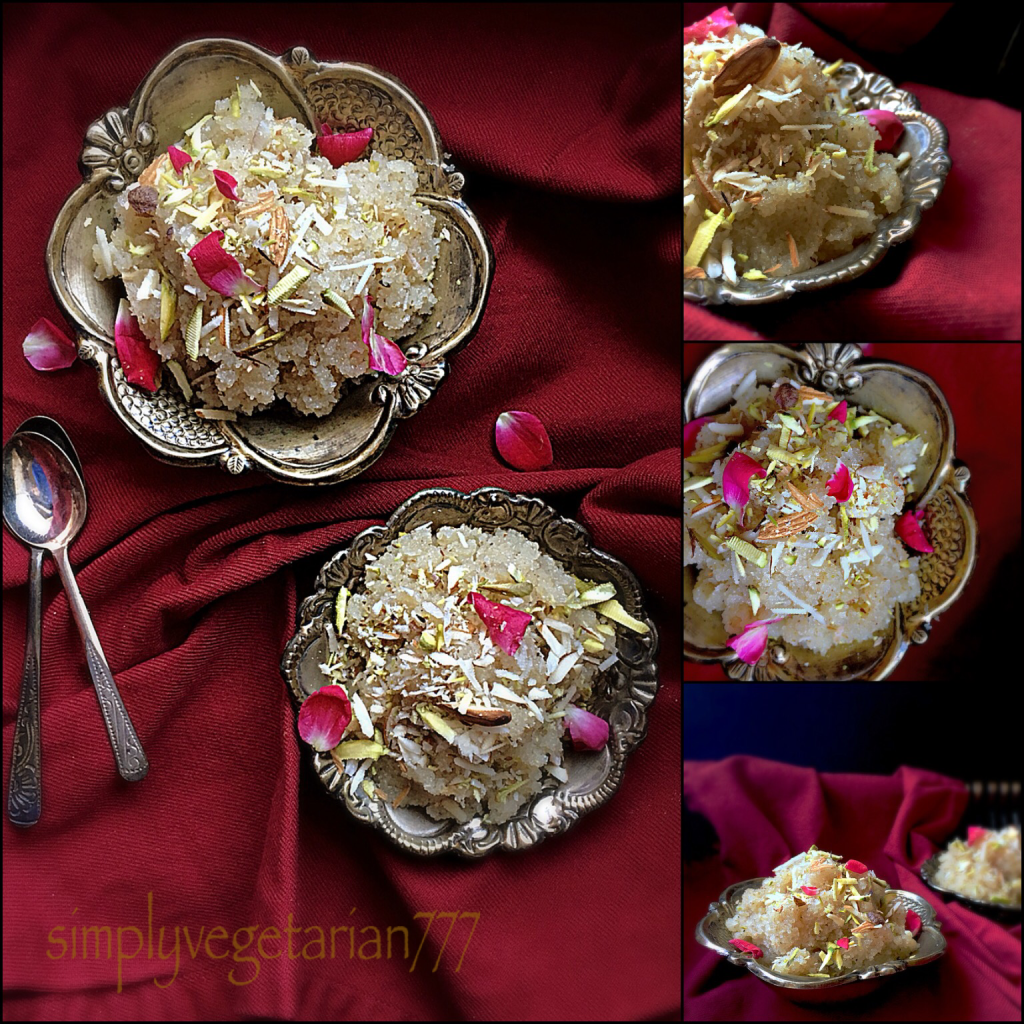 You ask any Indian about this halwa (pudding), and they will instantly start drooling over it. Yes, it is that common dessert in India. I might take the liberty to call it the "national pudding" of India. No seriously!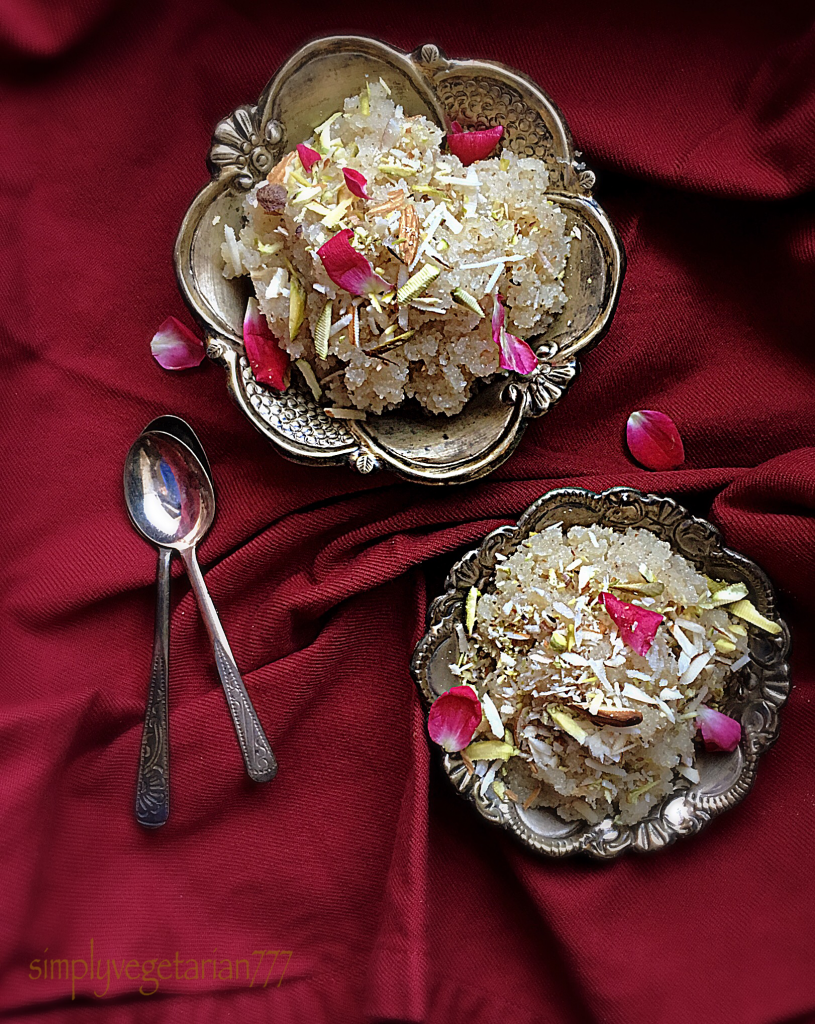 Not only India, it is relished in many middle eastern countries as well. Such an easy recipe and done with only few ingredients. It can not get better than that! It is often made to celebrate anything and everything in India. If no other dessert is available, this halwa comes handy any time and every time. It is also made to celebrate the festivals in India like that of ashtami and navami to wind up the navratris.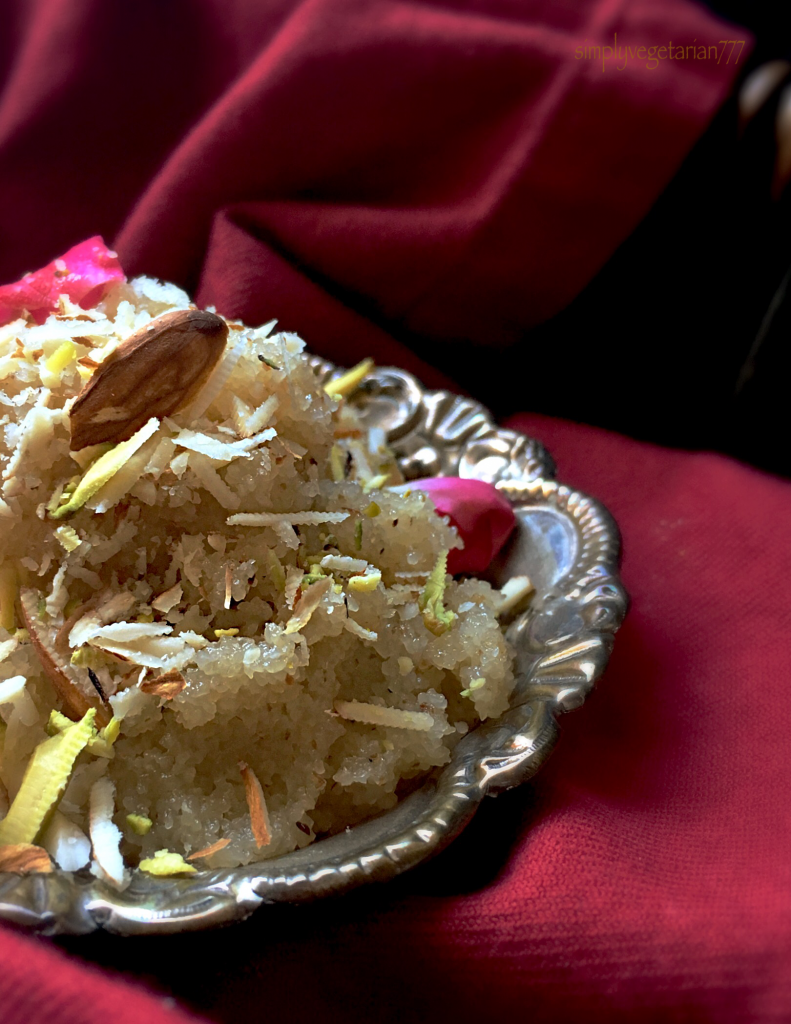 Though the original recipe calls for the equal quantities of Semolina, Sugar and Ghee but I have modified it by cutting down the ghee by 1/2 the quantity and believe me it came out fine, rather tasty and not as heavy on our systems. Again a recipe, shared by my mom. Simple! Delicious! Evergreen! Indulging! Festive! All together.
Some other Halwa recipes from the blog are – Gajar ka Halwa  and Besan ka Halwa .
This is how I made it!
Sooji ka Halwa
Servings: 4
Difficulty: easy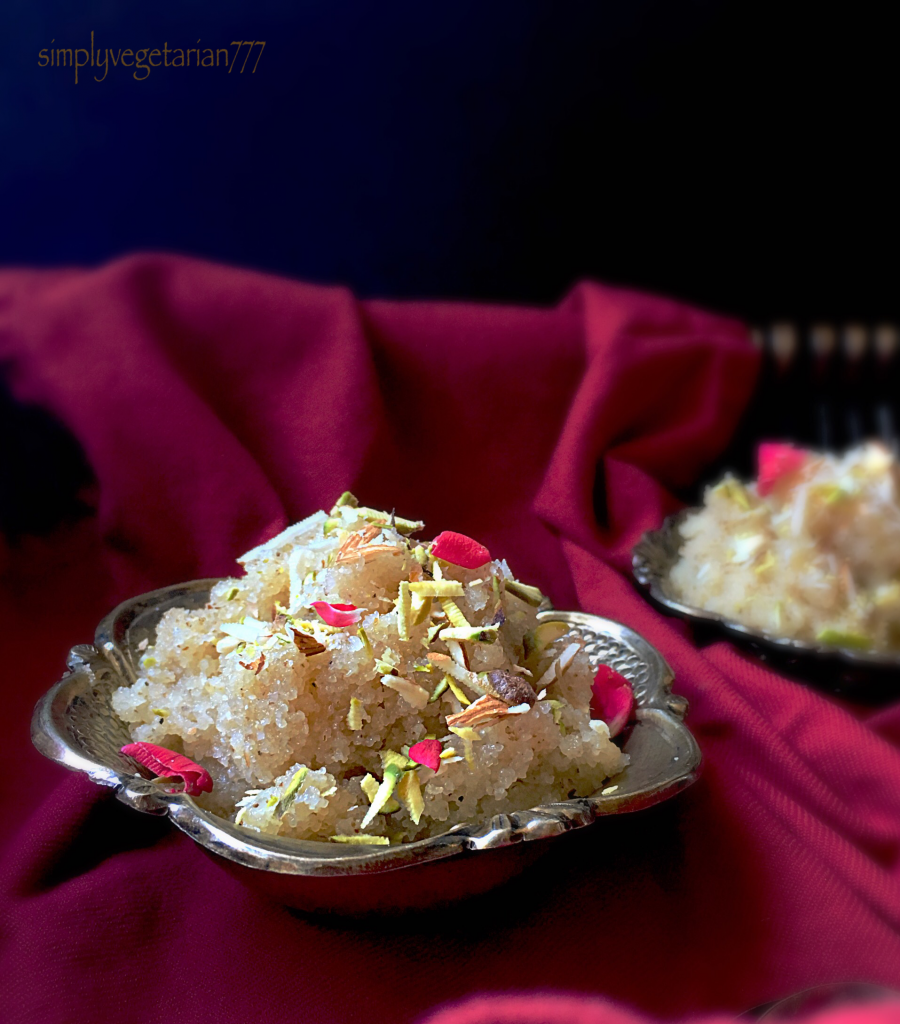 Kitchen Equipments Required 
Heavy bottom pan, stirring spoon, a sauce pan, chopping board, knife.
Ingredients 
Sooji / Semolina – 1/2 cup
Ghee – 1/4 cup
Sugar – 1/2 cup
Water – 2 cups
Cardamom / Elaichi powder – 1/4 tsp
Garnish – slivered pistachio and almonds
Method
Heat the ghee in the heavy bottom pan and then lower the flame to low.
Add Sooji/Semolina to ghee. Roast Sooji in ghee at low flame while stirring constantly. It will take good 7-9 minutes for getting that pinkish tone in Sooji. Sooji will absorb ghee first and then start leaving it after being roasted.
In the meantime, add sugar to water with cardamom powder in the sauce pan. Keep it on the medium flame till sugar is dissolved completely in water. Switch off the flame. We are not making any syrup here. Just dissolving sugar in water.
Once Sooji is roasted, add this sugar and cardamom powder water to the pan with Sooji. Make sure that the flame is at low since while you are adding, since it splutters violently at that time. Keep your face and hands at bay, to avoid any scalding.
Cook the roasted Sooji with sugar water till all the water is absorbed by semolina. Stir constantly. It will take about 5-7 minutes on medium low flame. Do not over dry it.
Serve it warm in bowls and garnish with slivered almonds and pistachio.
Enjoy this traditional Indian semolina pudding from my Indian American Kitchen and cook it up in your kitchens!
Happy Cooking everybody!
Sonal