Besan Ka Halwa
As an Amazon Associate and member of other affiliate programs, I earn from qualifying purchases.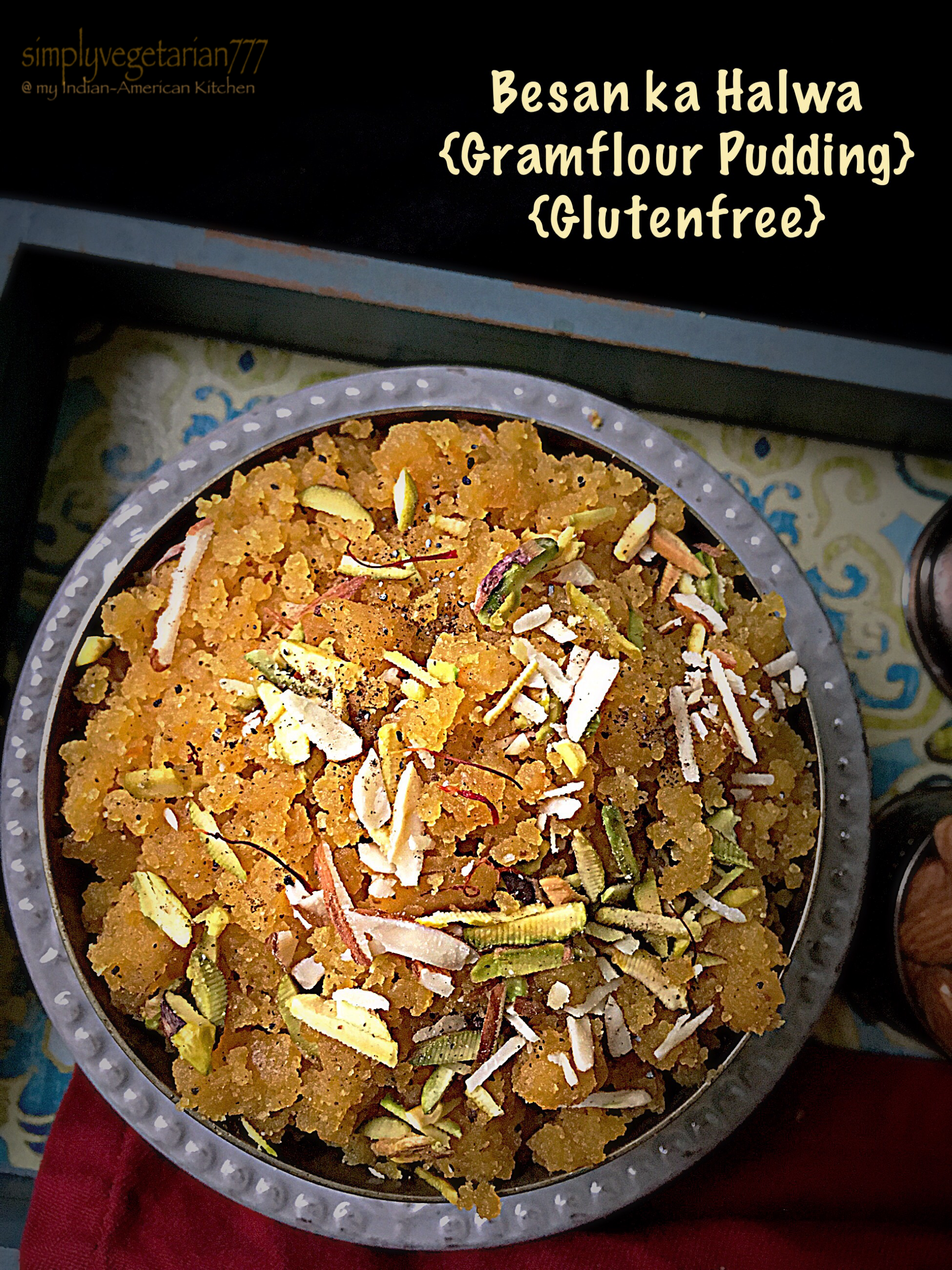 Besan Ka Halwa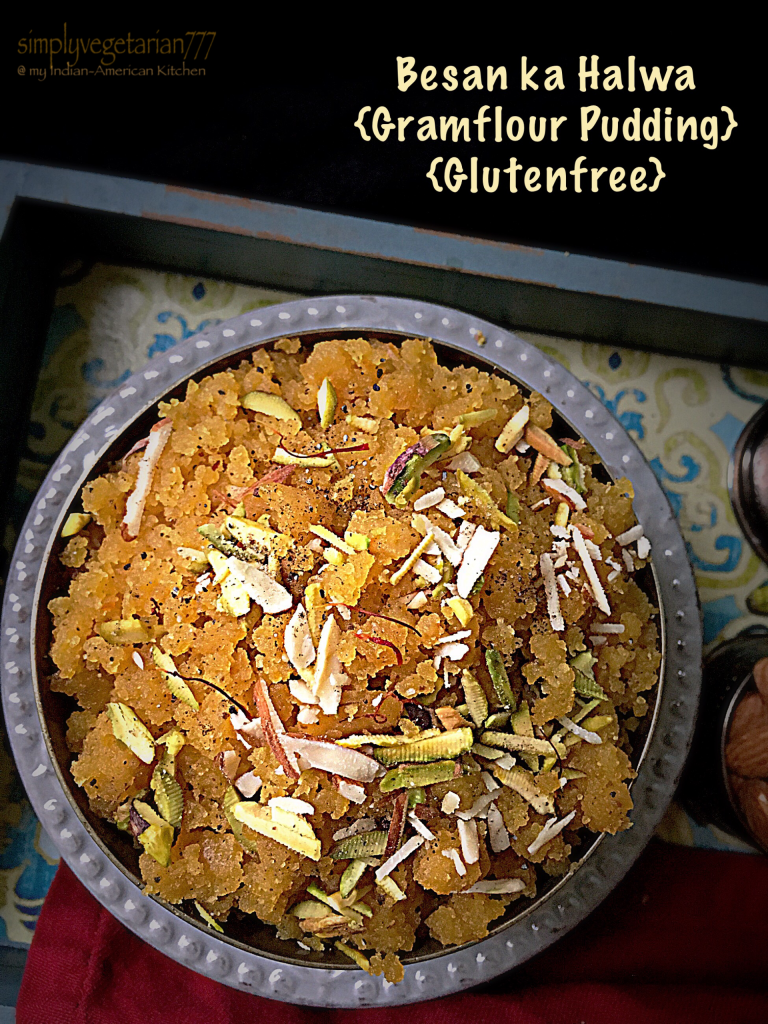 It is the month of October and the festival mood has been set all over the world. Beautiful autumn brings nice nip in the air and declares the begining of the festivities. Besan ka Halwa is the quintessential dish to celebrate all of it.
The rich and decadent Besan ka Halwa, will take you over the moon and make you fall in love with this stunning show stealer dish again and again.
The rustic flavor of the Besan when combined with Ghee and Sugar, weaves a warm and snuggling story, which is perfect for the season.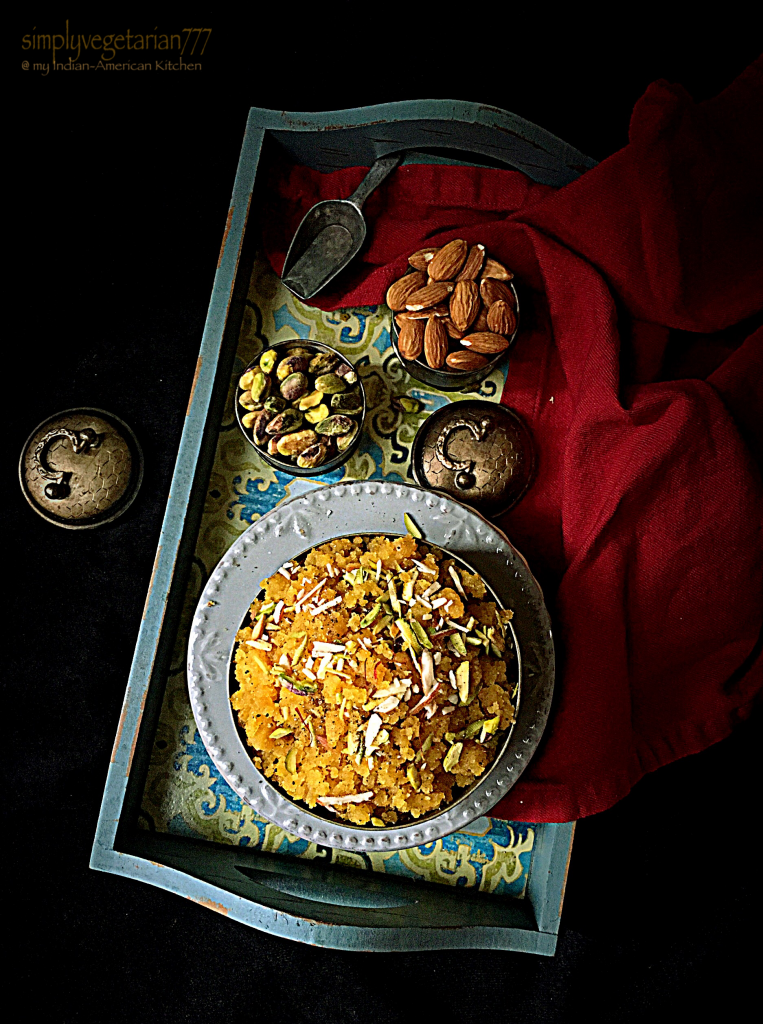 Besan is also known as Chickpea Flour or Gram Flour. This Gluten-free flour is rich in folate, and boosts iron, magnesium and phosphorus. It is a good source of Thiamin and Vitamin B6. Besan has a high protein content that makes it good for weight watchers. It is also good for heart health and managing the cholesterol.
Besan makes an excellent scrub and mask for skin care. Since it is nutritionally dense, it helps the body in fighting allergies especially in changing season. Therefore, it should be imperative to include Besan or Gram flour in our diet on regular basis.
I bet that there can not be a better way to include the Besan in our diet, other than this glorious halwa.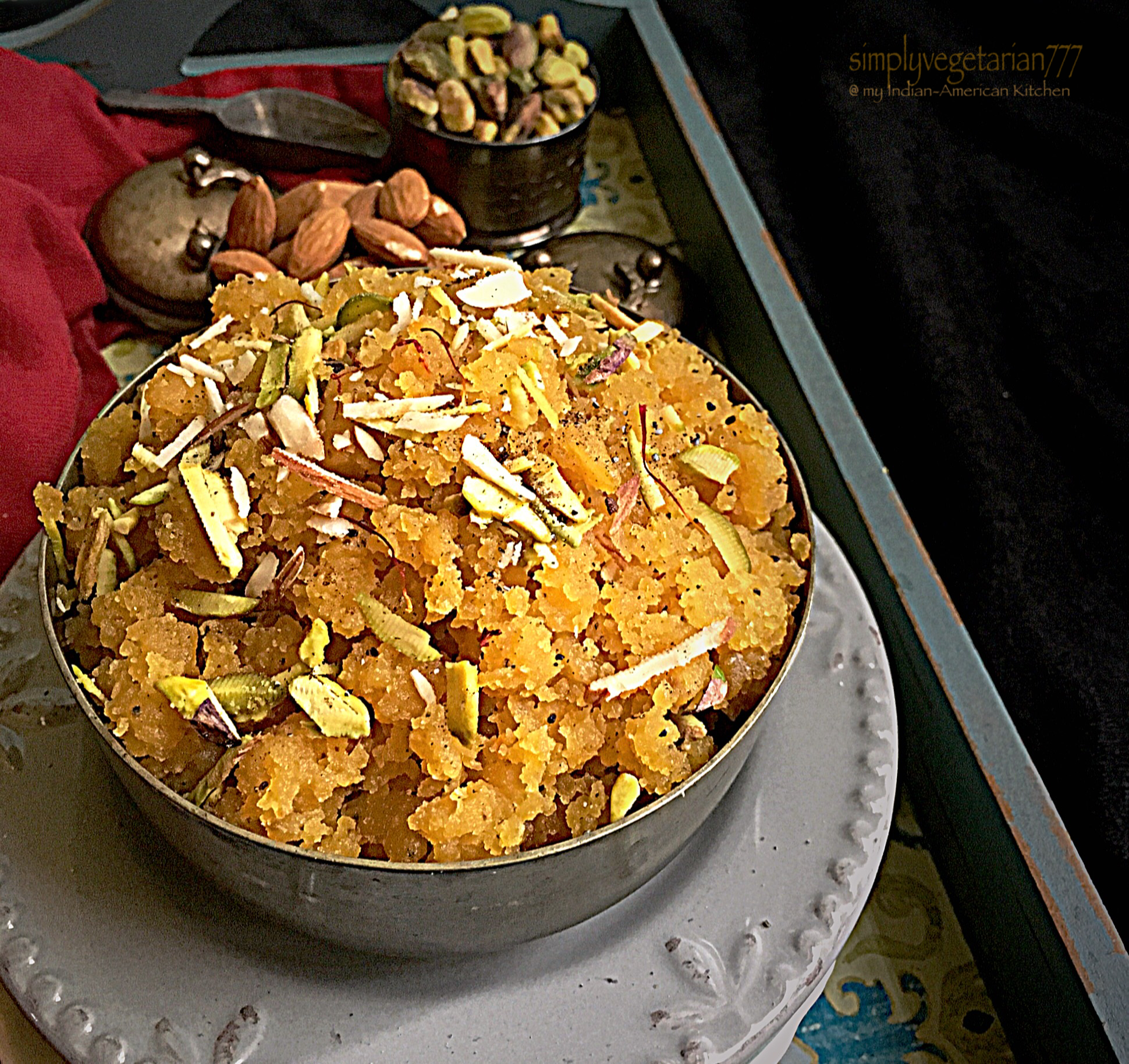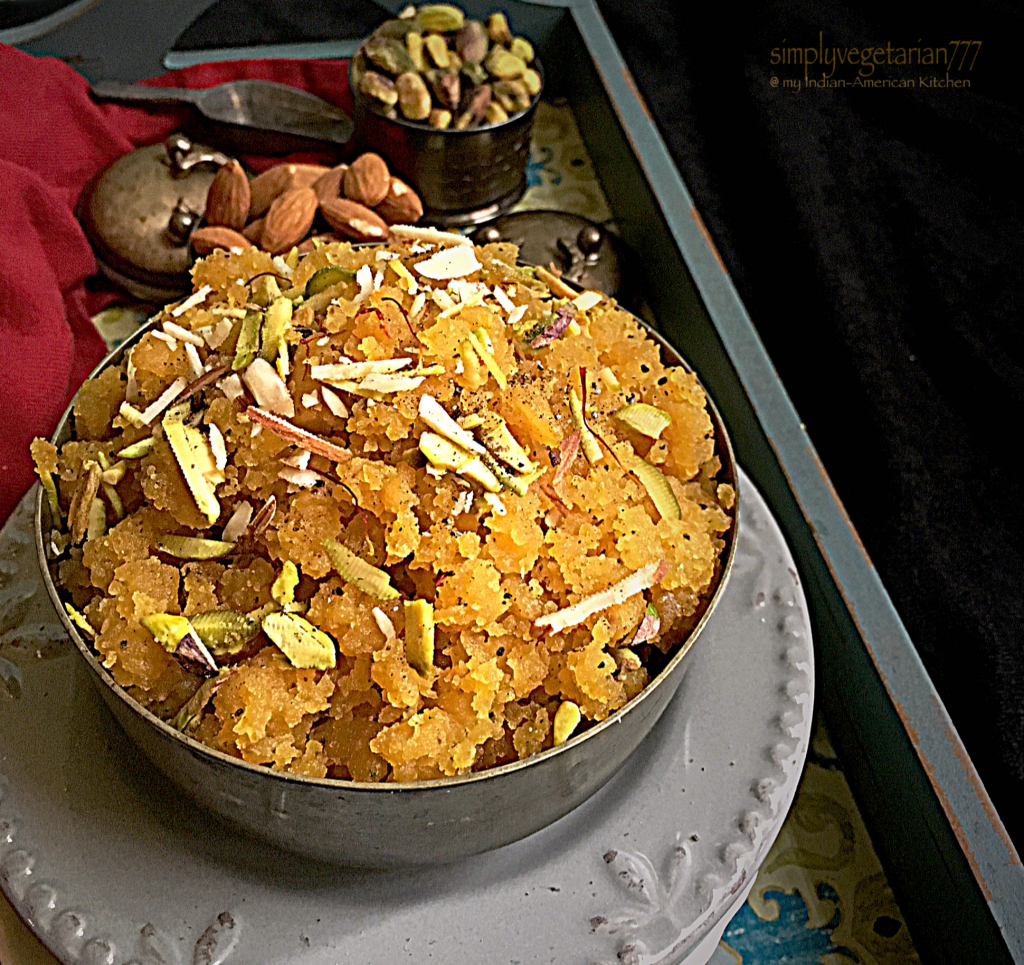 There are many ways that people prepare Besan ka Halwa. But my method is pretty simple. I start with roasting besan in ghee and once it is done roasting, I add sugar and water to make the desired consistency.
There are few things to remember while making besan ka halwa.
The amount of Ghee. You can not go skimpy on it. Required quantity will yield good texture.
The Besan flour needs to be sifted through a sieve, to make sure that there are no lumps. Besan flour has tendency to clump up into mounds, so make sure it is a fine flour.
The Roasting Heat – needs to be monitored all the time.
It needs constant sauteeing and roasting.
I am sure that you will make Besan ka Halwa more often, especially when the cooler temperatures are approaching. I remember my mom saying that Besan ka Halwa is very good during the winters, since it keeps our body warm. It helps in relieving cold and congestion.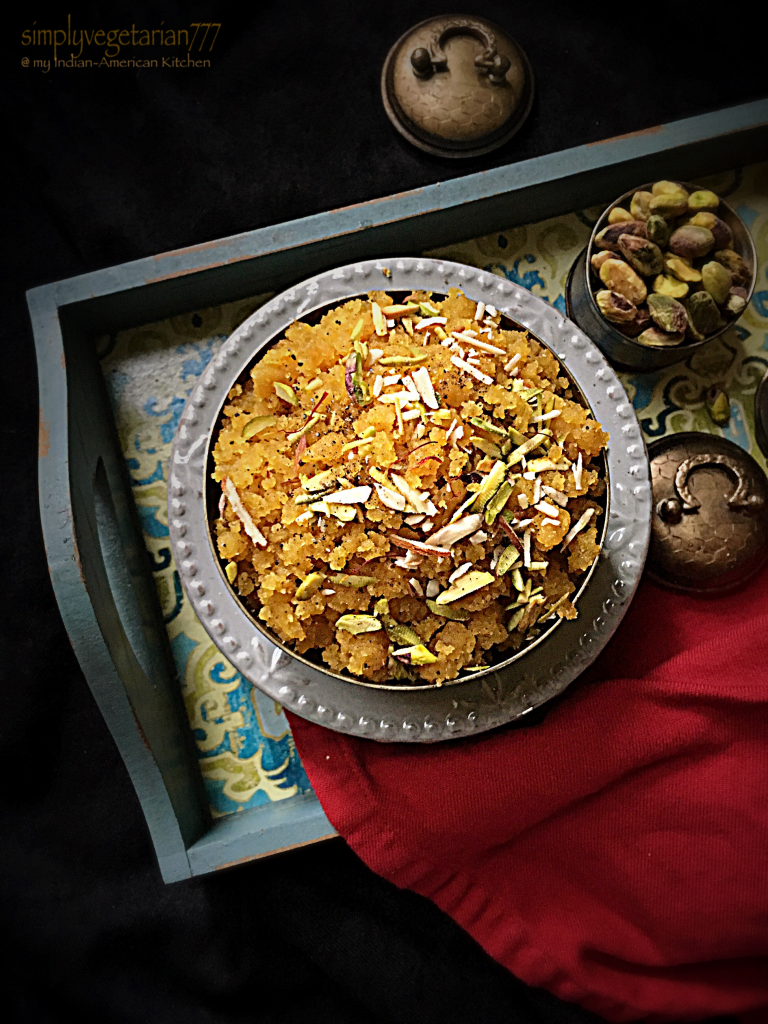 Besan ka Halwa can be a great treat to prepare for Diwali and feed the family. The pure and rustic flavors of the ingredients make it closer to Gods.
I love it when I do not have to go special grocery shopping to prepare a dish. Most of our Shuddh Desi Mithai (Pure Indian Sweets) actually do not need a long list of ingredients. Halwas are pretty simple to top the list of Easy Indian Recipes.
Some other Indian desserts from my blog, fit to celebrate the festivals are – Kesar Nariyal Peda , Kaju Chocolate Barfi , Pista Kalakand , sewayi ki kheer , Gajar ka Halwa , Sooji ka Halwa and many more.
Besan Ka Halwa
Simple Recipe to make Besan ka Halwa. It is gluten free and keeps you warm in winters. A perfect festival / holiday season recipe.
Ingredients
Besan / Chickpea flour / Gram flour - 1 cup

Ghee - 1/2 cup

Sugar - 1/2 cup

Water

warm- 2 cups

Saffron - 2 pinches soaked in 2 tbsp warm milk

Elaichi / Green Cardamom powder - 1 tsp

Pistachio & Almond Slivers - 2 tbsp each for granish
Instructions
Sieve the Besan to fine flour. Make sure that there are no lumps in the flour.

Heat Ghee in a heavy bottom steel pan.

Once the ghee is hot, lower the heat to medium and add besan flour or gram flour to it.

Take a heavy flat spatula and start roasting the besan in ghee. After 2 minutes, reduce the heat to low. Keep stirring.

You have to constantly stir the besan in ghee to avoid any burning. Also, Besan will clump up in ghee, so press it down with flat spatula and flatten it at the surface of the pan to break any lumps. It is a tedious work but the result is amazing.

Stir and roast the besan in ghee on low heat for about 15 minutes. You will notice that besan will start leaving ghee in 15 minutes and the raw smell is gone. This is important to roast the besan till this point that it starts leaving ghee.

Now add 2 cups of warm water to the pan slowly. It splutters so be careful.

Keep stitiing and when the water is absorbed, add the soaked saffron with milk, cardamom powder adn sugar to it. Keep stirring.

If you like slightly loose sheera type Halwa, then switch off the flame at this point.

If you like slightly grainy halwa, then cook for 2-3 minutes more till it thickens more. Switch off the heat and let stand for 2-3 minutes and then break it up with spatula.

Add the chopped pistachios and almonds and serve warm.
Storage
Once, it is at room temperature, store it in the fridge in a closed container.
Warming
You may warm it in microwave (covered) or on the gas top in a container. If it becomes too thick, warm up with little milk.
This is a super simple recipe that takes a bit of your muscle strength. A good work out for your upper arm, I say! 🙂
Are you making it this weekend? Say yes ! If not for the weekend, then make it for the Dussehera or Diwali or just like that. My family enjoyed it as a dessert after dinner yesterday. I bet yours will too. Make a portion and store in refrigerator. Feed 1-2 tbsp of halwa to the kids every day in this changing weather to keep them warm and safe from allergies.
Can't Make it Today? Pin it for Later!


Isn't this so gorgeous to look at? I promise it is more delectable than it looks. Each and every bite will take you closer to Food Heaven.
In my Kitchen, the festivals will always be Happy & Delicious.
Eat Happy! Stay Happy!
Sonal