Soups with SS, a soup event co-hosted by simplyvegetarian777 and Cooking with SJ
As an Amazon Associate and member of other affiliate programs, I earn from qualifying purchases.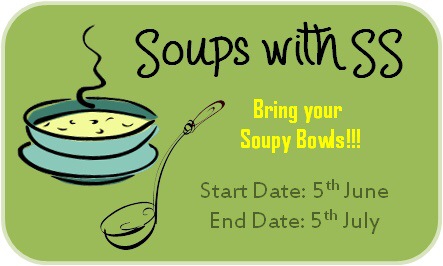 I feel extremely excited to announce Soups with SS. This is the first event created and hosted by Shruti and Sonal(that's me)! :).
While posting many of soup and salad recipes recently, I found Shruti who's quite like-minded… Someone who loves soups & salads eternally! Not only that, she too is a vegetarian… A lovely blogger… And more than that, a very dear friend of mine :).
Shruti approached me with the idea and I said yes. It has to be a good telepathy that even I was thinking on the same lines of hosting an event but wasn't much sure.
We came up with an idea to build a collection of soups for quick-access & new-ideas and just for that, we planned to run an event for this month, starting from June 5th 6:00 a.m. EST, USA time, which will bring many entries of fellow-bloggers too. No strict rules. The plan is to have fun and have more like-minded people on the wagon!
Here are some quick rules of the event :
It's a vegetarian event… Strictly no Non-Veg! Eggs are fine.

Any number of fresh/archived entries is allowed.

First, link to Shruti's announcement and Sonal's announcement in your post and then use linky tools.

One must like Cooking with SJ and simplyvegetarian777 for a valid entry.

Usage of logo is optional, but would be great if you add as it helps spread a word.

It would be nice, to mingle a bit. Visit the fellow bloggers entries and leave a nice comment or like their work. No rude or disputing comments at all !
Click on the button below to start linking your entries for 'Soups with SS'!!!
Click on the button below to start linking your entries for 'Soups with SS'!!!
Note : I have created a different page on the top of the blog, dedicated to events. Please save the link to that page for your postings, since this post will be burried soon! Here is the link to Soup event to save.