Spicy Black Beans stuffed Rolls or Black Bean Burger Reconstructed
As an Amazon Associate and member of other affiliate programs, I earn from qualifying purchases.

Soft Rolls filled with earthen beans and melting cheese.
It's weekend and weekends are all about food at my place. Routine sounds boring and food sounds fun so thinking outside the bowl this time :). I swear, I dint look up this recipe anywhere….wanted to combine 2 great things together…my favorite black beans either as soup or as a patty for a burger. Black beans it is! Spiced with jalapeño, jazzed with onions and decked with some cheese. Stuffed inside bread dough and baked like rolls! Wouldn't they make an awesome awesome appetizer for any party. I know the NFL is over but hey…Create an event just to enjoy these :). I have a number as spicy and jazzy as this one on my mind to accompany my weekend post…well when you make a late entry to a party called Fiesta Friday at The Novice Gardener, you got to make it grand ;).. Listen to this while reading the recipe.
Also, sending this recipe to the KFB Yeasty Feasty – The online baking event. I really hope both my event managers don't mind my "killing two birds with one stone" attempt here. I got one life you know ;)).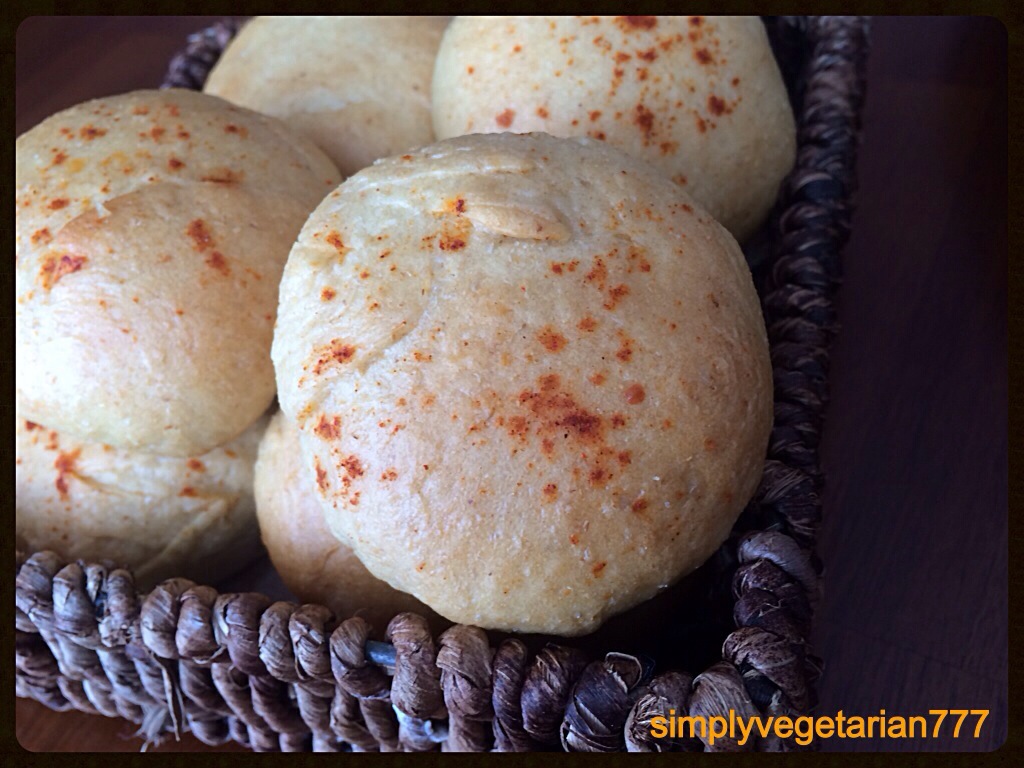 The best part is my 2 little devils loved it….I made few without the cayenne sprinklings… They didn't mind the jalapeño in it..I guess because it was soft and effortless when came to chewing:). That says it…no! I ate for my dinner and my breakfast…that tells how filling and delicious it is. Gap gyre bringing it to the room temperature, I packed them in a box with plastic cling wrap on top to maintain the softness.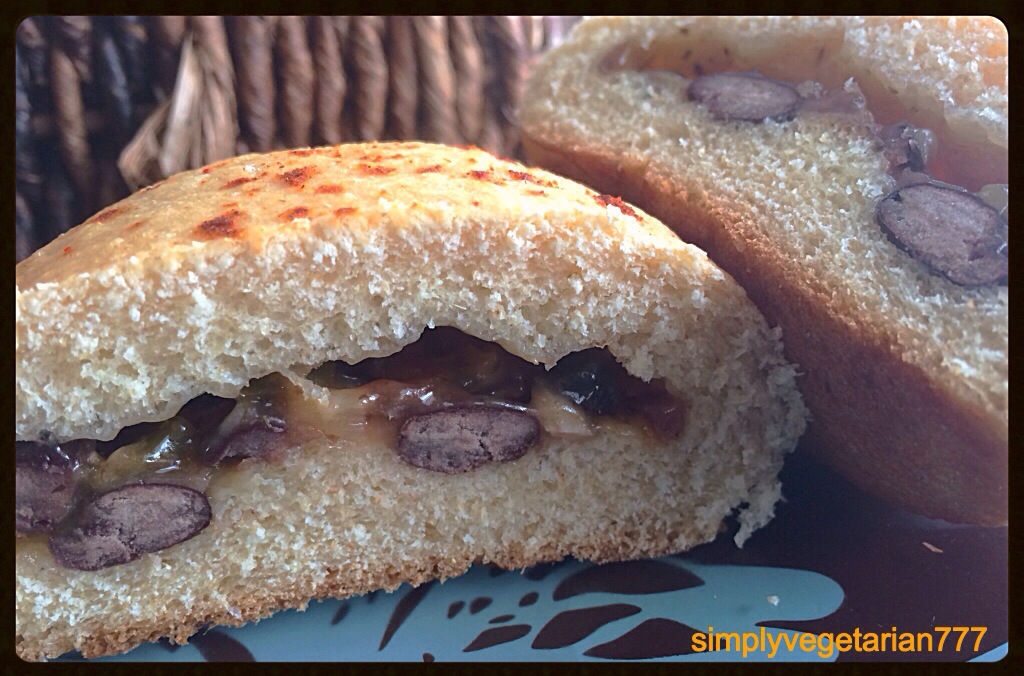 I am going to start with the making of these beauties without much more blabber. One more person, I would like to thank is Chef Karen. She is a trained advanced culinary and pastry art Chef from the Le Cordon Bleu Dusit Culinary School. She is French but currently resides in Bangkok, Thailand. Happened to connect with her over a FB group of foodies called Chef at Large. Such an awesome and down to earth person she is…… Hugs to you Karen for giving me your grand tip of yeast to flour ratio when it comes to baking. Sharing with all you lovely readers too : it is 10% yeast in the ratio of flour taken…well most of the times. I have used 300gms of flour in total and used 3 gms of instant yeast. I have realized that measuring on a scale is way much better than dumping the packets and cups in a Baked bread or cake.
My advise before you start reading this post is : the length of the post shows that you can actually do it. I have included as many pics of the process as possible to make it easier for all of you to follow. Have patience and try it. I bet even the newbies at baking can pull this off.
Ingredients :
Buns :
Whole wheat flour : 150 gms, approximately 1 cup
Refined flour : 150 gms, approximately 1 cup
Instant yeast : 3 gms, or 1/2 tsp heaped full
Oil : 2 tbsp +1 tsp
Warm milk : 1 cup + 1 tbsp
Salt : 1/3 tsp
Sugar : 2 tsp
Note : You may use active dry yeast. Proof it in warm milk with sugar for 5-7 minutes till it froths up nice.
Stuffing :
Oil : 1/2 tbsp
Black beans : 1/3 cup, cooked or canned
Onion : 1/2 cup chopped fine
Garlic : 3 pods crushed or minced
Jalapeño : 1/2 chopped fine
Salt : to tatse
Oregano : 1/3 tsp
Cumin powder : 1/4 tsp
Mexican cheese blend or cheddar : 1/2 cup
Method :
1. Stuffing :
Heat the oil in a pan. Add garlic and onions to it and sauté for 2-3 mites till onion becomes tender. Then add black beans, jalapeño, oregano, cumin powder and salt. Mix well and cook for 2 minutes.don't add the cheese at this point.once cooled, then add the cheese.
2. Buns :
Mix all the dry ingredients together in a big bowl. Make a well in the center. Add 2 tbsp oil and warm milk. Bring it all together to make dough. It will be slightly sticky. Apply 1 tsp oil to the dough and knead for 10-12 minutes. It will become pliable and smooth.
Place the dough in a lightly greased bowl and cover it with a cling wrap. Put it in a warm place and let rise for 60-90 minutes. In a warm weather, 45-60 minutes is enough. But it is so cold here. It took my dough almost 90 minutes to double up.
Take the dough out on a clean working surface. I used my cutting board. Punch it down gently. Roll it into a long roll. Cut out 10-12 equal portion pieces.
Now take one piece of dough. Roll it gently and flatten it between your palms. Scoop approximately 3/4 to 1 tbsp black bean and cheese mixture and add in the middle of the flattened dough.
Pull the sides of the dough to the center and close it tightly. Place it on the greased baking tray, seam side down. Finish the rest of the dough similarly. Place the stuffed dough balls at least 1″-2″ apart, since they will rise more.
Cover the baking tray up with a plastic cling wrap. Let it rise in a warm spot for another 30-50 minutes till it doubles up again. It took me 50 minutes, again because if the cold weather and lack of moisture in the air. Meanwhile, preheat the oven at 350*F.
After doubling up, they will look like this.
Take some cold milk in a bowl. Brush the top of the buns with some milk for keeping them moist and help them pick up the color. I have sprinkled few with cayenne pepper for extra kick.
Bake in the oven at 350*F for 25-30 minutes till they turn slightly golden on the top. Take them out. Let cool on the cooking rack. Enjoy while still warm.

Front of the bun

Back of the bun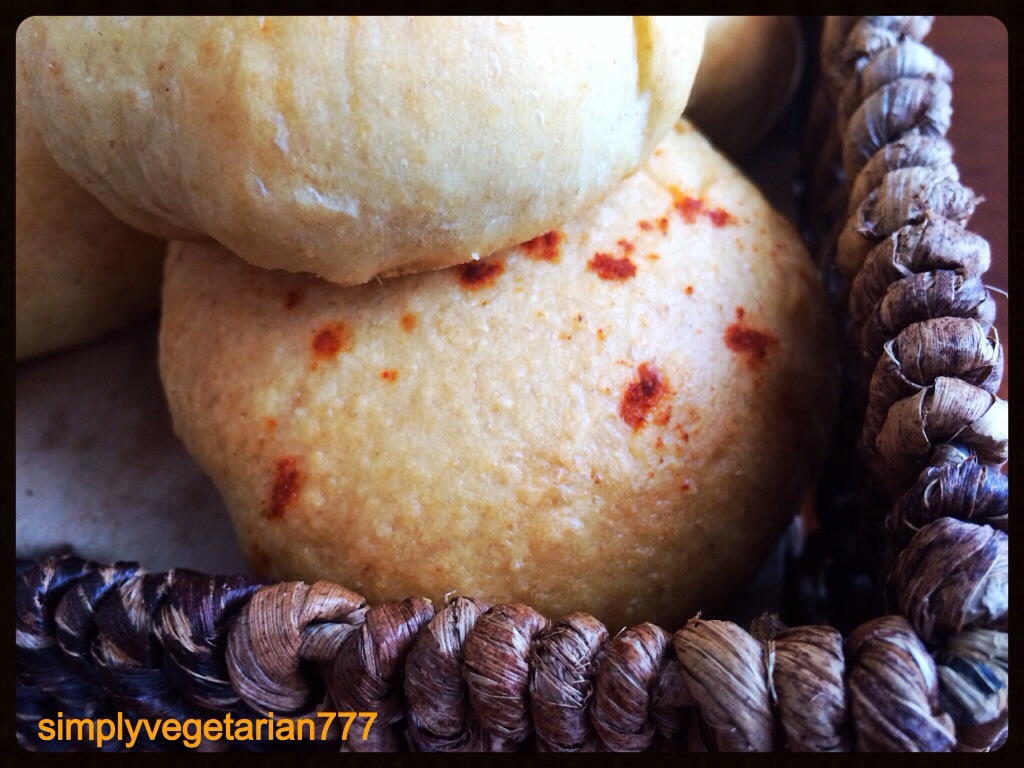 Proudly displaying KFB logo of the event.