Strawberry and Almond Pudding, Egg-free and with Vegan Option : Happy Easter :)
As an Amazon Associate and member of other affiliate programs, I earn from qualifying purchases.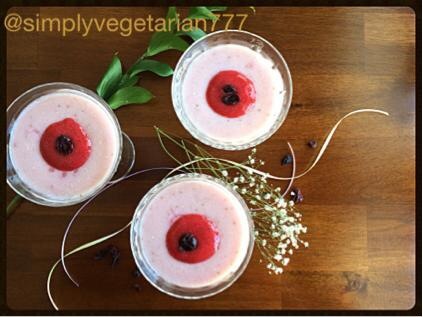 I had bought 2 boxes of strawberries and you know that strawberries have such a short shelf life even in the refrigerator. Before they would have turned rotten, I picked the still fine ones, bathed them, trimmed them and then puréed them.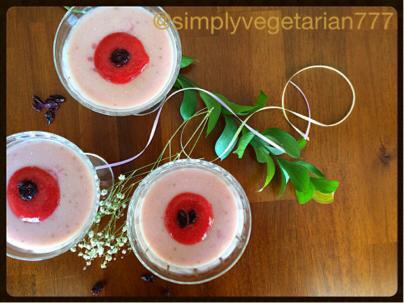 The Easter is right around the corner, rather tomorrow and I realized that I haven't done any post on Easter yet. I know this post has no bunnies, no candied and colored eggs, no pretty dresses….but…but, it has a pretty looking pudding with refreshing spring flavors and a lighter healthier note in mind. So here I wish all my blogger buddies, readers and followers, family and friends….a very happy Easter :).
You must be thinking that a pudding and healthy? If you know me, you know my twisted mind 😉 …..lol! It is healthier since I used almond meal, seems like my best buddy lately and jumps into all my recipes..well almost! It is lighter since I used skim milk, lesser sugar, non sweetened fruit purée and kept it egg free for majority of the people to enjoy!
Here is the recipe to Strawberry and Almond Pudding! Are you ready? You won't believe how simple it is!
Strawberry and Almond Pudding
Servings: 4-6
Difficulty: easy
Kitchen Equipments : Heavy bottom saucepan, stirrer or manual egg beater, dessert bowls.
Ingredients :
*Milk, 2% or skim : 3 cups
*Almond Meal : 1/4 cup
Cornstarch : 1&1/2 tbsp
Salt : a big pinch
*Sugar : 3 tbsp
*Strawberry Purée : 10 tbsp or 1/2 cup approximately
*Notes :
1. You may use Soy milk or Almond Milk.
2. Almond Meal will give pudding a slightly grainy texture. If you doubt that any of the family members would not like it then skip the almond meal and increase the corn starch to 2 tbsp. My kids didn't like it in the first few bites since it was a new texture to the pudding but after few bites they were fine and finished the pudding :).
3. I keep the sugar in my desserts slightly less. If you like your desserts sweeter, then you may increase the sugar to taste. The diabetics may use sugar substitute.
4. Strawberry Purée : make sure that the star worries are sweet and not sour. You may thaw the frozen strawberries and purée them for use. Use it at room temperature.
Method :
1. Take a heavy bottom saucepan. Add cornstarch, almond meal, sugar and salt and mix well with a stirrer.
2. Now add milk to this dry mix in a thin stream and keep stirring with a stirrer. Make sure that no lumps are formed. Stir vigorously.
3. Now put the pan on medium low heat. Don't bring it to the boil. Heat it gently while stirring quite often. Don't leave the sight at all.
4. After heating for almost 8-10 minutes. Switch the stove off. Do the spoon test. Dip the back of the spoon and the pudding should stick to the spoon as a thin film.
5. Take 1/2 cup of the pudding mix in another bowl. Add the puréed strawberry to this bowl and stir vigorously to mix well. Pour this strawberry mixture back to the main saucepan. Stir everything well together with stirrer.
6. Pour into dessert bowls. Cover with plastic cling wrap. Refrigerate for about 2 hrs or until it sets well.
7. Top it with little strawberry purée before serving and tada :).

I hope everyone has a great holiday with family and friends!
Cheers,
Sonal @simplyvegetarian777