Strawberry Lemondade or a possible Popsicle ;)
As an Amazon Associate and member of other affiliate programs, I earn from qualifying purchases.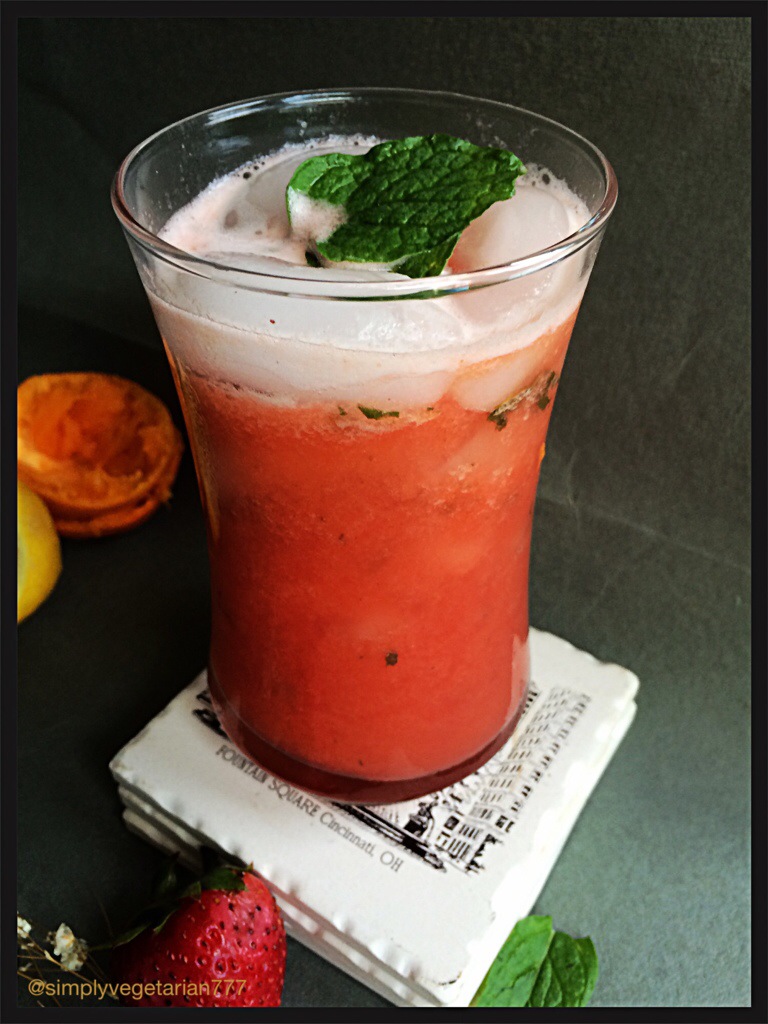 Summers and Heat ! Two come together. We wish so hard during winter for the summer to be here and forget that it doesn't come alone but comes with it's best girl friend heat which is sassy, itchy and annoying. 😉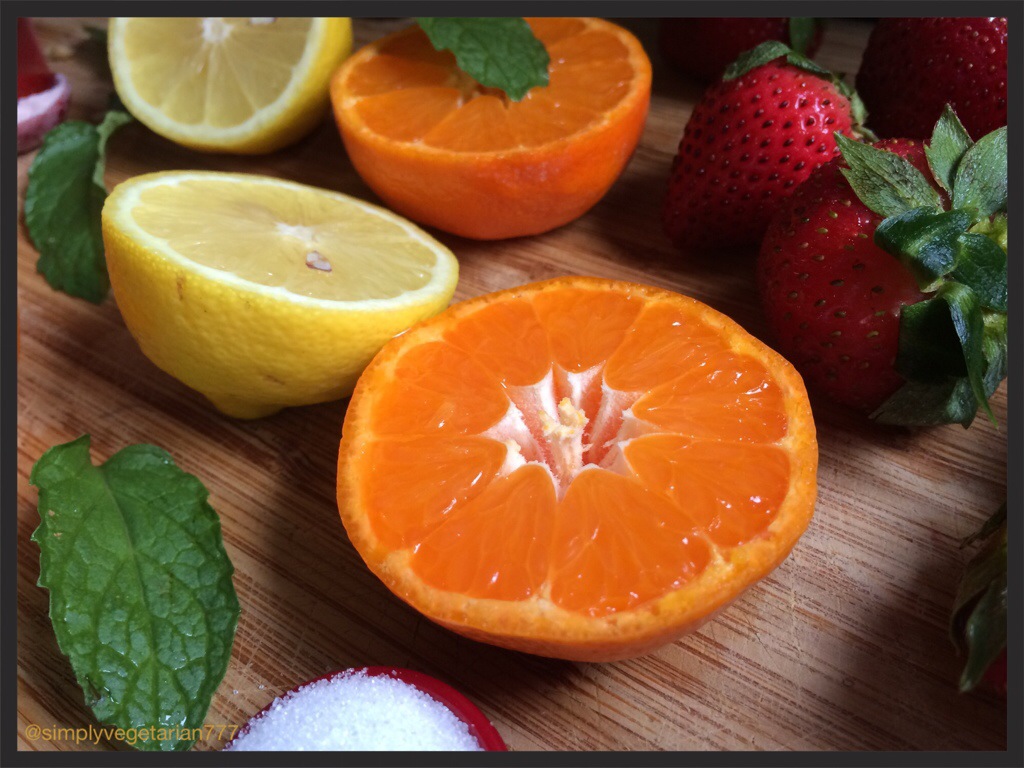 Summer comes with a bountiful of fruits which help us going through the scorching summers. Lemons, watermelon, cantaloupes, pineapples, mangos, berries become out best friends along with some great filling cold salads.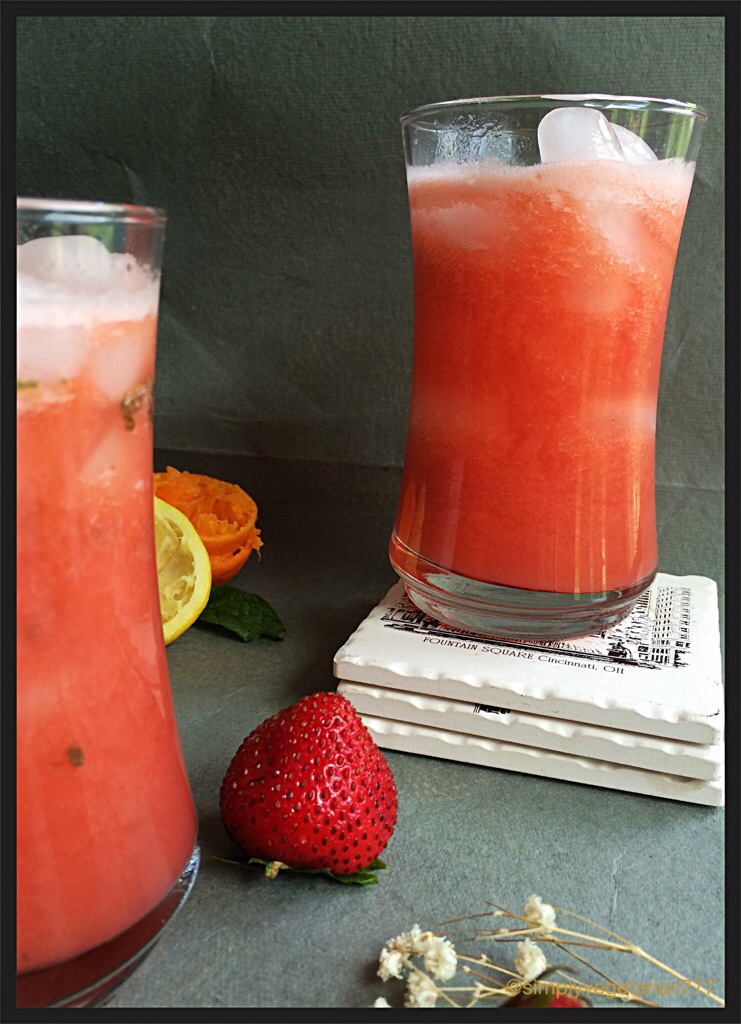 My 3 year old is starting with summer break today. It is tough for me to match her energy. I started my day by sending Amit to work and Aanya to school, packing lunches and making breakfast etc etc. After that, just me and Myraa! We went out, planted some strawberries and marigolds which were yelping to come out of their original small cases. What next mama? Sigh! No TV ! It is for afternoon. So we came back to the kitchen and whipped some Strawberry Lemondade . It was super easy.
Here is how Myraa and I made it together. A great activity to involve your kids. Make some delicious drinks and dishes. The best part is that this can be frozen into Popsicles or just freeze and shave for ice cones! How cool!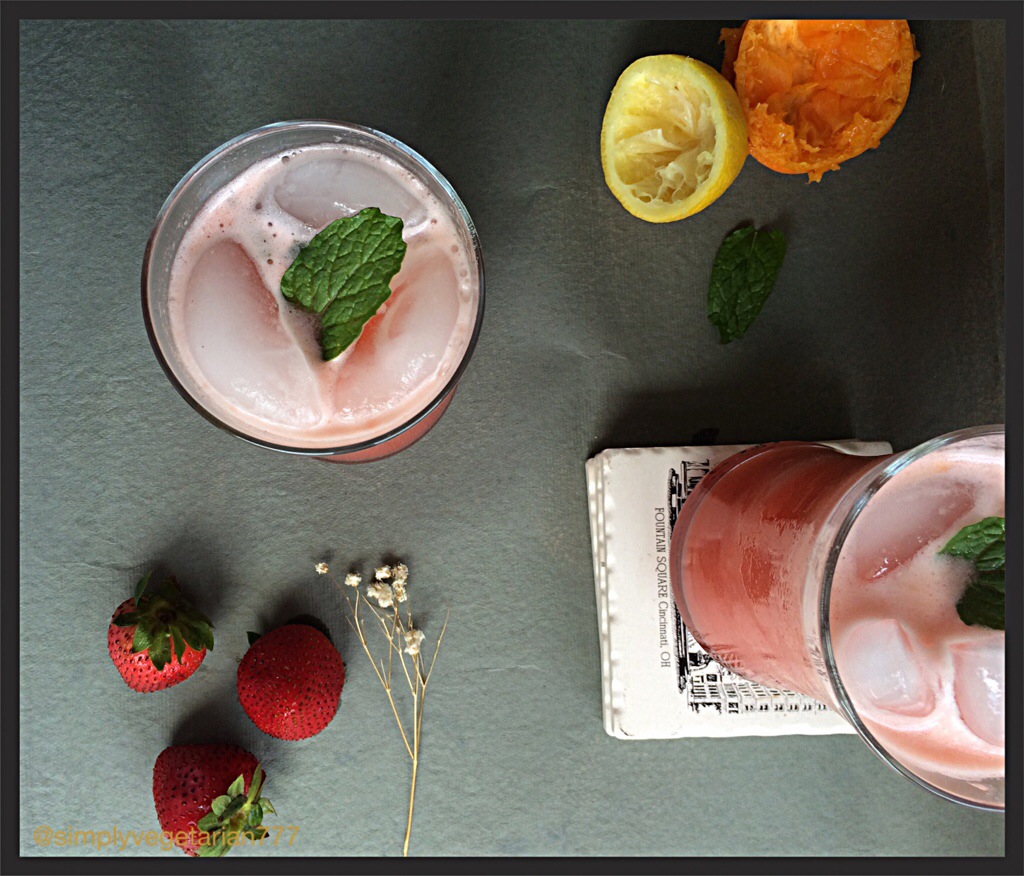 Yields : 2 tall or 4 small glasses
Kitchen Equipments Required : sieve, bowl, blender, lemon squeezer, spoon
Ingredients :
Strawberries : 8-10, washed and stem removed
Orange juice : of 2 small sweet oranges or 1/4 cup store bought
Lemon juice : of 1 lemon or 1&1/2 tbsp
Mint leaves : 4-5 muddled/crushe
Rock salt or regular : 1/4 tsp
Sugar : 1 tsp, optional. If you are using store bough orange juice, it already has sugar so be careful.
Water : 1 cup
Ice cubes : 1 cup
Method :
In a blender, add strawberries, 1 cup water, sugar and salt and blend till puréed.

Squeeze out the lemon and orange juice.

Take a bowl and sieve. Strain the orange and lemon juice through sieve. Clean the sieve. Now start straining the strawberry purée through the sieve. Keep pressing and swirling the purée with spoon in the sieve so that it can strain. Wash the sieve in between to clear it off the strawberry seeds.

Take 2 glasses. Fill them up with ice cubes. Add the muddled mint leaves. Pour the strained purée. Serve chilled!
Notes :You can freeze the purée into Popsicles. Dilute with some water before that.
Hope you all will enjoy making this with your kids!
Sonal