Sweet & Spicy Tofu and Broccoli Skewers on the Bed of Pickled Lettuce & Carrots
As an Amazon Associate and member of other affiliate programs, I earn from qualifying purchases.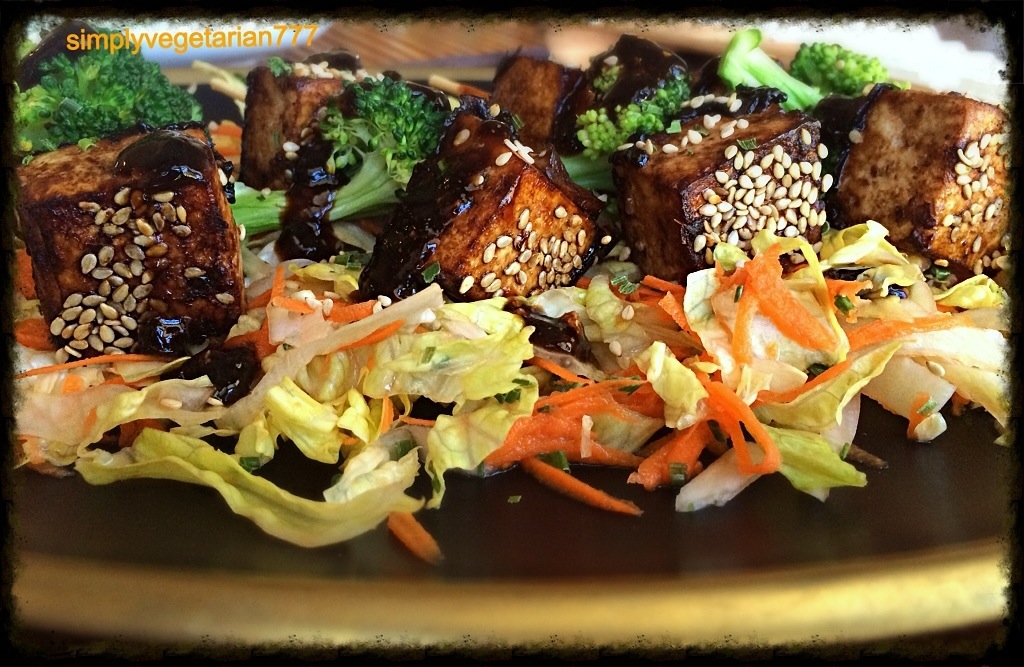 Angie, here I am again at your party. Believe me, I had taken out my beautiful Burnt Orange Saree with golden intricate border to wear for your party, but then I was getting late and it needed some serious ironing. So chucked the idea for the next time and here I am in my PJs, holding a golden platter instead of my Saree. Hope it is okay, to come in my PJs 🙂 , please?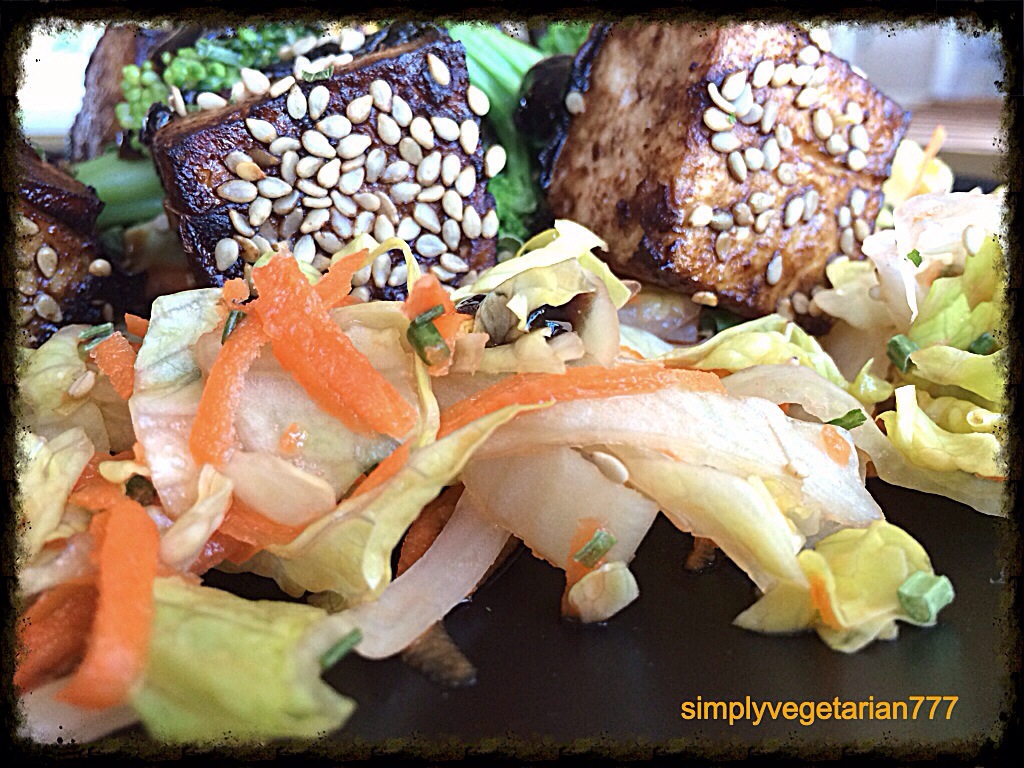 It's dripping of flavors and crisped with sesame seeds with complimenting pickled bed of lettuce and carrots. Can you resist it? Actually, it is a 2-in-1 kind of dish with an appetizer and a salad. So the whole thing is edible, no waste. The salad is subtly flavored with vinegar and sugar. The tofu and broccoli skewers are aromatic with ginger, soy, chili sauce, orange juice.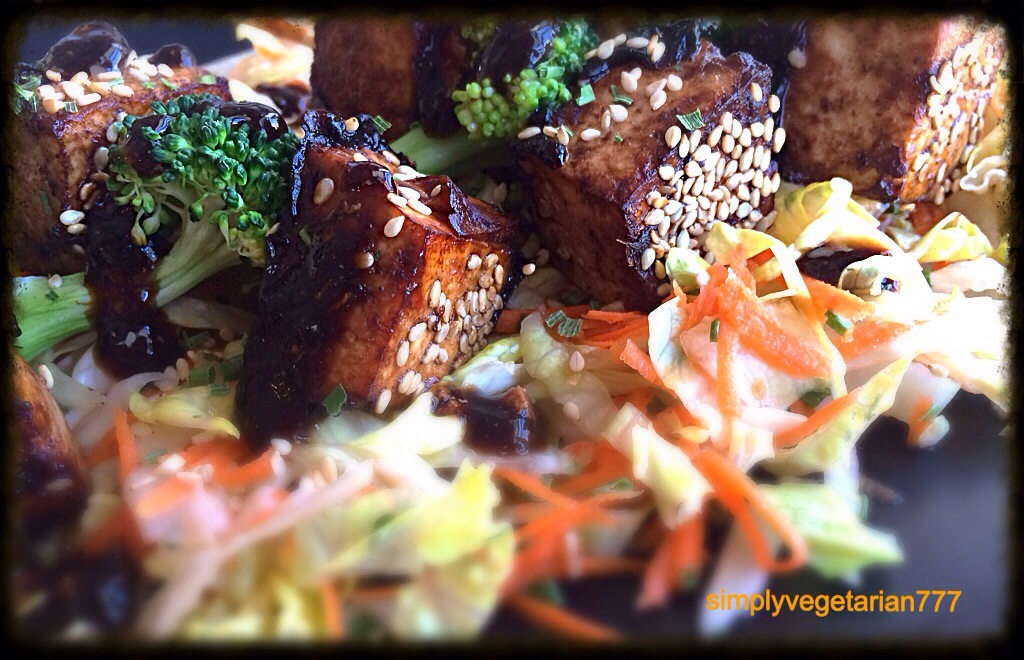 Don't want to bore you with my other details today. Let's get to the business, the recipe! Oh did I tell you, it's light and baked so that you can do bulk at one go!
Go, gather your stuff! All done? Alright, I am ready!
Ingredients:
For Tofu and Broccoli Skewers
Extra firm Tofu : 14 oz or 400 gms
Broccoli : 8-10 small florets, washed
Soy sauce : 2 tbsp
Sriracha or any hot sauce : 1 tsp
Sugar : 1/2 tbsp
Orange juice : 2 tsp
Ginger : 1/2 tsp freshly minced
Corn Starch : 1/2 tbsp
Sesame seeds : 2-3 tbsp
Small bamboo Skewers : 8-10
For Salad :
Lettuce : 1 cup, washed and shredded. May use cabbage also.
Carrots : 1 big, washed, peeled and grated thick
Dry Chives : 1 tsp, optional
Distilled vinegar : 1 tbsp
Sugar : 2 small pinches
Salt : 1 small pinch
Method :
Preheat the oven at 450*F and grease a baking tray.
Prepping the Tofu :
Press the water out if tofu and pat it dry. Don't worry about squeezing all the liquid out, just dry enough. Cut the Tofu in 1inch cubes and set aside.
Take a bowl and add corn starch, soy sauce, hot sauce, orange juice, ginger, sugar and stir vigorously to dissolve sugar and this will avoid lump formation as well.
Now dip each piece of Tofu in soy bath and place on the greased baking tray. Sprinkle with sesame seeds. Bake for 20-25 minutes. Flip midway at about 12 minutes.
You will have little bit of Soy and Corn starch mixture left. Add 2-3 tbsp water to it and cook on the low flame for 2-3 minutes. It will become a thick sauce to drip on the top.
Meanwhile microwave Broccoli for 3-4 minutes with 2 tbsp of water. Set aside.
Prepping the Salad
Take a bowl and add shredded lettuce and grated carrots to it. Add vinegar, salt and sugar to it and let it sit for 4-5 minutes. Lettuce is delicate so it breaks down quicker than any other vegetable under vinegar. So prep this salad before serving.
Assembling the Platter :
Take out your platter which you want to use for serving.
Prepare the salad and lay it out on the platter.
Keep oven baked tofu, microwaved broccoli and bamboo skewers close by. Take a skewer, put a tofu piece across, then add broccoli and the sesame tofu piece again! Finish all the pieces similarly in skewers.
Lay them on the pickled lettuce carrot salad bed. Now drizzle the sweet and spicy sauce on top of the whole platter lightly (that you prepared with leftover soy bath).
It is ready! Enjoy the party :).