Tea with Elaine : Kahwa, a Kashmiri Green Tea; Date, Figs n Pistachio Salami; Eggplant Fritters (Baingan Pakode), Pan Grilled
As an Amazon Associate and member of other affiliate programs, I earn from qualifying purchases.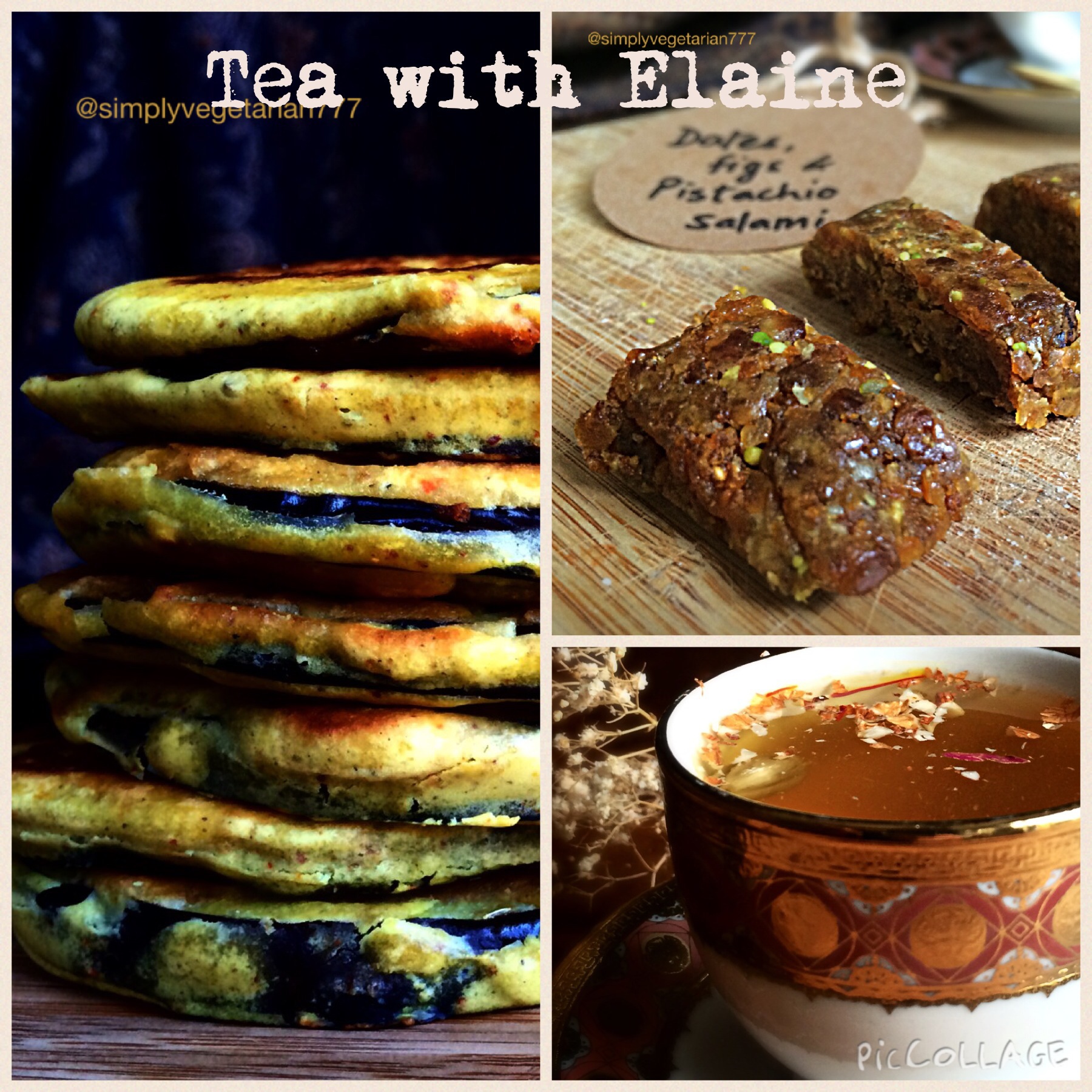 Elaine and I decided for a date to meet up. I was so excited that I am meeting one of my oldest friends from wordpress, even if for a virtual date. There is no better love to share than the love for food! Right Elaine? I totally love her and her gorgeous food! The dips, the vegetable roasts, the goodness bars are just to die for.
Sometimes I wonder, how lucky I would have been if I was her neighbor. Sigh! I wish I had known her when I lived in UK 10 years ago.
When she said that let's catch up over your food, I had these dishes whirling on my head. Knowing her love for Middle East food, vegetarian, eggplants, gluten free and healthier dishes in general; I had a full lunch menu in my mind but that became too ambitious for me. So I cut it down to the Brunch Menu!
A Brunch Menu which has an aromatic and healing Green tea from the northern state of India, Kashmir, infused with spices and saffron.


Accompanying it, is Dates Figs and Pistachio Salami. Salami for the shape of it but is is oh-so-yum! I a sure Elaine is going to love it with her Kahwa. A delightful combination.


A brunch is not complete at my place without a hearty savory dish. So I made "Baingan ke Pakode". These are traditionally deep fried and people just love these back in India. Though not as common as potato and onion fritters, they have they own cult.


I took a leap on these and pan grilled these so we both can enjoy these guilt-free. Yay! Elaine loved it! Right Elaine ;).
For the recipes on all 3 dishes, please click on this link in "blue"