Tres Leches Waffles with Whipped Cream & Berries
As an Amazon Associate and member of other affiliate programs, I earn from qualifying purchases.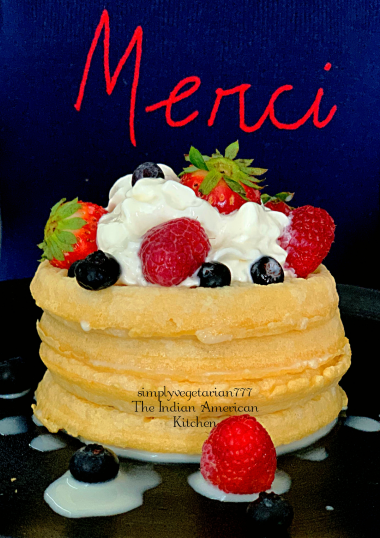 Tres Leches Waffles with Whipped Cream & Fresh Berries is a real deal for the Waffle Lovers.
It is a perfect treat to indulge when catching up on the favorite show SPIRIT RIDING FREE on Netflix.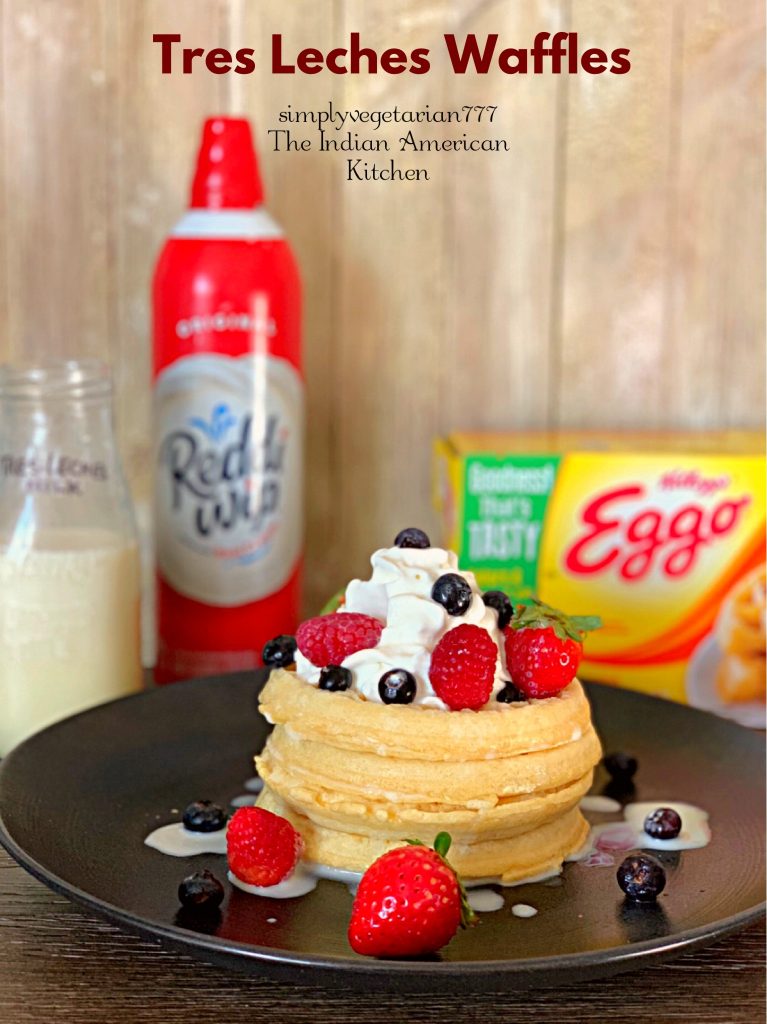 Easy & Delicious TRES LECHES WAFFLES created with Eggo Waffles & Reddi-Wip
Not many people are aware that we have recently shifted houses. And to reiterate MOVING IS NOT EASY. Period.
The one thing that doesn't change in America, no matter where you relocate is – WALMART. Hallelujah to that and making it slightly easy.
SO when we moved, the first thing we did was – went shopping to Walmart. As usual Eggo Waffles & Reddi-Wip Original topped our grocery list.
There is no better comfort for my kids when we combine Eggo Waffles + Reddi-Wip Cream + Spirit Riding Free on Netflix together.
TRES LECHES WAFFLES
You probably have heard me say many times that NORMAL IS BORING. Therefore, we always have our own TWISTS added to REGULAR RECIPES.
Here I converted the EGGO HomeStyle Waffles to TRES LECHES WAFFLES. Yes, you read it right. A little twist goes a long way.
I created the Tres Leches Milk and used it as my SYRUP to the Waffles along with the creamy Reddi-wip and fresh berries.
It is so addictive that my girls have been eating the waffles TRES LECHES way since then. Yup, I am already on my batch 3 of Tres Leches Milk in less than a month.
THE RECIPE IS GIVEN BELOW in the RECIPE CARD.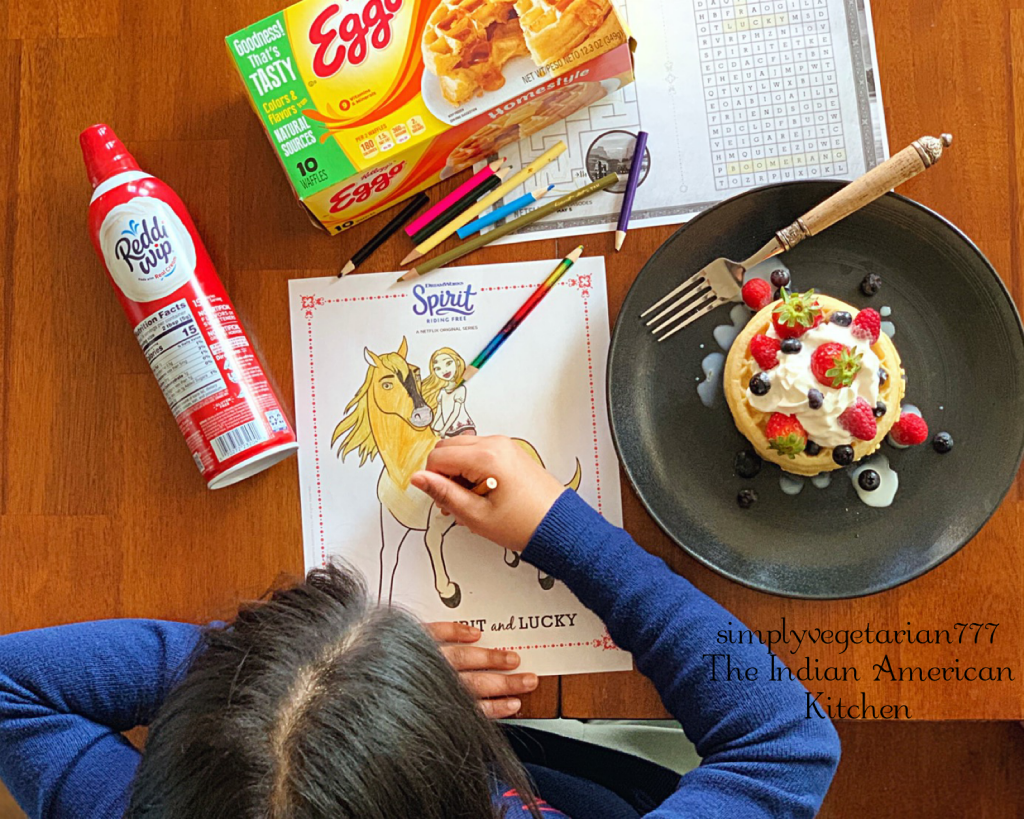 We are a family that moves every 2 years. In the last 20 years of our marriage, we have moved about 12 times.
Though the drill seems familiar every time, it still creates uneasiness and restlessness. My girls are very brave but they have their own challenges in the new place. Just like Lucky of Spirit Riding Free.
What do we do as a family to overcome the uneasiness of New Place?
As I mentioned above, so thankful for Walmart that it is everywhere. First and foremost, we check out the neighborhood Walmart of the town/city.
We fill up the refrigerator with known comforting food items. Eggo Homestyle Waffles & Reddi-Wip Original Whipped Cream is always on our list. We get a couple of those along with our other favorites. And are all set to start our new journey.
I sit down with my girls and chart a plan of action in case of an emergency in the new place.
We chart down our fears and try to come up with a plan to combat those.
Another interesting method we adopt is – explore the new town on google and make a list of things to do & places to visit.
Make a list of family favorite shows and songs to fill our time. Spirit Riding Free always tops the chart.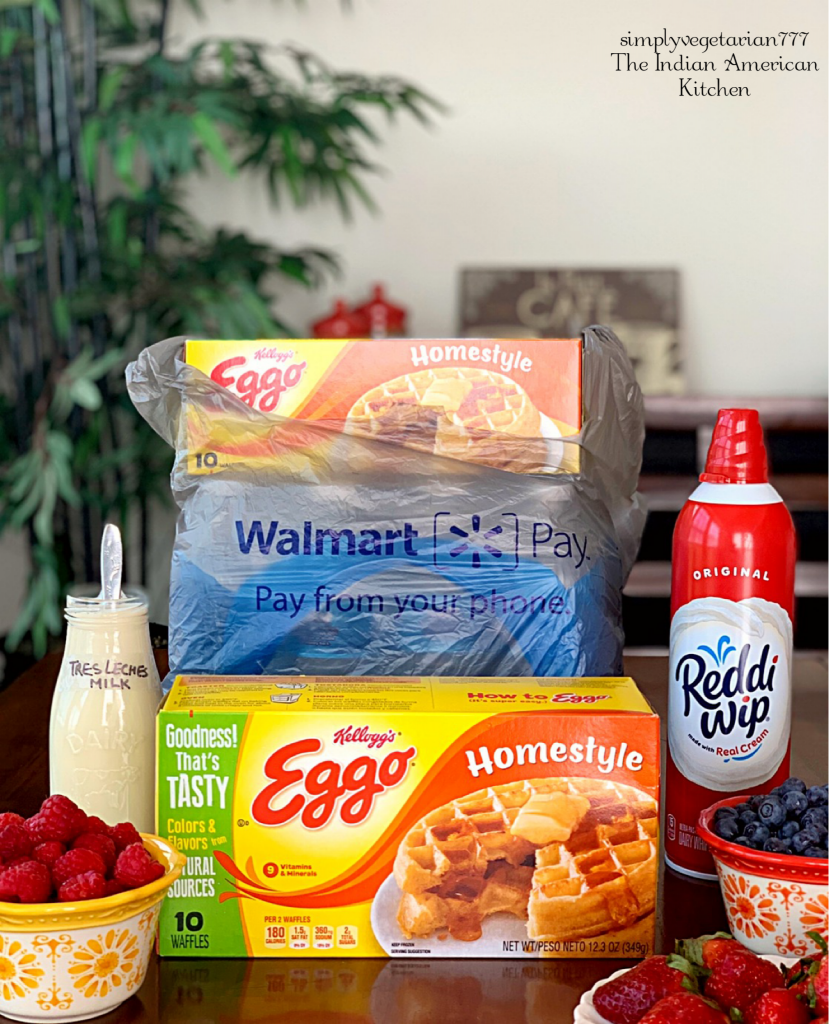 Why EGGO WAFFLES & REDDI-WIP ORIGINAL always make it to our GROCERY LIST from WALMART?
EGGO WAFFLES
These Waffles are warm, fluffy, and delicious.
Eggo Waffles can easily be toasted to delicious GOLDEN CRISP in just minutes in your toaster.
The best part – if you like your waffles in FRENCH TOAST style, then you can easily get these in shareable, dunkable size.
Reddi-Wip
It uses the best dairy cream in original flavors.
Reddi-Wip has less hydrogenated oils than other frozen whipped toppings – real cream is a top priority.
And if you are a VEGAN, then you can find High-Quality COCONUT CREAM in non-dairy varieties.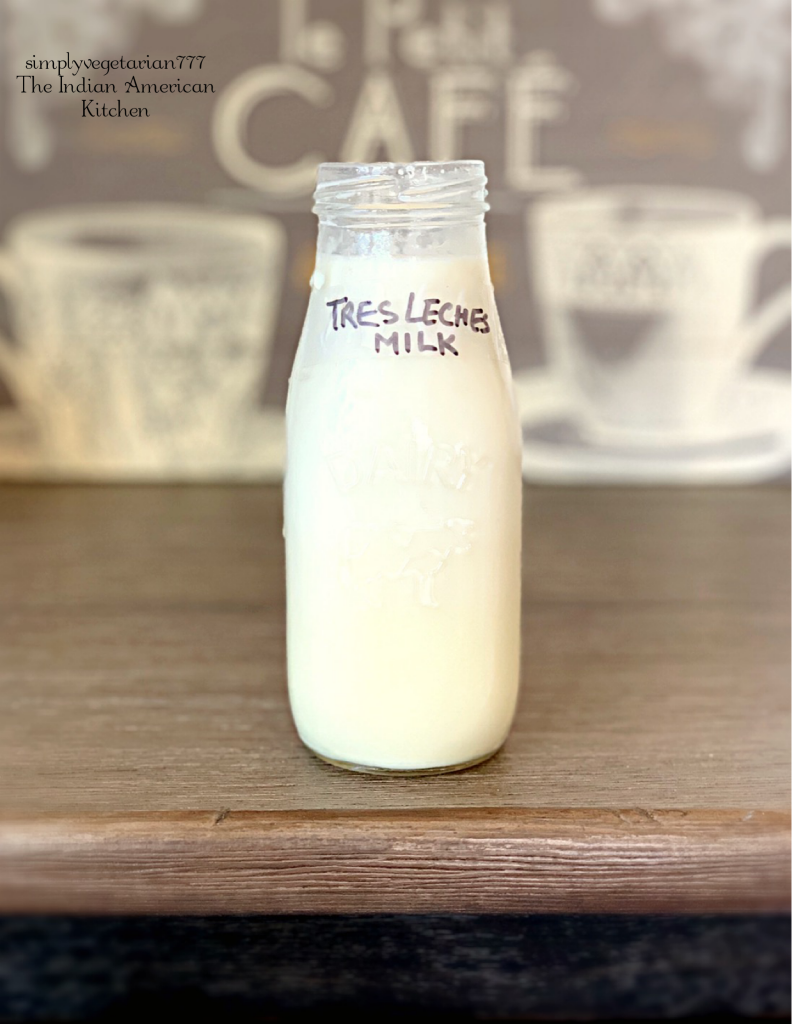 What is SPIRIT RIDING FREE? Why we relate to the show as a family?
Spirit Riding Free is a show on Netflix.
It is set during the 19th century in a small town of Miradero, Texas. The series shows a special relationship between 12 years old girl Lucky and a wild Kiger Mustang (Horse) named Spirit.
The show essays the story of Lucky who has recently relocated to Miradero and has no friends. She goes to a new school and knows nobody. It shows how Lucky gets to know the other kids in the school and makes the best friends with other 2 girls – Pru and Abigail.
Both the girls are excellent Horse-Riders and how they influence Lucky to be a Horse- Rider. It is a story about the adventures undertaken by Lucky, Abigail, and Pru across the land with their respective horses Spirit, Chica Linda, and Boomerang.
It is a beautiful show that I often catch up with my girls for the unbeatable spirit of Lucky and SPIRIT the stallion. The show fills us up with new courage to undertake our adventures with fun in the new place. A must watch for sure. To learn more about the show, CLICK HERE. We love doing the activities posted on the link. Some great ideas there to work with the girls.
To get the Spirit Riding Free Activities printed for your girls, CLICK HERE.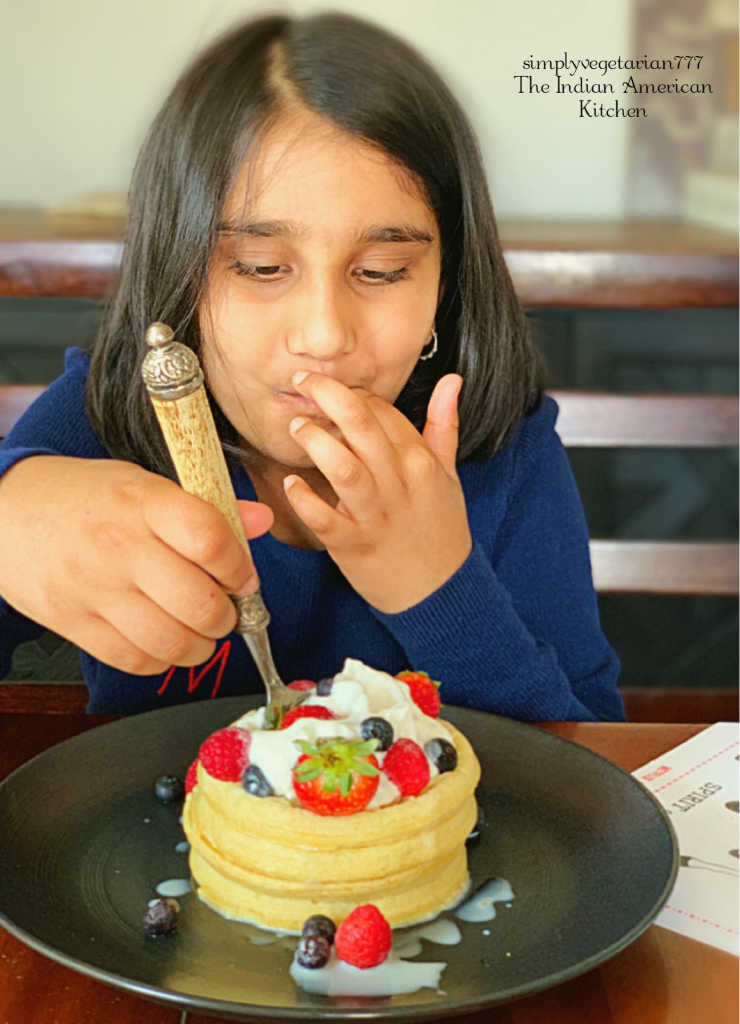 Why should you try TRES LECHES WAFFLES along with SPIRIT RIDING FREE?
Umm, there can be many reasons to suggest that. But here are my top reasons –
Tres Leches Waffles is a super simple recipe. It does not require any cooking besides toasting the waffles in a toaster.
Your kids can make their Tres Leches Waffles anytime when they are hungry. You do not have to worry besides them over-eating it.
Spirit Riding Free is such a relatable show for little girls and big girls too. It brings the sisters together over some warm comforting waffles & endless amusement and laughter.
It is a great combination together to experience comfort and easiness and learning to resolve everyday issues in the new place.
All in all, it is a comforting package that generates strength and character building in a subtle way.
How to make TRES LECHES WAFFLES?
Tres Leches Waffles - Made with Eggo Waffles & Reddi-Wip from Walmart
Tres Leches Waffles are very addictive. It is a fairly simple recipe that requires almost no cooking. These waffles are perfect for breakfast or snack.
Ingredients
TRES LECHES MILK INGREDIENTS
1

cup

Evaporated Milk

1

cup

Condensed Milk

1

cup

2% Regular Milk or Heavy cream or Whole fat Milk

I used 2% milk
Waffles
1

pack of 10 count

Homestyle Eggo Waffles

from frozen section at Walmart
Whipped Cream
1

can of 13 ounces

Reddi-Wip Original Whipped Cream
Fruits
A Handful

of

Berries & Fruits of Choice
Instructions
TRES LECHES MILK RECIPE
Take a glass bottle or jar. Add evaporated milk, condensed milk and regular milk to it. Shake it or stir it with a spoon to combine all 3 kinds of milk together. TRES LECHES MILK is ready. Yes, no cooking required.
TRES LECHES WAFFLES RECIPE
Toast the Eggo Homestyle waffles in the toaster or oven to desired crispiness. Or microwave if you want to keep them soft.

Place them in the plate. Drench them with Tres Leches Milk. Top with Canned Original Reddi-Wip Whipped cream + fresh fruit. INDULGE.

WARNING - you may overeat it. 😀
I am sure you are going to catch up on the Spirit Riding Free show on Netflix soon. Your girls will thank you. Get them going with some Tres Leches Waffles, they would be doubly thankful. 😀
Can't make it now? Pin it for Later.

In my kitchen, you will EAT HAPPY & STAY HAPPY!
Sonal
This post is part of a social shopper marketing insight campaign with Pollinate Media Group®, but all my opinions are my own. #pmedia #AddSpirit2Breakfast http://my-disclosur.es/OBsstV"