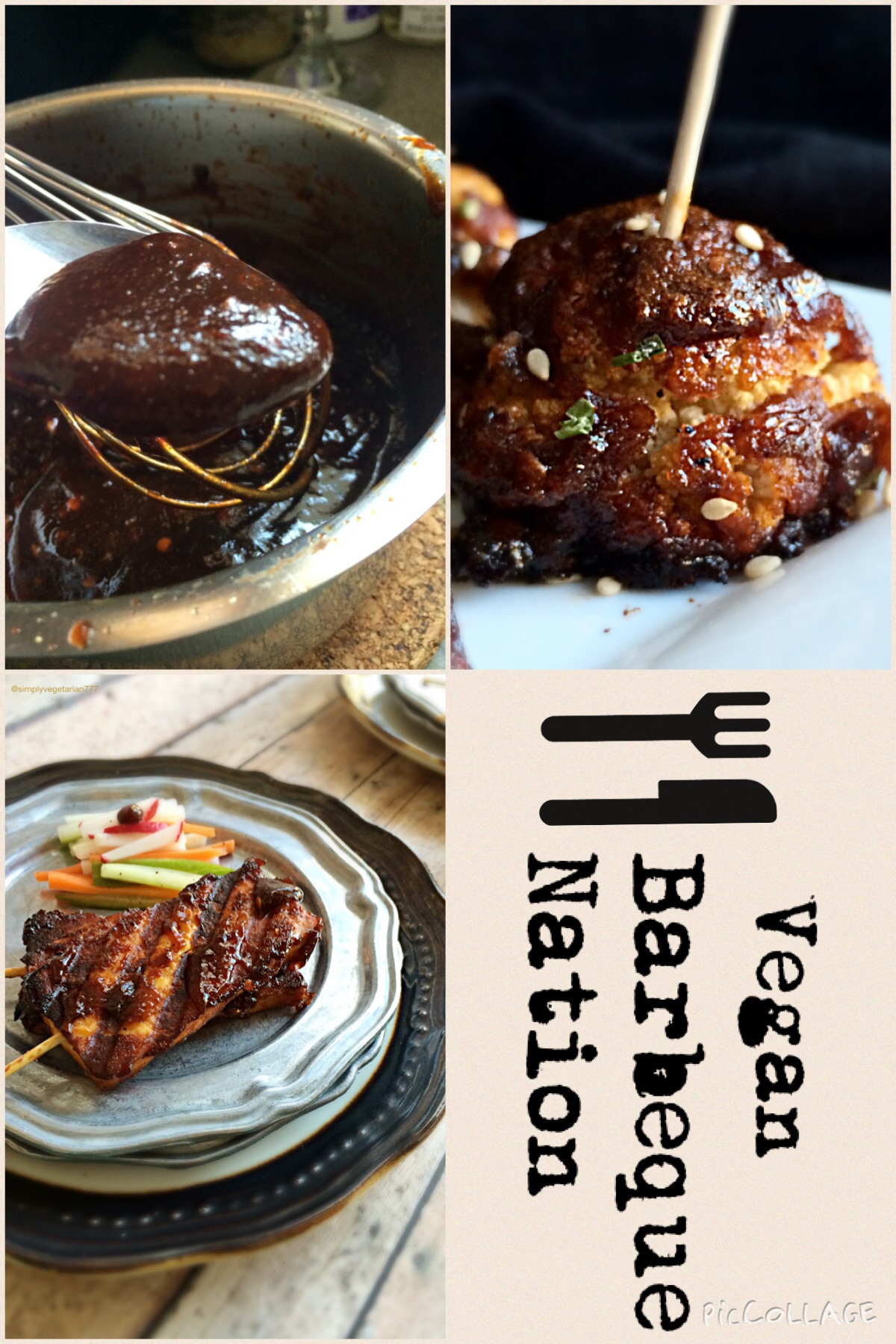 Super Bowl Sunday is right there! Are you still planning? Hosting some friends over for the game? Did I hear, "what do I make, some of them are vegan"? Well here is an answer to all your head scratching! I made these beauties this week and were gobbled down by the family in no time!
This is going to be a long post but very fruitful, so hang in there with me! I will take you to the recipes step by step!
I am not going to babble much today as I do, but take you on the fab journey of Vegan Barbeque Nation!
Just to Quote, all of it was so delicious that my hard core carnivore husband who doesn't praise for no reason, gulped it down all without any complains and asking for more ☺️.
Home-made Vegan Barbeque Sauce
Servings: 1/2 cup
Difficulty: easy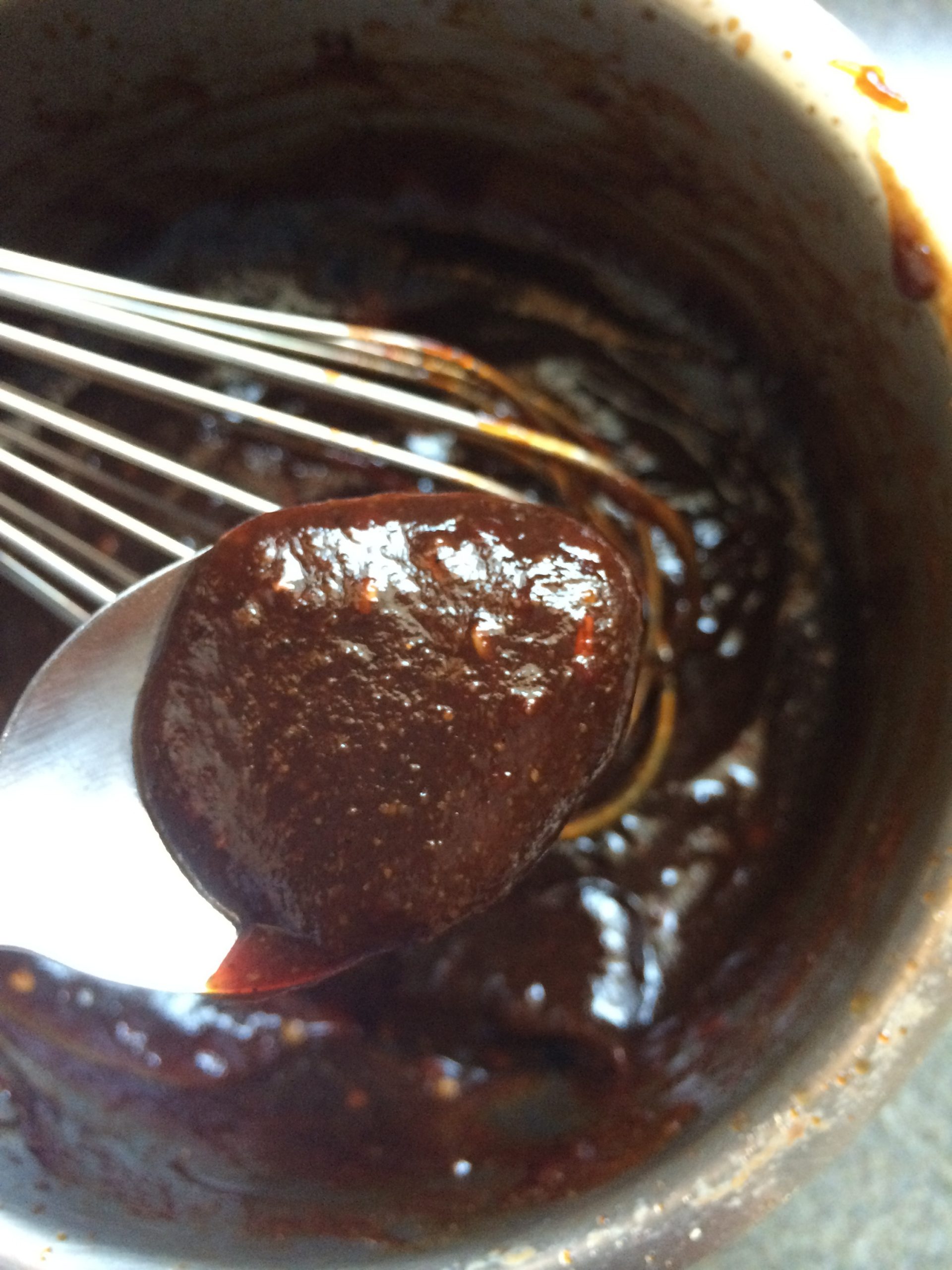 Kitchen Equipments Required : Heavy base sauce pan, stirrer, a whisk.
Ingredients :
Ketchup : 1/2 cup, of your choice. Make sure it is vegan and/or organic.
Soy sauce : 1 tbsp
Cider vinegar : 2 tbsp
Honey : 1 tbsp
Brown sugar : 1 tbsp
Black pepper crushed fresh : 1/2 tsp
Crushed red chili flakes : 1 tsp
Water : 2 tbsp
Garlic powder : 1/2 tsp, optional. Or use fresh grated garlic.
Method :
Mix all the ingredients together and simmer on low flame for 10-12 minutes till it becomes thick. Stir often. Set aside to cool.

Barbequed Tofu Steaks with Crispy Cider Slaw

If food can be seductive, then this is what it is :). It's aroma calls out for you and makes you beg to eat it!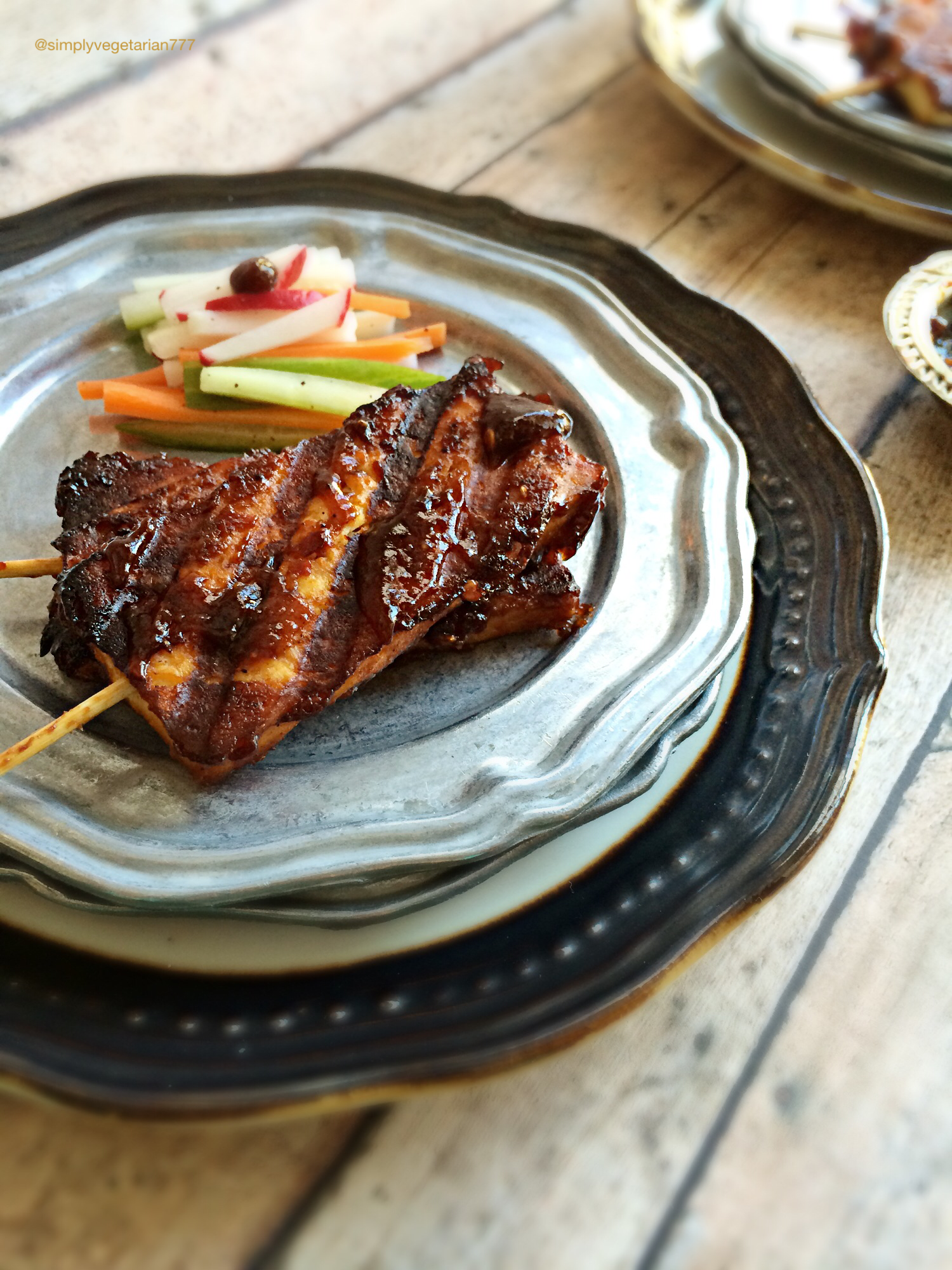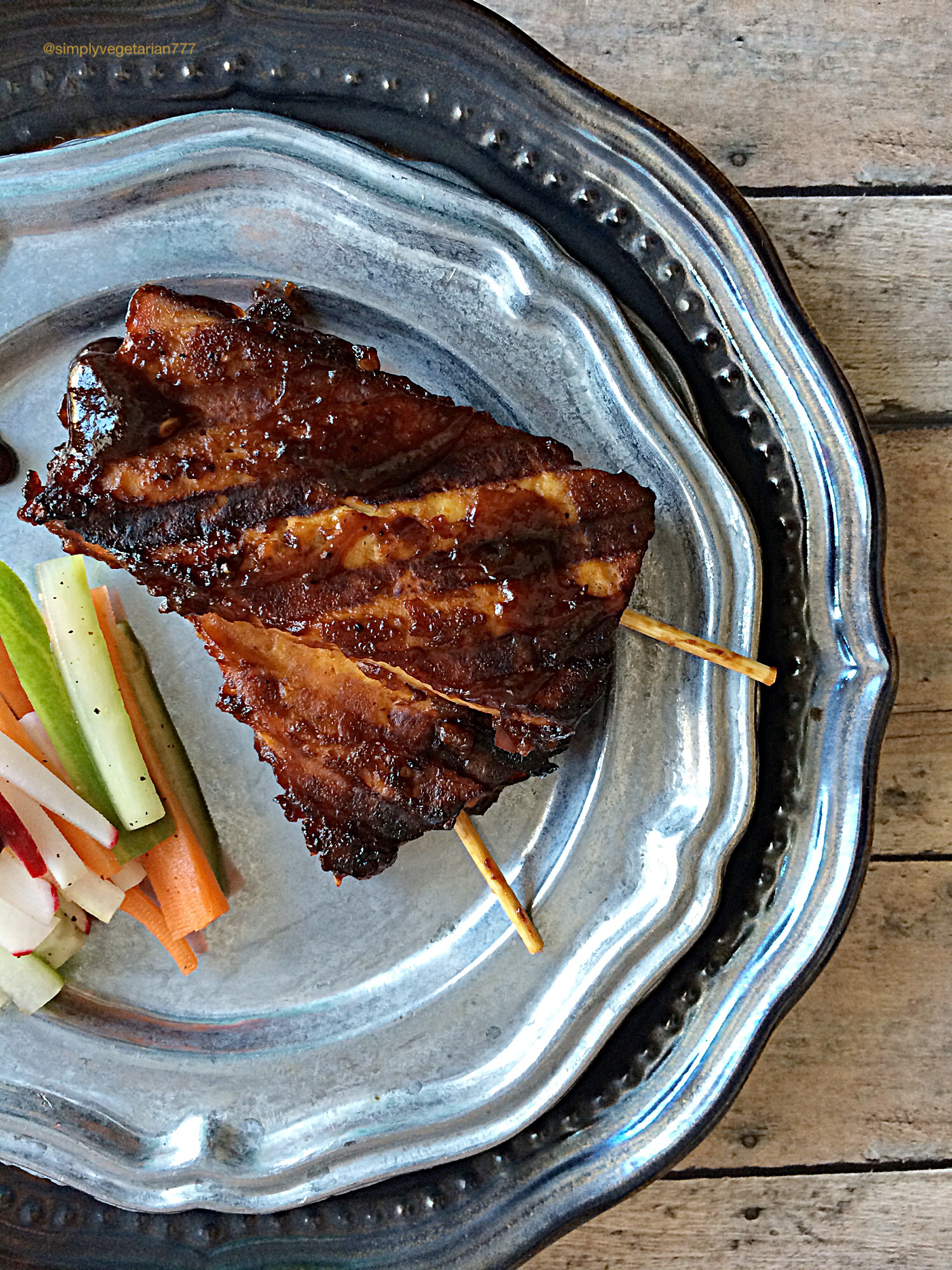 It was super duper delicious, finger licking delicious. My daughter burped out loud Yumblastic!!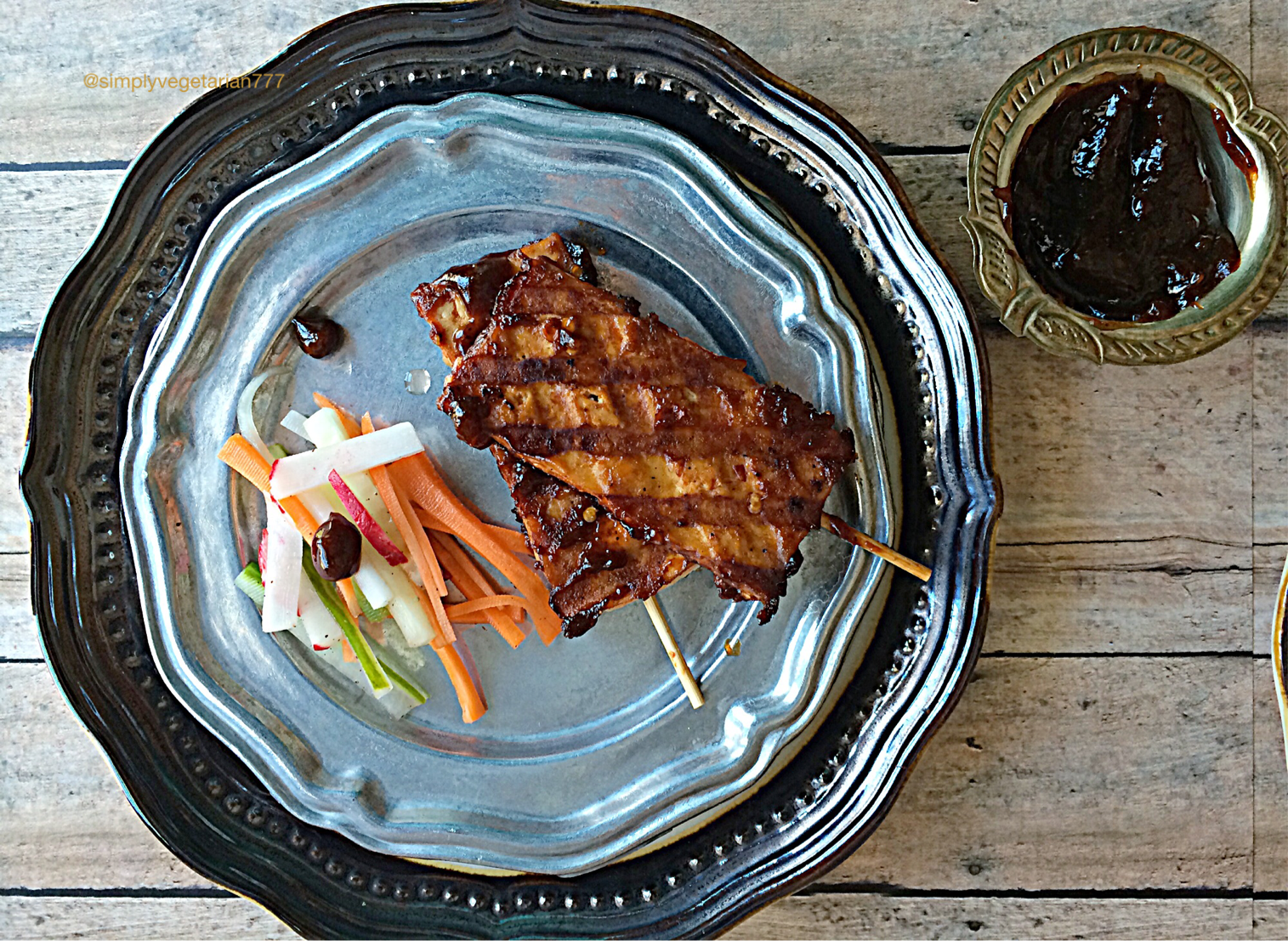 Barbequed Tofu Steaks with Crispy Cider Slaw
Servings: 4
Difficulty: easy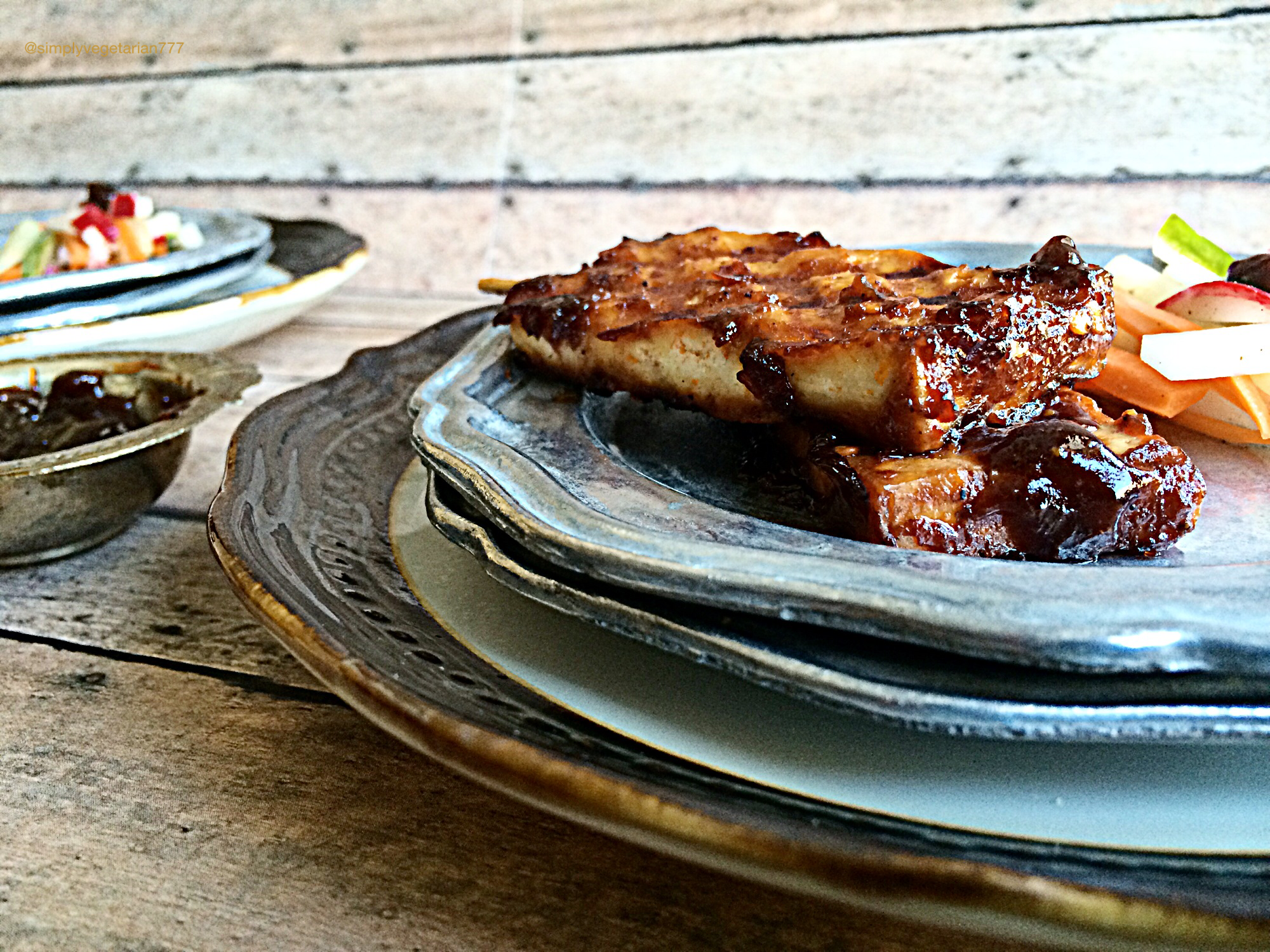 Kitchen Equipments Required : Electric grill or heavy bottom pan, flat spatula, fork and a bowl.
Ingredients :
Tofu slices (extra firm) : 8-10 slices of 3inches x 1&12inches and 1inch thick cut
Barbeque Sauce : 1/3 cup.
Oil for grilling
Short barbeque bamboo skewers : 8-10
Cider Slaw :
Cucumber, carrots and daikon/radish : 1/4 cup, cut into thin match sticks of 3 inches in length.
Apple cider vinegar : 1 tsp
Salt, sugar and black pepper : a pinch each
Method :
1. Slather the tofu steaks with barbeque sauce and keep aside.
2. Make the slaw by mixing all the ingredients together as mentioned under the slaw. Cover and keep aside.
3. Heat the grill and oil it lightly.
4. Place the tofu steaks on the grill and grill on medium for 5-7 minutes each.
5. Serve along with slaw and extra barbeque sauce on the side.

Barbequed Cauliflower Bites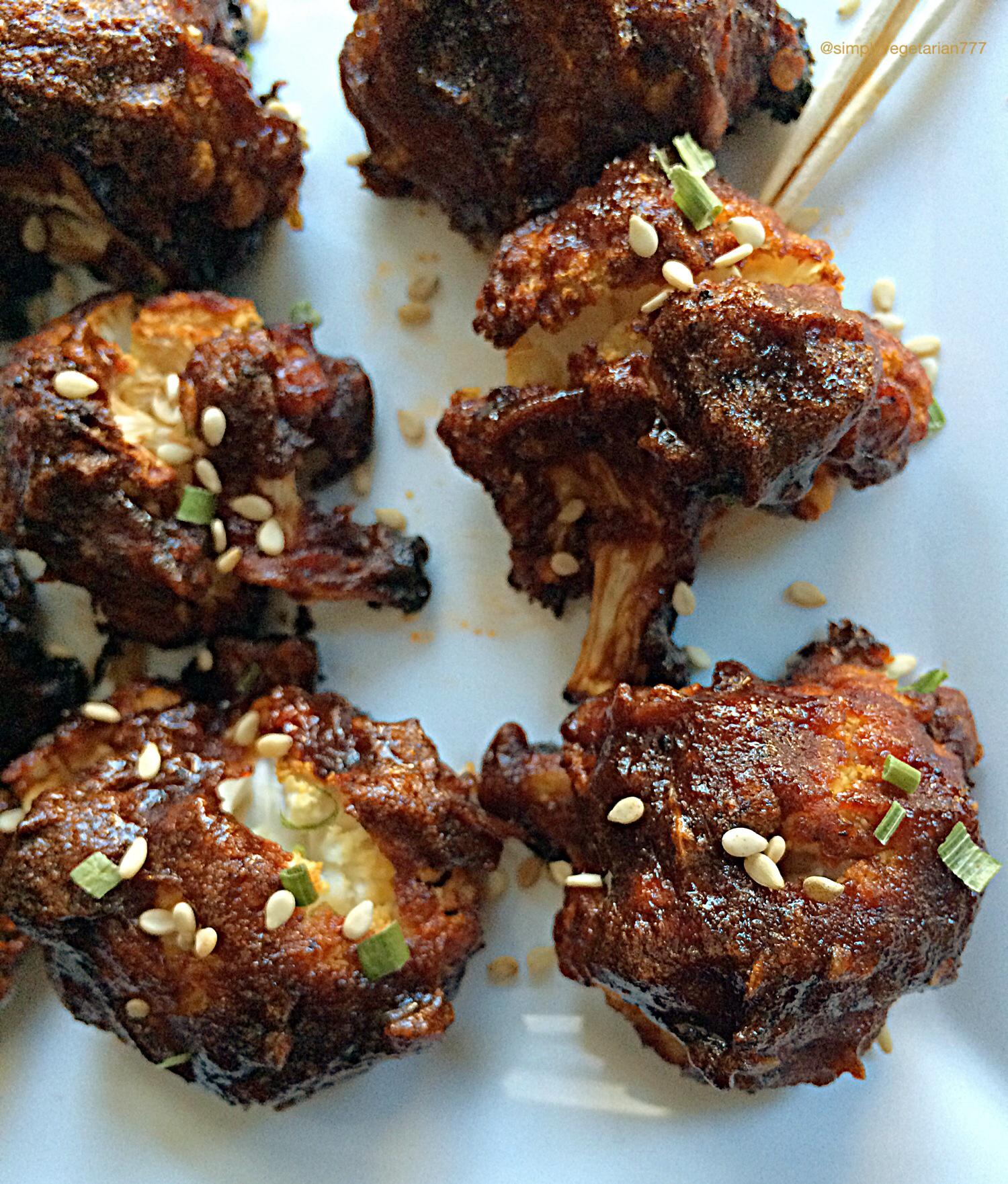 A husband who is a hardcore carnivore and doesn't like cauliflower at all, ate these like chicken wings. Actually, I got only 1 to try :(. He was eating them with such a delight, I didn't have the heart to stop him and say, "leave some for me, please". But when I saw only 1 left, I said, "mine".. Yikes! I just blurted out….just like that. They had come out golden and crispy. I had to eat one at least.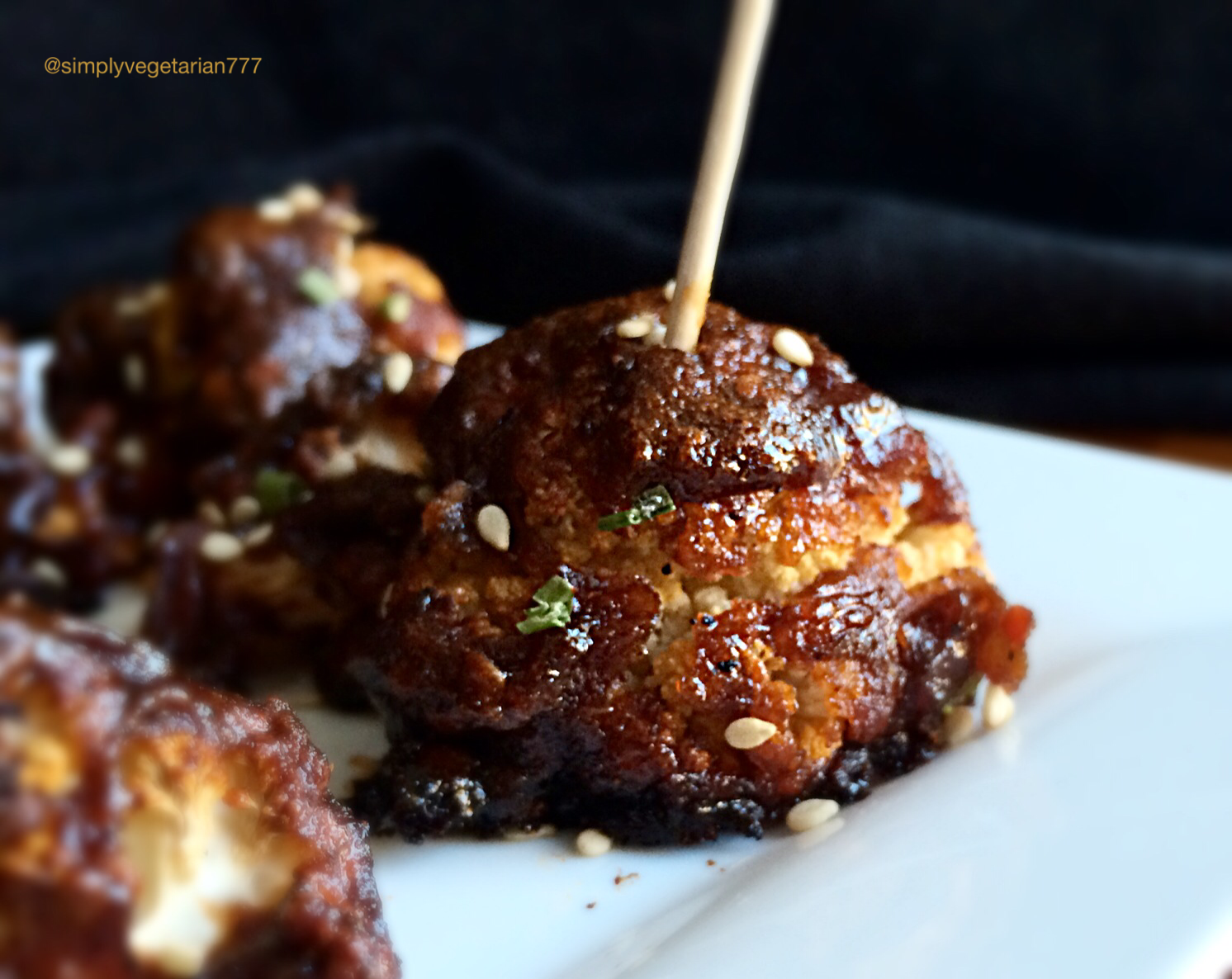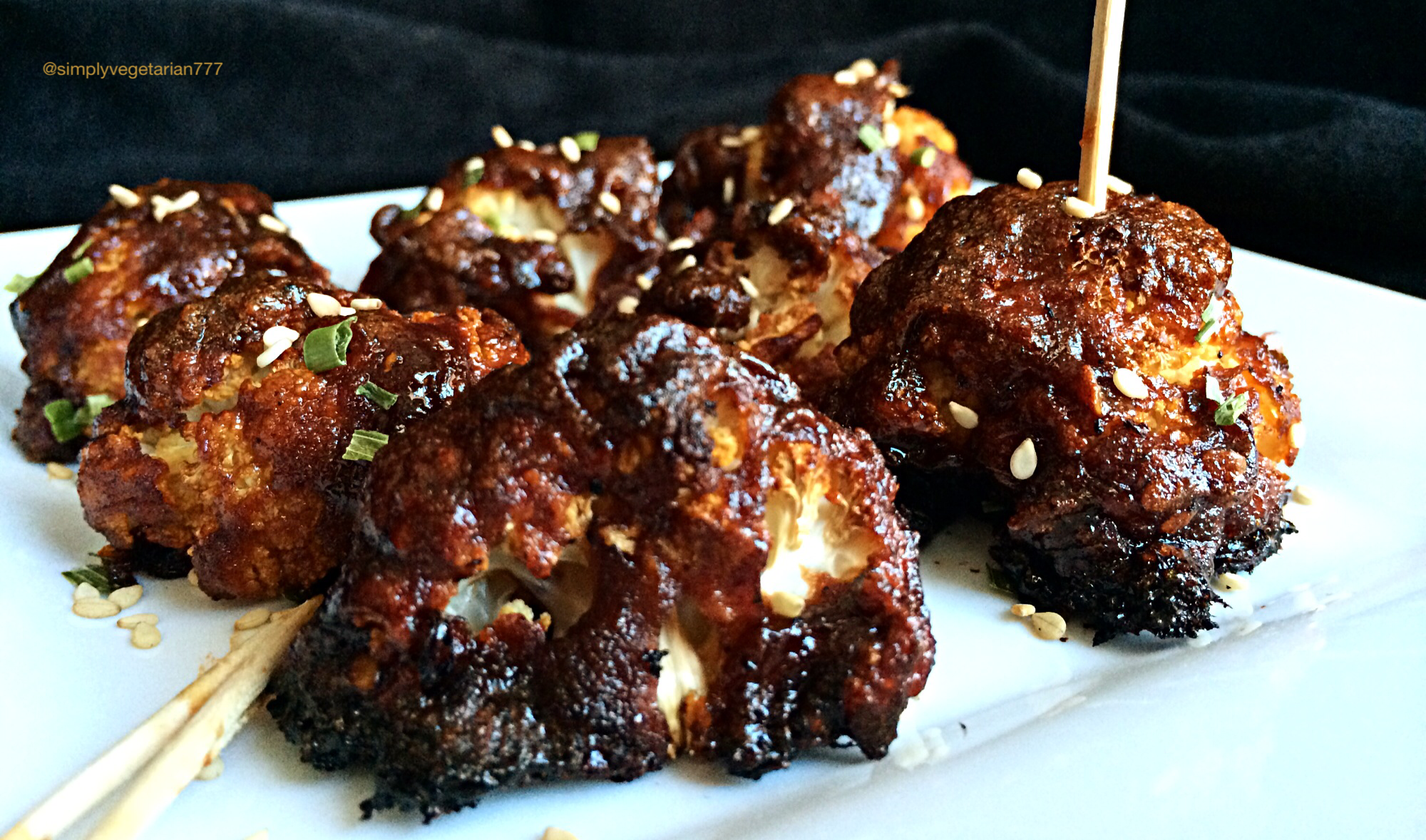 Don't these look good? Tell me the truth! I am all excited to hear the praising bells ringing 😄.
Barbequed Cauliflower Bites
Servings: 3-4
Difficulty: easy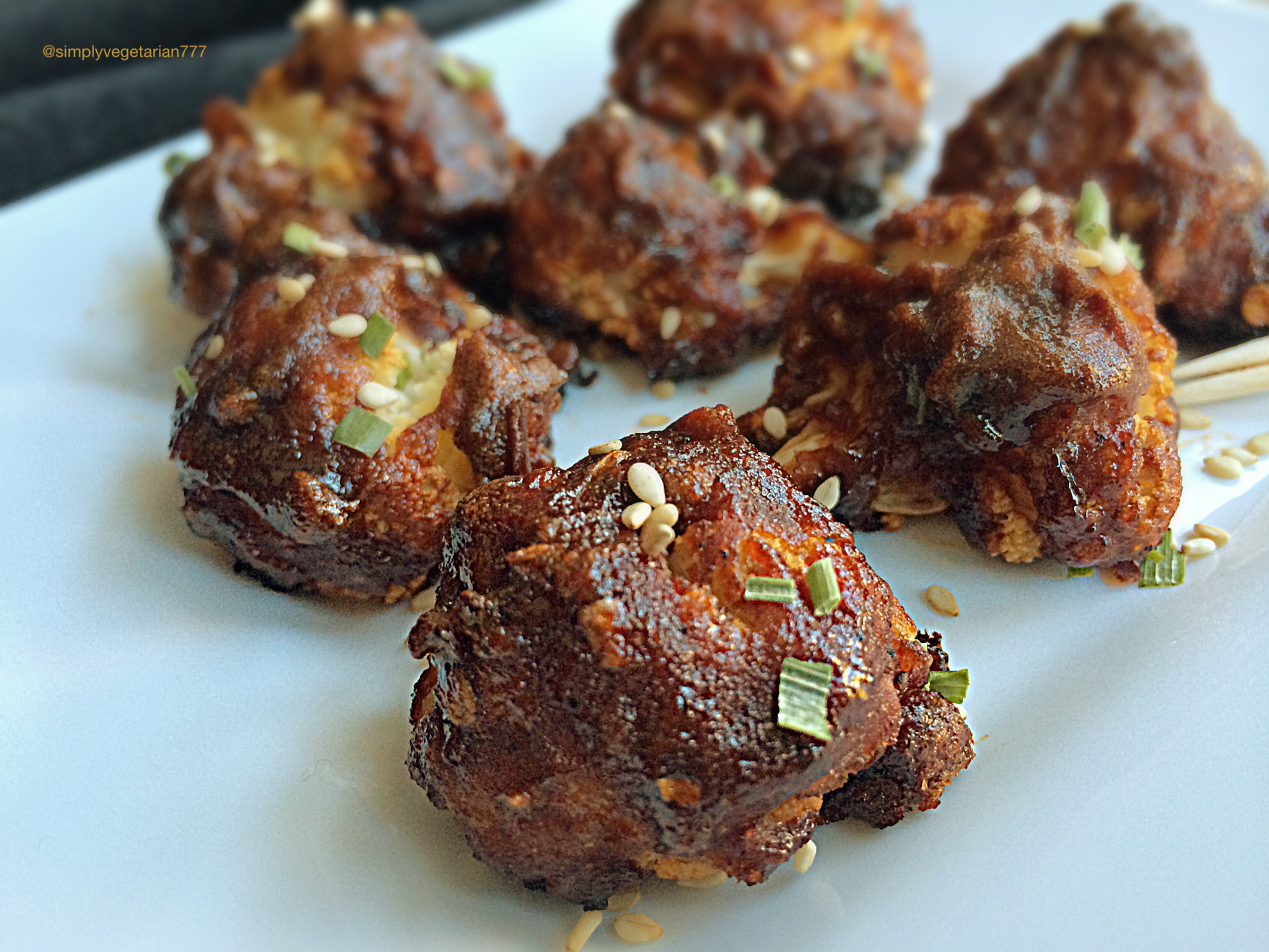 Kitchen Equipments Required : Oven, baking sheet, parchment or butter paper, mixing bowl.
Ingredients :
Cauliflower : 10-12 small flowers
Barbeque sauce : 1/3 cup
Rice flour : 1 tbsp
Sesame seeds, white : to garnish
Scallion greens : chopped fine to garnish
Method :
1. Preheat the oven at 375*F. Line the baking sheet with parchment or butter paper.
2. Take a mixing bowl. Add the barbeque sauce and rice flour to it. Mix them well. Add cauliflower flowers to the sauce and toss them well in it so that they are well coated with the sauce.
3. Place them on the lined baking sheet and bake them for 45 minutes to 1 hour. They are done. Crispy and yum! Keep a check on these since it varied from cauliflower variety to the other.

Enjoy this Super Bowl or Cricket Match or Footaball or Rugby with this fabulous treat! Meanwhile, I am taking it to the Angie's Fiesta Friday Anniversary while it lasts, co-hosted by Hilda and Chef Juliana. I hope all the peeps are still partying around and have appetite left for my barbeque serve.

Sonal