Vegetable Pancakes or Vegetable Chila Mix : Egg free!
As an Amazon Associate and member of other affiliate programs, I earn from qualifying purchases.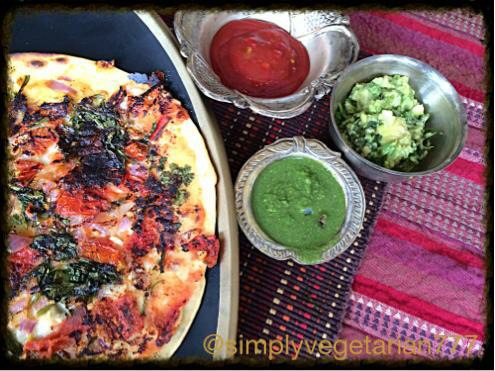 There is a dish called Chilla or Pooda prepared in India. It is a savory pancake made with different beans and flours. It has good carbs along with protein and fiber. Traditionally the chillas are made with either Chickpea flour/Besan or Mung flour, where mung is soaked and then ground into fine paste to make the savory pancakes.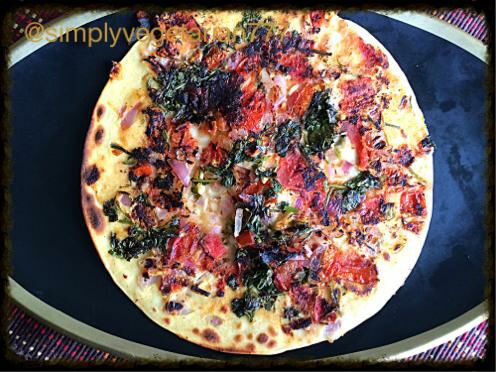 It was actually Friday when I made these gorgeous beauties. They were filling and a complete meal. Served them with few dips and the meal was done, complete with protein, carbs, fiber, mineral, vitamins and good fats!
Now beat that! They are often made for weekend brunches or even meals. I made them for lunch :).
Well I like to break the norms and do something out of the box! That is what I did with these chillas exactly! They were crispy, they were tender, they were full of flavors and they were full of textures! Can you believe that you can get so much variety in one plain dish? I served them with ketchup mixed with hot sauce, green chutney and chunky guacamole.
Here is the recipe!
Yields : 6 medium size or 8 small pancakes
Kitchen Equipments Required : Non stick pan or Hard anodized griddle, stirrer, ladle, flat spatula. *I used my electric griddle.
Ingredients :
*Oil : to grease
*Moong Dal Flour : 1/2 cup
*Urad Dal Flour : 1/4 cup
Chickpea Flour/Besan : 1/4 cup
Corn meal Flour/Makki ka Atta : 1/4 cup
*Brown Rice Flour : 1/2 cup
Yogurt, plain : 1 cup
Water : 1&1/2 cups or more to make pouring consistency batter
Salt : to taste, about 1/2 to 3/4 tsp
Red chili powder : 1/8-1/4 tsp, optional
Cumin Seeds : 1/2 tsp
Garnish :
Cilantro : 1/4 cup
Tomatoes : 1/4 cup chopped fine
Onions : 1/2 cup chopped fine
Ginger : 1 tsp chopped fine, optional
Fresh green chili : 1, deseeded and chopped fine , optional
*Notes :
1. I used oil spray. If you are using a non stick or hard anodized pan, you actually don't need a lot of oil or if done skillfully, then nothing at all!
2. In case you don't have mung flour or urad flour, you may soak the yellow split mung and split urad separately for few hours. Then grind them to fine paste with some water. In that case you have to adjust the water quantity as mentioned above in ingredients.
3. You may use regular rice flour instead of brown rice flour, if you prefer. Or, soak some rice like mung and urad and then grind into paste.
4. I normally buy different kind of flours when they are on sale. Also, they make the life so much more simpler.
Method :
Mix all the flours and spices together with a fork.

Add yogurt. Mix well with stirrer. Add water 1/4 cup at a time and keep stirring vigorously to avoid the lump formation. Keep adding water and keep stirring till you reach a free pouring consistency. Let it sit for 10 minutes.

Now assemble everything : the batter and a ladle to
Pour the batter, the chopped Veges, the oil or oil spray, a plate to take out the pancakes, the flat spatula and a wet kitchen towel to clean the griddle surface after each pancake.

Heat the griddle to 350* or a pan till hot. The test is, as soon as you sprinkle some water on it, it will sizzle and vanish immediately.

Pour a ladle full of batter on the hot pan/griddle. Immediately, add a little bit of all the assorted vegetables. Now press them down in the batter with flat spatula before the bater stiffens up.

Let it cook for 2 minutes atleast on medium flame, till the bottom
Starts getting brown spots. Flip it carefully to the vege side down with flat spatula. Now press it hard again with flat spatula so that the vegetables gets slightly mushed and engraved in the pancake. This will give them a good caramelized effect. Cook for another 2 odd minutes while pressing it down often. Flip it and take it out!

That's it :). Enjoy with your choice of accompaniments. I enjoyed mine with hot sauce, ketchup, Green Cilantro chutney and Chunky Guacamole!
I hope you liked it! Do let me know your reviews if you choose to make it :).
Ciao,
Sonal @simplyvegetarian777