A Warm Pasta Salad with Pan Grilled Vegetables
As an Amazon Associate and member of other affiliate programs, I earn from qualifying purchases.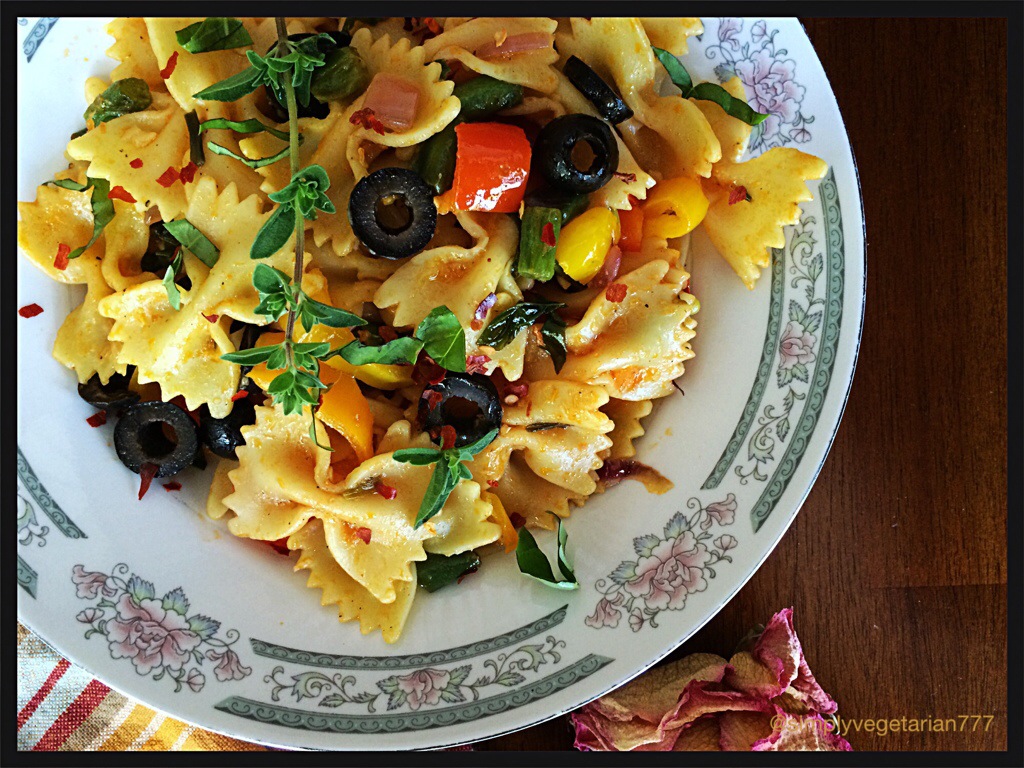 Summer is the time to get the best out of the heavy duty carbs. I love pasta but have never liked it with marinara alone. Too much marinara dripping pasta is just not my kinda plate. I like my pasta al dante, tossed with different ingredients to create an interesting texture and just some of this and some of that to give it a wham of flavors.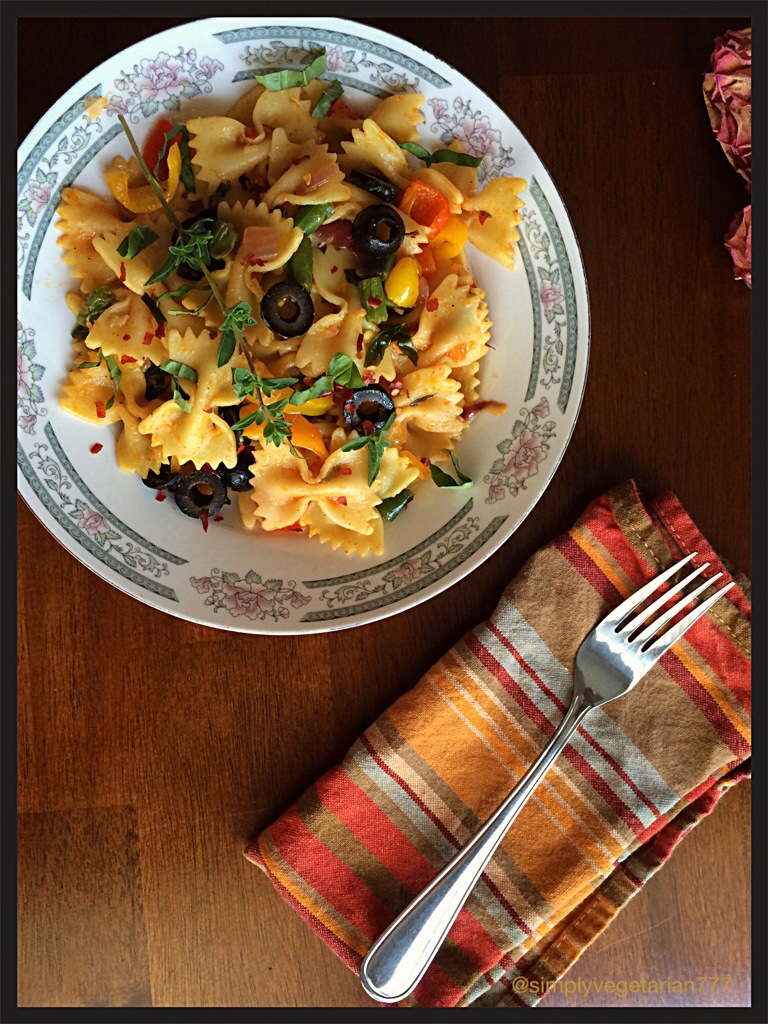 I like tangy flavors in the summer pasta dish and for sure not alone from tomatoes but I do like to toss it with cherry tomatoes occasionally. Sunday was supposed to be a no cooking day for me since I was busy with planting and weeding in the yard. But then kids! "Mom, we want to eat pasta". I tried my best to bribe them with Taco Bell, subway etc. but to no use. They were persistent on pasta. One wanted it in salad form and another wanted it with sauce. So this is all what went into the pan along with the pasta….a bit of marinara, a splash of mustard sauce, grilled vegetables in olive oil, lemon juice and fresh basil and oregano. All done and delicious it was. :). I did add some chili flakes in mine to spice it up!
Kitchen Equipments Required : a big pan, cutting board, knife, a pot, a strainer, a spatula.
Ingredients :
Oil : 1 tbsp
Farfalle or bow tie pasta : 3 cups, boiled al dante. Save 1/2 cup of pasta water while draining the pasta.
Onion : 1/2 cup, chopped in thin slices.
Green onion : 1/4 cup, white part chopped and green part saved for topping.
Black Olives : 1/4 cup, sliced
Bell peppers : 1/2 cup, chopped. I used colorful
Green Beans : 1/3 cup, chopped fine
Garlic powder : 1/4 tsp or 1/2 tsp fresh garlic minced
Salt n black pepper to taste
Marinara sauce : 1/4 cup
Mustard sauce : 1/2 tbsp
Lemon juice : 1 tbsp
Red pepper flakes, optional
Basil : 7-8 leaves fresh or 1/2 tsp dried
Thyme : 1 small sprig or 1/4 tsp dried
Notes : you may use any vegetables which are readily available like corn, green bell peppers, zucchini, squash, carrots, broccoli etc.
Method :
Heat oil in pan. Add garlic powder or fresh garlic and sauté for few seconds. Add onions and green beans. Sauté for 2-3 minutes till slightly soft and still crunchy.

Now add bell peppers and white of green onions. Sauté for 2 more minutes.

Add pasta sauce and mustard sauce. Toss in boiled pasta along with 1/3 cup of pasta water. Toss well.

Add basil and oregano, salt and pepper. Cook for 2-3 more minutes.

Switch the gas off. Add lemon juice and black olives.

Ready to eat :). Serve warm or at room temperature. Excellent to take along for picnics and get togethers.
Do let me know if you try it !
Sonal