Baby Corn and Jalapeños Whole Wheat Pizza
As an Amazon Associate and member of other affiliate programs, I earn from qualifying purchases.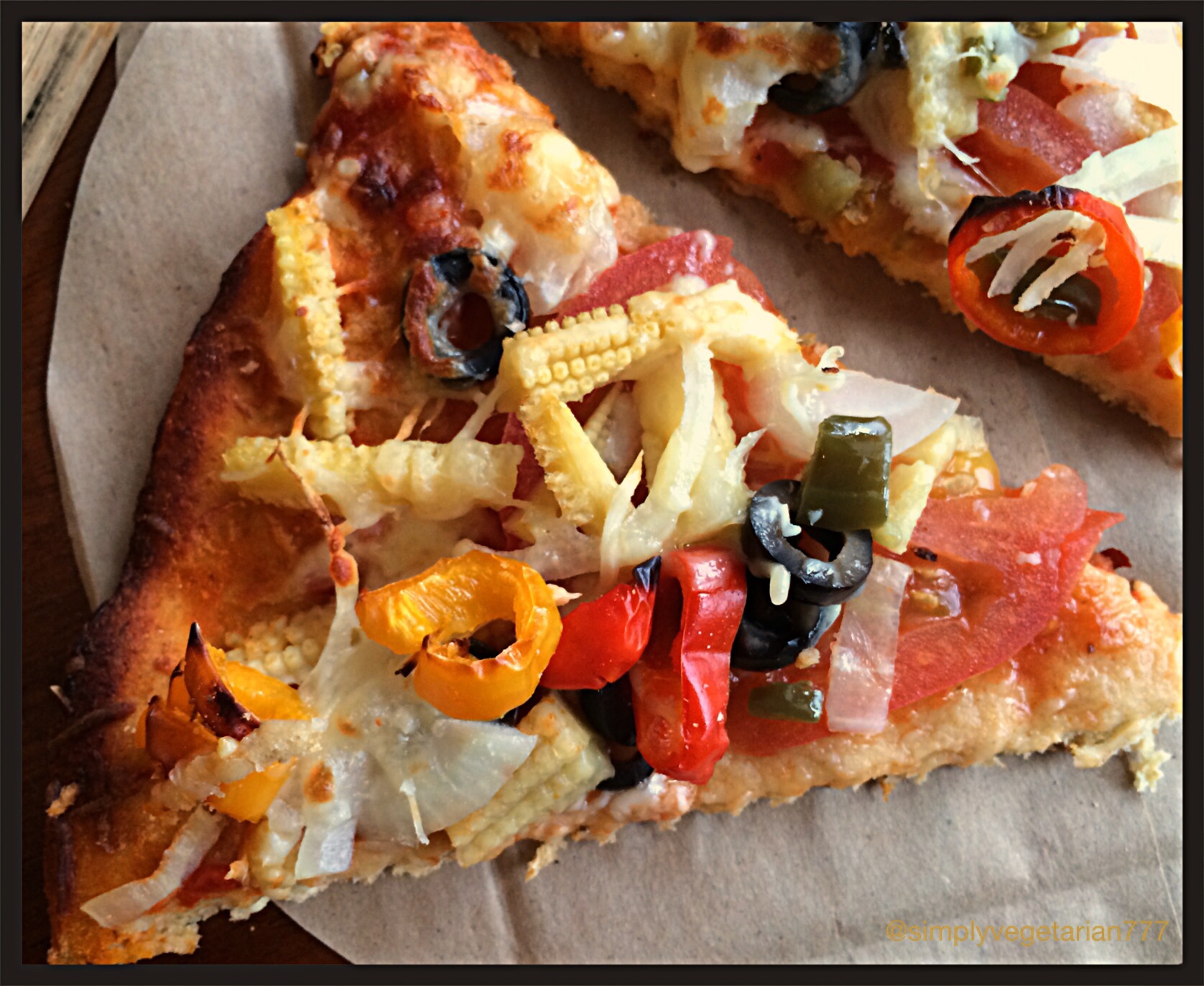 Normally, Friday nights are pizza nights in my house. Since I have started making pizza from the scratch, everybody wants that only. Believe me, it is such a no brainer pizza base that I started at 4:00 pm and pizza was ready by 7:00 pm including proofing and baking! And in between, I ran some errands with kids' classes etc.
I have been promising them the home made pizza since last week and had been procrastinating it since then! So today was the day. Reason being, I didn't want to cook anything else. I always make more dough which I divide between pizza bases and some kind of bread or rolls. This time also, I made the dough with 4 cups of whole wheat flour and made some pizza bases and now baking some masala bread with Indian spices and fresh cilantro leaves to send it for Fiesta Friday Baking Challenge. I write this post while I wait on the bread in the oven.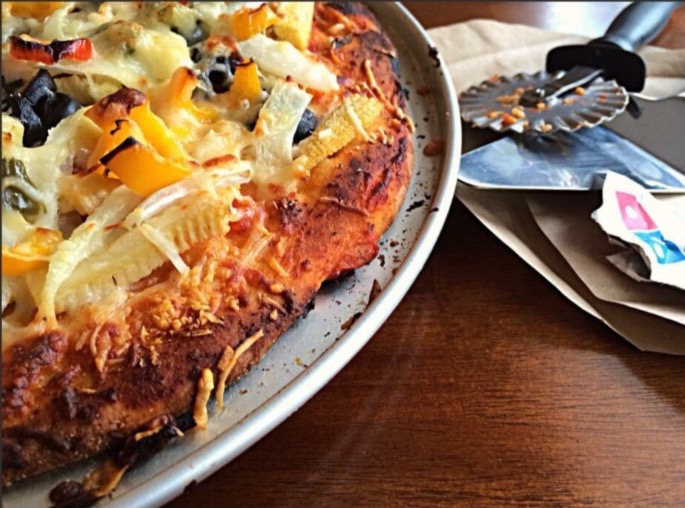 I have good memories of veggie farm pizza from Dominos in India , which always had baby corn as one of the toppings. I am not sure if they still serve it there. Amit and I like our pizza thin and less tomato sauce. Lately, Amit has been having some issues with mozzarella cheese so that is out of the window and to be honest I am glad that I don't use it anymore since it used to over power all the other flavors in the pizza. I used Parmesan, Romano, cheddar and Gruyere Cheese! Also we like out pizza crisp and slightly over toasted hence the browned edges.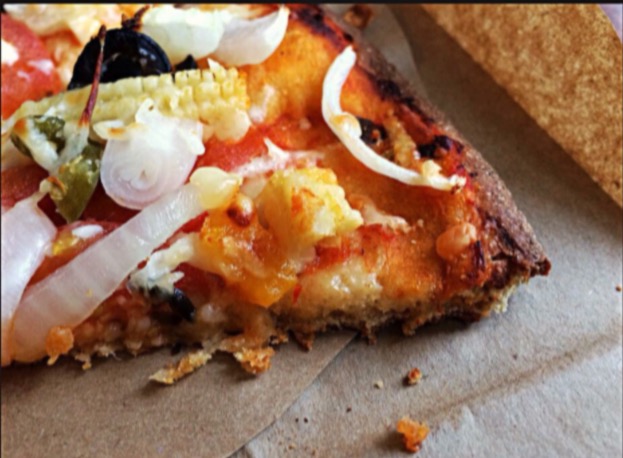 I am telling you, there is nothing better than completely home made Pizza. And whenever I bake something, I always always remember Namrata of My Food Tapestry. She showed me the way to get friendly with this yeast beast :).
Now on to the Recipe! This is how I make my whole wheat pizza bases. The toppings this time are Baby Corn, Jalapeños, bell peppers, tomatoes, onions and black olives. You may dress your pizza to your desire.
Baby Corn and Jalapeños Whole Wheat Pizza
Servings: 4-6
Difficulty: medium
Note : The measurements are for 4 of the 10 inches pies or 8 smaller pies. Or you may make pizza bases in advance and store them in fridge in air tight plastic wrap after coming them completely. You may half the recipe.
Ingredients :
Whole Wheat Flour : 4 cups + 1/3 cup for kneading and rolling.
Sugar : 1 tbsp
Salt : 3/4 tsp
Instant Yeast : 7 gms or 1 tsp heap full. You may use active dry yeast and proof accordingly.
Warm water : 2 cups
Milk : 1 cup
Olive Oil : 4 tbsp + more. You may use any oil which is non- fragrance.
Method :
1. Take a big bowl. Add flour, salt, sugar, instant yeast to it. Mix them well. Make a well in the middle.
2. Add 2 tbsp of oil to warm water. Add this water and oil to the well made in the middle of the dry ingredients in the bowl.
3. Start mixing together. Add milk now. Mix everything well with your hands. It will be a batter consistency. Keep working on it. Add little flour at a time and start bringing the batter together in the form of loose and soft dough. While doing so, keep your hands moist with the oil.
4. Knead and knead more by pressing in the middle and expanding towards out. Then bring the dough from out to the center and repeat. Knead for about 10-12 minutes. Initially, it will be very sticky but the texture will improve as you add flour and oil and knead in the way as mentioned above. That incorporates air in the dough and helps it rise even with little amount of yeast.
5. Take a glad sir plastic container/bowl. Grease it lightly. Transfer the soft dough to the oiled bowl and wrap it tightly with a plastic cling wrap or a wet muslin/cheese cloth.
6. Keep it in a warm place and let it proof for 1 hour to 1&1/4 hour till it doubles in size. I normally put it in my oven under the light switched on.
7. Now take the dough out. Gently take it out on the clean work counter. Press it gently without much pressure.
8. Preheat the oven to 400*f. Prepare the baking sheets and trays by lightly greasing and dusting with whole wheat flour.
9. Take desirable amount from the dough. Roll it with rolling pin in desirable thickness and shape. Fork them so that the base does not puff up.
10. Bake them in the oven for 7-10 minutes. Take them out and they are ready to be used or stored.
Ingredients for Toppings : I am not giving any measurements here. Just ingredients that I used.
Pasta or Pizza Sauce
Onions
Baby corns
Black olives
Pickled jalapeños. You may use fresh.
Bell peppers/ capsicums
Tomatoes sliced thin
Cheeses including Parmesan, Romano, Gruyere, Asiago, provolone. You may use any cheese available with you. I prefer easy to melt cheeses.
Method :
1. Preheat the oven to 425*f.
2. Start by applying the pasta/pizza sauce at the bottom. I apply very thin layer since it takes over the other flavors otherwise.
3. Then start layering your pizza with the ingredients of your choice.
4. Top with cheese of your choice.
5. Bake in the oven for 12-15 minutes till cheese melts.
6. I broil my pizza for 1-2 minutes for roasted and browning effect. If you are broiling, don't leave the sight for a second. It might burn otherwise.
Enjoy !

Taking my Pizza to Angie's Fiesta Friday, co-hosted by Elaine and Stacey. Thanks for co-hosting girls.
Enjoy your Friday :).
Sonal!