Baby Eggplants, Stuffed and Pan Fried in minimal oil !
As an Amazon Associate and member of other affiliate programs, I earn from qualifying purchases.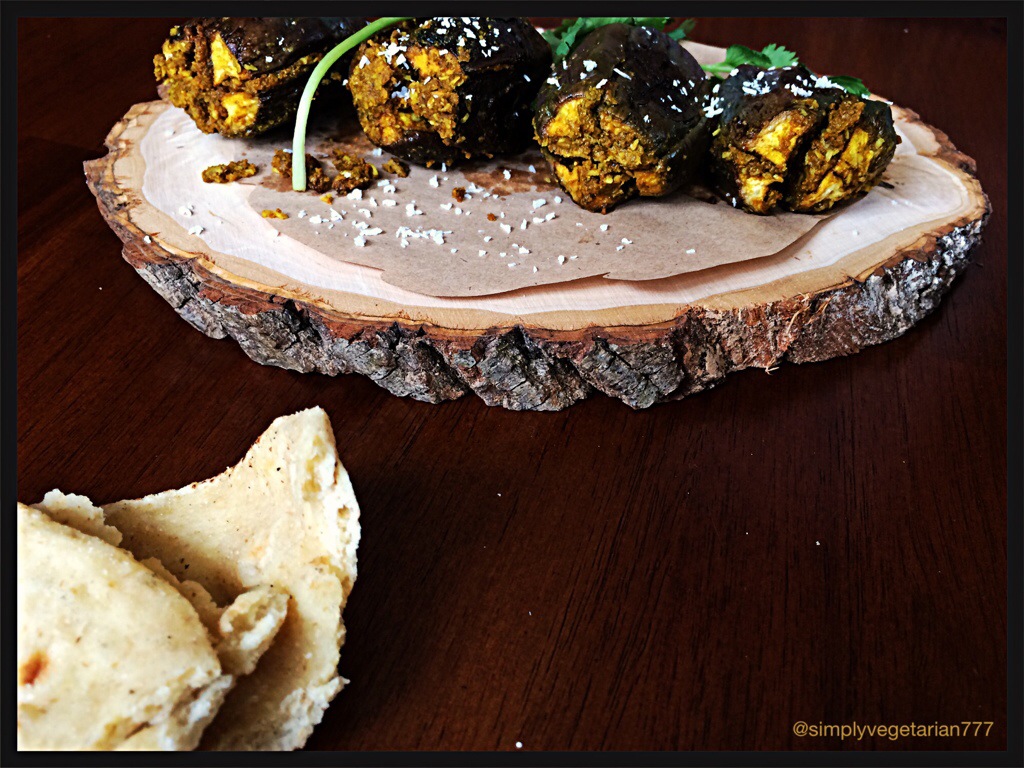 In the quest of my Light and Healthy Eating Week on my Facebook page , I am trying to keep the week healthy and interesting.
Eating Light does not mean starving. It means making better choices. That's my opinion about Eating Light.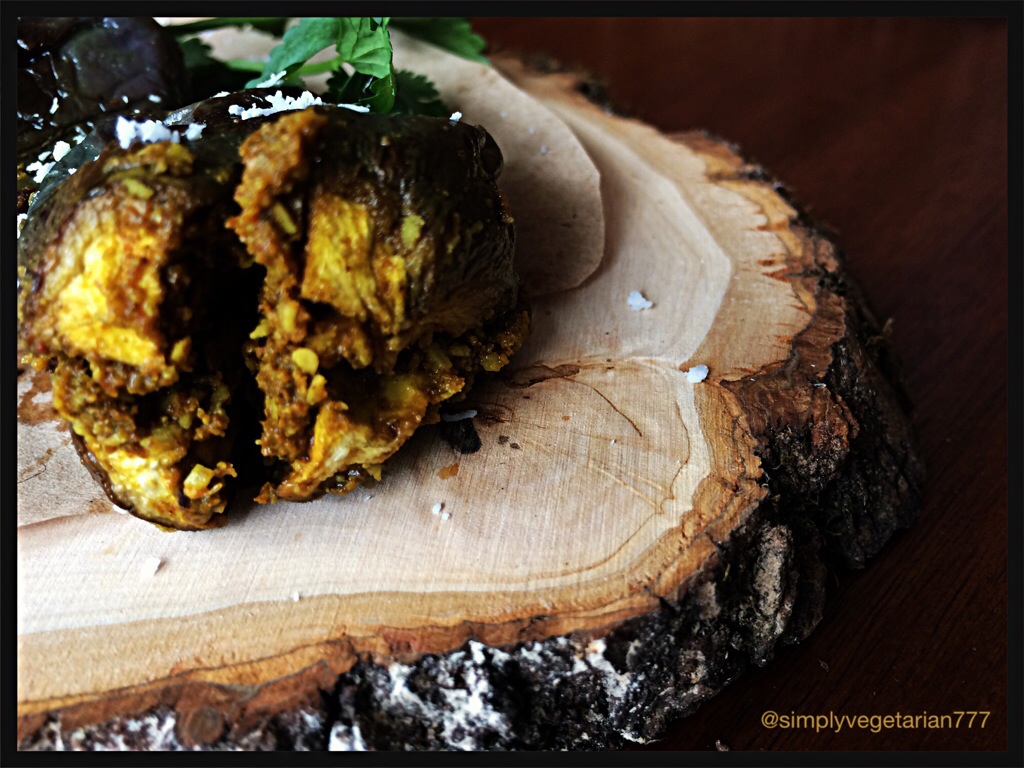 I adore eggplants. And there is another happy and healthy recipe that I have ready with the eggplant for aubergine lovers besides this beauty. Originally, this dish is pan grilled with loads of oil on the pan, almost shallow fried. No doubt that is super tasty and finger licking delicious. But I say no to that oil, at least when I am cooking at home. So I came up with an idea. "Put that microwave to some serious work".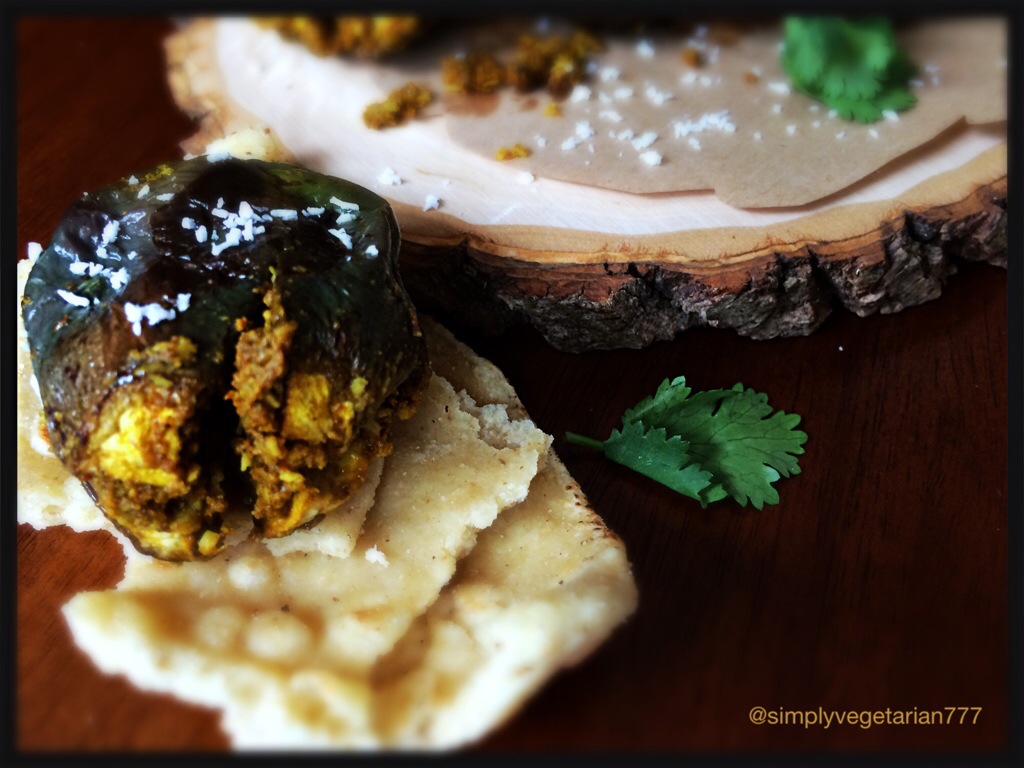 If I tell you that this dish is done in about 1&1/2 tsp of oil, will you believe me? You have to see for yourself! I have used the stuffing as a combination of couple of my personal favorite spices along with some unsweetened shredded dry coconut. I am not sure about its regional authenticity but can guarantee the taste. Every region has their own blend of spices to be stuffed inside a vegetable and then cooked.
Let's get to the recipe now.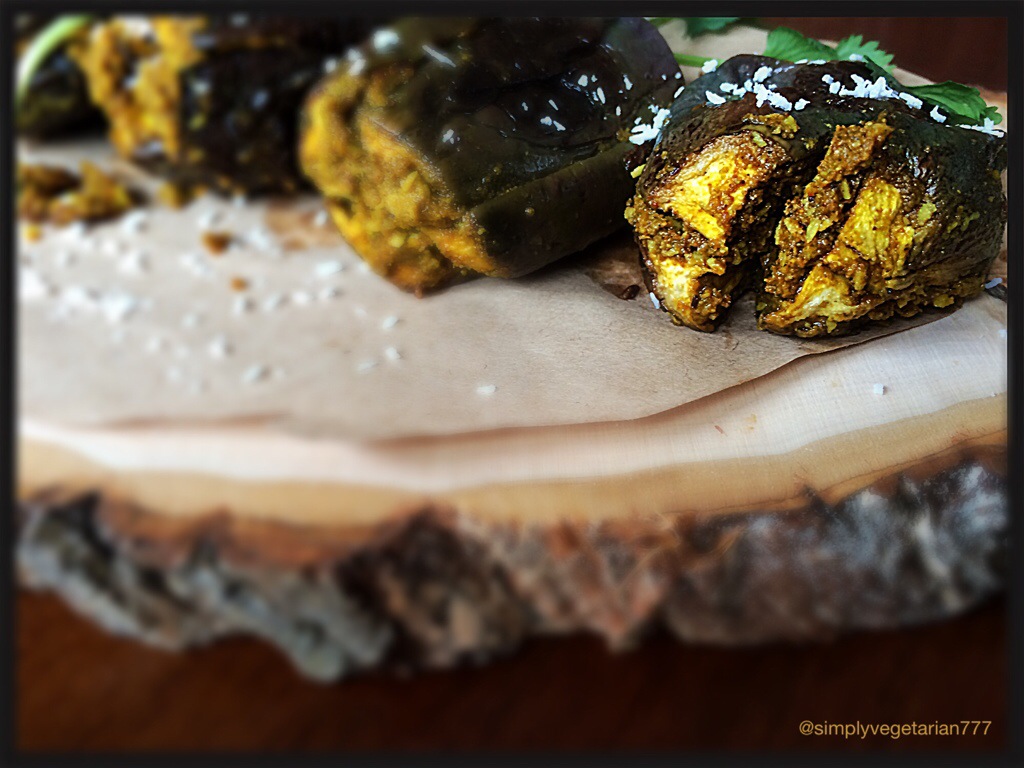 Serves : 3
Ingredients :
Baby eggplants : 9-10
Stuffing paste :
Turmeric : 1/2 tsp
Red chili powder : 1/4 tsp
Coriander powder : 1 tbsp
Fennel powder : 1/2 tsp
Ground yellow mustard powder : 1/2 tsp
Garam masala : 1 tsp
Coconut, shredded, dried and unsweetened : 1 tbsp
Thick yogurt : 1 tbsp
Salt : 1/2 tsp or to taste. ( I don't keep the salt in my food very high, so adjust accordingly.)
Water : enough to combine the stuffing ingredients into a very thick paste. It shouldn't be watery at all.
Method :
Wash and dry the baby eggplants completely. Remove their stems.

Take a knife and make 4 slits on the baby eggplant, starting from broader side and working down till only 1 inch of the eggplant is left. Don't cut them all the way through. The 4 pieces should be attached at the bottom. Prepare all the eggpbts similarly and set aside.

Now make the stuffing paste. Take a bowl. Add all the ingredients of the stuffing in the bowl except water. Mix all the ingredients. Now starting water, a tsp at a time to make a stiff paste, almost like toothpaste consistency.

Now pick a baby eggplant. You can either use a pastry brush or use your hands. I am an all hands person, unless I have to use any other equipment. Take about 3/4 tsp of the stuffing paste and fill in all the 4 slits of the eggplant. Finish all the eggplants likewise.

Now comes the magic part. Place all the eggplants in a microwave safe are or bowl. Add 2 tsp of water. Cover with a microwave safe cover. Microwave it on high for 4-5 minutes. After 5 minutes, take them out. Give them a flip. Microwave again for 4-5 minutes. In this process, the paste is cooked and the eggplant flesh is cooked. Now we want some shimmer :).

Take a broad pan. Heat the oil in the pan. Now take a pastry brush or a spatula and spread it evenly all over the pan.

Place the microwaved egg plants on the pan. Cover and cook on lower flame for 3 odd minutes. Uncover. Flip them to the other side for even cooking and cook for 2 more minutes. All done!
You may enjoy them with naan, roti, rice and dal. I would eat them in a burger bun, just like that :).
Let me know if you try this recipe. Would love your reviews :).
Sonal