Baghare Baingan / Baby Eggplants in Sesame, Peanuts & Coconut Curry, another OIL FREE delight!
As an Amazon Associate and member of other affiliate programs, I earn from qualifying purchases.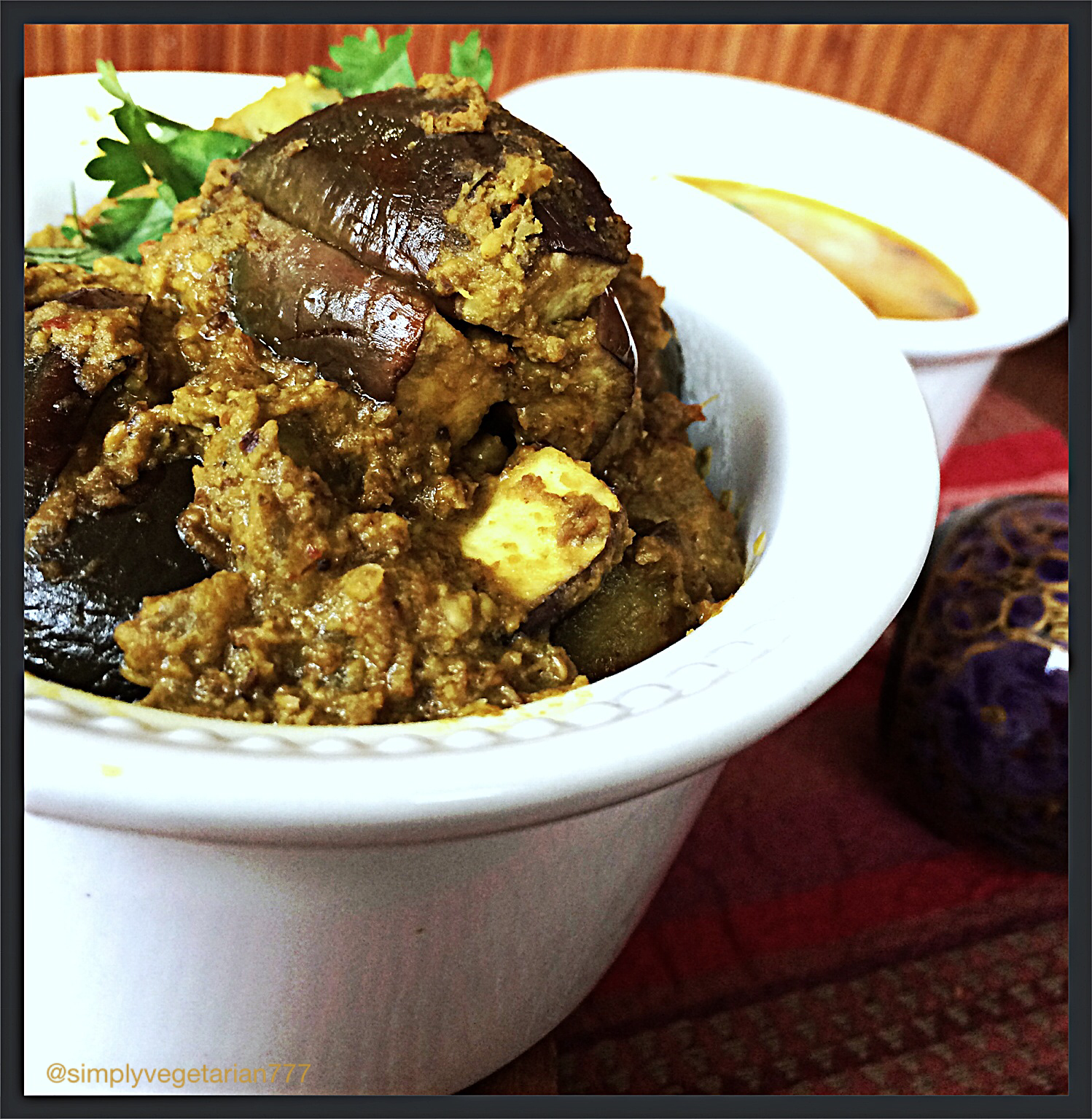 Have I mentioned before that I am an eggplant freak? No? So today I declare that I am an eggplant freak and love it to the core. Having said that, the most loved preps of my eggplant called Baingan Bharta is still sitting in my drafts since long! Soon! Cauliflower blast is next ;).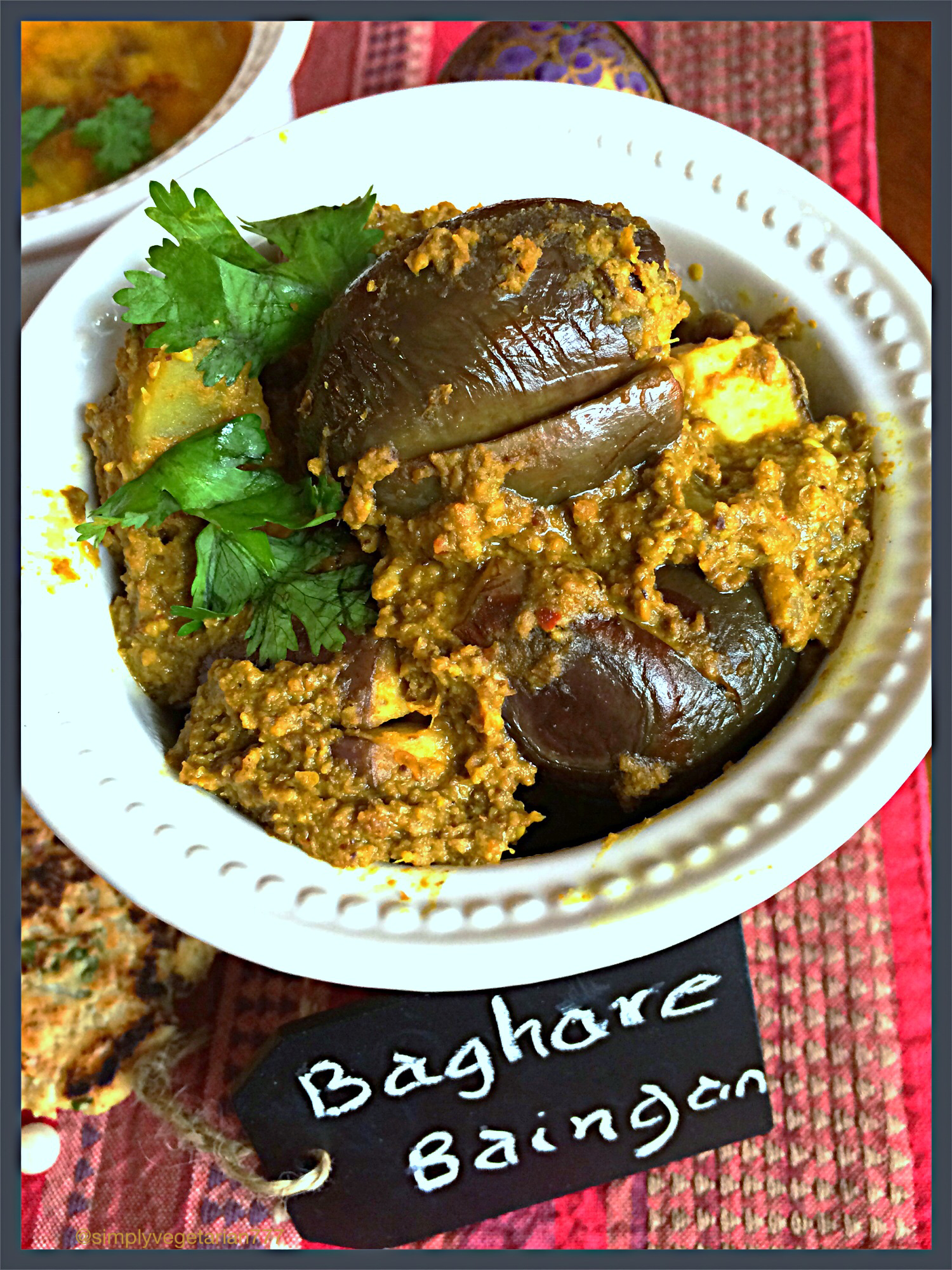 Baingan means Eggplant or Aubergine or Brinjal! This is a very popular dish from Hyderabad! Originally introduced by Mughals from Taskent / Tashkand, adopted by the Nawabs of Hyderabad and now a very popular dish in Indian and Pakistani households. Often eaten as a side with a rice dish called Biryani !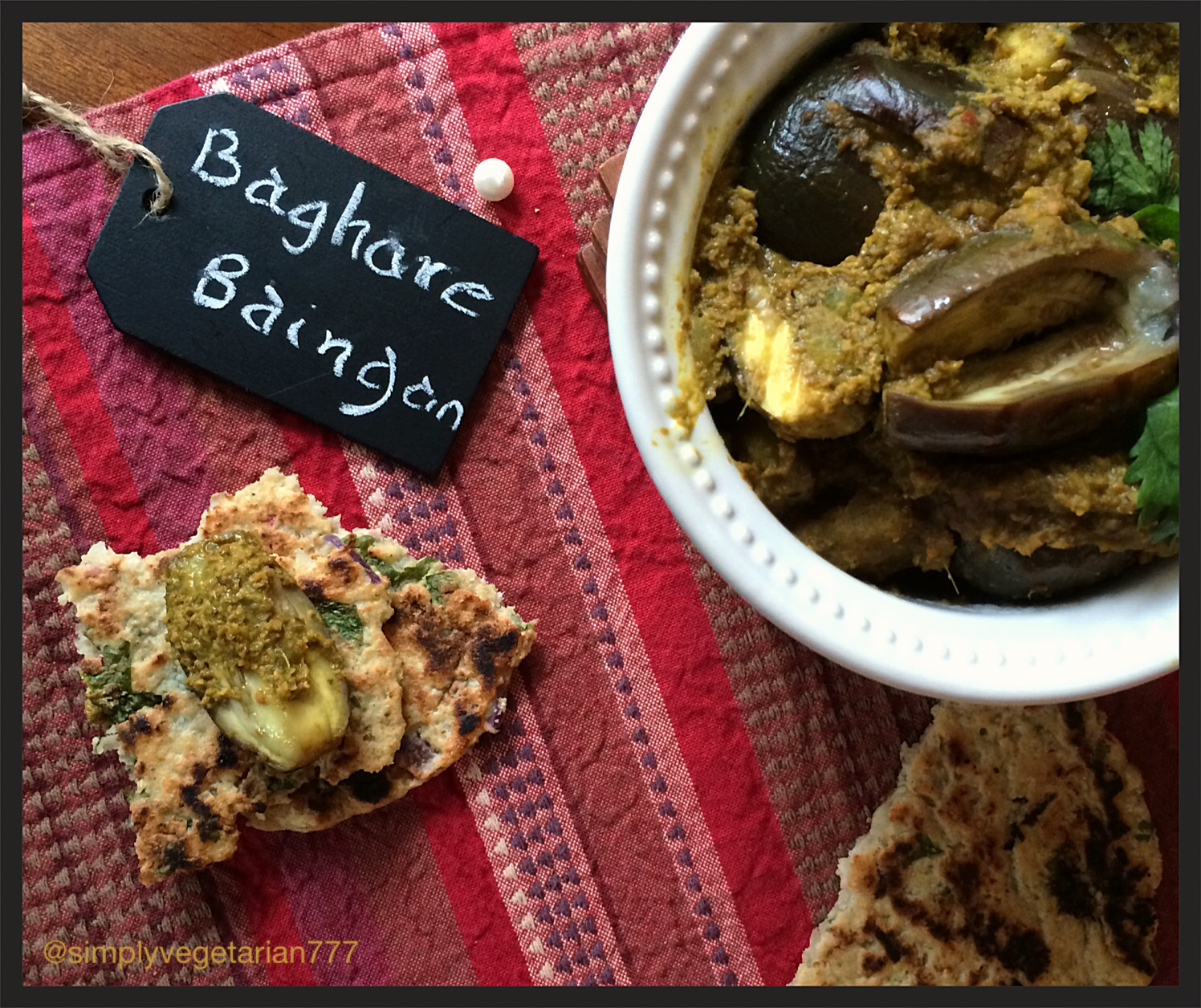 Another good point about this recipe is that I have chucked out the huge quantities of oil used in this dish and made them healthier in oil free gravy / curry. Didn't fry the eggplants prior as recommended but microwaved them till tender and not even a single drop of pressed oils in the curry. It's cooked in its own oils released from sesame, peanuts and coconut under heat. Amazing? Awesome? Yes :). Thank you :).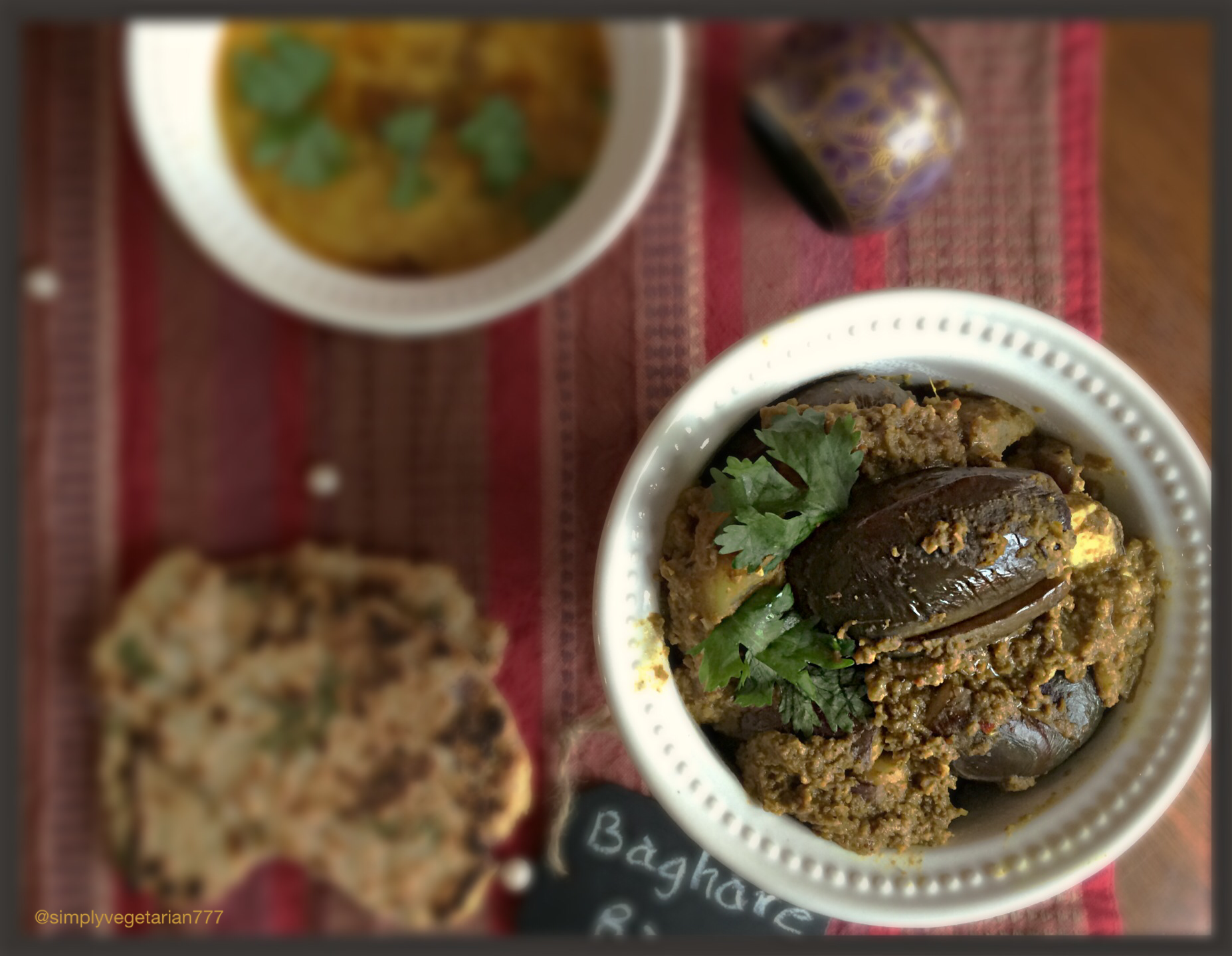 The dish was first introduced to me in 2007 by a neighbor who became a friend, Prashanthi, when we moved to Tennessee. She taught me this dish but I didn't write it down anywhere. When Shailja, couriered a huge box of fresh vegetables from her back yard garden, I had to use the baby eggplants sent by her in a special way. I remembered most of the recipe but couldn't make sure the other dry spices used. So went online and checked few recipes. The one I finally adapted to was Nisha Madhulika's Recipe.
Disclaimer : These dishes are in cuisine since long and I don't claim any rights on the originality of this recipe. I do claim my right on making it OIL FREE and presenting it in much healthier version for my readers.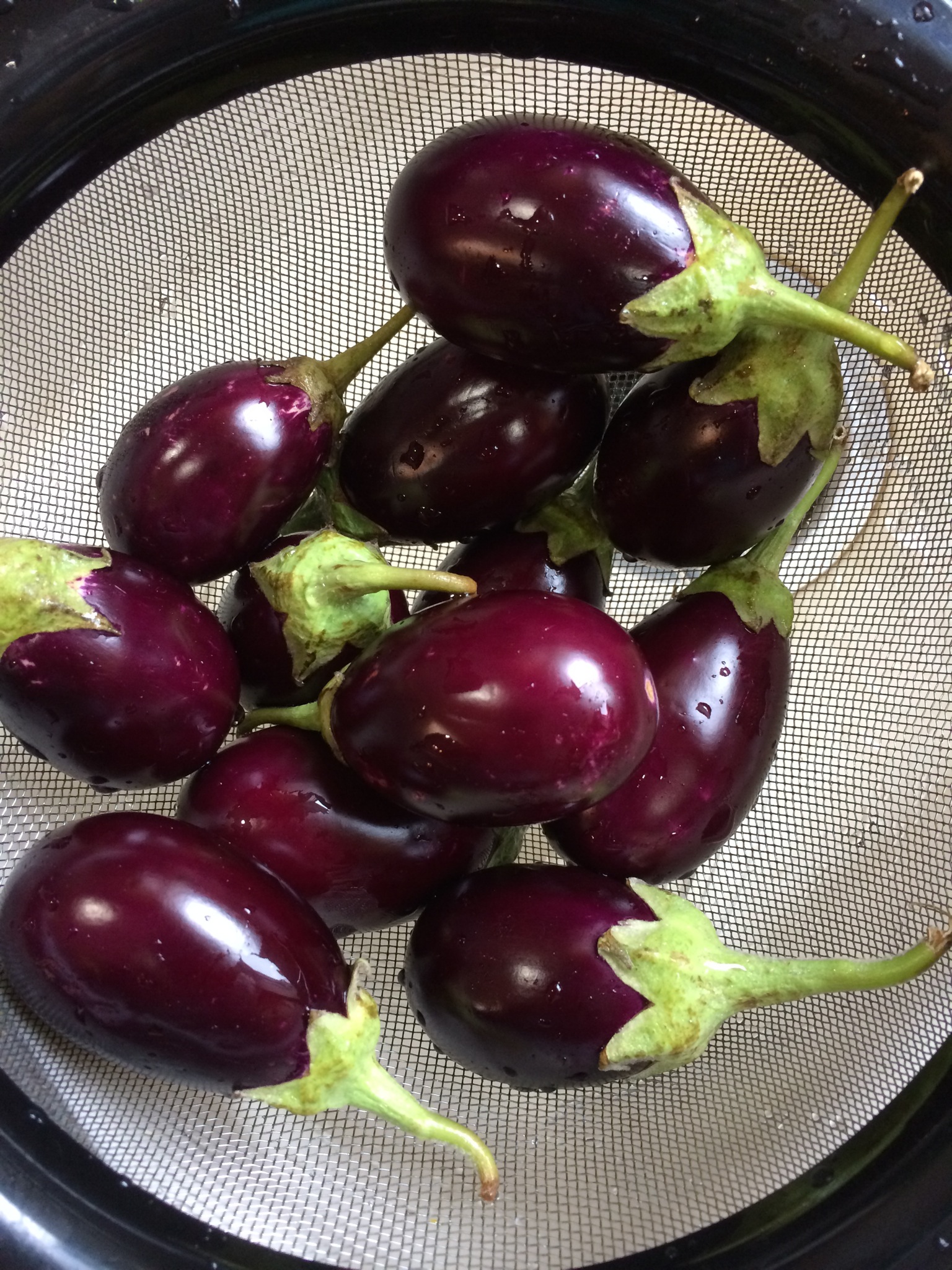 Serves : 4-6
Kitchen Equipments Required : Hard anodized or non stick pot / pan with lid, stirring spoon, chopping board, blender or food processor.
Ingredients :
Baby Eggplants : 10-12
Sesame seeds, white : 2 tbsp
Peanuts : 3 tbsp
Dry coconut, unsweetened : 2 tbsp
Ginger : 1 small piece
Cilantro / coriander leaves : 1 tbsp + 1 tbsp for garnish
Coriander seeds : 1 tbsp
Cumin seeds : 1 tsp
Red chillies dry : 1-2
Tamarind paste : 1 tsp if concentrated and 1 tbsp if from freshly squeezed pulp.
Brown sugar or Jaggery : 1 to 2 tsp as per taste
Turmeric : 1/2 tsp
Salt to taste
Water : 1/2 + 1/2 + 1&1/2 cups
Method :
Wash the eggplants. Remove the stems. Slice them from broad side into 4, leaving the end intact. See the picture. Immerse them in salted water.

Take the anodized pan. Add peanuts, sesame, coconut, coriander seeds, cumin seeds and red chilies to it.

Dry Roast these on the low flame till they get slightly red. The sesame seeds will start making "chatak" sound :). Please be careful. Keep stirring since you don't want them to burn. If you want then you may dry roast them separately. Switch the stove off.

Till it cools down a bit, microwave the slit baby eggplants on a microwave safe plate for 3-5 minutes till tender but not mushed.

Now take the blender. Put the slightly cooled down dry roasted stuff in the blender. Add ginger and corinader leaves. Add 1/2 cup of water. Blitz till it becomes a thick paste. Note : You may skip adding cilantro leaves at this point. I just like cilantro in my gravies so I added. That was my twist in the recipe. Refer to the pics given below.

Now pour that paste with 1/2 cup of water back to the hard anodized pan/pot. Stir well. Cover and cook for 8-10 minutes on lower medium flame till it dries up and becomes thick and comes together. Keep stirring in between. See the pics below.

Add turmeric, tamarind paste, brown sugar or jaggery and salt to taste. Add 1&1/2 cups of water. Mix well. Cover and cook for 5 more minutes.

Now add the microwaved baby eggplants to the curry. Stir. Cover and cook for another 5 minutes. It's all done.

Serve it warm with either chapatis or rotis and/or along side plain rice. You will lick your fingers, I am sure :).
Note :
I added some par boiled potatoes also to the curry for kids since they don't like the eggplants but they loved the potatoes.

You may add cauliflowers too.

Adjust salt, tamarind and jaggery accordingly to your personal likings.
Do make this curry this weekend and enjoy with your family and friends :).
Sonal