Baingan Aloo Methi in Coastal Korma Curry 
As an Amazon Associate and member of other affiliate programs, I earn from qualifying purchases.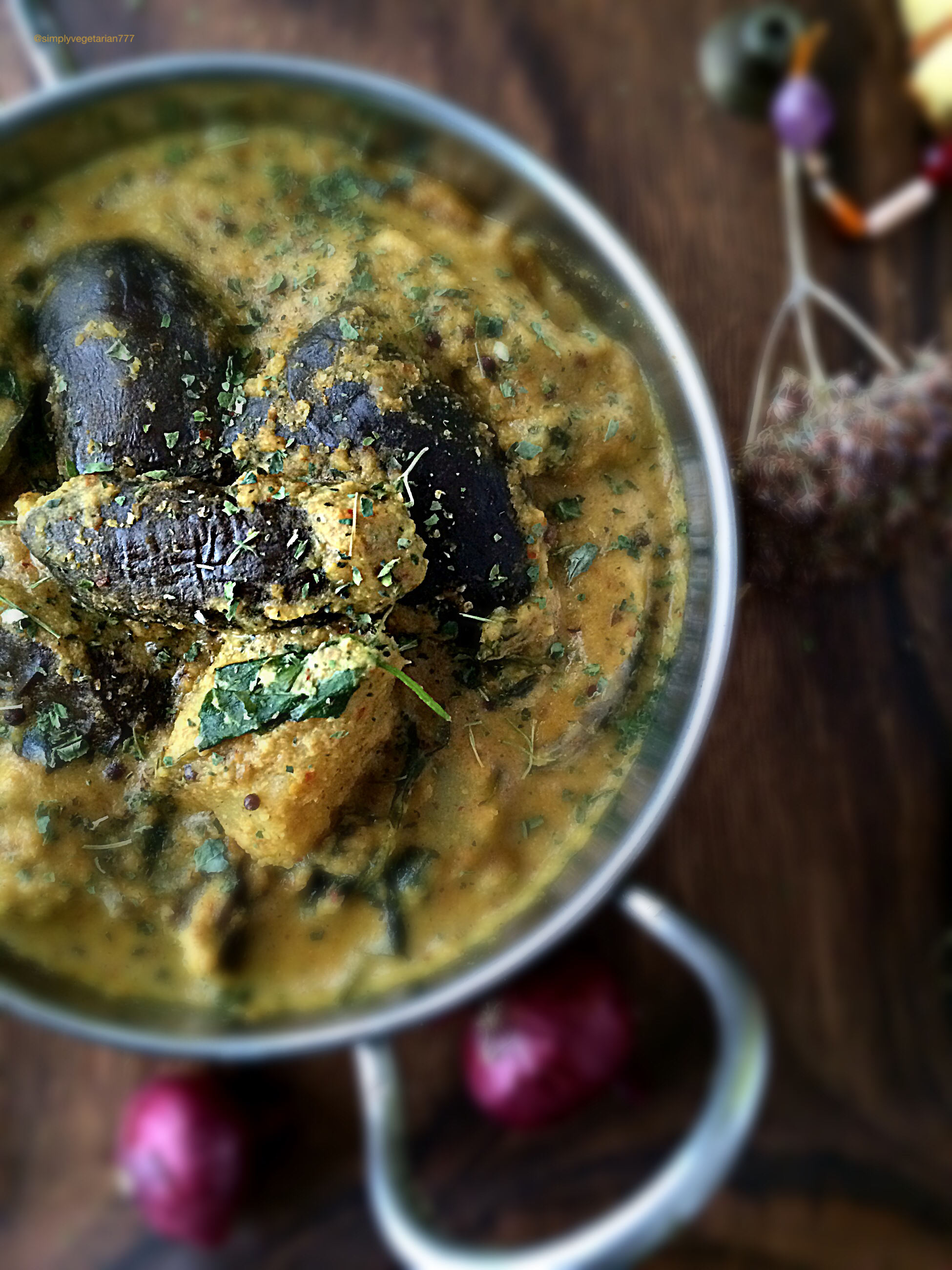 Baingan = Eggplants/ Aubergines/ Brinjal
Aloo = Potato
Methi = Fenugreek Leaves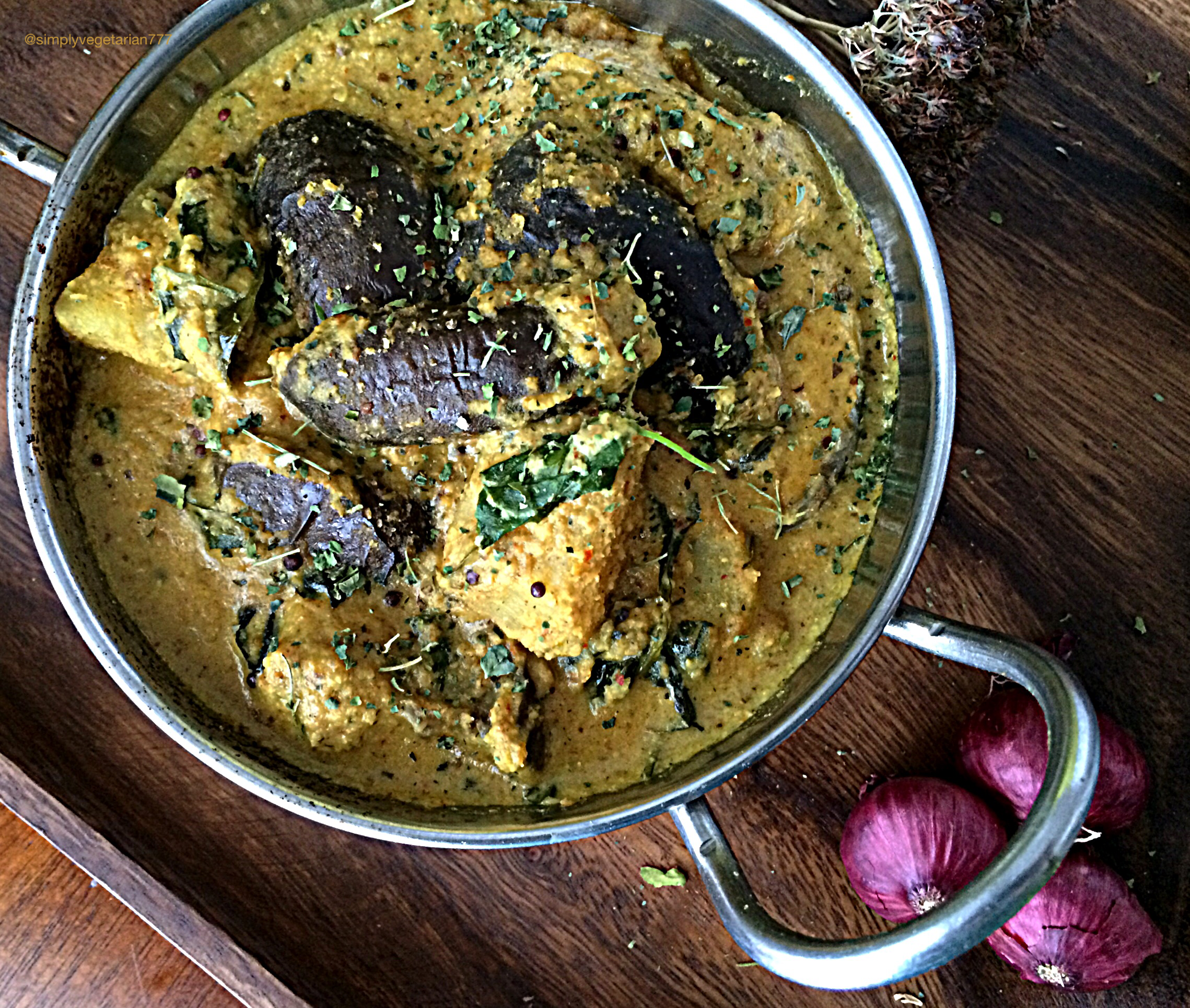 I am such a baingan lover and my husband runs in the other direction when he sees baingan. Well over the period of time , he has atleast stopped running and actually serves some on his plate. That is another matter, that when he is done with his meal, I can still see the major portion still sitting there. Lol! You may call me "control freak" and I admit that I am one! I scan everybody's plate at the end of the meal. 😂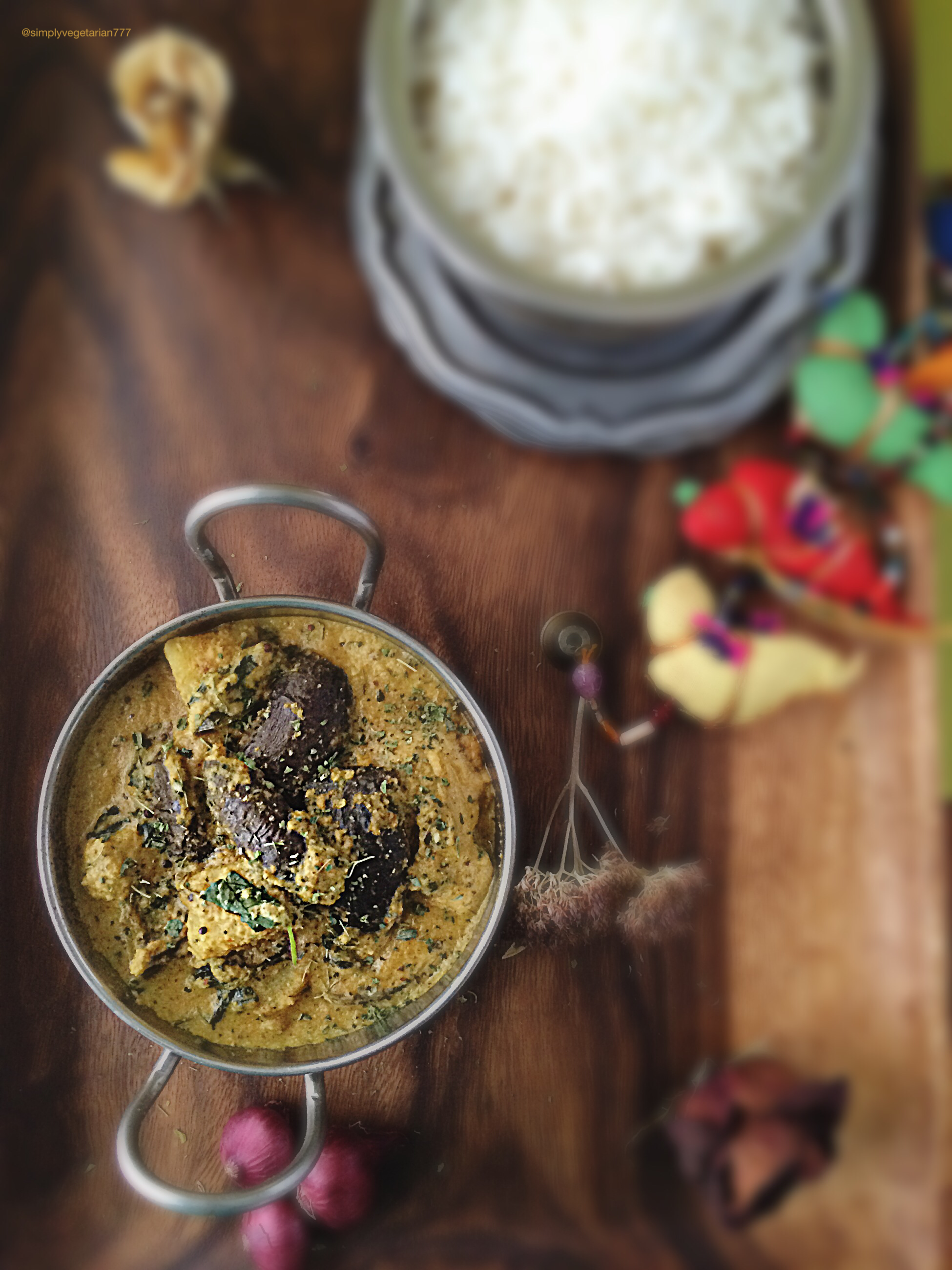 The original plan that day was to make plain aloo-methi or aloo-baingan. But it sounded too boring to me. I was craving for some good curry, not the usual North Indian onion tomato curry, but something different and finger licking and not too much of work. Therefore this curry happened in my kitchen and what a happening curry it was !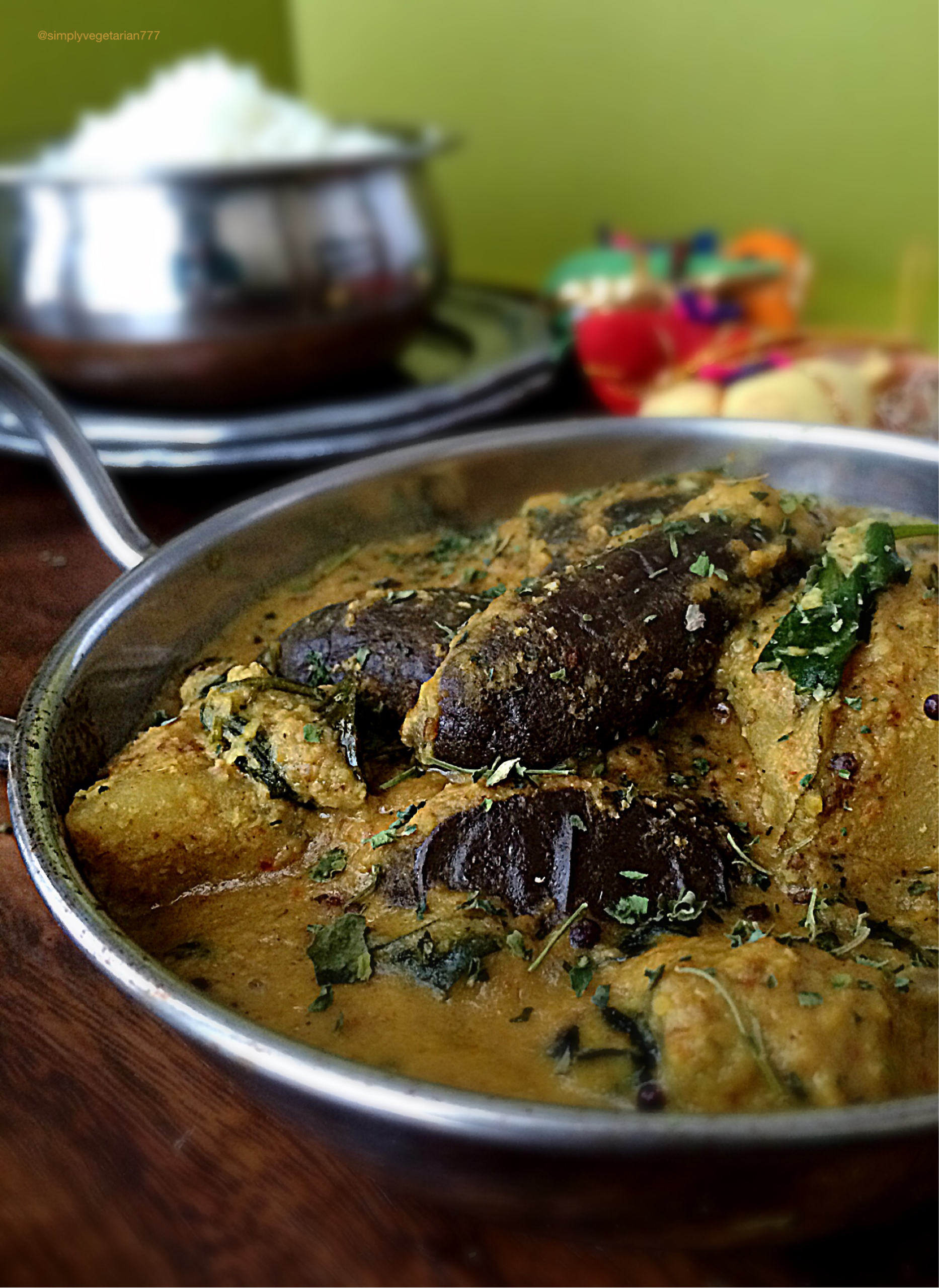 This is how it was done!
<
p style="box-sizing:border-box;margin-right:0;margin-bottom:1.4em;margin-left:0;padding:0;">
Baingan Aloo Methi in Coastal Curry
Kitchen Equipments Required – chopping board, knife, grinder, heavy bottom pan with lid, stirring spoon.
Ingredients
Baby eggplants – 8, cut into quarters
Potatoes – 3 small, cut into quarters
Methi / Fenugreek leaves – 1/4 cup, washed cleaned and picked from the stems. You may use 1&1/2 tbsp of dried methi leaves.
Spices to Temper
Oil – 1 tsp
Black Mustard seeds – 1 tsp
Asafetida / hing – pinch
Turmeric – 1/2 tsp
Red chili powder – 1/2 tsp
Garam Masala – 1 tsp
Jaggery or Brown sugar – 1 tbsp
Salt to taste
Note – Salt, red chilli powder, garam masala and jaggery amounts can be adjusted to the personal taste. I like balanced flavors so my spicing is medium.
Spices to roast and grind into paste
Peanuts – 1/4 cup
Dry coconut – 1/4 cup
Sesame seeds – 2 tbsp
Coriander seeds – 1 tbsp
Cumin seeds – 1 tsp
Red chillies whole, dry – 2
Method
Spice Paste
1. Take a heavy bottom pan. Dry roast all the ingredients given under the list of "spices to roast and grind", in a heavy bottom pan.
2. You may dry roast them separate or together. Make sure that they are roasted on lowest flame and till they are slightly pink. Do not brown the spices.
3. Cool them to the room temperature. Grind them in the grinder to a thick paste by adding 1-2 tbsp of water. Set the paste aside.
Preparing the curry
1. Heat oil in the heavy bottom pan. Add asafetida and mustard seeds and reduce the flame. Once the mustard seeds splutter, add turmeric and red chili powder.
2. Now add the quartered baby eggplants, baby potatoes, methi/fenugreek leaves and salt to the pan. Sauté them in the spices for about 4-5 minutes.
3. Pour the prepared ground spice paste to the pan. Stir well. Add jaggery and garam masala to the pan. Stir again. Add 3/4 to 1 cup of water and stir again.
4. Cover and cook the curry over medium low flame for about 15 minutes. Stir ocassionally.
5. Do the spoon lick test, adjust your salt, garam masala or brown sugar, if required!
Notes
1. The consistency of curry is a state of personal choice. You may make it as thick or as thin.
2. This curry can be eaten with rice or served with flat breads.
3. To make it diabetic friendly, you can skip potatoes and brown sugar. The potatoes used are not fried, so a piece of it will not harm. Actually, the studies have shown that diabetics can include starch rich foods but in controlled portion.
4. This is a gluten free curry.
Enjoy it this weekend!