Bajra Palak & Gobhi ki Roti / Millet Spinach & Cauliflower Flatbreads – Diabetes Friendly Thursdays.
As an Amazon Associate and member of other affiliate programs, I earn from qualifying purchases.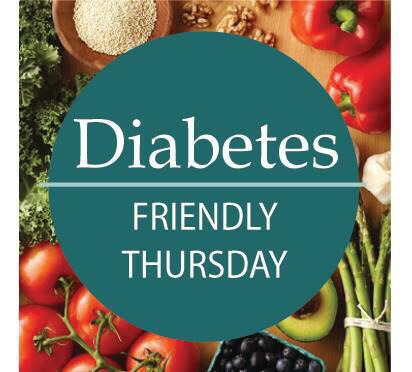 Creating Recipes with a Cause!
If you want to be a DFT blogger, then please save the badge above and read this link, for more information. When you are ready to join the cause, post your DFT specific posts with the badge above and link it here.



Bajra Palak Gobhi ki Roti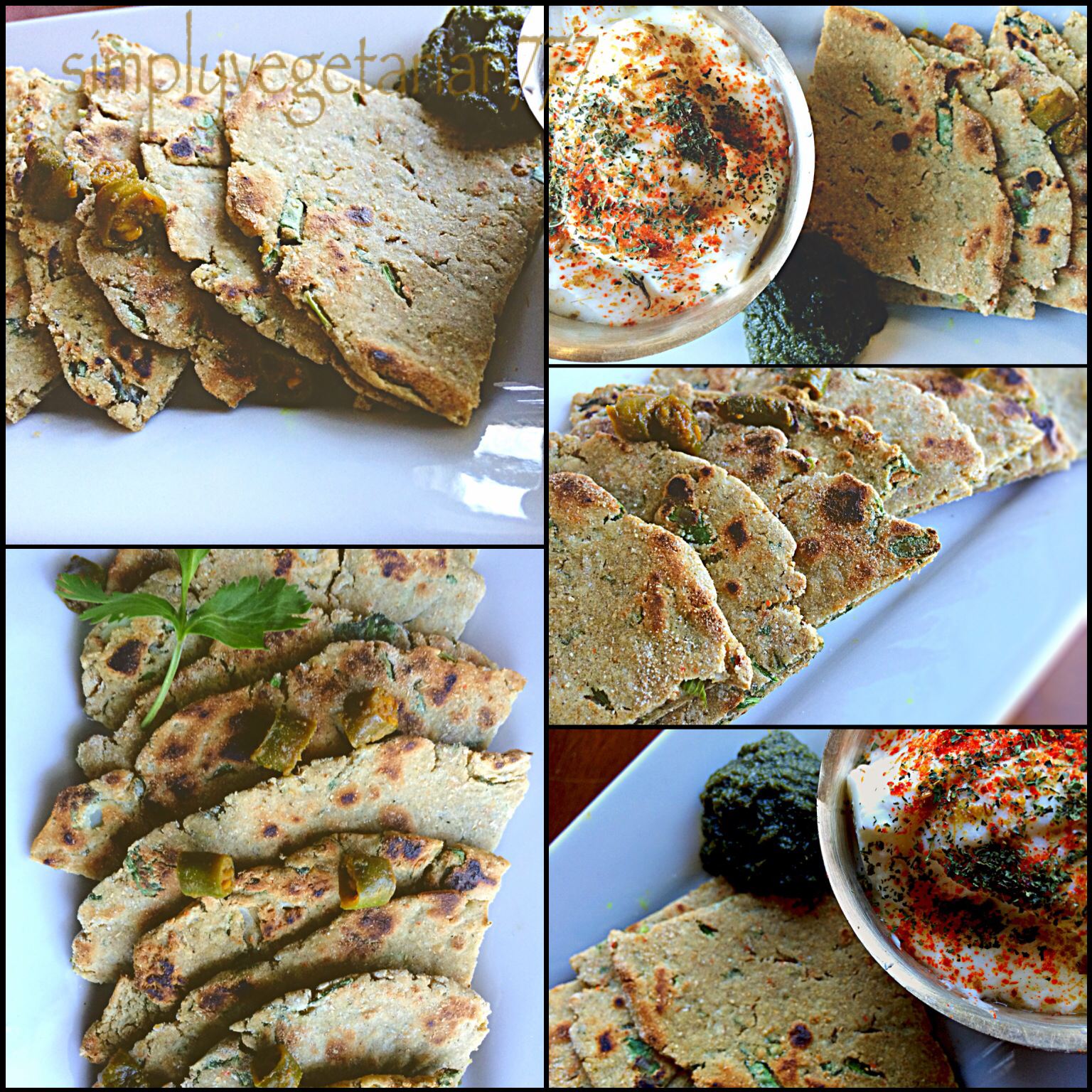 DFT is bringing FLATBREADS this week. They can be baked, roasted in pan, stuffed in between like a sandwich. They can be from any part of the world and can be easily prepared. I hope you enjoy!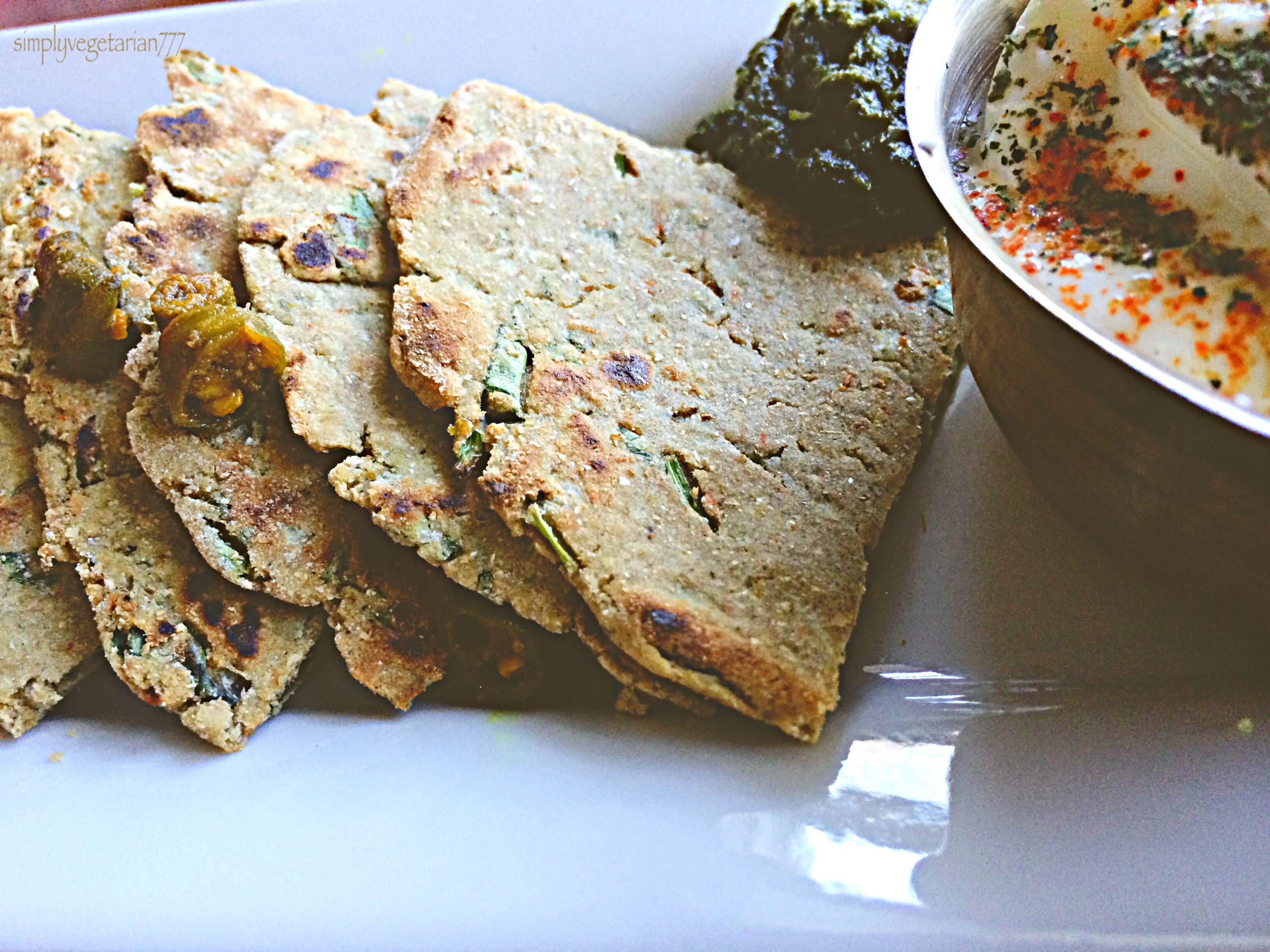 Bajra is Pearl millet, Palak is Spinach, Gobhi is Cauliflower. All these are the super foods category and can be efficiently used in a menu for a Diabetic Patient. Please read the Health Benefits of the 3 main ingredients in Diabetes, as mentioned below in the notes after the recipe.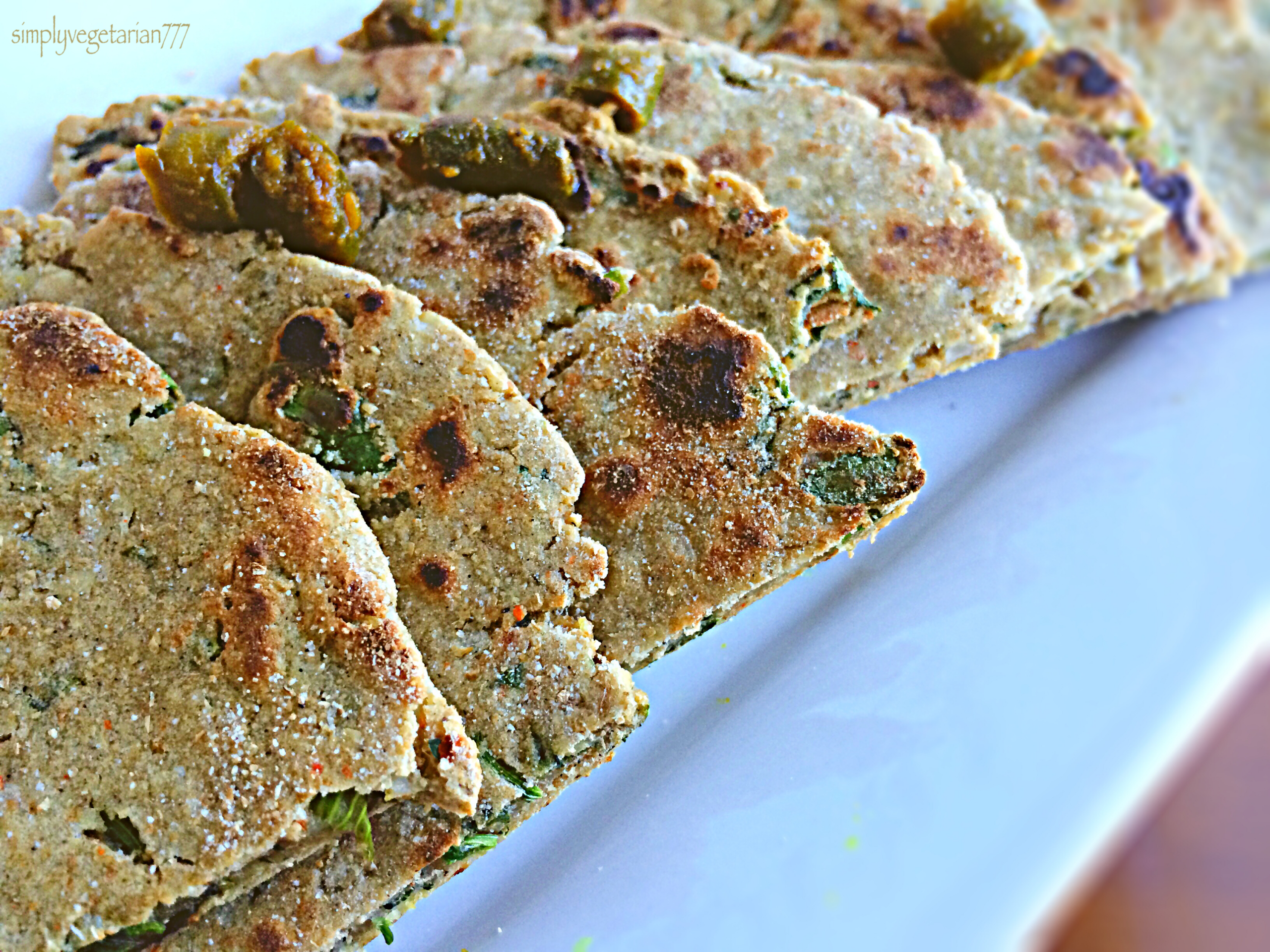 This flatbread can be consumed for breakfast, brunch, lunch or dinner. It is that versatile. It can be completely gluten free, is heart healthy and weight watchers delight, ofcourse in controlled portions.
This is how I made it!
Bajra Palak Gobhi Roti
Yields – 6
Kitchen Equipments Required
A bowl for kneading the dough, rolling board, rolling pin, griddle/tawa, a flat spatula.
Ingredients
Bajra / Millet Flour – 1 cup plus more for rolling. You may use whole wheat flour also to roll it. It will not be Gluten free then. You may use other kind of millet like ragi.
Cauliflower / Gobhi – 1/2 cup grated
Spinach – 1/4 cup, chopped fine
Cilantro / Coriander leaves – 2 tbsp, chopped fine

Ginger – 1/2 tsp, grated
Green chillies – 1 small, chopped fine, optional
Red chili powder – 1/2 tsp
Cumin powder – 1 tsp
Garam Masala – 1/2 tsp
Salt to taste
Water – 1/4 cup.
Method
1. Take the bowl. Add all the chopped vegetable, millet flour and spices to it. Mix well with hands.
2. Start adding water, 1 tbsp at a time. Bring the ingredients together in a dough. Add little water as required. I used somewhere around 3&1/4 tbsp water to make the dough. We want a tough dough and not soft at all. Check the picture below.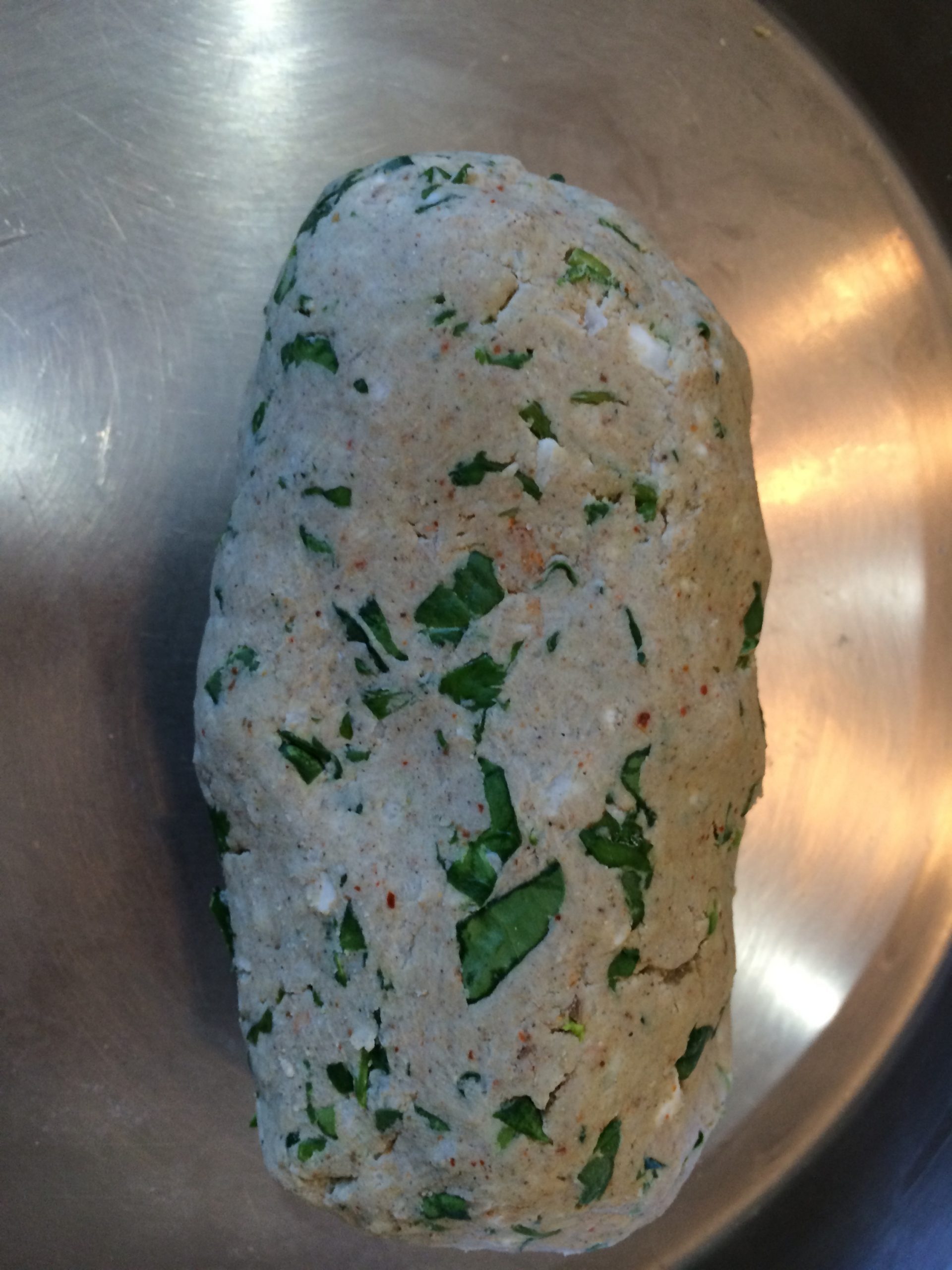 3. Divide the dough into 6 portions. The gluten free dough can not be made in advance. It has to be dealt and made with at the same time.
4. Heat the griddle or tawa on medium heat.
5. Sprinkle the clean counter or rolling board with dry flour (millet or whole wheat). Roll one portion of dough between your palms into a smooth ball. Roll it with the pin gently into a 5 inch diameter disc. Use dry flour in between if required. Note – some experts can expand the dough into disc in between their hands. If you are that expert, please feel free to do it.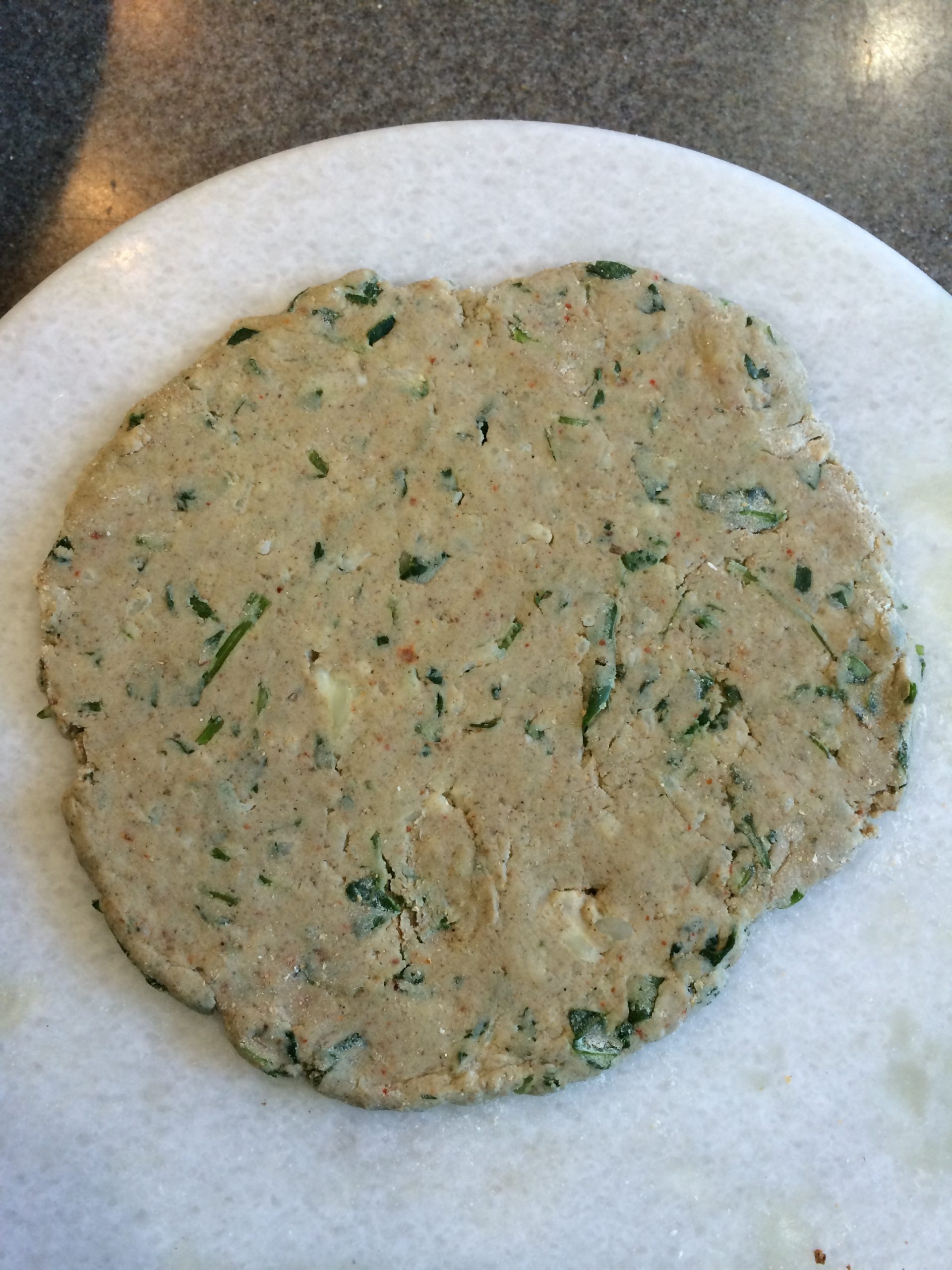 6. Place the rolled out roti / disc on hot griddle. Cook it from the bottom side on lower medium flame for approximately 1 minute. Flip it gently with flat spatula. Keep the flame low. Now let it cook for 30 seconds on the other side. Press it down with flat spatula and let it pick color and crispy texture, for another 30-40 seconds. Flip again and press down with spatula for 15-20 seconds for even cooking.
7. The flat bread is ready to be served. Make it a complete meal by serving along with 1/3 cup of low fat yogurt and some oil free pickle.
——————————————————
Health Benefits of Bajra(millet), Palak(spinach), Gobhi(cauliflower).
Bajra is Pearl Millet in English. It is one of the cheapest grain available in the market. Millet's high fiber content slows digestion and releases sugar into the bloodstream at a more even pace. This helps diabetics avoid dangerous spikes in blood sugar that lead to glucose spilling over into the urine, known as glucosuria. Consumption of pearl millets helps in minimizing the risk of type 2 diabetes. To know more about the Health Benefits of Bajra/Pearl Millet, please click here!
Palak is Spinach. The American Diabetes Association calls spinach a diabetes superfood and recommends that you regularly include this dark green leafy non-starchy vegetable in your diet. Besides being rich in vitamins, minerals and phytochemicals, spinach possesses a low glycemic index, which means eating it will help support healthy and stable blood glucose levels. To know more health benefits about Spinach, please click here!
Gobhi is Cauliflower. It is low carb, high fiber, rich in Vitamin C and non starchy vegetable. Adding it to your Diabetes meal plan can be a boon. It am be consumed raw or cooked. Lately, experts have substituted heavy white sauces with cauliflower sauces and use grated cauliflower as a sprinkle in place of cheese/ it's that effective. To learn more about the Health Benefits of Cauliflower, please click here!
Disclaimer
I am not a nutritionist or dietician. My knowledge and information is based on my research and reading from different resources. Please consult your doctor or dietician before making any changes to your diet.
——————————————————-
Diabetes Friendly Thursdays was an initiative taken by me, not even a month ago. And I am so overwhelmed with the response it has received over twitter and Instagram with Costco, Diabetes Magazines, Nutritionists, etc following me. I can't thank enough my 3 supporting pillars Shailja, Prachi and Sarika, who adhered my cause and made it theirs as regular contributors and partners in planning. I welcome 4 new members who will join us on and off on the weekly DFT wagon. Anupama, Apsara, Swati & Chahat, thanks buddies!
Other Entries from this week DFT featuring flat-breads and more.

Prachi's Maiz Masa Savory Bread

Sarika's Veg Quesidellas


Apsara's Baked Masala Kale Chips
Anupama's Oats Roti


Vidhya's Baked Falafels


Suchitra's Mung Dosa