Baked Aloo Pyaaz ki Khasta Kachori OR Hand Rolled Savory Pies with Onion and Potato Curry Filling!
As an Amazon Associate and member of other affiliate programs, I earn from qualifying purchases.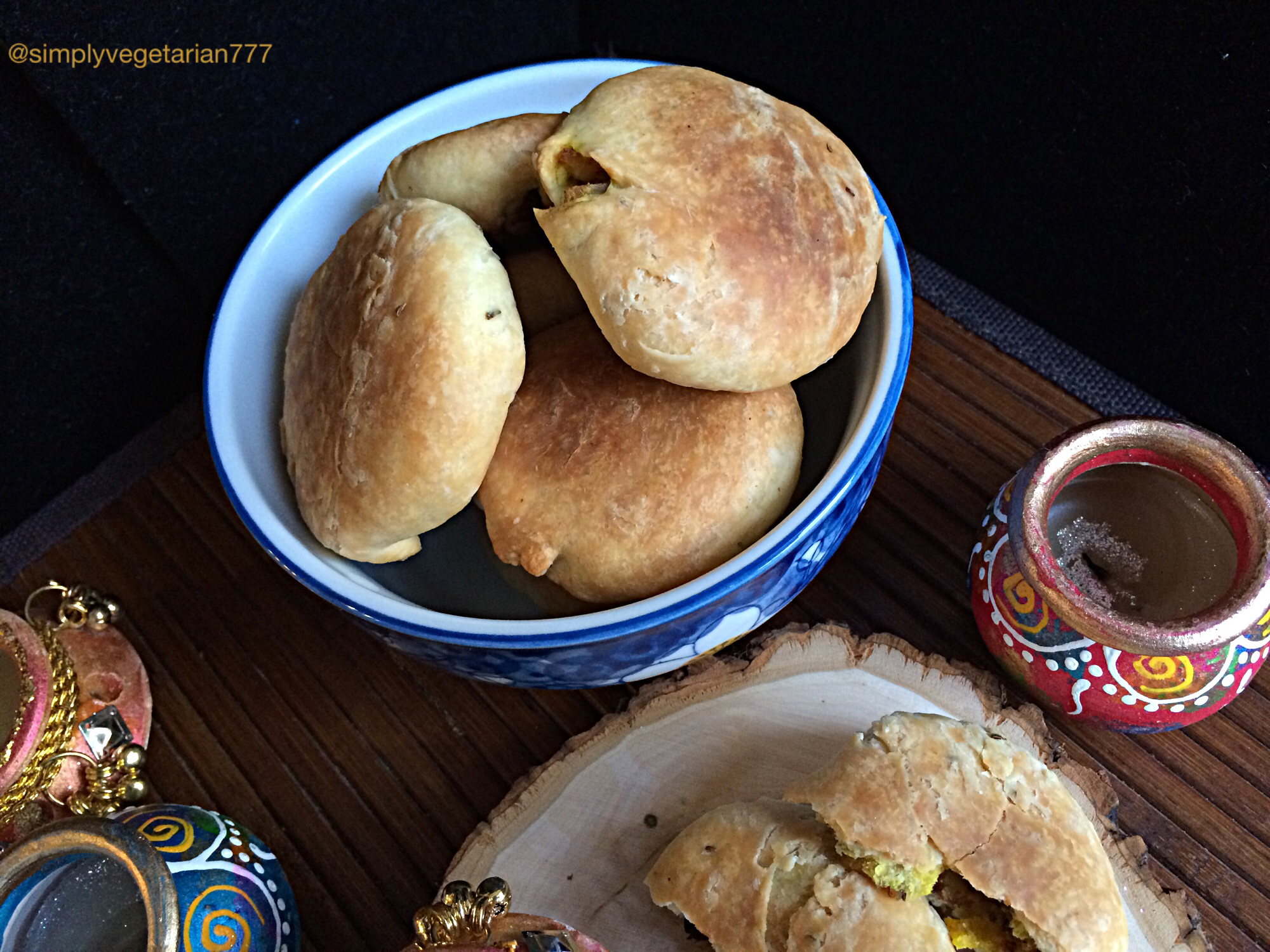 Another of my festival post for Diwali, which starts from today and ends on 25th of October, a 5 day celebration! Yes, this festival is not only about sweets but about a good amount of savories too!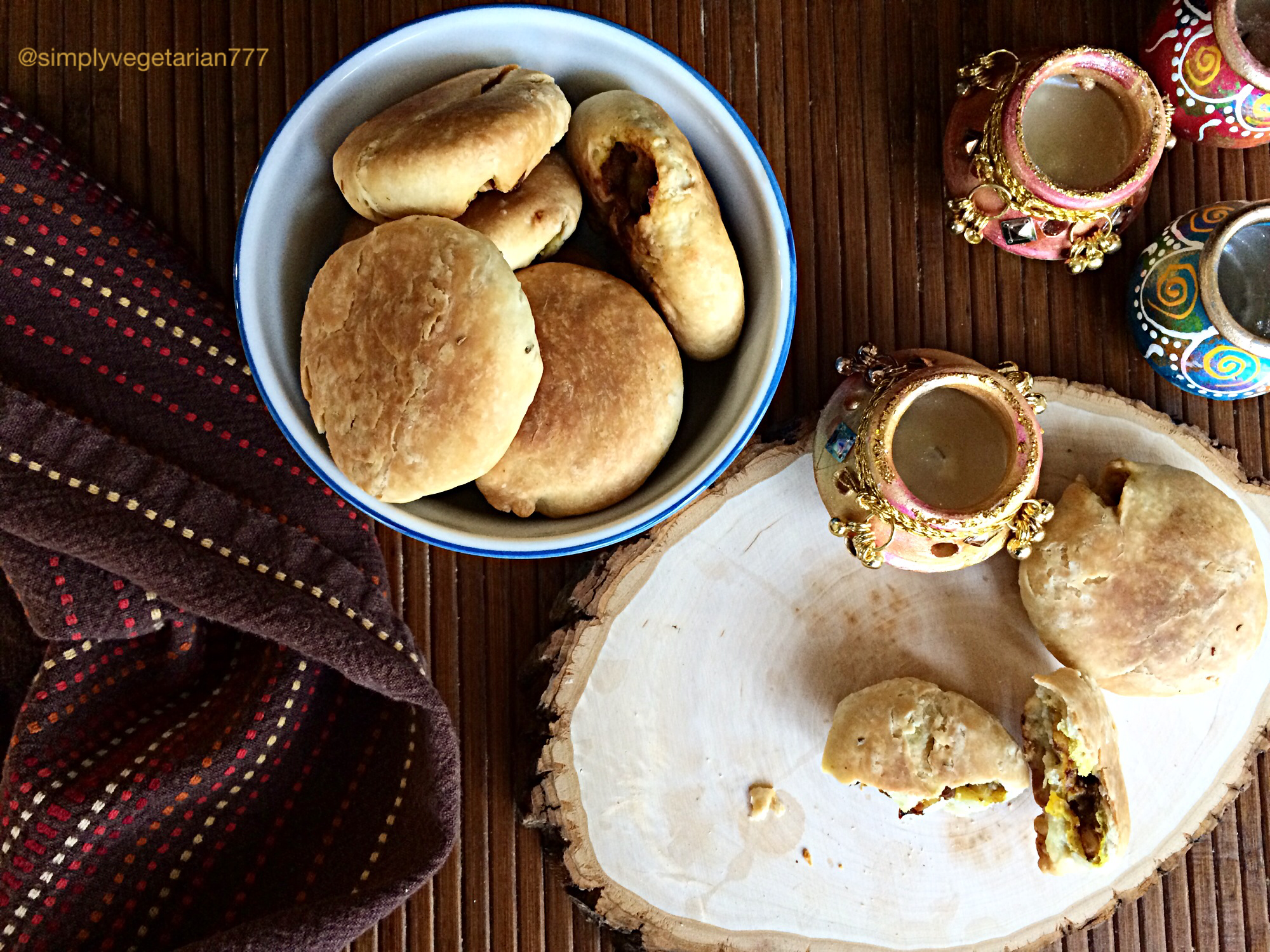 These Deep Fried Pies are so popular in India and are sold by local shops at every corner with different fillings.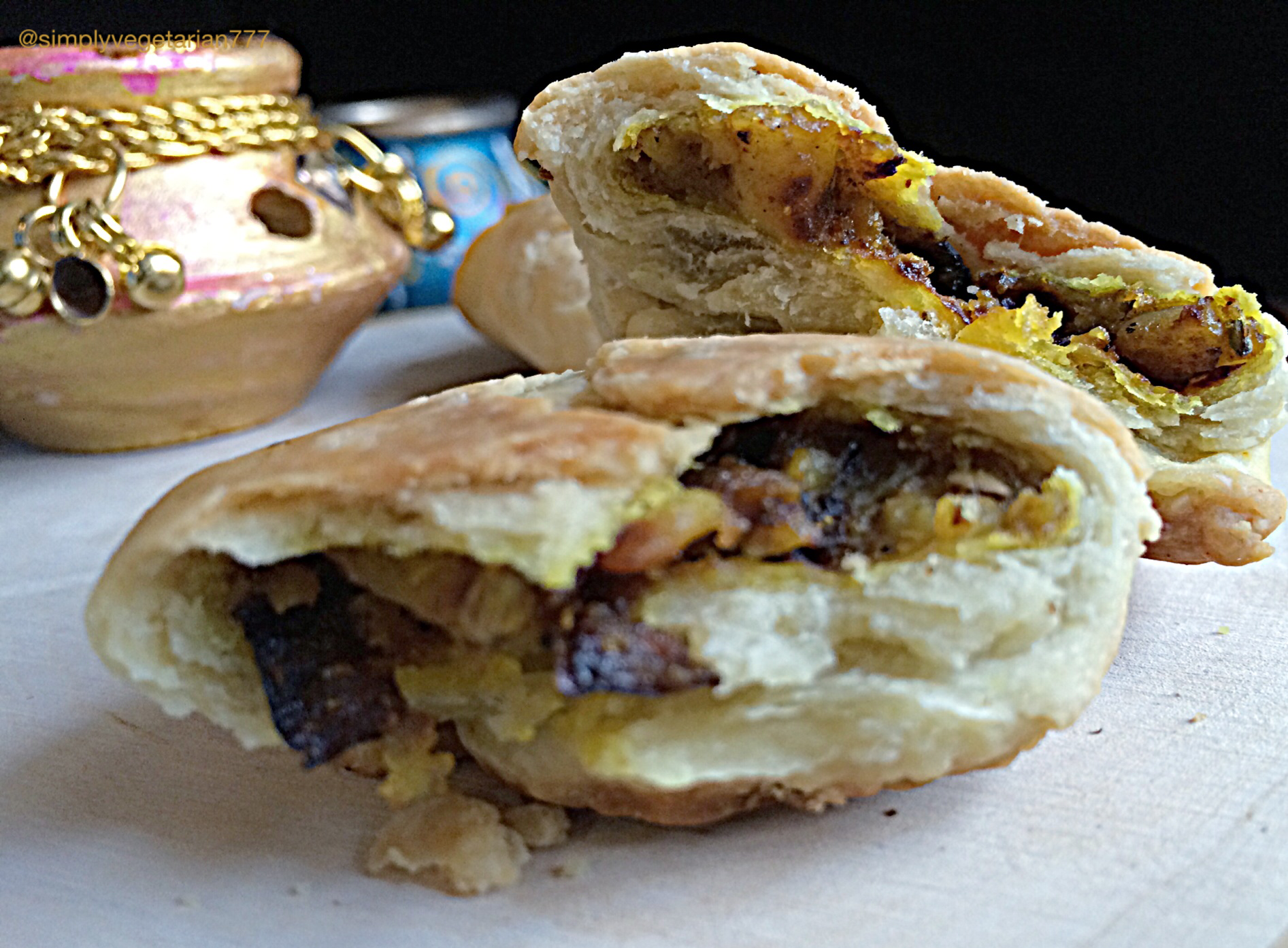 Me being me, I didn't deep fry these but baked these ;). and guess what? These came out flaky and delish even in baked version.

I have tried few options to bake these earlier but with no success close to original. But this time I nailed it big time :). After I made Galettes and Pies, I realized that their texture is soooo similar to our khasta. Bingo! That gave me an idea.
My Husband who is not a big fan of these, gobbled 2-3 at a time and loved these!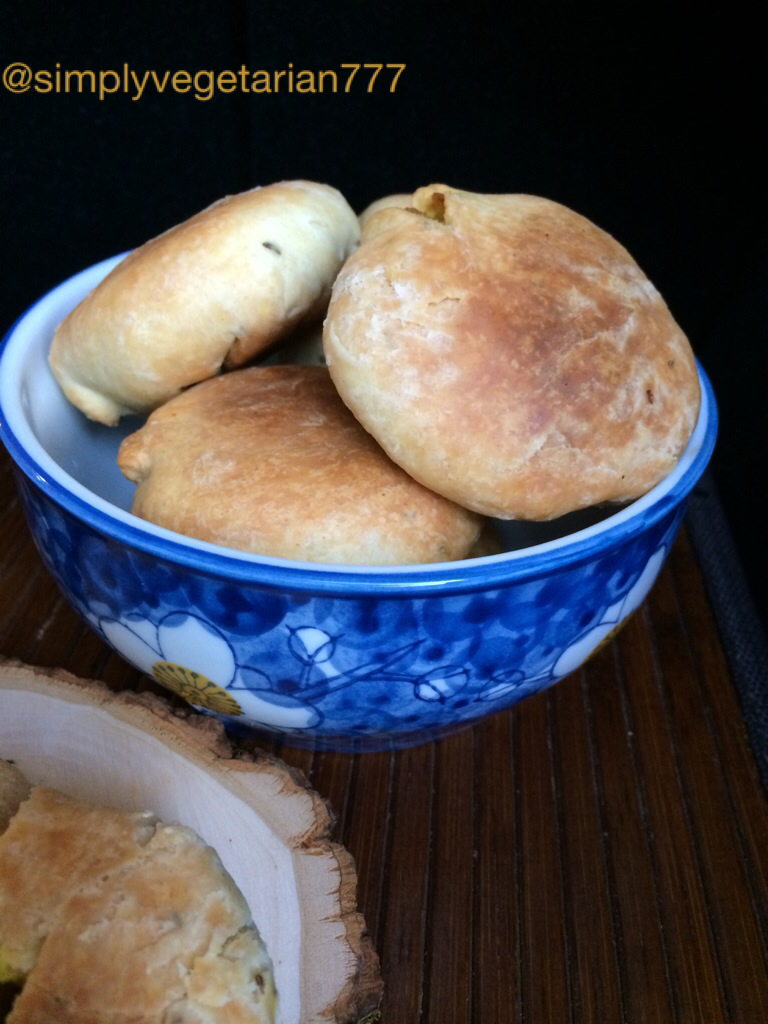 Here is how I made it!
Yields : 8 to 10 Kachoris / Pies
Kitchen Equipments Required : pan, stirrer, chopping board, knife, oven, fridge, baking tray, butter or parchment paper, rolling pin / belan, big bowl, plastic wrap or a plastic box with lid.
Ingredients :
Shell
All purpose flour : 1&1/2 cups
Suji / Semolina : 1&1/2 tbsp
Oil : 3 tbsp
Salt : 3/4 tsp
Ajwain / carom seeds : 1/4 tsp
Vinegar : 1 tsp
Cold water : 6 to 7 tbsp, a little at a time.
Filling
Oil : 1 tbsp
Asafetida / hing : a pinch
Onion : 1 big and chopped fine
Potato : 1/2 cup, mashed
Cumin seeds : 1/2 tsp
Coriander seeds : 1 tsp, crushed
Turmeric : 1/4 tsp
Red chili powder : 1/4 tsp
Coriander powder : 2 tsp
Amchur / Dry mango powder : 1/4 tsp
Salt : 3/4 tsp or to taste.
Method :
Making the Shell
Take a big bowl. Add all the ingredients of pie shell in that besides oil and the water. Add oil and rub it in. The flour will look like fine crumbly texture. Add vinegar and 4 tbsp of water. Bring the dough together. Add 1 tbsp of water more at a time. Don't knead the dough. Just gather it into a tight dough. Wrap it in the plastic wrap or out in plastic bowl with lid. Refrigerate it for 1/2 an hour at least.
Making the Stuffing
Refer to the ingredients mentioned under stuffing. Heat the oil in the pan. Once hot, lower the flame, add asafetida/hing and cumin seeds. Add onions and sauté till golden on medium lower flame. It will take 6-8 minutes. Now add all the other spices and mix well. Cook for 1 minute more on low flame. Now add mashed potatoes. Mix well and cook for 3-4 minutes on medium to high flame, stirring ocassionally. Take it off the flame and cool it to the room temperature.
Making the Kachoris / Pies
Preheat the oven at 375F / 190C. Line a Baking tray with parchment or butter paper.

Take the pie shell dough out of the refrigerator. Let it rest for 10-15 minutes on the counter.

Now divide the dough into 2 equal portions and make 2 logs out of it. Divide the Logs into 4 to 5 equal portions.

Take a piece of dough. Press it down into a flat with rolling pin / belan. Add a tbsp of filling or accordingly in the center of the rolled out pie. Now gather the sides and bring to the center. Press the pie/kachori down.

Bake them for 25-30 minutes. Flip them to the other side after 12-15 minutes for even browning.

Now take them out. They are still not golden brown. Lightly grease them with oil and bake them at 425F / 220C for 3-5 minutes till these turn golden.
Serve them warm with Tamarind and Mint Chutneys!
Stay Happy and Stay Healthy this Diwali !
Sonal