Balsamic Glazed Grilled Vegetables with Brown Rice : Meatless Monday
As an Amazon Associate and member of other affiliate programs, I earn from qualifying purchases.
Cold weather can push you to indulge and that too with calorie loaded food most of the time. Given December, there is no limit to rich and heavy food. The weather, festivities, grey skies make a lethal weapon for quick gratifying fat loaded food cravings and body yelling for more and more. At this point, I listen to my mind and indulge in "Mindful Eating". Good health is a constant struggle. If you think that since I blog about healthy food and better choices, I must weigh perfectly etc., then that's not true. I am still over weight and scared of scale but I try to do my bit. I eat with conscious mind.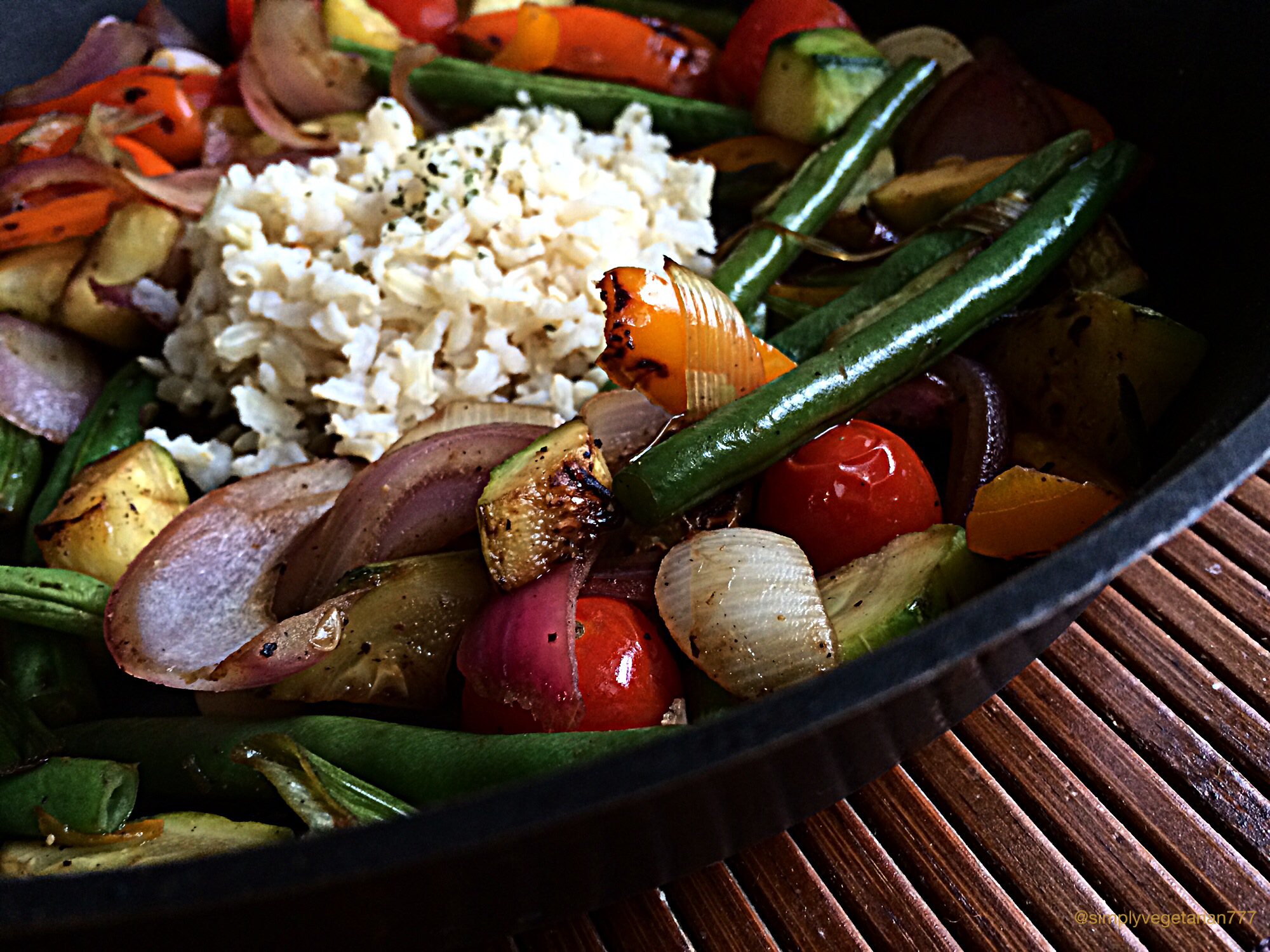 This recipe is a proof of mindful eating! I came back home from work, craving for some warm and comforting food! Instead of picking up those fries enroute home, I washed some vegetables and cooked them in just 1/2 tsp of oil and glazed them with balsamic vinegar and paired with a very small portion of brown rice. Warm! Comforting! Yummy! Healthy! Quick! Easy!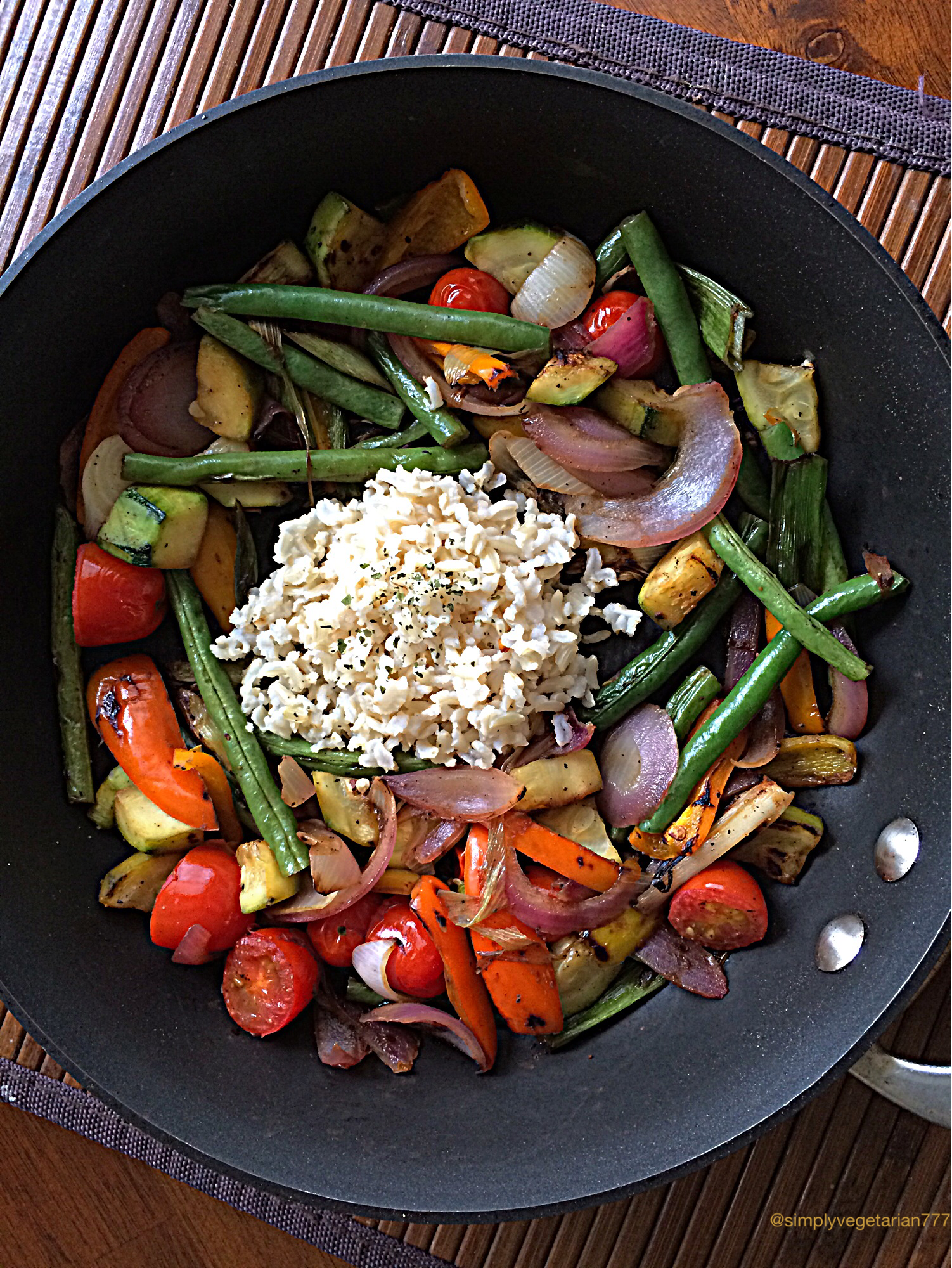 This recipe can be adapted to any available vegetables at home and brown rice can be replaced with any other whole grain. A good dish doesn't need to be loaded with butter or oil and doesn't need to be cooked for hours!
Serves : 1
Kitchen Equipments Required : Chopping board, knife, heavy bottom non stick pan or hard anodized pan preferred, a sautéing spoon.
Ingredients :
Oil : 1/2 tsp
Green Beans : 6-7, halved
Onion : 1/4 cup, chopped roughly
Bell peppers : 1/3 cup chopped
lengthwise. I used colored.
Zucchini : 1/2 cup, chopped in not very thick pieces
Cherry tomatoes : 5-7, halved
Balsamic vinegar : 1 tsp
Salt and black pepper to taste
Brown rice : 1/4 cup cooked
Note : Wash all the vegetables properly in cold water before prepping them.
Method :
Take your hard anodized pan and heat oil in it. Swish it around the pan to coat evenly. Make the pan, smoking hot.
Note : If using non stick pan, then don't over heat it.

Add all the vegetables to the pan, besides tomatoes, in a single layer and let them cook without stirring for 1 to 1&1/2 minutes. Stir them and cook for another 5-6 minutes, on other sides similarly. You will get crunchy, juicy vegetables. Cook in higher medium flame.

Now add tomatoes along with balsamic vinegar, salt and pepper. Toss them well with other vegetables and cook for 1 minute more on medium flame. Switch off the flame.

Make a well in the middle of the cooking pan. Add cooked rice in the middle. Cover the pan and let the ingredients steam for another minute.

A delicious meal is ready for 1.
Enjoy some mindful eating !
Sonal