Banana Chocolate and Nuts Muffin Cake with Quick Ganache Topping, eggfree and butter free
As an Amazon Associate and member of other affiliate programs, I earn from qualifying purchases.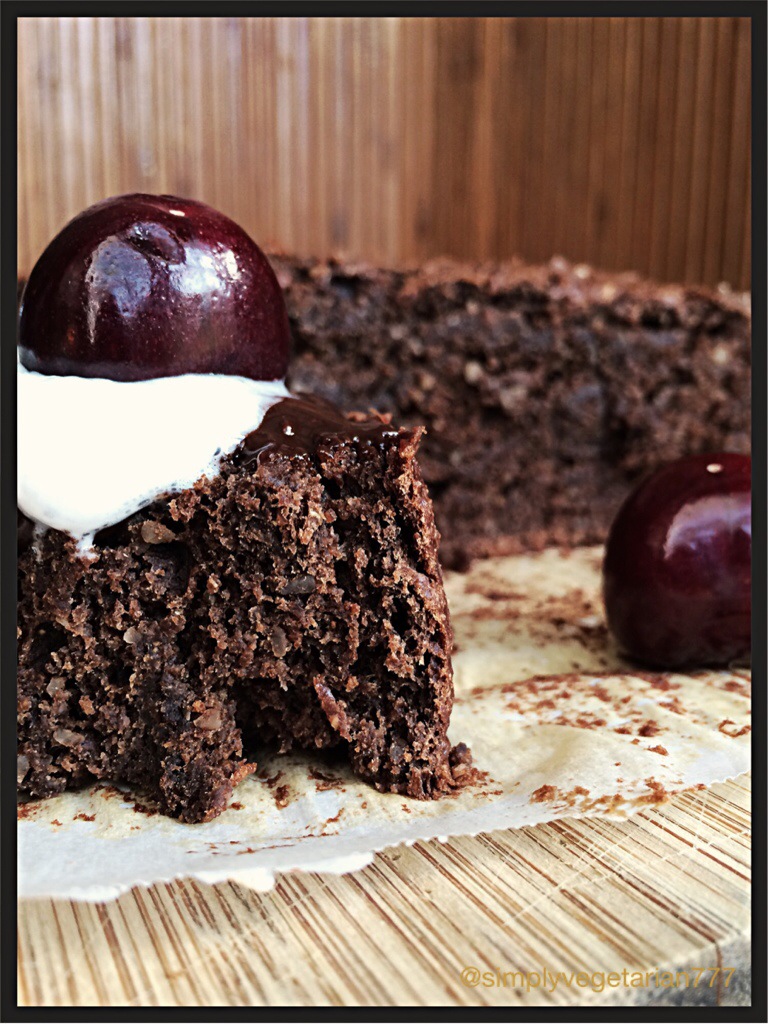 A good basic recipe can be modified in so many ways. That's what I do with my Banana bread recipe. Every time I follow the recipe and make something new by tweaking it a bit here and there. Remember my Banana Almonds Muffin Bread with crumble topping? Yup that came out of the basic recipe too.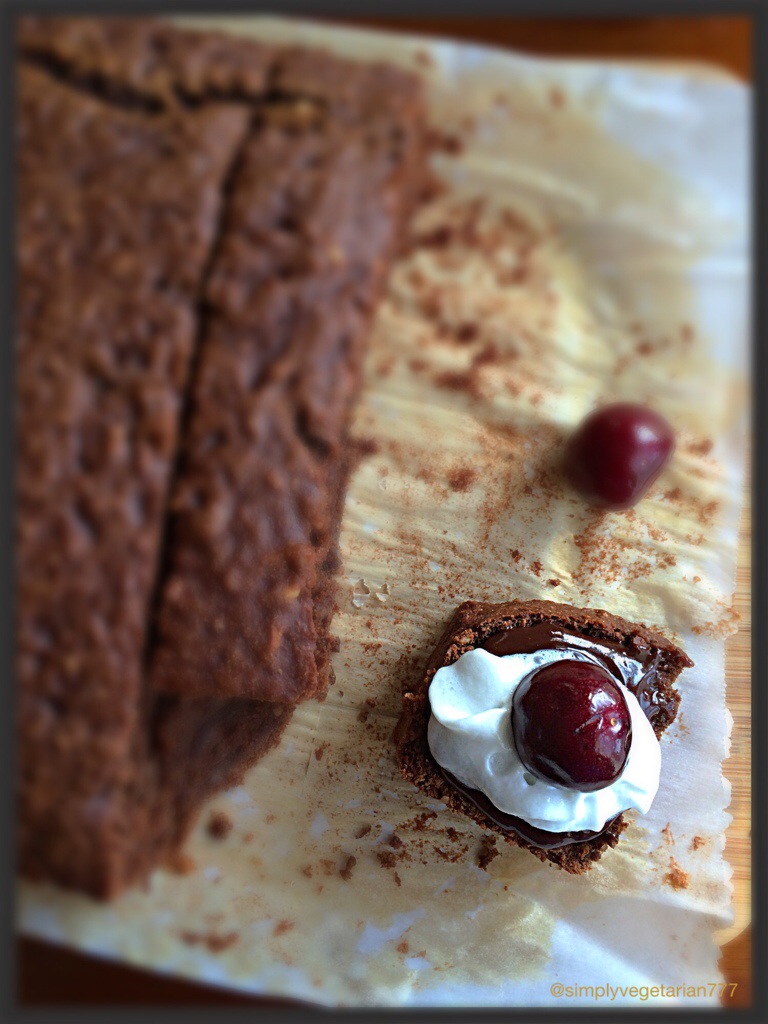 I would just post the recipe without much ado today! Easy peasy and super delish and super healthy too!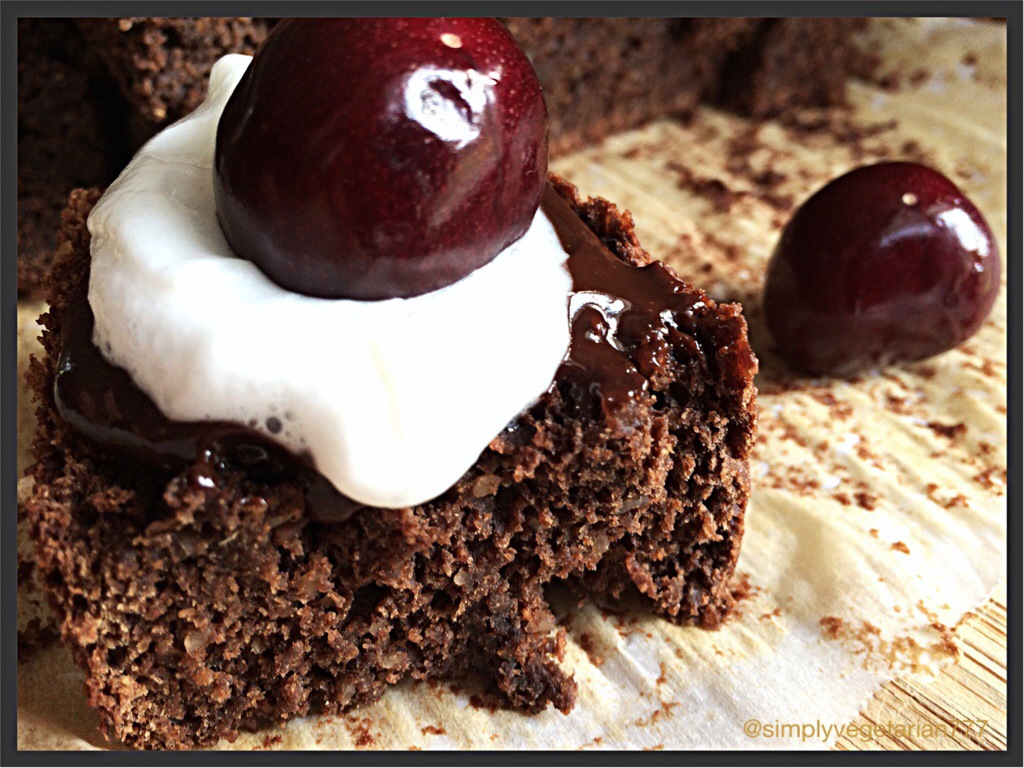 Yields : one 9″ square or circular cake
Time : 1 hr to 1:15 minutes
Kitchen Equipments Required : 2 big bowls, fork, electric egg beater, spatula, square or circular cake tin, parchment/butter paper (optional), oven.
Ingredients :
Whole wheat flour : 1&3/4 cup. You may use all purpose flour or 50/50 of each and even sub with a bit of oats flour too.
Banana : 4 over ripe or 2 cups mushed
Sugar : 1 cup. You may use half of brown sugar too.
Coco powder unsweetened : 1/2 cup
Almond meal, coarse : 1/2 cup. I use home made by processing the almonds in food processor. You may use pecans or walnuts as well.
Yogurt : 1/2 cup. You may use 2 eggs instead.
Vanilla essence : 1 tsp
Baking soda : 1&1/2 tsp
Salt : a pinch
Method :
Preheat the oven at 350*F and line the cake tin with parchment/butter paper. Use may grease the tin and dust lightly with flour in case you are not using the lining paper.
2.In a bowl, add flour, coco powder, salt and baking soda and mix well with a fork. Keep aside.
In another bowl, cream mushed bananas and sugar with electric beater for 3-4 minutes. We want light banana cream.

Add vanilla essence and yogurt to the banana cream and blend well with the egg beater.

Now add the dry flour mix to the banana cream, little at a time. Mix gently while scraping from the sides, with a spatula.

Add the almond meal. Mix well.

Pour the batter in the ready cake tin. Spread it out evenly. It is thick in consistency.

Bake in the oven on the middle rack for 45 to 60 minutes. Do the toothpick test. If it comes out clean from the center, then it is done.

For quick Chocolate Ganache, Click here.

I served the muffin cake topped with ganache and light whipped cream and fresh cherries.
Note :
The muffin cake texture is more of brownie.
It is lightly dense but super tasty.
You may serve With fresh fruits of your choice like cherries, strawberries, blueberries etc.
The cracks in a banana cake are obvious so don't be alarmed.
Do try and let me know.
Sonal
P.S : The guest post week started today. Stay tuned to explore 5 excellent bloggers with me with their recipes :). Some you may know and some you might want to know! I am just praying that I can squeeze them all in a week with family visiting ;).