Besani Roti
As an Amazon Associate and member of other affiliate programs, I earn from qualifying purchases.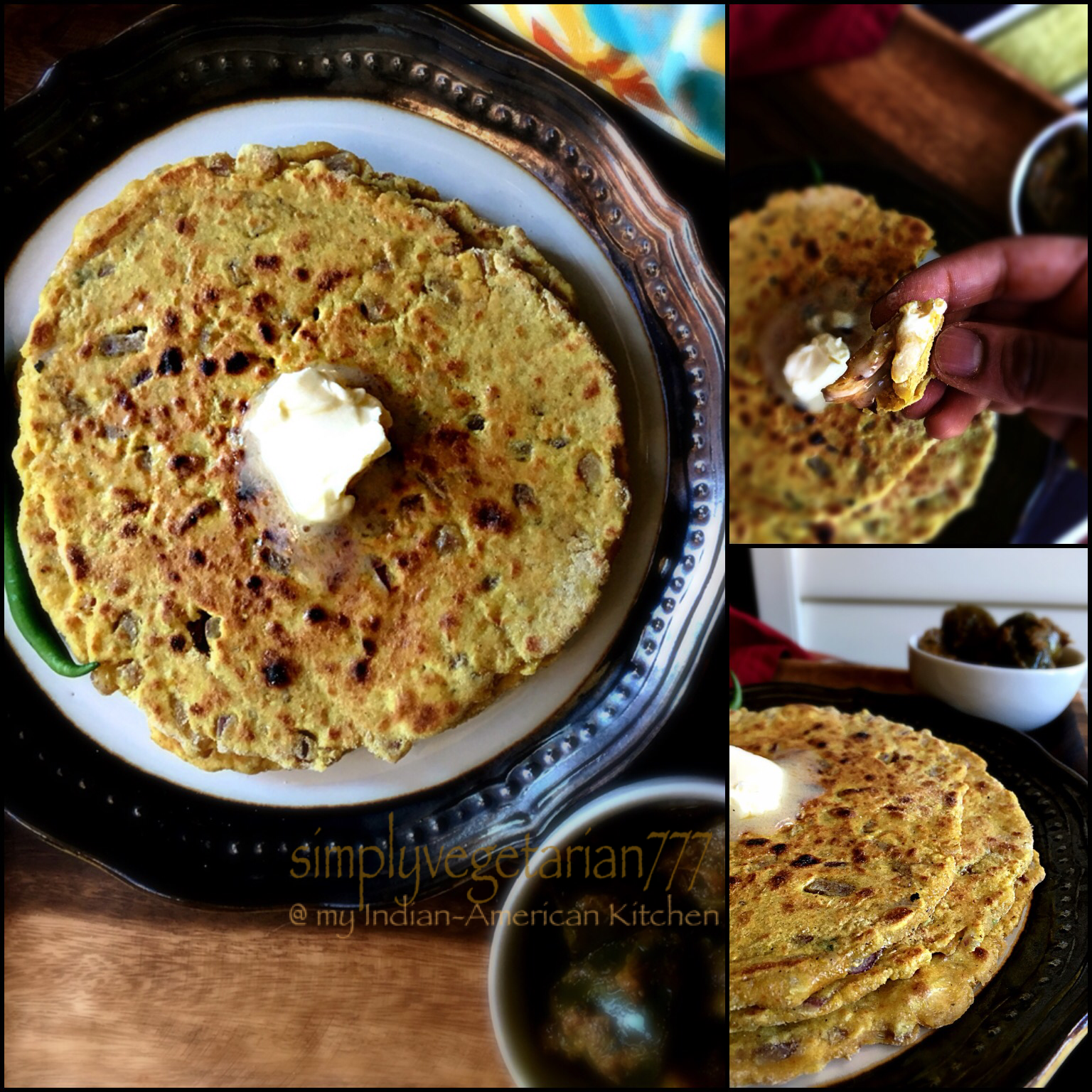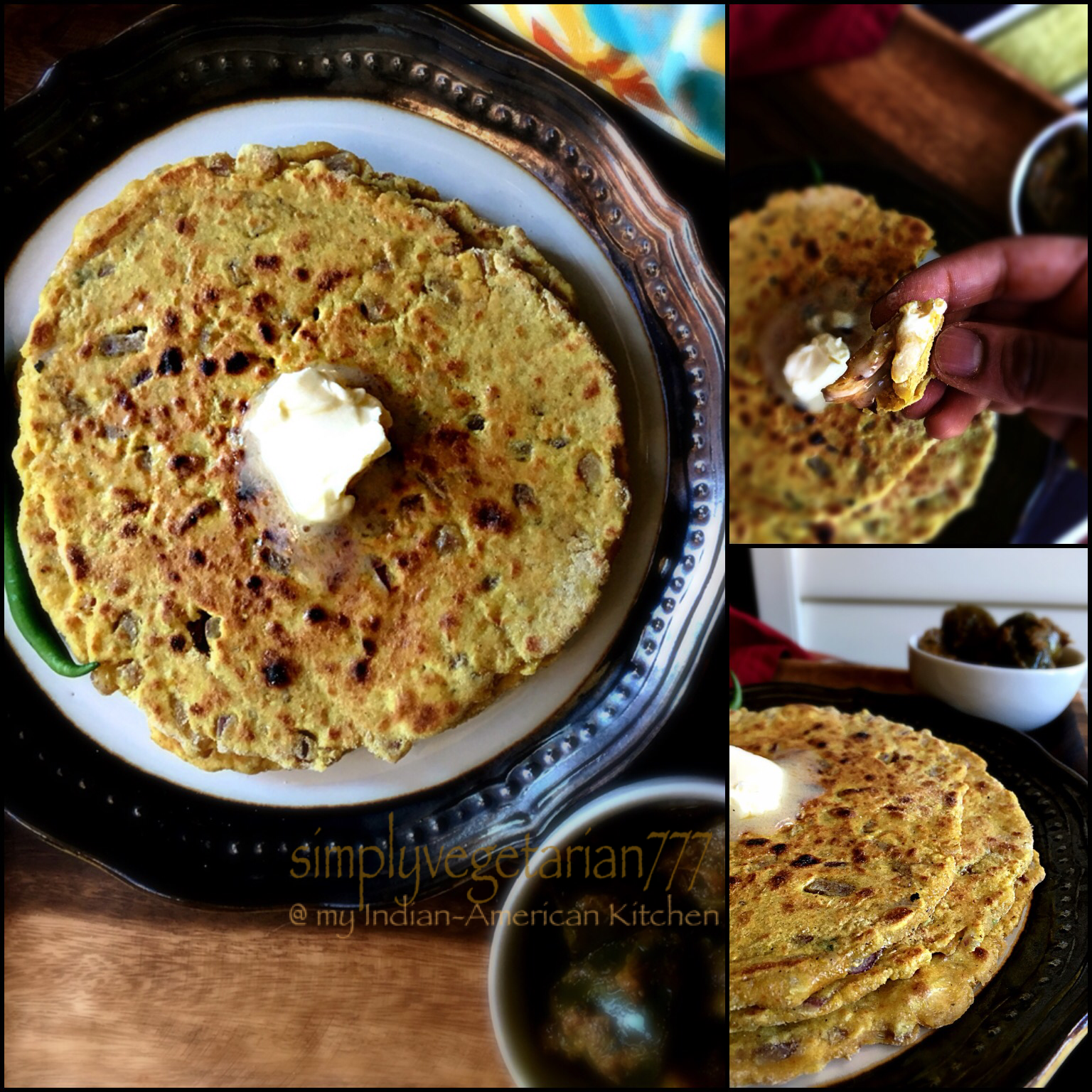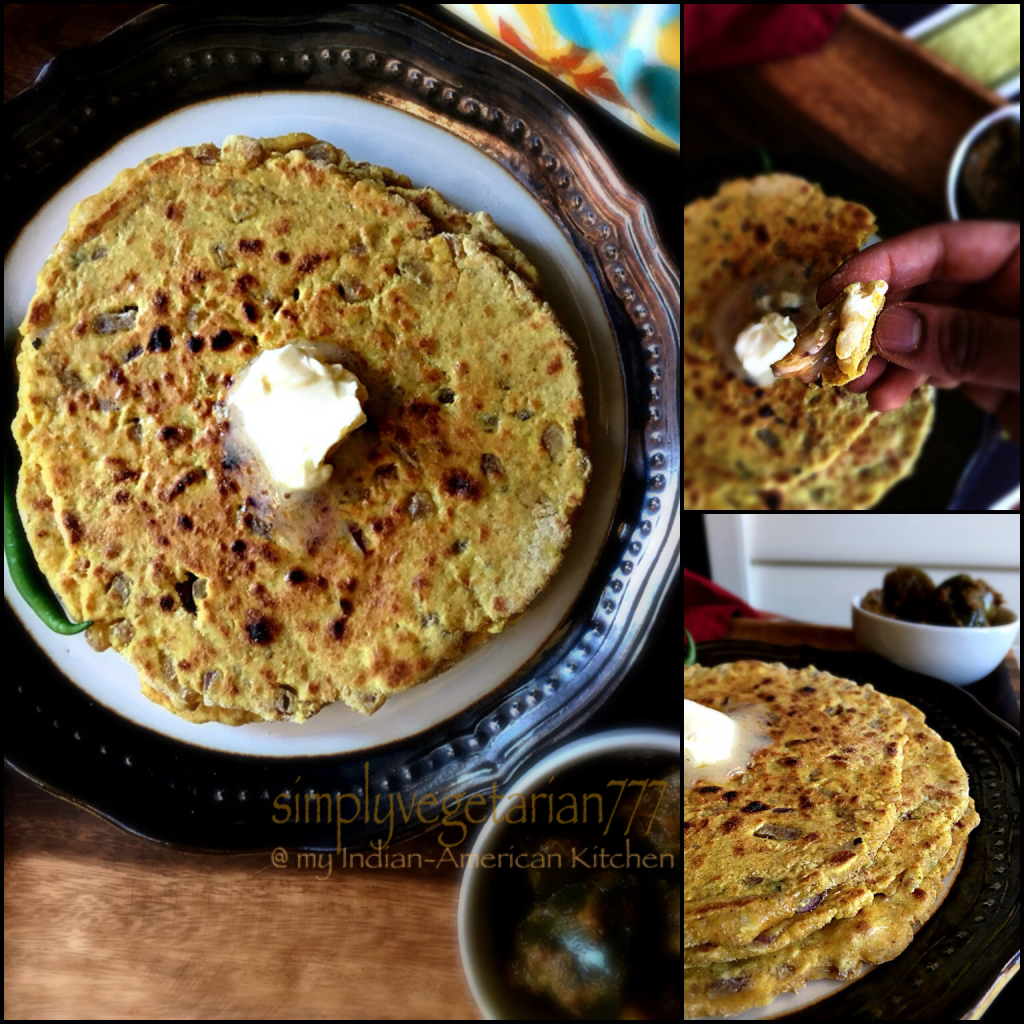 Besan is Chickpea Flour and Roti is Indian Flatbread !
I have vivid memories of this Roti being served in most of the Indian weddings in UP, Delhi and Punjab region, especially in winters. I am laughing as I remember that it used to take time on this Roti ka stall, since it was cooked on slow flame and there used to be a long line of people waiting for their turn. Indian weddings are fun to attend, not only for the rituals but for their food culture.
My dadi (grandmother) was very fond of it and whenever she accompanied us to any wedding, one of us had to wait at the stall to get this Roti for her since this was the only Roti she would eat ;).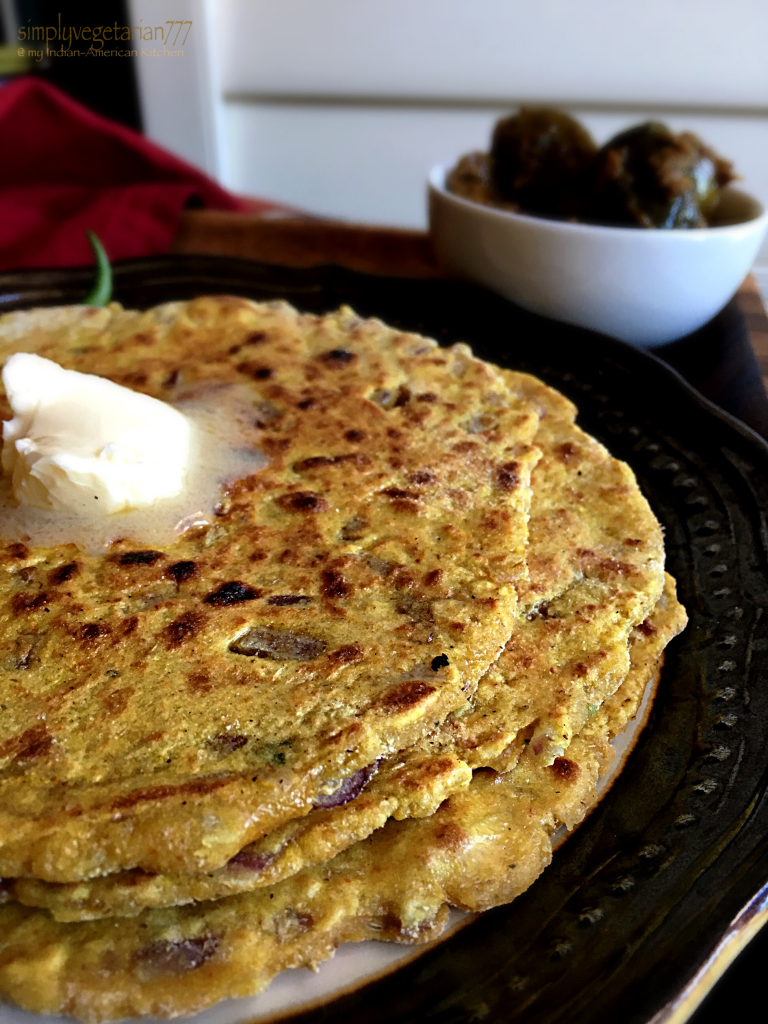 Besan is gluten free and is rich in nutrients. Many people make these rotis purely with Besan but I have added a bit of whole wheat flour for easy binding. The rustic earthern flavor of this Roti is beyond description and is a complete meal. Many a times, it is served with saag also.
I ate mine with some butter and mango pickle and strong ginger tea on the side! A bliss. Perfect for breakfast, brunch, lunch box or lunch or dinner time.
This is how I made it!
Besani Roti
Servings: 4
Difficulty: easy
Kitchen Equipments Required
A big bowl to make the dough, a rolling board (optional) or clean kitchen surface, rolling pin, a small bowl filled with cold water,  a flat pan or griddle (tawa), a flat spatula, a plate with some dry wheat flour to roll the dough.
Ingredients 
Besan / Chickpea Flour – 3/4 cup
Gehu ka Atta / Whole Wheat Flour – 1/4 cup
Green Chili – 1 small, finely chopped
Onions – 1/2 cup, finely chopped
Ginger – 1 tsp, finely grated
Yogurt – 2 tbsp
Water, cold – to make pliable dough
Oil & Spices
Oil – to grease your hands
Salt to taste
Ajwain / Carom seeds – 1/2 tsp
Red chili powder – 1/4 tsp
Garam Masala – 1/2 tsp
Turmeric – 1/2 tsp
Method
Take the big mixing bowl. Add besan, whole wheat flour, green chili, onions, ginger, turmeric, Caron seeds, salt, red chili powder and Garam masala to the bowl. Mix it all together.
Make a hole in the middle of the mixture. Add yogurt and little water. Start mixing and bring the flour mixture together in a dough. Make sure that you add  2-3 tbsp water at a time. Besan is gluten free so it doesn't require lot of water to bind. If you add too much water at a time, it will become runny and become batter instead of dough. A little bit of wheat flour is added to bind the dough.
Grease your hands lightly with oil and gather the dough finally. It will be slightly sticky.
Divide the dough into 8 equal balls. Heat the griddle or tawa.
Take one dough ball. Roll it in the  dry whole wheat flour in a plate.
Place it on the rolling board or clean kitchen counter. Roll it out into a 4&1/2 inch round with gentle pressure. If you will apply too much pressure while rolling the dough, it will stick to the board or counter. You may roll it on butter or parchment paper also, for easy removal. If required, apply more dry flour.
Reduce the heat of the griddle to medium. Carefully lift the rolled out dough and place it on the hot tawa.
Cook it for 2 minutes on medium flame and then gently flip it with flat spatula. Now cook it from the other side for another 2 minutes on medium flame.
Flip it one more time and press it with flat spatula and cook further for 1 more minute.
Apply some fresh butter or ghee and enjoy with yogurt, pickles and chutney.
Notes
You may cook the Besani Roti, the last time on open flame.
Many people do not add whole wheat flour. You may try making it that way also, if you can handle the pure besan dough. In that case you have to spread the dough ball in between 2 sheets of parchment or butter paper.
Besani Roti takes time to cook from inside, therefore, please cook it on medium to slow flame.
Besani Roti has a very distinctive taste and is delicious. It tastes the best in Winters.
Have fun making these rotis this week and enjoy some rustic and earthern flavors from my Indian-American Kitchen to yours!
Sonal