Bhatura : A deep Fried Leavened Bread from Northern India
As an Amazon Associate and member of other affiliate programs, I earn from qualifying purchases.
Bhatura….what can I say about this sinfully delicious bread. They are golden, they are crispy, they are soft..and they are just full of oomph ;).
When everybody is starting their new year with good eating resolutions and more work out etc etc…I am just spinning dishes in my kitchen. No we don't eat this way normally :).. Lol ! It's the last day of winter break for the kids and school stars tomorrow. …yay ! Oops did I say it too loud… 😀 .. Well school and routine means better eating and less cooking and more schedule.
Now coming back to Bhatura, it is a deep fried….yes deep fried on my blog…well couldn't adapt it to any other method…..but used whole wheat flour instead of refined, if that's of any consideration. Bhatura is a deep fried bread from the state of Northern India, called Punjab. It is served with the famous chickpea dish Chhole Masala or Chana Masala, with the side of lots of onions, lemon, some yogurt dish and pickles..some mean and hot pickles..sizzzzzzzling !
This dish is called Chhole – Bhature. Yes it's like the perfect marriage where one is often not recognized without the presence of the other :).. Makes sense?
It is made at home. It is served in restaurants, it is a hot dish in fast food corners and a much loved street food!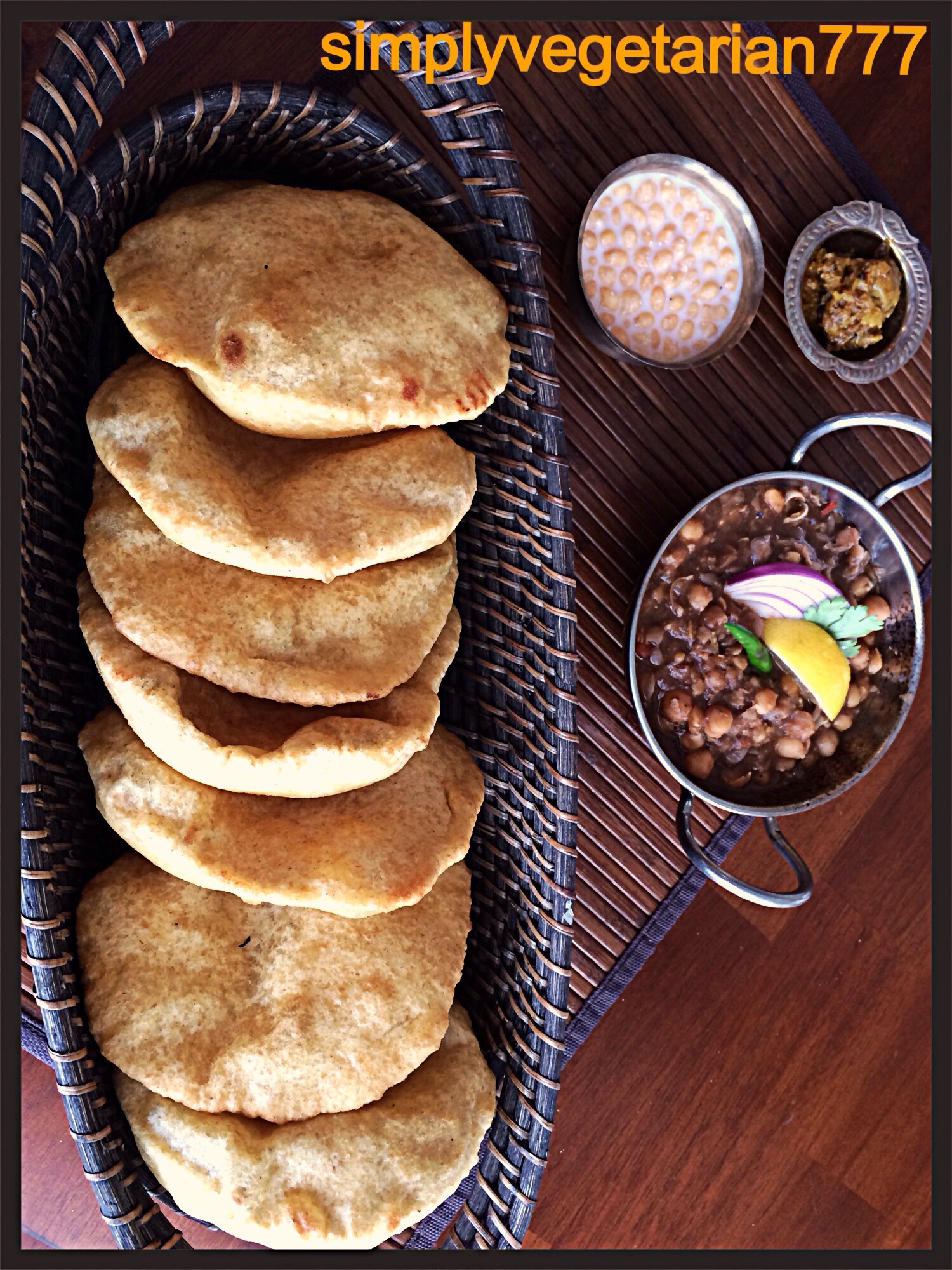 I made the chickpeas curry with a different spice mix this time..with at least 15 different spices, roasted and ground together. Will save that for another post. But here is the Bhatura recipe to warm up your souls and stomach in this cold weather. It is going to touch -9*f tonight here…. No no, I don't live in Alaska. Here our old town cincinnati, OH.. Fancy ha!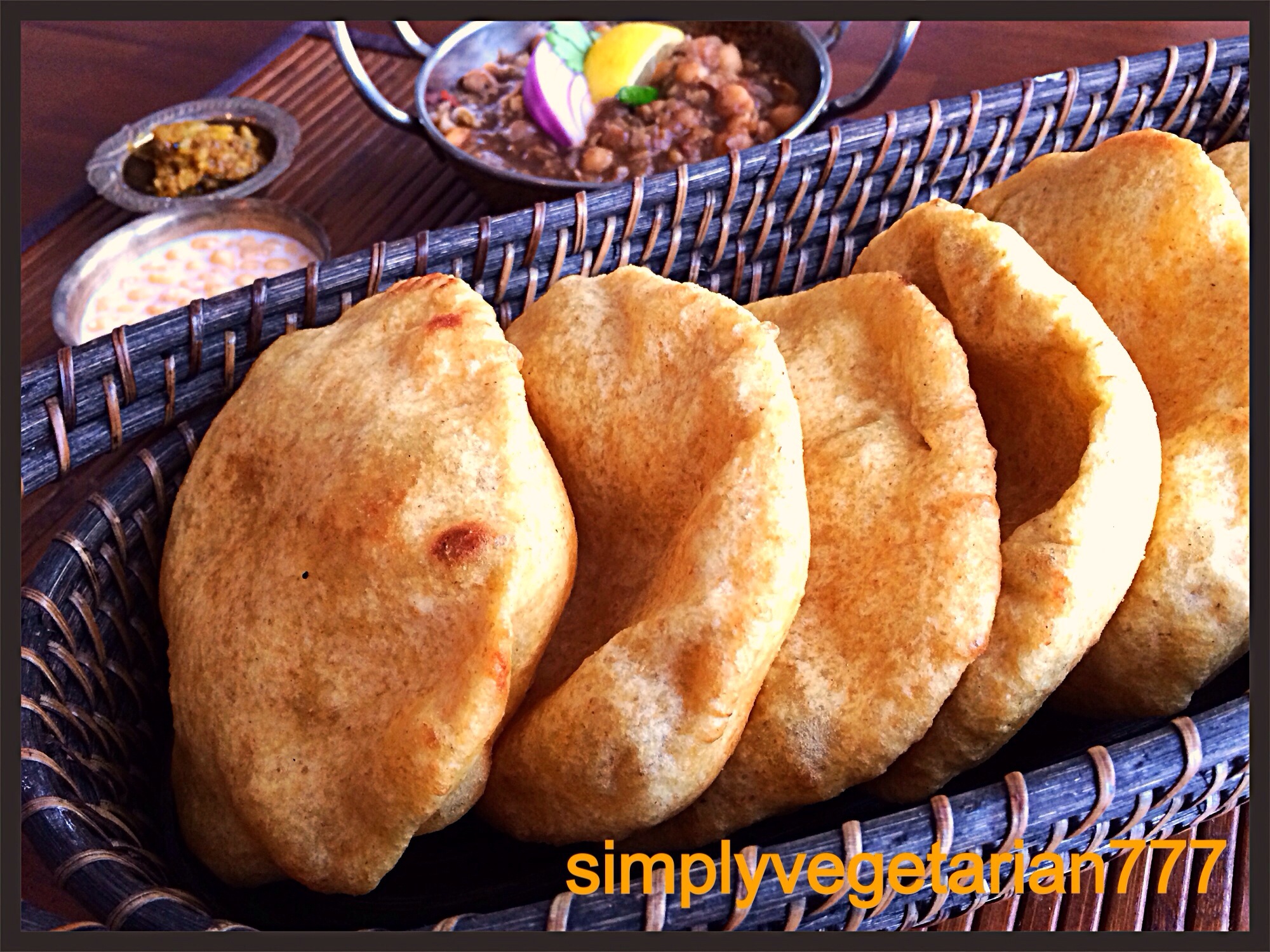 Here is the recipe. This is a non traditional one. I did the quick (not so quick).. One where leavening was done in 2 hrs rather than overnight. My mom makes it this way and then another of my favorite food writer Dassana from Veg Recipes of India, stamped it right for the proportions :). She is an awesome resource for most of the Indian cuisine.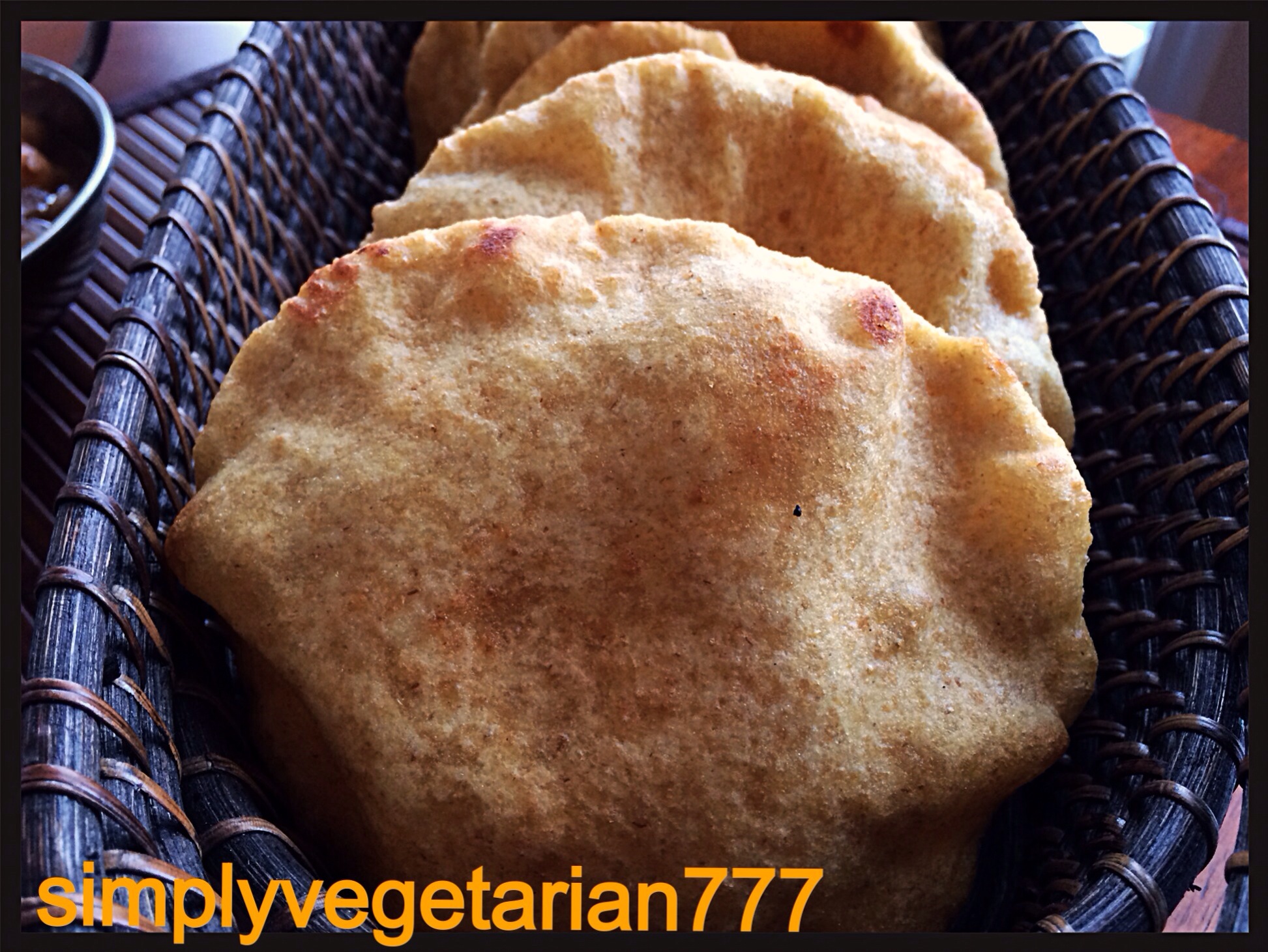 Here you go :
Ingredients :
Whole wheat flour : 1&1/2 cups. Traditionally refined flour is used.
Rice flour : 1/2 cup. You may use semolina instead. I used brown rice flour.
Salt : 1/2 tsp
Sugar : 1/2 tsp
Baking soda : 1/2 tsp
Yogurt (plain ) : 1/2 cup
Water : to knead the dough. I used between 1/4cup to 1/2cup water
Oil : 2 tbsp for rolling
Oil for frying : 2 cups
Required Kitchen Equipements :
Deep wok or pan
Slotted spoon
Rolling pin
Rolling board or clean kitchen counter
Plate layered with kitchen towel paper for blotting
Yields : 15 medium size bhaturas
Method :
Make a dough using flours, sugar, salt, baking soda, yogurt and water. Use water little at a time. It's better not to flood it immediately with the water. Knead it for 3-5 minutes till soft. Either wrap in wet muslin or cover with cling wrap and let rest for 1&1/2 to 2 hrs. This is how it will look after leavening.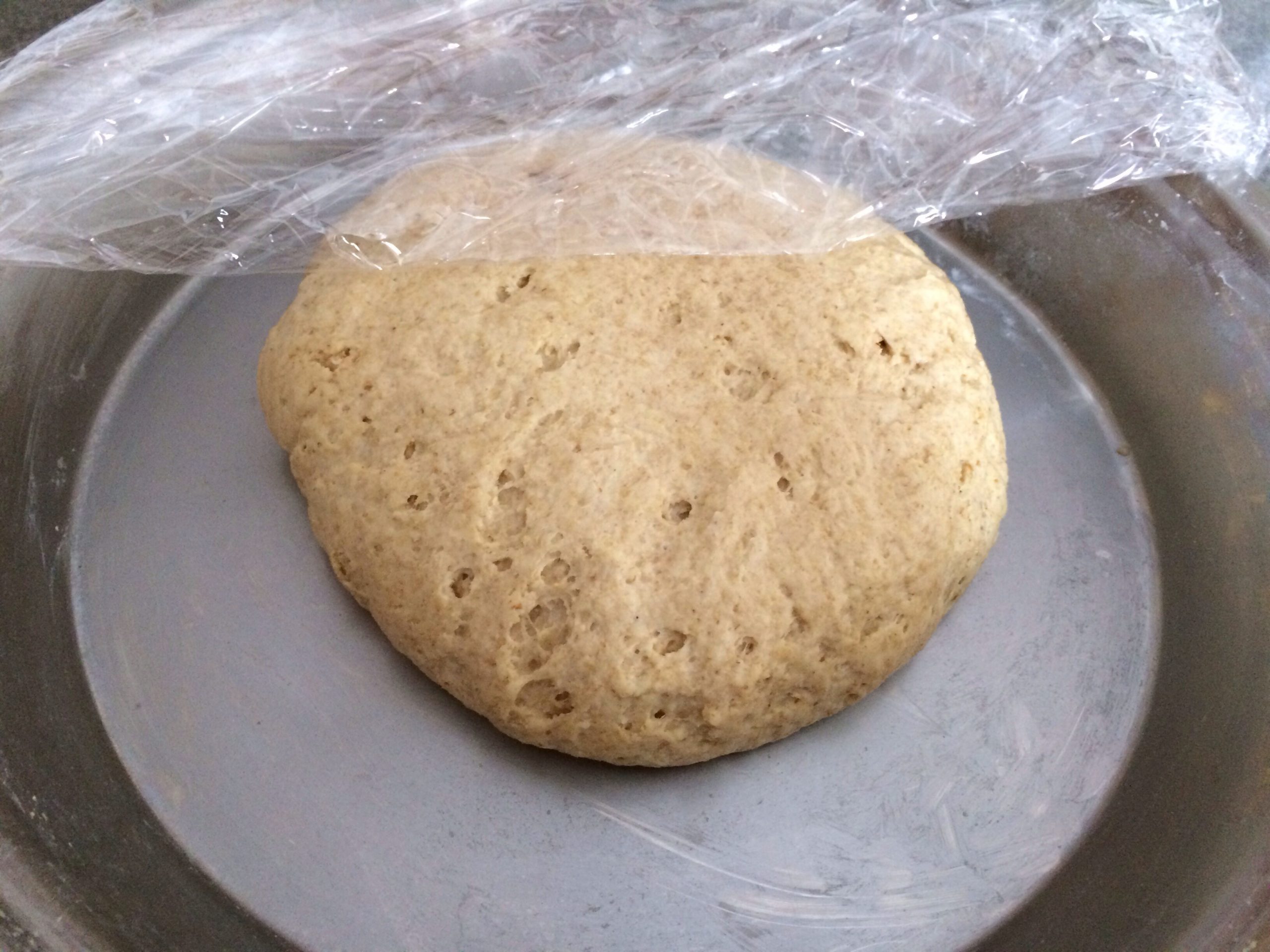 Put oil in the the wok on fire for heating.
Now pinch a good amount of dough and make a ball. Similarly make 13-15 balls and cover them so that they don't dry.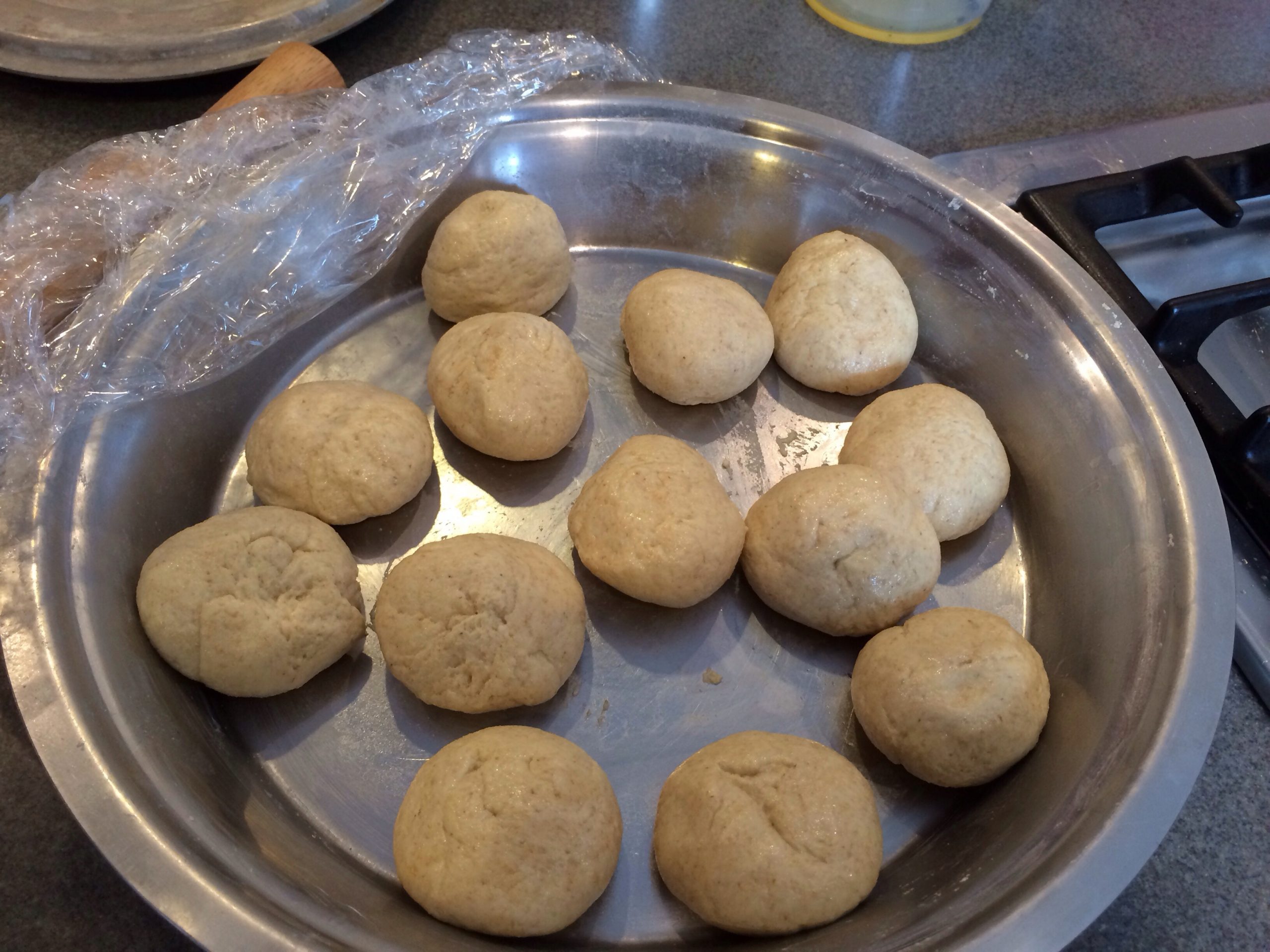 Now take 2 tbsp of oil in a separate bowl for rolling the balls in flat breads.
By now oil must be hot enough. Do this test: drop a pinch of dough to the oil and if it immediately rises to the top, the oil is ready.
Take a dough ball. Apply some oil to it on both sides.
Now roll it to either a round or oblong with a rolling pin. Don't use much pressure. Roll it gently. Over stretching may cause the ripping while frying.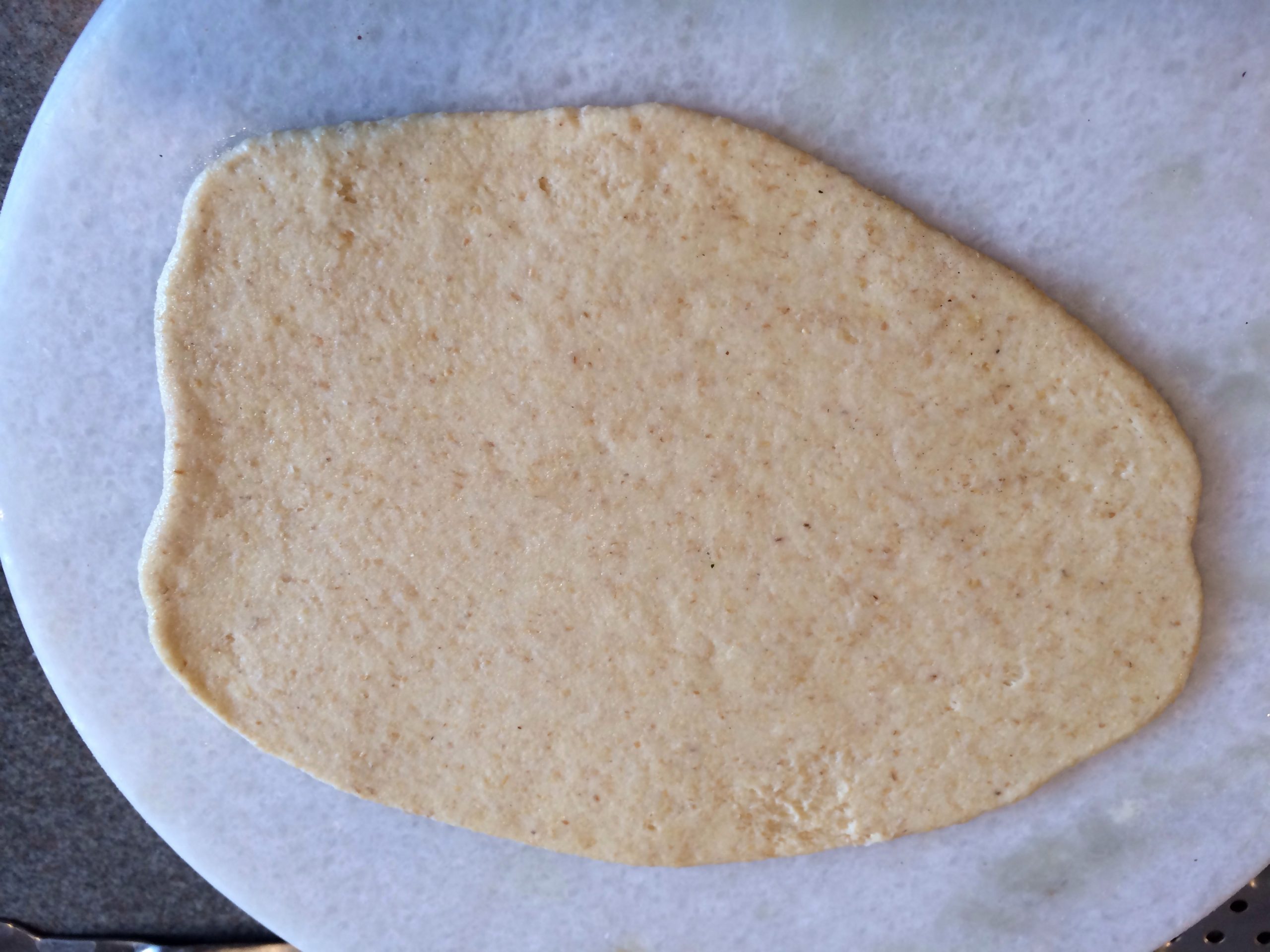 Reduce the flame to medium. Don't fry on high or else it might burn or cook just from outside and be raw inside.
Now pick that rolled bread from a corner and carefully drop in hot oil for frying. Gently push it down with your slotted spoon and leave. It helps the bread in puffing. Next time I will try to make a video.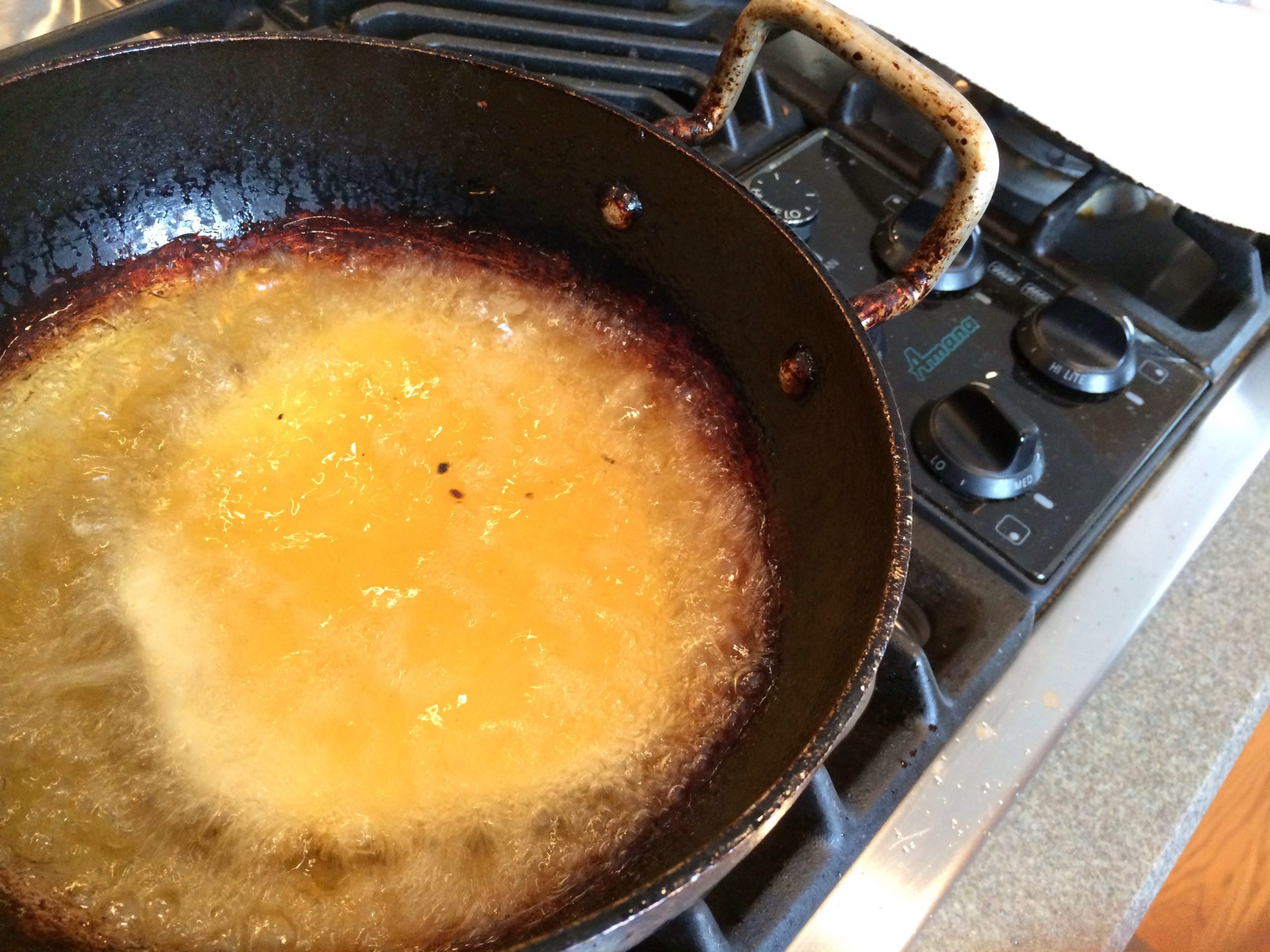 The bread surfaces to the top like this.
Now flip it carefully with the spoon and press down gently with spoon to make sure even cooking on the other side.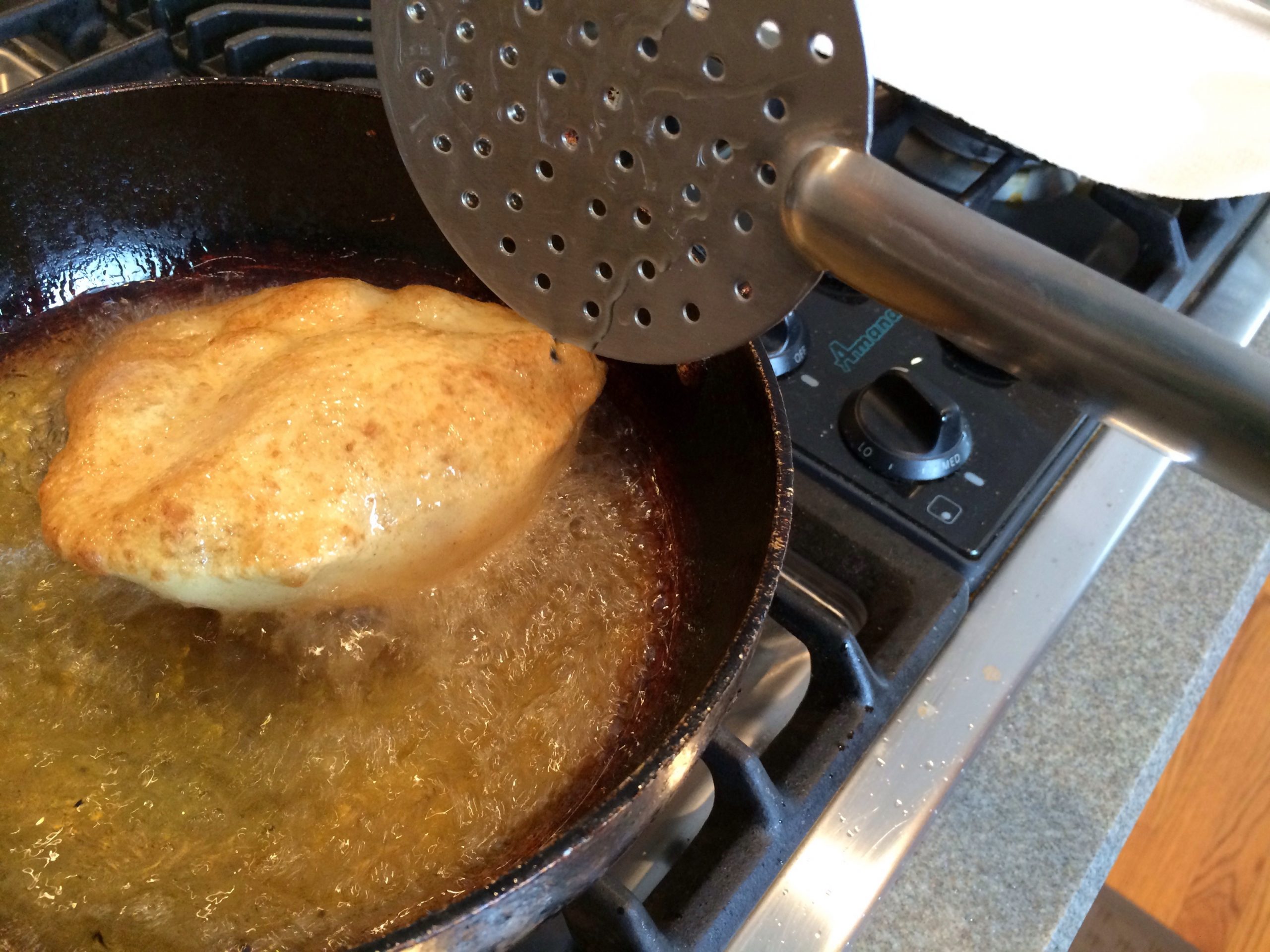 Once golden, which actually takes less than a minute on each side so say less than 2 minutes for frying one bhatura, take it out off the oil, tip and tilt a little for draining of oil.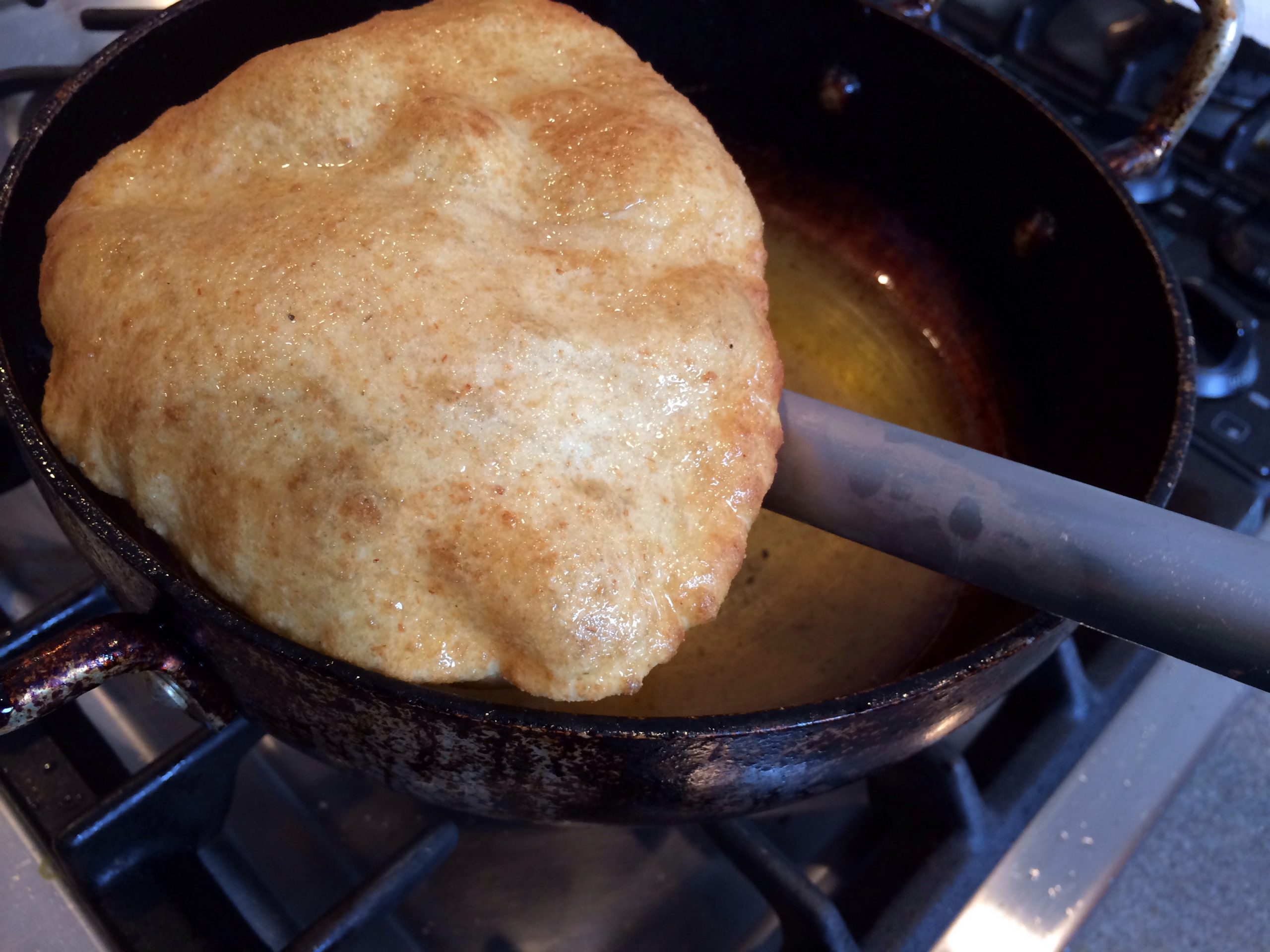 Take it out. Finish the rest of the bhaturas.
Tip 1 : You have to monitor the temperature of oil. If the oil seems to getting cold, stop for a minute. Increase the flame to high and then start again.
Tip 2 : Open a window or 2. Have your exhaust working or else your fire alarm will bug you ;).
Enjoy with your favorite chickpea curry and be lazy for the rest of the day. This one is for you Sophie from Sophie's Food Files. I know how much you love chickpeas ;). Sending a friend for your chickpea curry for next time 🙂 .