Bread Boule – No-knead and Overnight fermented! 2 flavors suggested
As an Amazon Associate and member of other affiliate programs, I earn from qualifying purchases.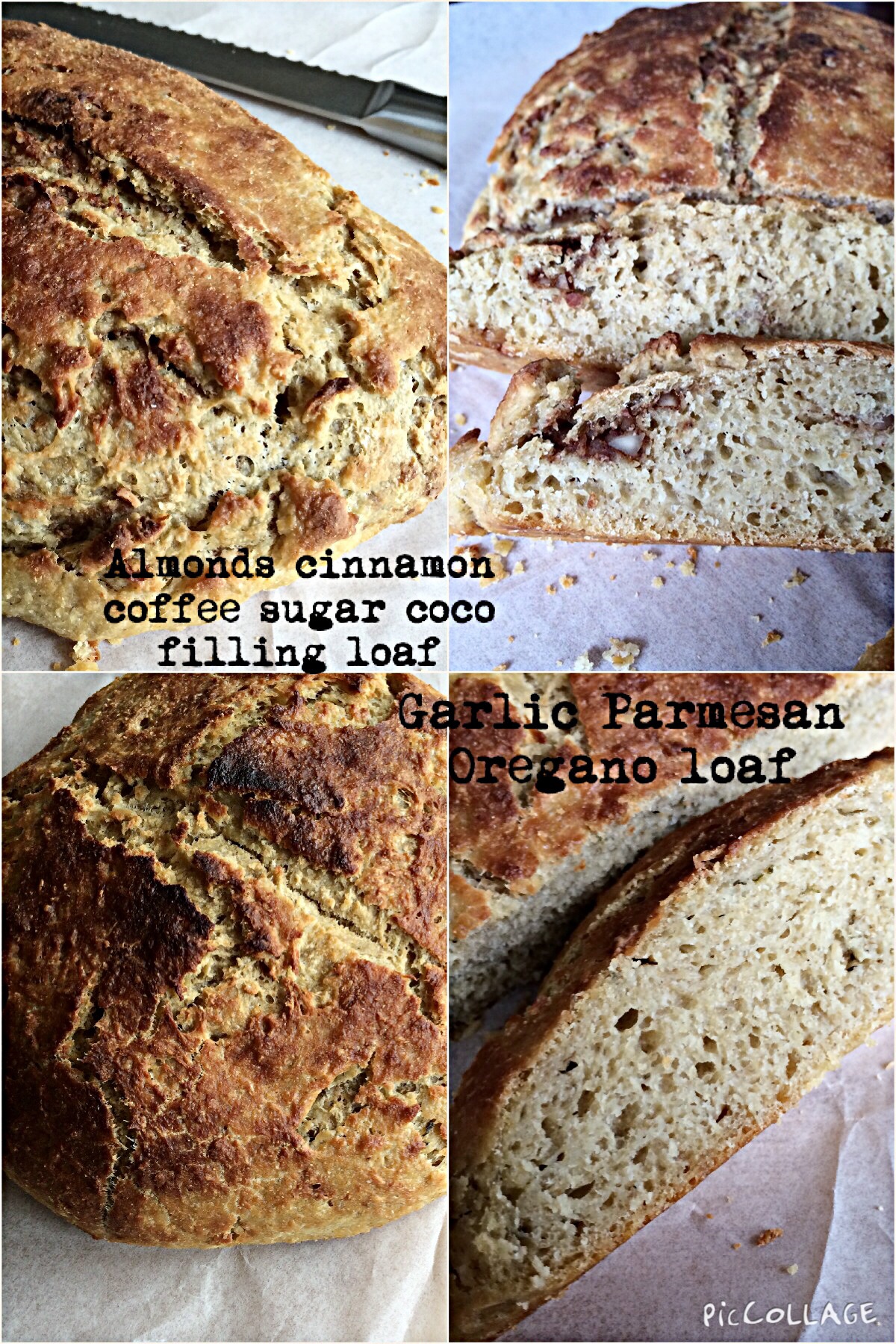 I had no idea on the B of the bread, 2 years ago. All I knew to buy from the store and eat it! Slowly, I befriended the yeast beast and here I am after 2 years, baking some bread. Good or Bad…I don't know but one thing for sure that bread baking is the most satisfying experience in the culinary world. It's almost like creating a baby! I light sound like a fool! But that's my belief!
Most of the breads require proofing after quite a strenuous workout if kneading. As much as I like doing that and still do that for pizza etc, I have switched to this excellent method of slow proofing, over night, no-kneading method. How easy and convenient is that! As a result, you get a beautiful rustic and earthy boule of bread.
I can't thank Shailja enough for her continuous guidance on my bread baking journey. Whenever I am stuck, I head to her window on FB and lol my head and ask "hey, what temp to bake? Hey, for how long to bake? Hey, water bath?"….and she never gets tired of my repetitive questions.
Before I start the recipe, I have to put my observation forth. I have seen that whenever I bake my whole wheat bread in the combination of oats flour, it brings the best out of it.
Coming to the basic recipe now!
Makes: 1 big boule or 2 small ones.
Kitchen Equipments Required: 1 broad mouth bowl for kneading, 1 deep bowl to proof, baking tray, parchment paper, an oven safe container or pan for cold water bath, cling wrap.
Ingredients
Whole wheat flour – 3 cups + more
Oats flour – 1 cup. I took the quick cooking oats and ground them in my coffee grinder. Little coarse makes good air pockets.
Quick cooking oats – 1 cup
Salt – 1&1/4 tsp
Sugar – 1&1/2 tbsp
Yeast – 1/2 tsp. I used instant variety. You may use dry active yeast.
Water – 3&1/2 cups. Use warm water. Like warm is not good enough. If you can keep the finger in that water till the count of 3. It's good temperature. More than that is cold.
Oil – 1 tbsp
Butter, melted – 2 tbsp
Method
Preparation for that No-knead Over night Proof
Take that broad mouth bowl. Add whole wheat flour, oats flour, quick cooking oats, sugar, salt and instant yeast to it. Mix all the ingredients well.

Make a well in the middle. Add 1 cup of water at a time. Start bringing the dry ingredients into a dough slowly.

Grease the deep bowl with 1 tbsp oil. Transfer the mixed (loose) dough to this greased bowl. Turn it around few times so that it is coated from oil from all the sides.
Note: Oh I forgot to mention that do all that hullabaloo in the night before you go to bed. Max 10 minutes work.
Cover the bowl tight with cling wrap. Leave it on the kitchen counter like that overnight, for 8-10 hrs.

That's it! No other work needed.
Flavoring the Dough
I made 2 fillings :
1. Parmesan garlic & oregano. I don't remember the exact quantities but play with it.
2. Almonds coco, cinnamon, coffee and sugar. Again, I just eyeballed everything and made the filling.
You may make any flavor filling. Parsley, rosemary, cilantro, thyme, they all make good seasoning or flavoring agents.
Tending to the dough in the morning and Baking
When you will look at this dough in the morning, it will be really loose and messy. Don't worry.

Flour the clean kitchen surface. Take it out on the floured surface. Now this was a big quantity and I got greedy so divided the dough into 2.

I stretched out one dough to a square with hands, on floured surface. Sprinkled one of the fillings all over the stretched dough. I stated bringing the corners of the dough to the center and shaped them, 1 in circular and another in oblong boules.

Prepare the baking tray by lining it with parchment paper. You may choose not to line it too. Place the boules on the baking sheet. Cover these with a damp towel or cling wrap it. Let it sit like that for 1 hr.

Meanwhile, Preheat the oven at 425F / 205C. Place the baking tray in the middle of the oven.
Important: Place a water bath at the bottom of the oven so that the crust doesn't dry out. Water bath is a pan filled with ice cubes or super cold water.

Brush these boules with 1 tbsp of melted butter each.

Bake for 25-28 minutes. Switch off the oven.

To add the color to the bread: Broil/grill on the top on high, for 1&1/2 to 2 minutes. Keep a close watch and when the desired color is acquired, switch off the broil.

Take the baking tray out. Let the bread/ boules rest for atleast 1/2 anje before you slice it or you will end up spoiling the beautiful texture inside and make it mushed and blah!
Have fun baking this gorgeous and ph-so-easy rustic bread at home for your family and friends. My kids absolutely love the home made bread.
I used some of this later to make bread pizza/crostini pizza, grilled cheese sandwich or just grilled it in the pan with some butter. I toasted the sweeter one with some butter, cinnamon, coco and sugar on the griddle. Amazing!!
Sonal!