Bread Poha / Upma
As an Amazon Associate and member of other affiliate programs, I earn from qualifying purchases.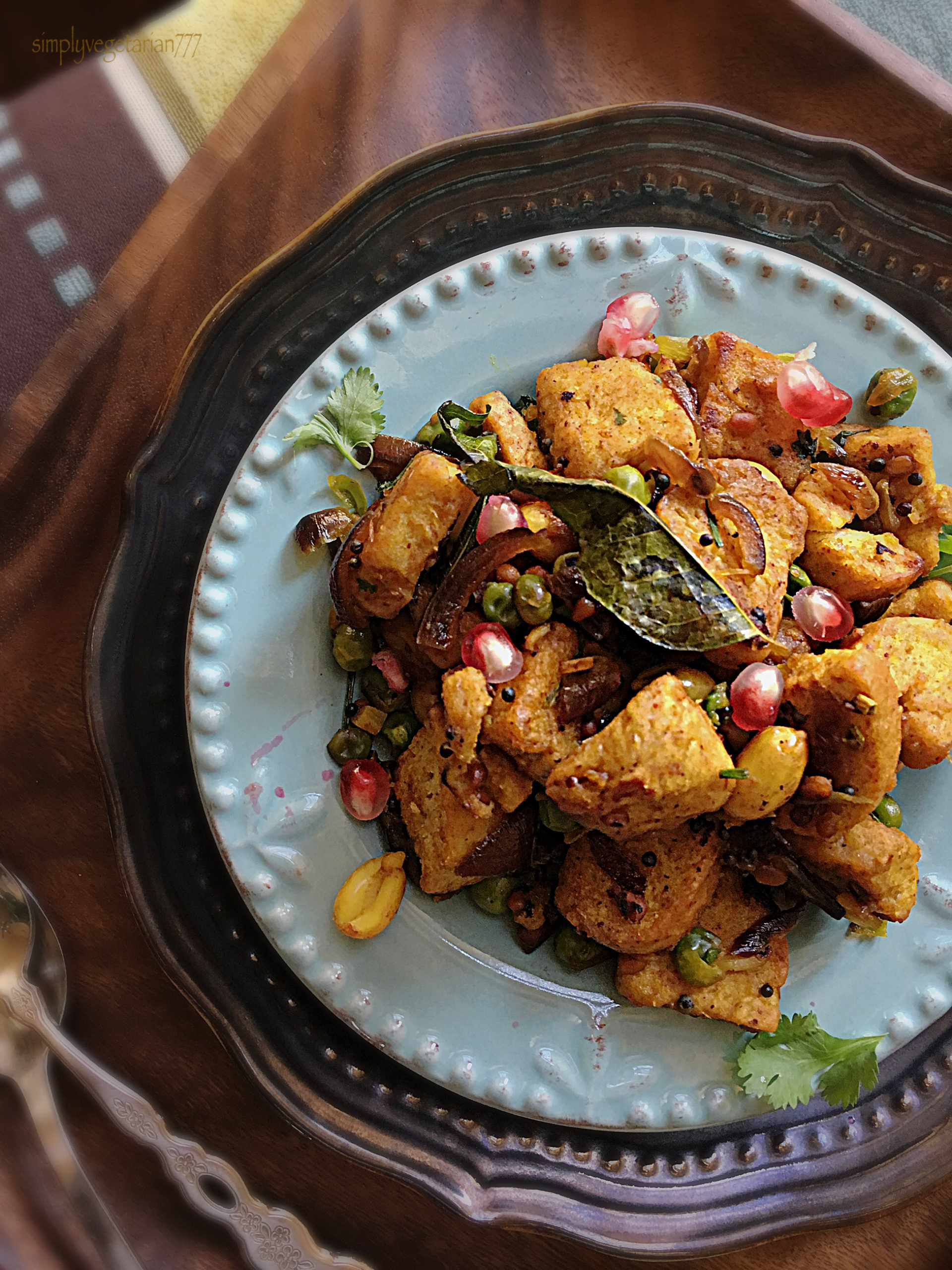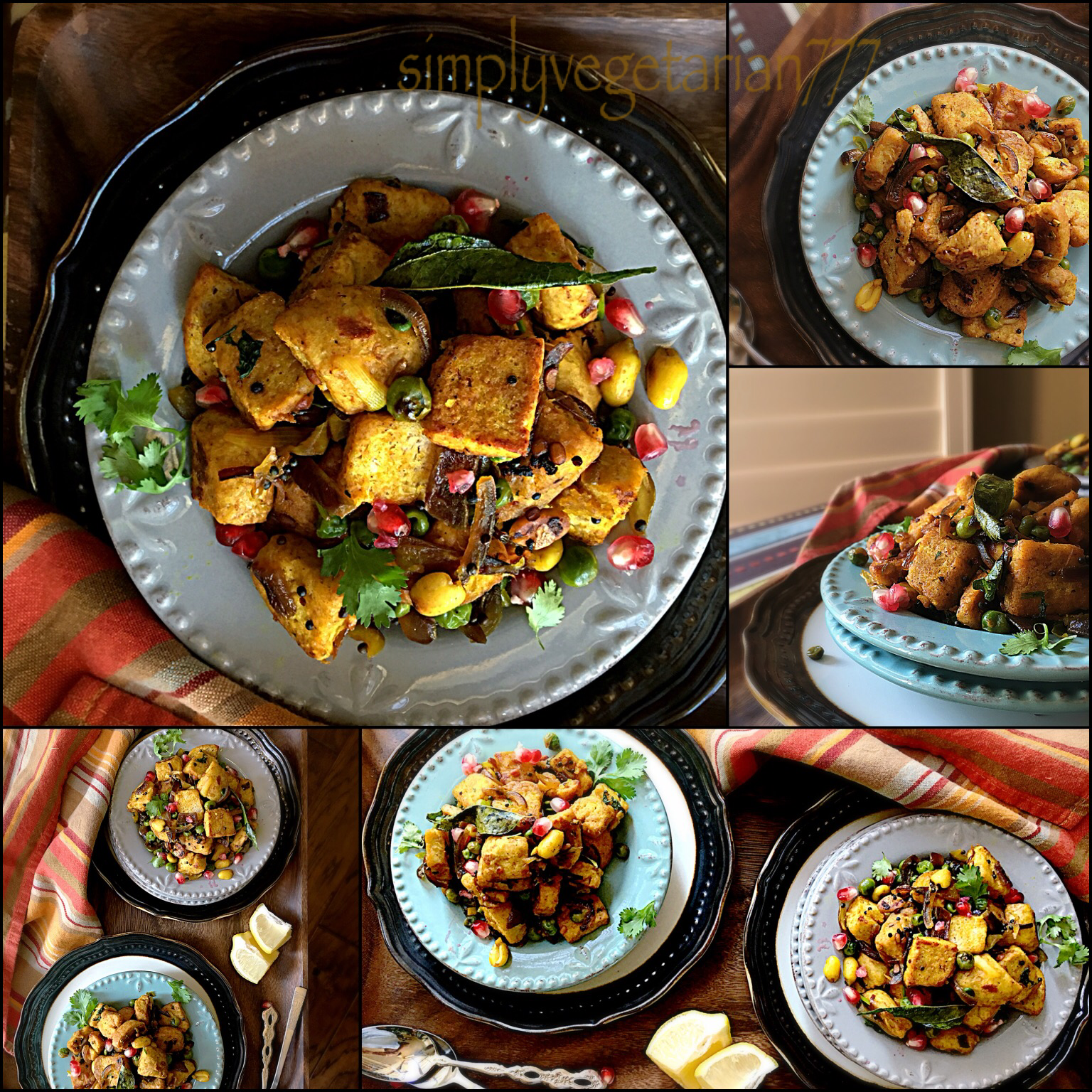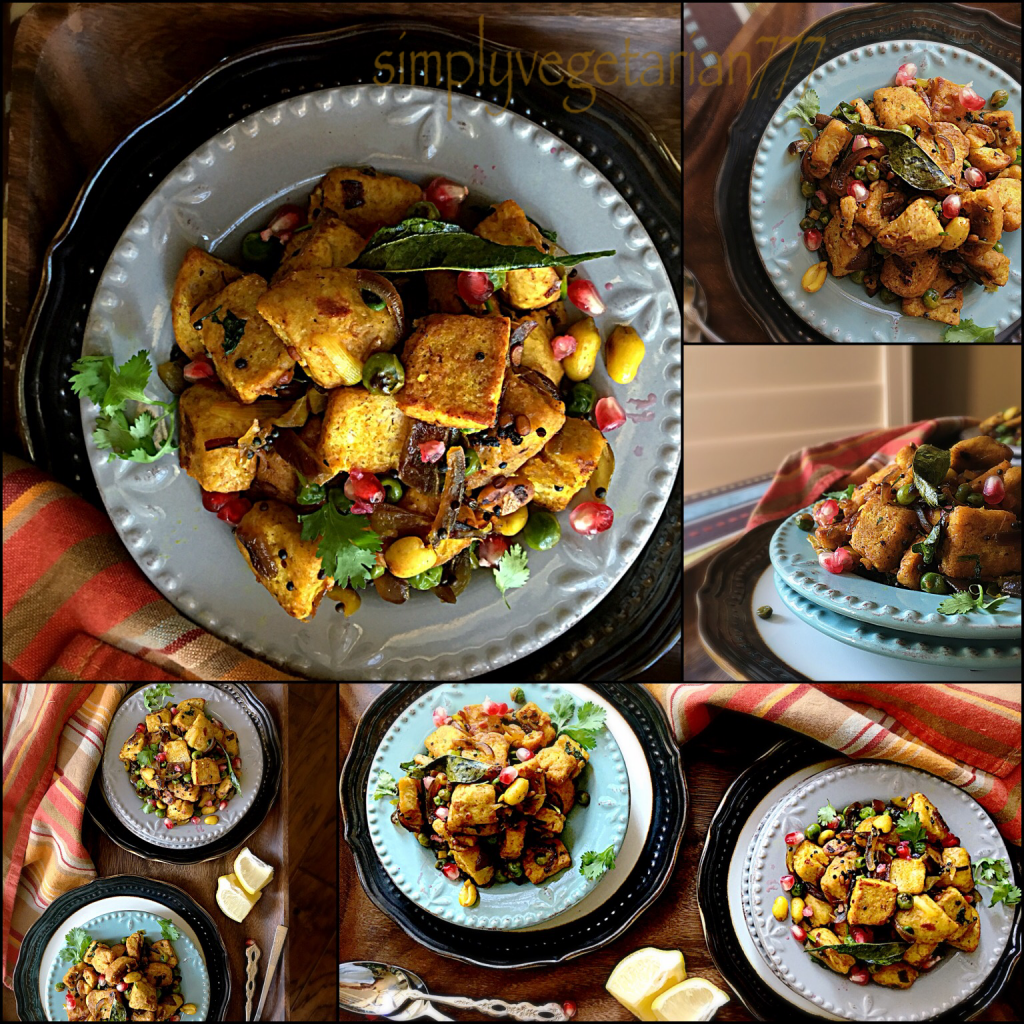 Bread Poha reminds me so much of Bread Stuffing made during Thanks Giving to serve as one of the main side dishes. The only difference is that it is curried instead of poultry seasonings.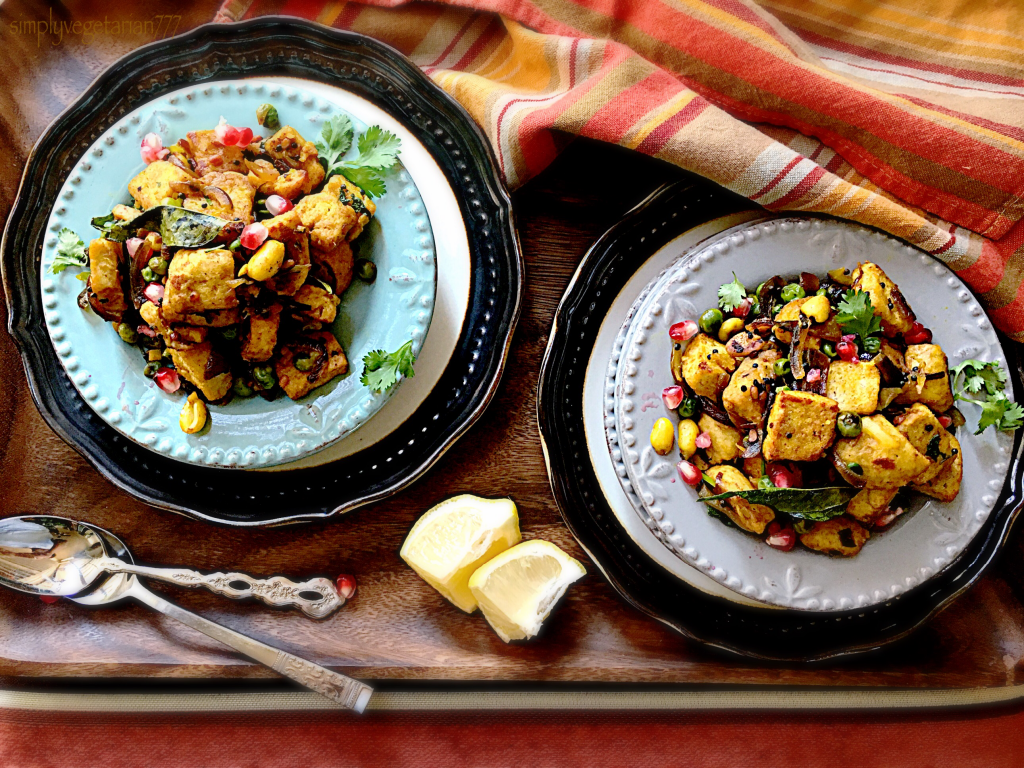 Another similarity if I have to choose is, it resembles the Italian Salad that is made with left over stale bread, known as Panzanella. Again, the only difference is that it is seasoned with Indian spices and not Italian.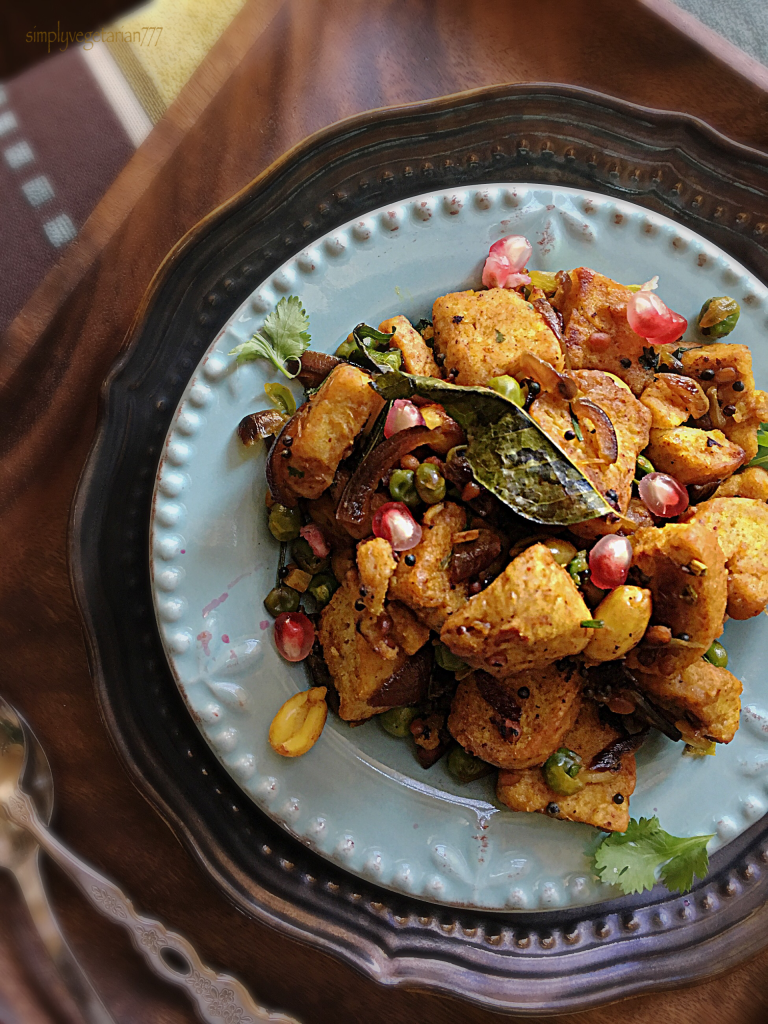 Bread Poha is a hearty and filling brunch or breakfast dish, very popular in Indian households. I would suggest that it can be easily packed for lunch and can be a quick week night dinner, piled up with some more veges and some protein. Can you beat its versatility?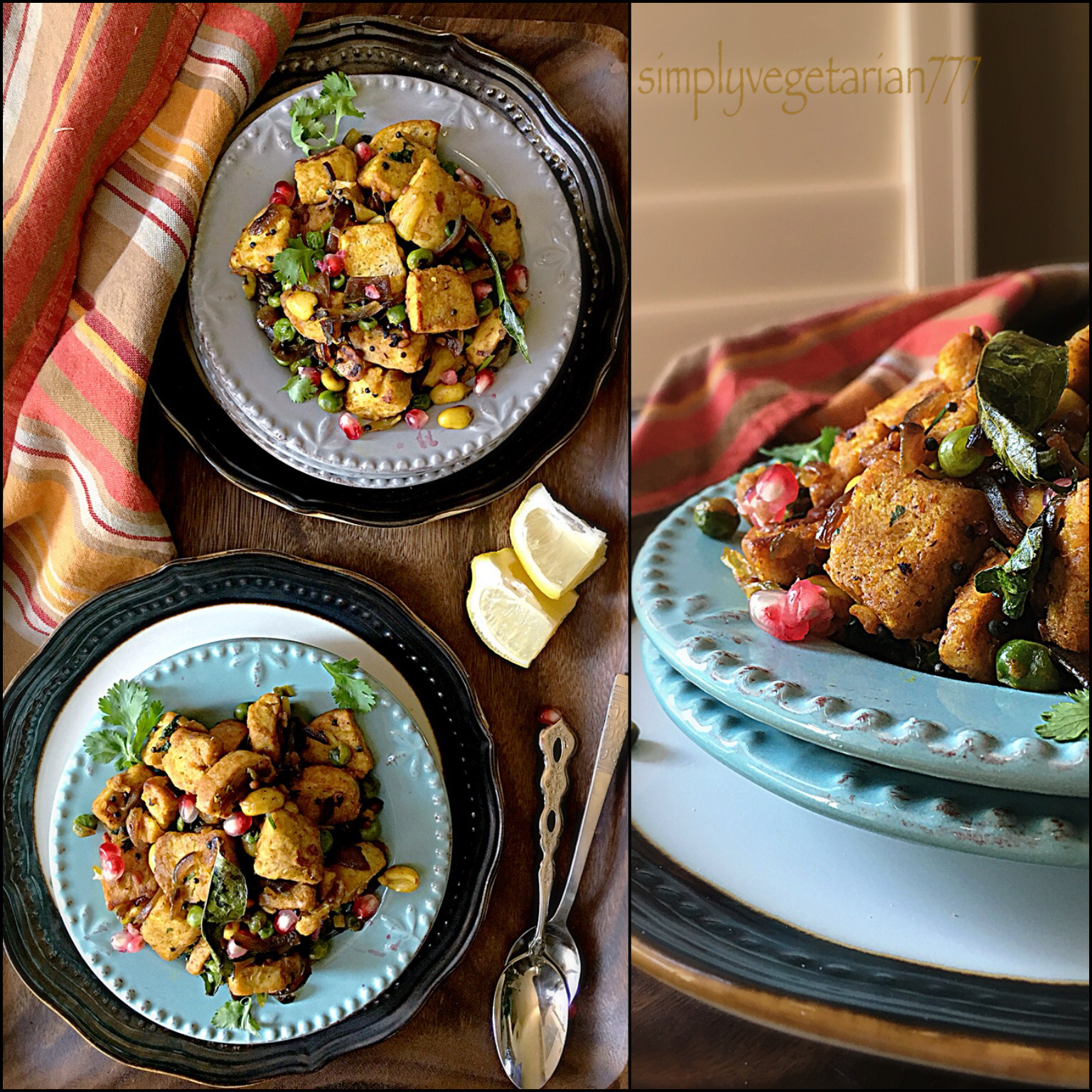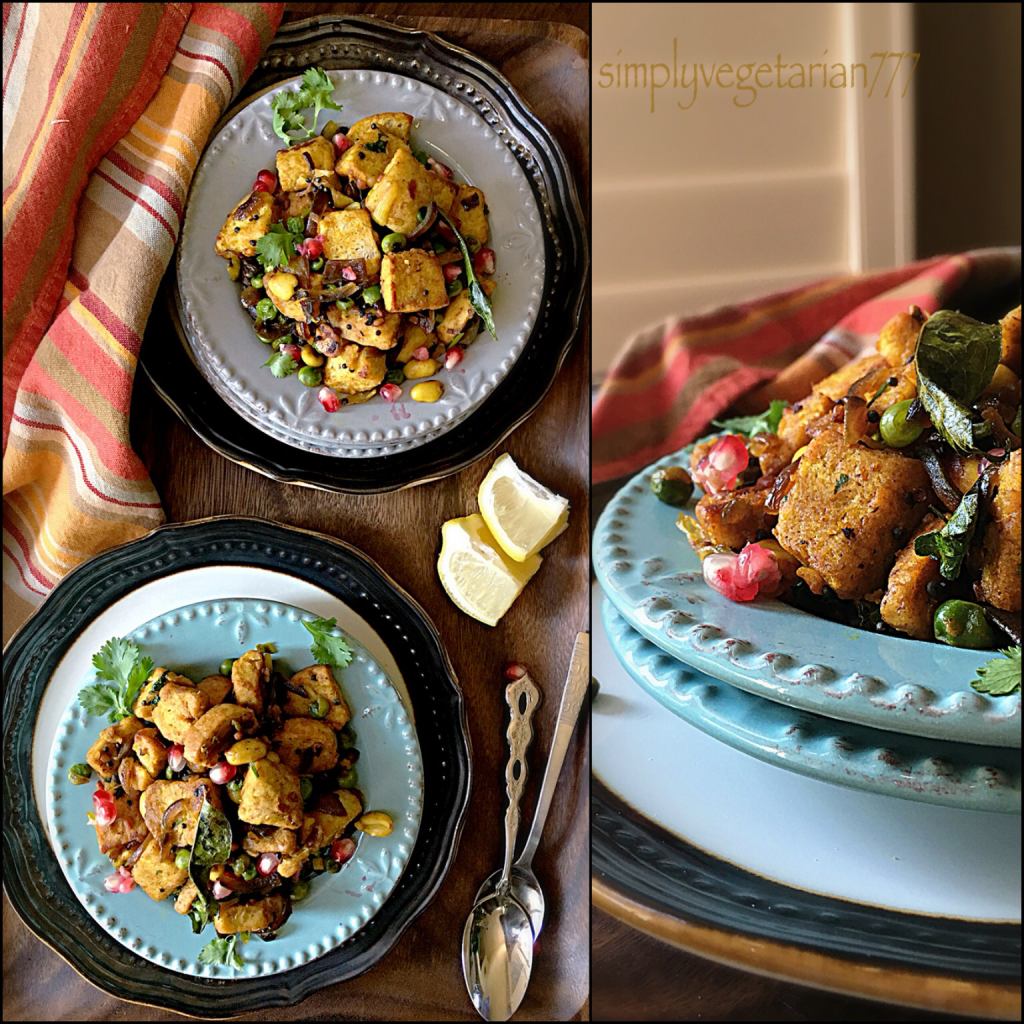 Do read the foot notes at the bottom to get it right. The bread that you use matters. I have landed up with bread mess many times, when I used fresh bread. So, yes…stale bread is the answer to a sturdy texture of the dish.
This is how I made it!
Bread Poha
Servings: 3
Difficulty: easy
Kitchen Equipments Required
Chopping board, knife, a thick bottom pan with lid, stirring spoon.
Ingredients
Bread Cubes – 2&1/2 cups, cut into 1×1 inch
Garlic – 1/2 tbsp, chopped fine, optional
Ginger – 1 tsp, chopped fine
Green Chili – 1 small, chopped fine
Onions – 1 cup, thinly sliced
Peas – 1/2 cup
Coriander leaves – 1 tbsp, chopped fine
Oil & Spices
Oil – 2 tsp
Mustard seeds – 1 tsp
Urad Dal – 1 tsp, optional
Curry leaves – 7 to 8
Peanuts – 1 tbsp
Turmeric – 1/2 tsp
Red Chili powder – 1/4 to 1/2 tsp
Salt to taste
Water – 1/4 cup
Garnish – Corinader leaves, some pomogrenate pearls (anaar) and  Lemon juice to add later on.
Method 
Heat oil in the pan. Lower it and add mustard seeds and urad dal.
Once the seeds crackle, add curry leaves and peanuts. Sauté for a 30-45 seconds till peanuts turn slightly red.
Now add the ginger, garlic, green chili and onions to the pan. Increase the flame to medium. Cook for 4 to 5 minutes till onions become slightly red.
Add peas, turmeric, salt and red chili powder to the pan. Give a good stir. Add 1/4 cup water. Cover with lid and let it cook on slow flame till water is evaporated.
Remove the lid. Add cubed bread and coriander leaves. Stir and toss well. Cover with lid. Cook on slow flame for 2 minutes.
A lip smacking Bread Poha is ready. Squeeze some lemon juice, sprinkle some pomogrenate seeds and Corinader leaves. It is ready to be devoured.
 It has layers of texture and is so hearty and filling. You are going to love it.
Notes
Always use stale bread for this recipe. Fresh bread will end up in a mess.
You may use the top and bottom slices of stale bread, ciabatta, Italian baguette or buy a whole (not sliced) bread and cut as desired.
This is an easily adaptable recipe. You may choose to add or minus the ingredients as available.
This makes a good lunch box dish for kids and a filling brunch or a weeknight dinner or even an after school snack.
Enjoy making this poha for your family and friends this weekend.
Sonal