Bun Snack Pizza – Semi Home Made
As an Amazon Associate and member of other affiliate programs, I earn from qualifying purchases.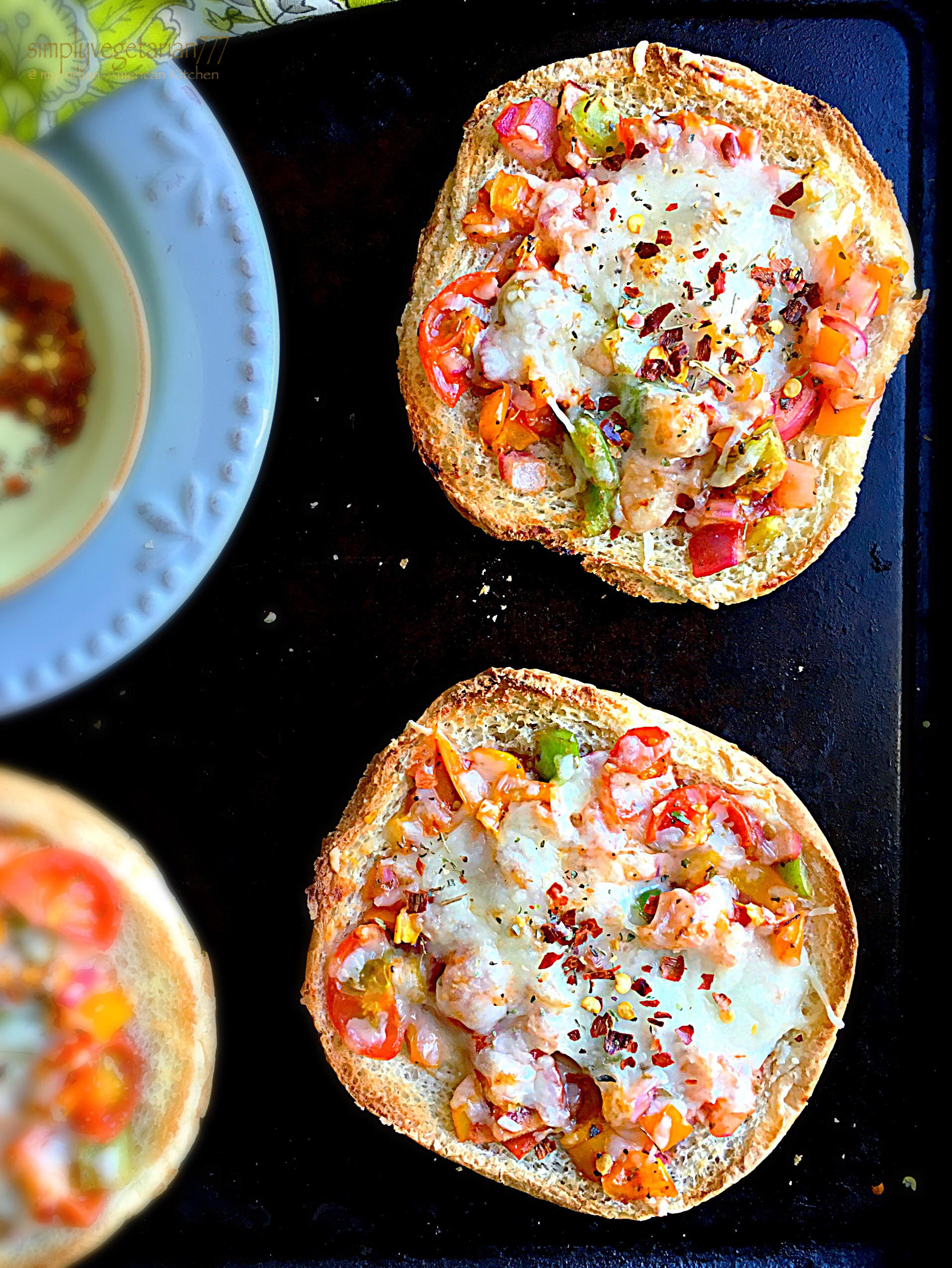 Bun Snack Pizza – Semi Home Made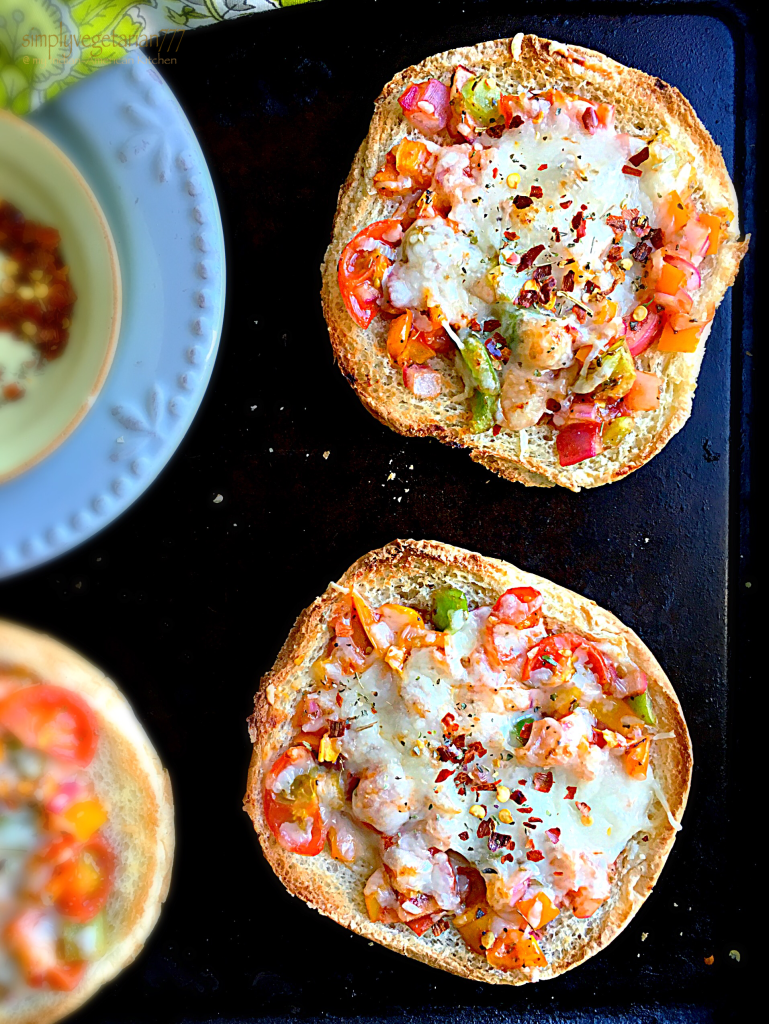 Bun Snack Pizza – Semi Home Made? Yes, semi home made and that too pizza and that too on the bun. Sometimes you got to break the monotony of making everything from scratch at home. Check out this Pizza made from scratch. Sometimes you got to take a break from the mundane jobs of the kitchen and do something fun, easy and Toofani as in something different. I am sure that you are nodding your head in agreement with me, while reading it.
On that semi home made note, I want to ask you what do you do with the left over buns? My Middle Schooler giggles, when I mention BUNS in front of her. The life of a middle schooler, I tell you. Being weird is THE thing in Middle School. Coming back to my question – how do you use the leftover buns? I am listening, pour your ideas in the comments on how you use your left over BUNNSSS…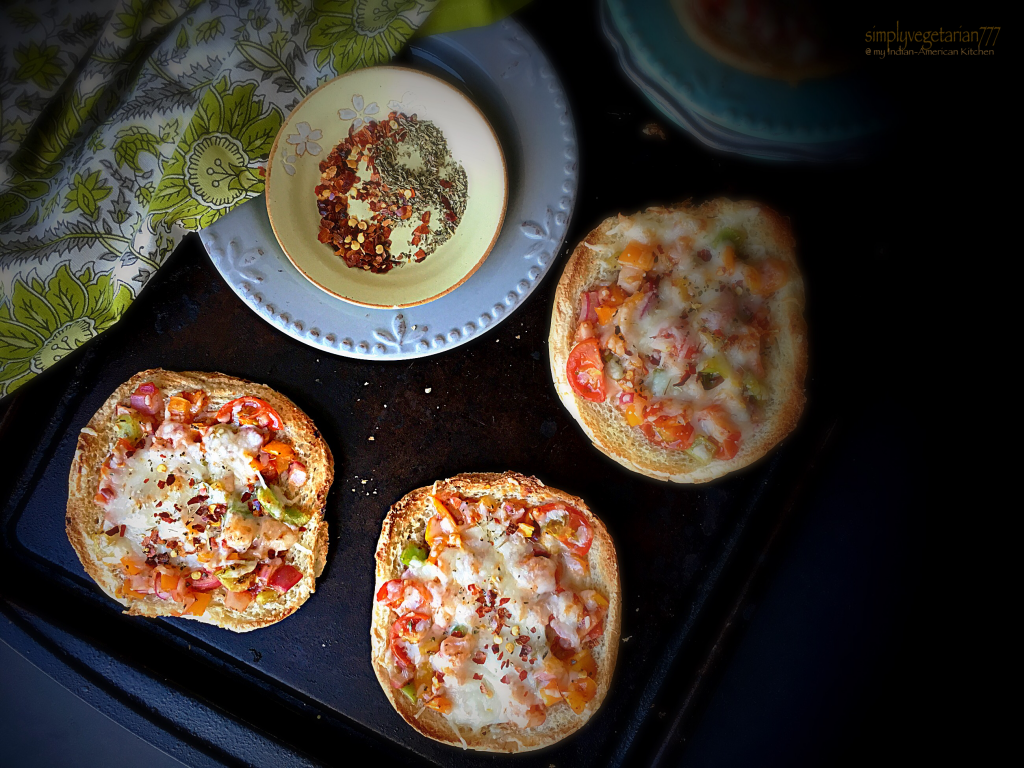 Me? Hmm..I use them in Burger/Slider, Pav Bhaji and sometimes I counter-dry them to make crumbs out of them to use later in other recipes. Sometimes I pan-grill them with butter on the griddle. It tastes amazing with some left over Chickpeas curry. Check out my Burger / Slider Recipe and Pav Bhaji recipes here.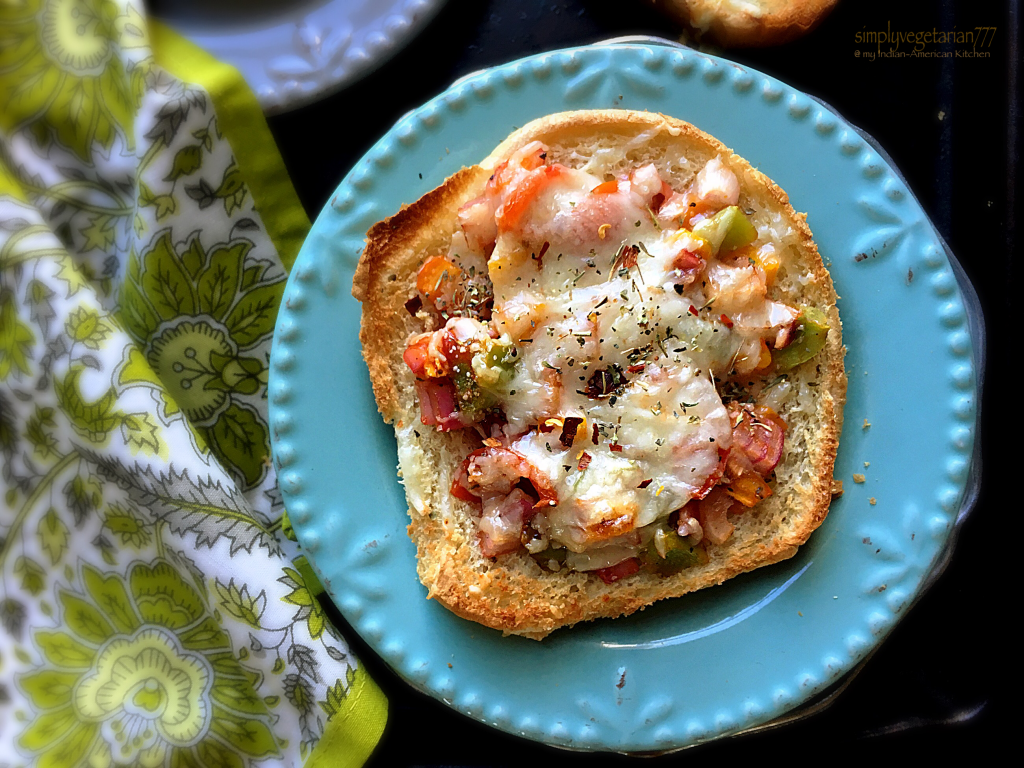 Have I ever mentioned that I often conduct Recipe Collections with Fellow Bloggers' Contribution? It is such a fun thing to do. I come up with a theme and then holler and tag the fellow bloggers on my Facebook page. I am blessed to have such an amazing blogging community connected with me on WordPress as well as Facebook, that they all create, link back and share their posts with me. I then put them all in one place under one post and publish and share in my social media.
This time my theme is Vegetarian Semi Home Made. This Bun Snack Pizza – Semi Home Made is one such recipe, using a market bought main ingredient, adding few ingredients prepped at home and put together to make a finished product. I am super excited to see what my blogger buddies are up to and which ingredients they are using to create a semi home made recipe.
Are you interested in joining the collective this time? Show your interest under comments. It is going to be an amazing ride. So many ideas and so many recipes to try. The month of May is a happening month with End of the school month, Barbecue day, Memorial day, etc etc. I am sure that these recipes will come handy once the summer break starts and you hear the kids always saying, "I am hungry…what's there to eat?…Mom…I am really hungry….Need something fast to eat…" Yes that will be your aha moment to open the "coming-soon" recipe collection and implement some of the recipes to work and test and try. The deadline is May 10th.
This is a super quick and super easy recipe with no special prep at all. Just assemble, bake and eat. This is not only a great breakfast or brunch recipe, but would make an excellent meal anytime. If you are running out of time on a busy weekday night, put this together. It has carbs, veges, cheese and is spiced well to match your taste.
Just chop the vegetables and assemble on the bun, sprinkle with cheese and bake. That's it. I am sure that this will be your family favorite. Your kids will ask for this again and again. My girls asked for more, even after they were full.
Bun Snack Pizza - Semi Home Made
A quick and no hassle recipe that is fit as a snack or a meal. Store bought Buns topped with Italian Pizza Ingredients and done under 20 minutes for a filling meal.
Ingredients
Buns - 3 large or 6 small

store bought and sliced into 2

Onion - 1 small

chopped fine

Mixed Vegetables - 1&1/2 cups

chopped fine. Use a combination of bell peppers, mushrooms, olives and tomatoes

Cheese - 1/2 cup

shredded, of your choice. I used the combination of Parmesan and Havarti
Spices & Condiments
Ketchup - 3 tbsp

organic

Italian Mixed Herbs - 1/4 tsp

Garlic powder - a fat pinch

Red chili flakes - 1/2 tsp

optional

Salt & Black Pepper - to taste
Instructions
Pre-heat the oven at 425*F / 220*C.

Lay out the halved buns on a baking tray with white crumb side facing up.

Take a bowl and add all the chopped vegetables, spices and ketchup to it. Give all of them a good stir ad mix well. This is a quick Pizza topping.

Divide the vegetable pizza mix equally and top all the buns with the topping.

Now top these with the shredded cheese.

Bake these for about 6-8 minutes, till cheese is melted

Now Broil or Grill for about 30-45 seconds till cheese is slightly browned.

Take these out. Sprinkle with some chili flakes and Italian herb mix.

Serve them hot.
I had an awesome time baking the Buns Snack Pizza – Semi Home Made in my Indian American Kitchen. I am sure that you will enjoy this quick recipe too.
Eat Happy! Stay Happy!
Sonal