Cheese & Chili Parantha
As an Amazon Associate and member of other affiliate programs, I earn from qualifying purchases.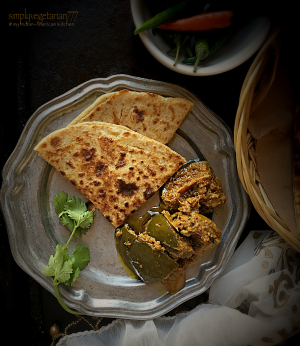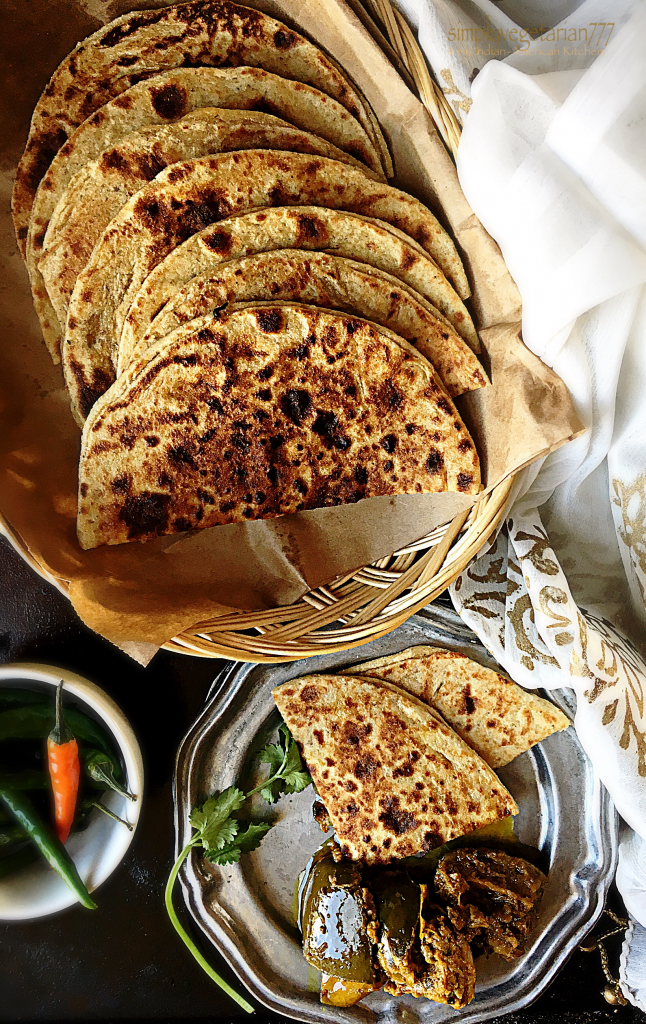 Yes! You read it right! Cheese & Chili Parantha. A perfect flat bread bringing the western and Indian flavors together.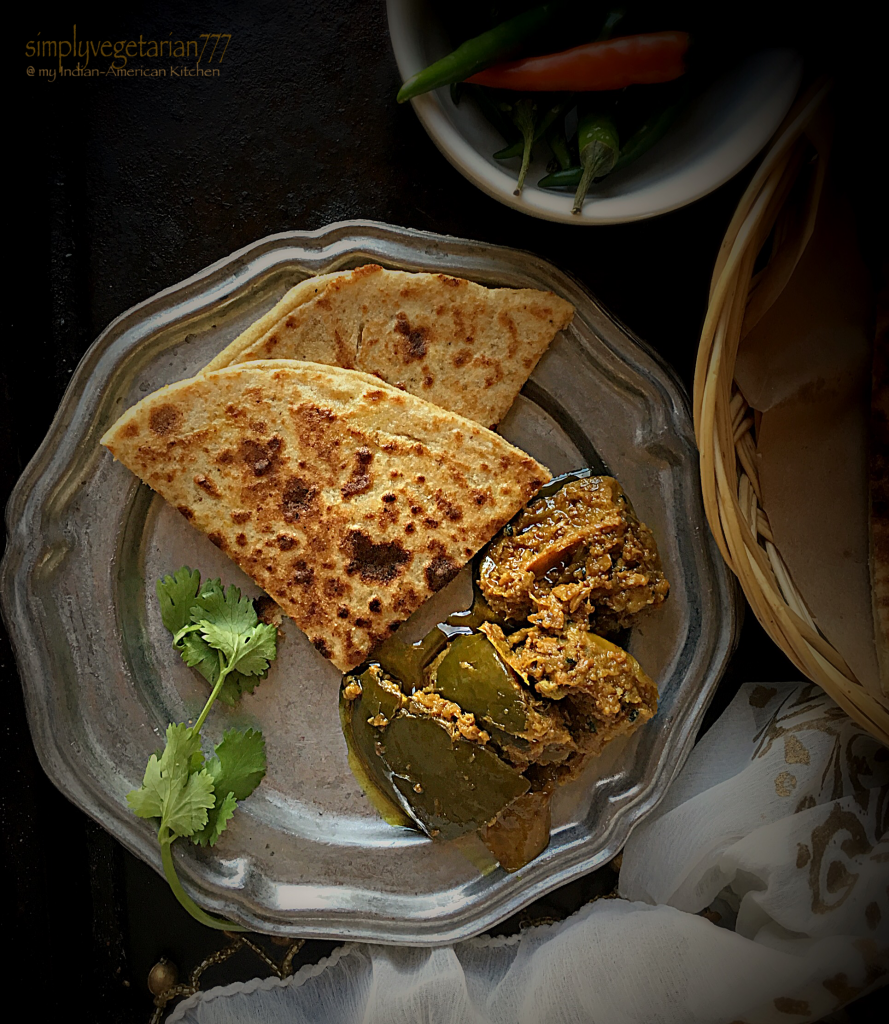 I thought of making the paneer paranthas for breakfast today since Amit was leaving late for work. Checked the refrigerator and there was no paneer. Mozarella peeked from the side and I knew exactly what to do with it. A cold wet day, demanded something, just like that to heat up the soul and warm me up.
The addition of mozarella to these paranthas is just mind blowing. I was slightly skeptical initially to use mozarella in Parantha but then a good foodie is the one who can challenge her/his boundaries. So my dear friends, that's what I did and I am soooooo glad that I did 😀. It was spicy! It was hot! It was melt in the mouth gorgeous and just ooohhhh soooo good!
Ahem! My apologies for tooting my own horn here! 😱
Taking these paranthas to Angie's Fiesta Friday 101 ! I hope people will love it along with talented co-hosts, Jhuls and Mr. Fitz !!
This is how I made these !
Cheese & Chili Parantha
Servings: 4
Difficulty: medium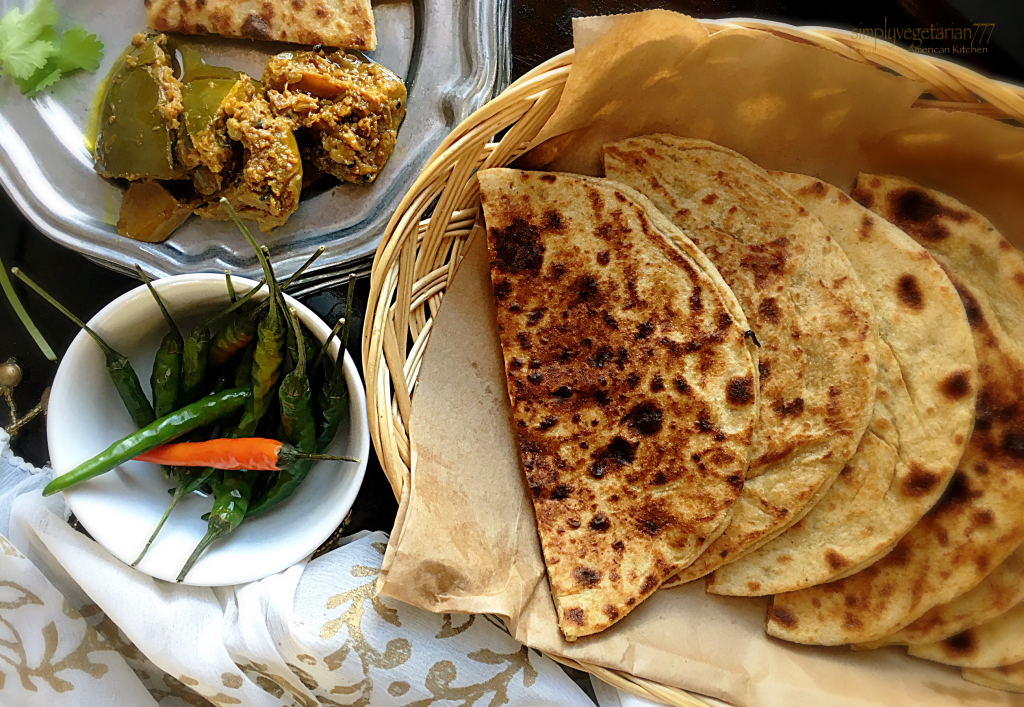 Kitchen Equipments Required
Big bowl to knead the flour, griddle/pan/tawa, flat spatula, rolling pin, rolling board, a plate of dry flour, a bowl with oil & spoon, a small bowl for making cheese mix.
Ingredients
Dough
Whole Wheat Flour – 1&1/2 cups + some dry flour to roll
Water to knead the flour
Cheese & Chili Filling
Mozzarella Cheese – 3/4 cup, shredded
Green Chili – 2, cut fine. You may use 1/2 jalapeño
Ginger – 1 big piece, grated or minced fine
Garam Masala – 1/4 tsp
Salt to taste. Go low on salt since mozzarella is already salted
Oil to pan roast
Method
Makes 8 paranthas
Making Dough
Take the big bowl. Add whole wheat flour. Add enough water to make pliable soft dough. Knead for 5 minutes. Set aside for 1/2 to 1 hr. I prefer to use cold and a day old dough for making paranthas. It is more under control and more easy to handle.
Refer to pictogram 1
Take the dough. Make 16 equal balls. Keep them covered.
It takes 2 balls to make this Parantha. Roll The balls into the dry flour. Roll out 4-5 inches discs out of both the rolls.
Take 2-3 tbsp of filling and spread it evenly on one of the discs.
Pick up the other disc and put it on the top of the disc with the filling. Press it down and seal the edges tight.
Refer to pictogram 2
Heat the tawa or pan or griddle.
Reduce the flame to medium. Pick up the rolled and filled Parantha and lay it carefully on the hot pan.
Cook for about 45 seconds to 1 minute and peek at the bottom of the Parantha. Once it develops brown spots at the bottom, flip it carefully with flat spatula.
Let the other side also cook for about 45 seconds to 1 minute till it develops brown spots.
Spread little oil on the top and flip again. Press with flat spatula and cook for about 30 seconds on low medium flame.
Spread little oil on the top and then flip again. Press with flat spatula and cook for another 30 seconds.
Finish the rest of the 7 paranthas likewise.
A crispy crunchy yummy cheesy and spicy Parantha is ready to be eaten.
Serve with pickles and some hot chai.
Note
These paranthas are best eaten when warm. You may make them in advance but always serve them warm. It will enhance the cheesy flavor more.
Pictogram 1
Cheese & Chili  Stuffing + Rolling + Filling + Putting together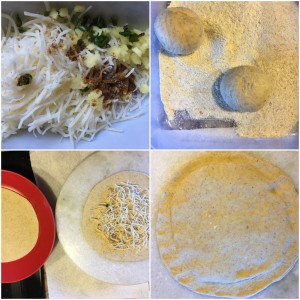 Pictogram 2
Putting on the griddle + Pan Roasting the Paranthas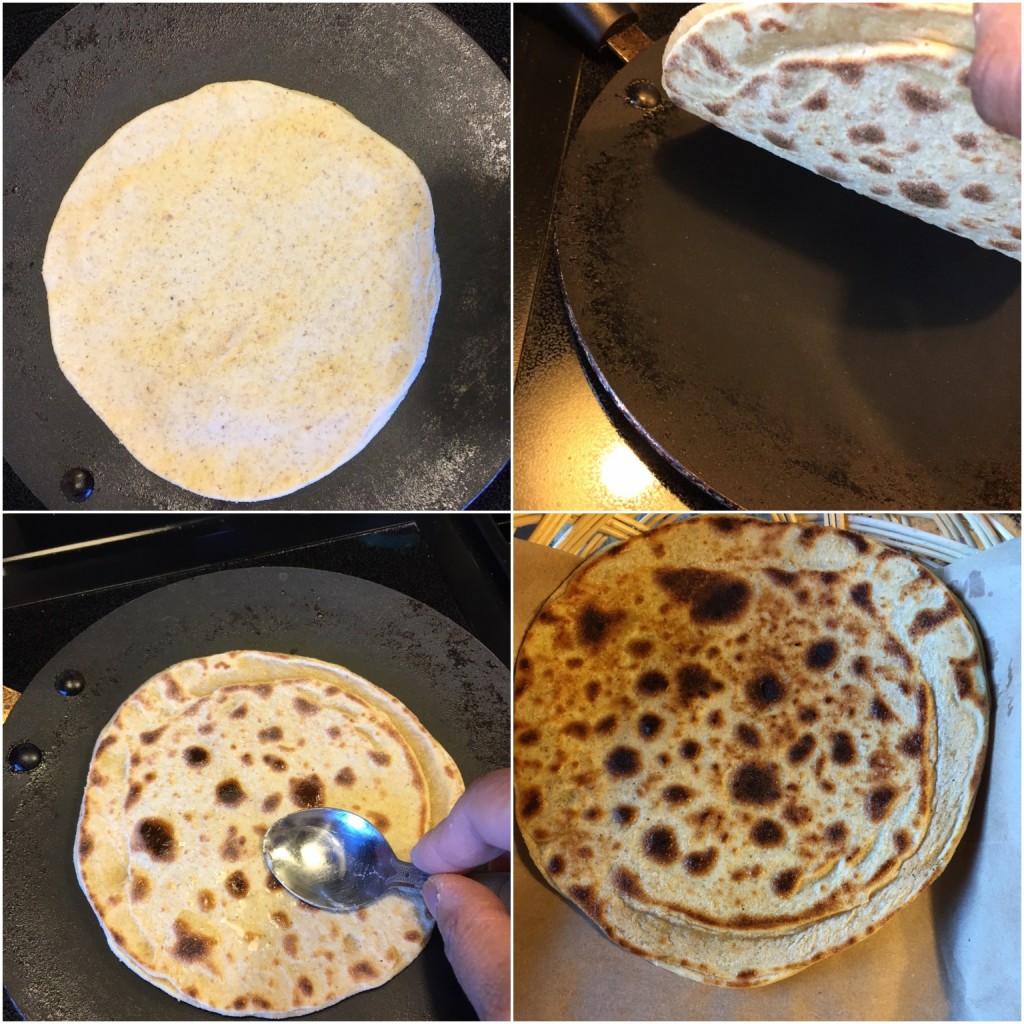 I had fun making these in my Indian American kitchen. I hope you will have fun making these and munching on these too.
Sonal