Choco Chip – Cinnamon Muffin Loaf with Streusel Topping
As an Amazon Associate and member of other affiliate programs, I earn from qualifying purchases.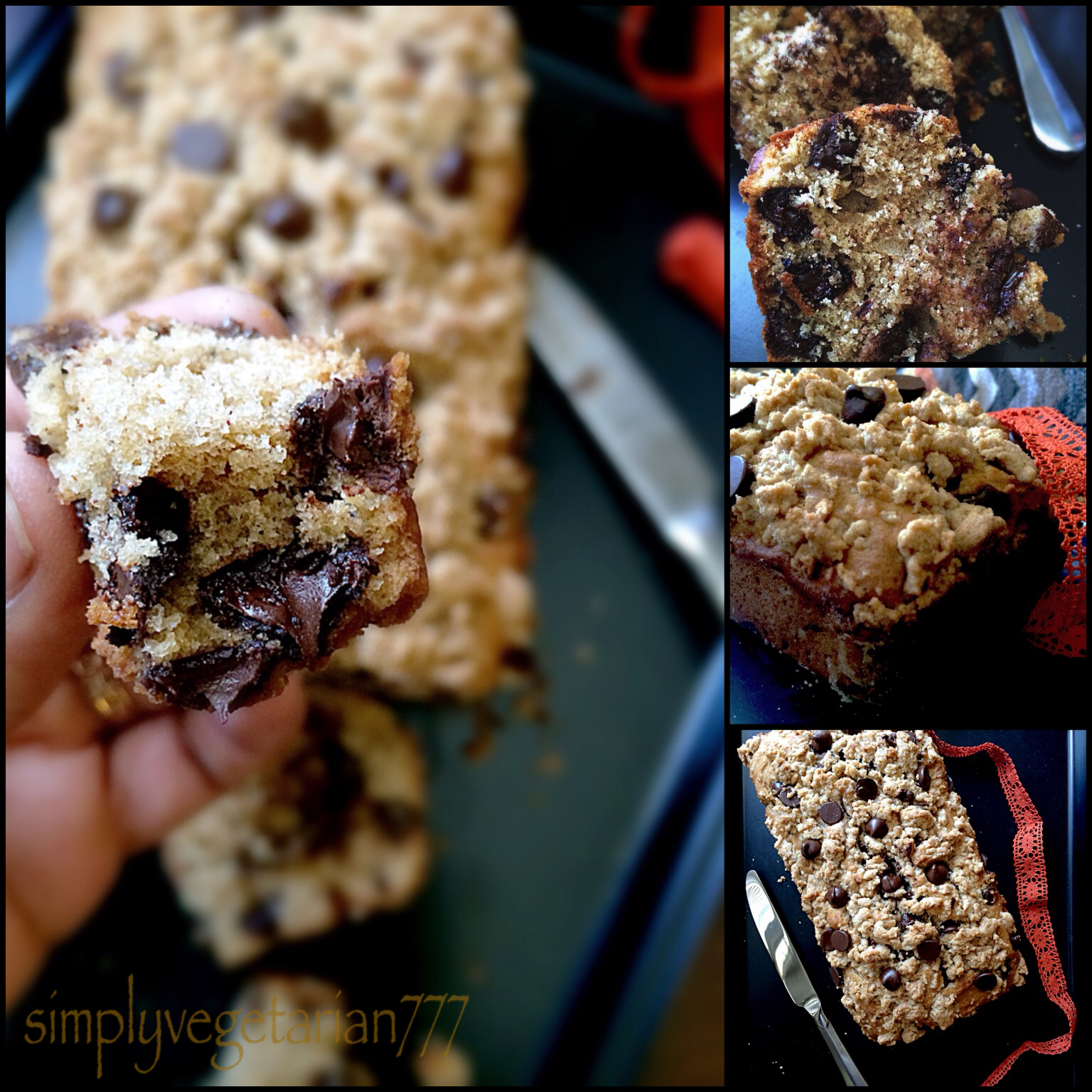 Chocolate has that effect on "most" of the people that is magical. It is associated with childhood, comfort, happiness and romance, all in one bite. When I am feeling blue, my mum always say, "go and put a piece of chocolate in your mouth". Now that is another matter that she is partial to chocolate, anyways.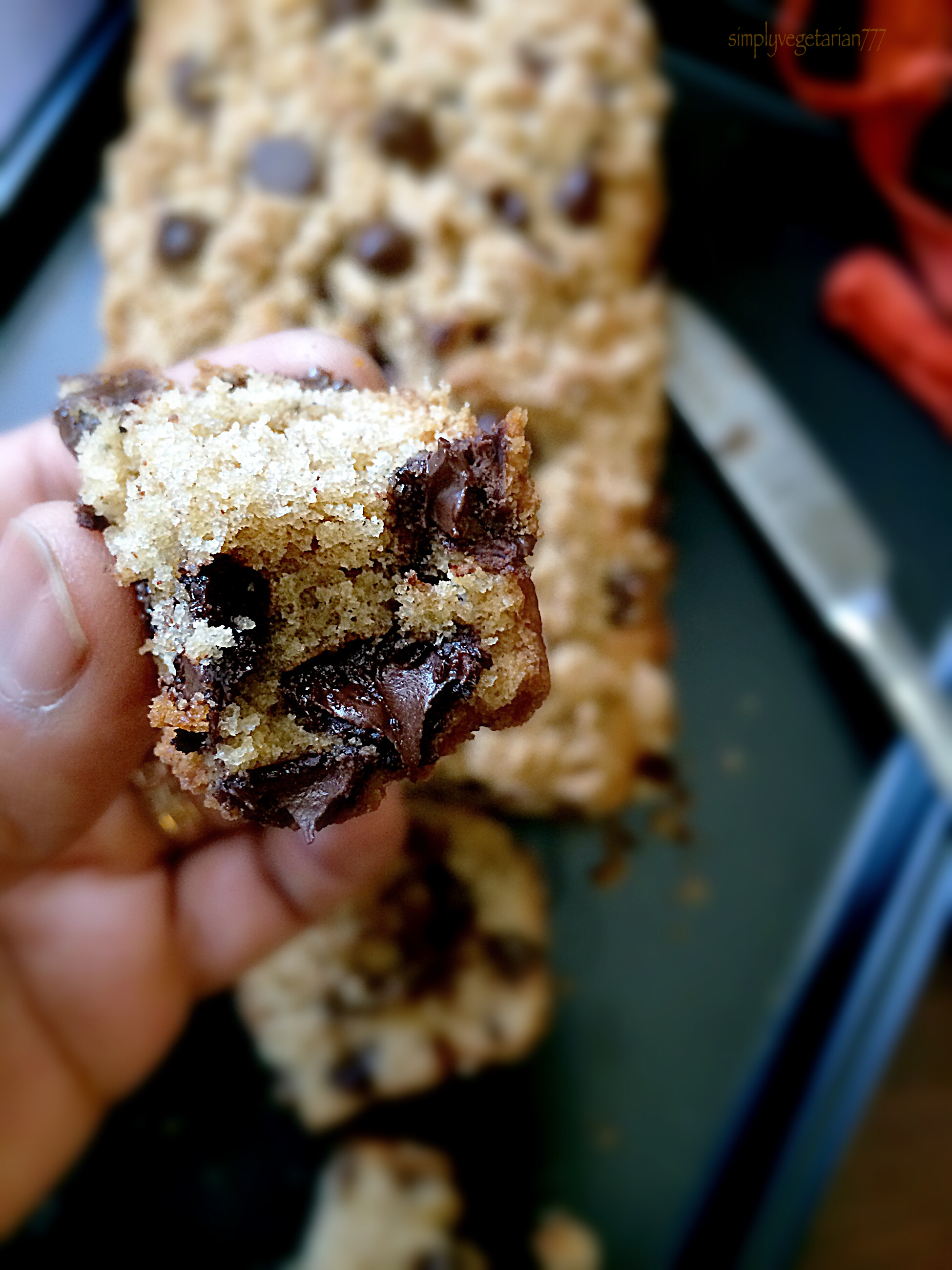 I was looking for making chocolate chip muffins since long time. It was this weekend that finally I decided to make it. The lack of availability of muffin tray, dawned the idea of making it a cake instead. I must say, so much more convenient. Seriously! One loaf and less mess. I simply cringe at the sight of mess.
Before I go further into the recipe details, I want to make it clear to the people who are new to muffins, that muffins are not cup cakes and muffin cake loaf is not a sponge cake loaf. Muffins originally were created as a breakfast bread, denser than cakes and less sweeter than cakes. Where as cakes are made with refined flours and cake flours, many a times, muffins are made with the flours with more bran in it. Muffins can be sweet or savory. To know more about Muffins, click here!
So it will be a deliciously dense and comfortingly biteful journey. 😉
This is an adapted recipe from King Arthur's. This is how I made it!
Recipe Source – King Arthur Flour
Choco Chip Muffin Loaf with Streussel Topping
Servings: 1 loaf of 8x4 inches
Difficulty: easy
1 big bowl, 1 small bowl, egg beater or stirrer, fork, spoon, a cake loaf tin of 8×5 inches or 9×4 inches or a muffin tray with liners.
Ingredients
Butter – 1/2 cup
Sugar, granulated – 1 cup
Baking powder – 2 tsps
Salt – 1/2 tsp
Cinnamon powder – 1/2 tsp
Vanilla Extract – 1 tsp
Eggs – 3 (For Eggs Substitute, see the notes below).
Milk – 1/2 cup
Whole wheat flour – 1&1/2 cups
All purpose flour / Maida – 1/2 cup
Chocolate Chips – 1&1/2 cups
Streusel Topping Ingredients
Whole Wheat Flour – 1/4 cup
Butter – 1&1/2 tbsp, cold
Sugar – 2 tbsp
Chocolate chips – 1/2 cup
Method
1. Preheat the oven to 350°F. Lightly grease the loaf pan and dust it lightly with flour. If you are using a muffin tray, line it with muffin liners or grease it lightly. Set aside.
2. Make streusel topping. Refer to the ingredients mentioned under streusel topping. Take a small bowl, add flour to it and add cold butter and sugar to it. Rub it in between fingers and mix well. It will be like bread crumb mixture. Set aside.
3. Beat together the butter, sugar, baking powder, salt, vanilla essence and cinnamon powder until mixed well, for about 3 to 4 minutes.
4. Beat in the eggs, then stir in the milk. Mix in the flour, then the chocolate chips. It is a tight batter.
5. Transfer the batter into the loaf tin. Spread it out evenly with the back f a spoon.
6. Sprinkle the top of the batter with the streusel topping evenly. Also sprinkle 1/2 cup of chocolate chips on top.
7. Bake the muffins loaf for 50 – 60 minutes, or until a cake tester inserted into the center of one comes out without crumbs clinging to it (a little chocolate is OK!).
8. Cool it in the loaf tin for about 10 minutes. Carefully take it out and let it rest on the cooling wore rack for another 5-7 minutes, before slicing into it.
Storage
Store the cake or muffins while warm (not hot), in either a brown bag or an air tight box, to maintain the moistness.
Notes
1. You may bake this muffin cake without streusel topping.
2. You may also add some chopped almonds or walnuts in the cake or streusel topping.
3. Egg Substitute
Soak 3 tbsp of Flax meal in 9 tbsp of warm water. Set aside for 2-3 minutes. Mix well with a fork. It makes an egg kind jelly which is good for binding.
Flax is known as Ulsi /Alsi ka beej, commonly available at general grocery stores. It is rich in fiber and Omega-3.
Meal is coarsely ground flour. To make a meal out of Flax, you may ground some flax seeds in dry grinder and use accordingly or buy flax meal from the market as is.
Enjoy a warm slice of this delicious muffin cake with a good cup of coffee or tea, with family and friends!