Chocolate Covered Strawberries to celebrate my first Co-hosting Fiesta Friday, #54! Yay!!
As an Amazon Associate and member of other affiliate programs, I earn from qualifying purchases.

A huge thanks to Angie @ The Novice Gardener, for entrusting this fiesta with me and Josette of The Brook Cook.

She created this event an year ago to bring all her foodie friends to a common place (virtually) from all around the globe to have fun and interact. I have seen bloggers bringing food, recipes, travel shares, albums, poems, diaries, art work, opinions, and what not! It's always fun to have a mix bag of people! Some of them came dressed in their purple jumpers, some wore weird hats, some thought nobody was looking so they wore their pajamas, some bit their nails, some were always late and some are always fighting to enter first ;). So you are not the odd one out there. This fiesta has seen it all and still wishes to see more 😍.
Are you ready to be a part of this huge blogging extravaganza? Give it a thought!!! DEEP THOUGHT!! I am not joking.
If you are a new blogger, more reasons to join. You won't believe how it boosts your morale and the stats that you wished, didn't exist. Is that out right blunt? Well the Truth is Truth. It gives you a good jump start to interact with fellow, like-minded people out there. In my personal opinion, it is a huge learning ground. 1 whole year and I have made good foodie faithful friends who are always inspiring and full of appreciation. Fiesta Friday rubs on you like an addiction. You wait for it every weekend. So, Josette and I are all set to entertain you here and will walk with you through the event! ☺️
If you are already there at fiesta and "Been there, Done that", then you know that you have more reasons to return back. Why? To see me and Josette hitting it together this time😍. You know we love you all! Who is me here? I am Sonal @ simplyvegetarian777.
The Basic Guidelines for this Event are simple to follow. Check out here to make sure that you have not missed any.
1. Save the picture above and flash it on your post.
2. Tag it with fiesta friday.
3. Interact and be nice to each other.
4. Make friends and have fun.
These are the picked entries from the Fiesta Friday Anniversary Party , that ran for past 2 weeks. Lots of food! lots of drinks! Lots of fun! & Lots of friends!
Now wear your party hats and grab your magic charm and come to my classic and cliché'd Chocolate Covered Strawberries!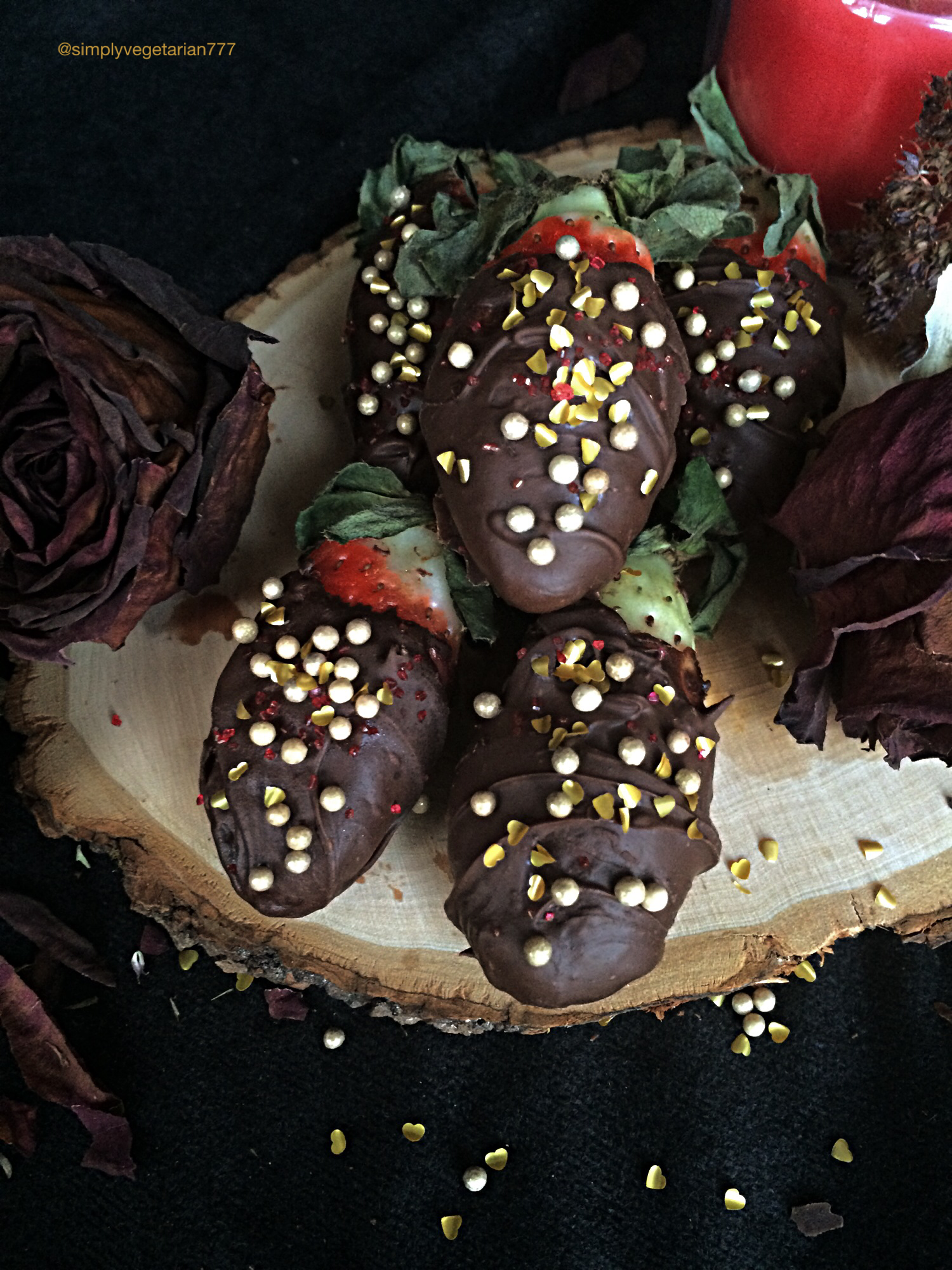 Since I have talked a lot already, I will straight away go to the recipe here, without further delay. I have made enough. So pick one and have a stroll to see what others have brought.
Chocolate Covered Strawberries
Kitchen Equipments Required : microwave safe bowl, spoon, a flat tray, parchment or butter paper.
Ingredients :
Strawberries : 10, firm
Chocolate chips : 1/2 cup
Sprinkle or toppings of your choice like edible sugar balls, crushed pistachio etc.
Method :
1. Wash the strawberries and wipe them dry with kitchen paper or towel.
2. Take the microwave safe bowl. I prefer a small and deep bowl with smaller opening.
3. Add chocolate chips to it. Microwave the chocolate chips for 1 minute. Take it out. Stir with spoon or fork: microwave again for 30 seconds. Take it out. Stir again. Microwave for the last time for another 30 seconds.
4. Line the flat tray with parchment or butter paper.
5. Dip the strawberries in warm chocolate. If required, use a spoon to pour the molten chocolate over strawberry. Set the chocolate dipped strawberry on the butter paper in the tray. Finish all the strawberries like wise.
6. Add the sprinkles of your choice on the top.
7. Refrigerate for 2 hrs at least before serving.

Enjoy with family and friends or your valentine this 14th feb! A classic dessert and irresistible!
Sonal