Chocolate & Oats Porridge
As an Amazon Associate and member of other affiliate programs, I earn from qualifying purchases.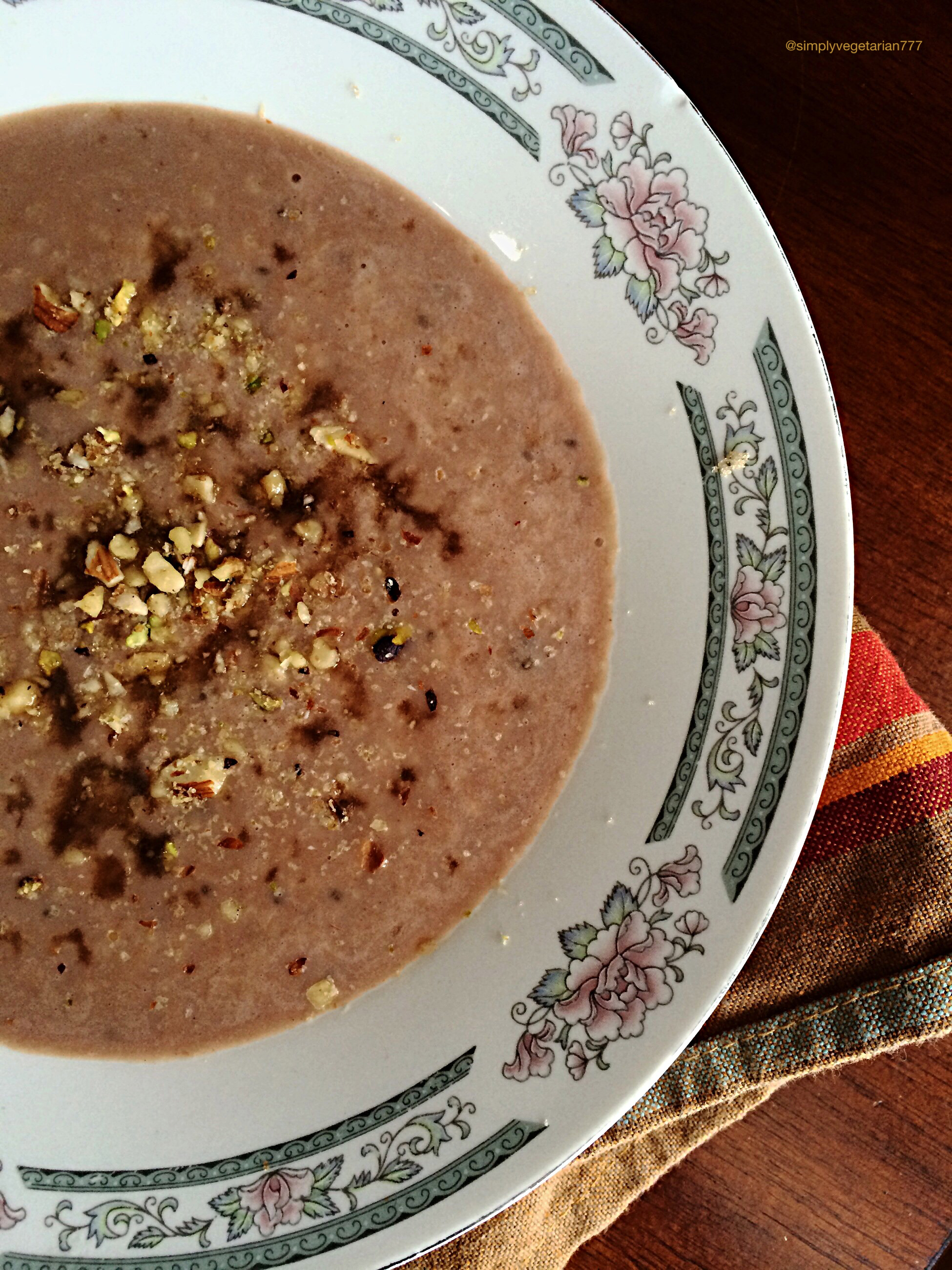 Martine of Petit World Citizen had posted a bowl of Breakfast Goodness few days ago. She called it Super Grain Porridge. I had fallen in love with it instantly.
I am trying to cook with oats more these days. They are whole grains, rich in fiber, heart healthy, benefit diabetic patients, lower bad cholesterol, lower blood pressure and rich in minerals.
I use oats in my baking and flat breads too. The other day, I used oats in making Idlis (steamed rice cakes), following Radha's recipe. A shout out post coming up soon. I make oats porridge for breakfast, few times a week. My younger one loves it. We cook oats with water and a bit of milk. Add raisins and a table spoon full of chopped nuts. Sweeten it with brown sugar for that richer taste and soothe our hungry bones in the morning.
Martine's bowl was much more than mine and I thank her for the inspiration. Here is how I did it.
Kitchen Equipments Required – Sauce pan, stirring spoon, chopping board n knife or food processor, 2 serving bowls.
Ingredients
Oats, quick cooking – 1/2 cup
Water – 2 cups
Milk – 1/2 cup
Coco powder – 1 tsp
Cinnamon – 1/4 tsp
Raisins – 1 tbsp
Chopped nuts – 2 tbsp. You may include walnuts, almonds, pistachios, sunflower seeds, chia seeds etc.
Brown sugar or Maple syrup – to taste
Method
Take the sauce pan and add oats, water, milk, coco powder and cinnamon in it. Stir well.

Boil the oats mixture and then lower the heat to low and continue cooking till oats are done. Stir in between to avoid burning. That's it. The porridge is ready. The easiest recipe ever.
Note : You may adjust the consistency of your porridge to more liquid or more solid accordingly by either adding more water/milk if desired or cooking bit further to make these more solid.

Pour the porridge in 2 bowls. Add brown sugar / maple syrup or sugar free to your taste. Load with 1 tbsp of chopped mixed nuts. Stir and enjoy!
I can actually eat this for dessert!
Notes
1. Diabetic patients may skip the raisins and use sugar free substitutes.
2. People allergic to nuts can skip the nuts part.
3. This can be cooked without milk.
4. This can be cooked in milk only.
Sonal