Cinnamon Apple Cake – Eggless Easy Recipe
As an Amazon Associate and member of other affiliate programs, I earn from qualifying purchases.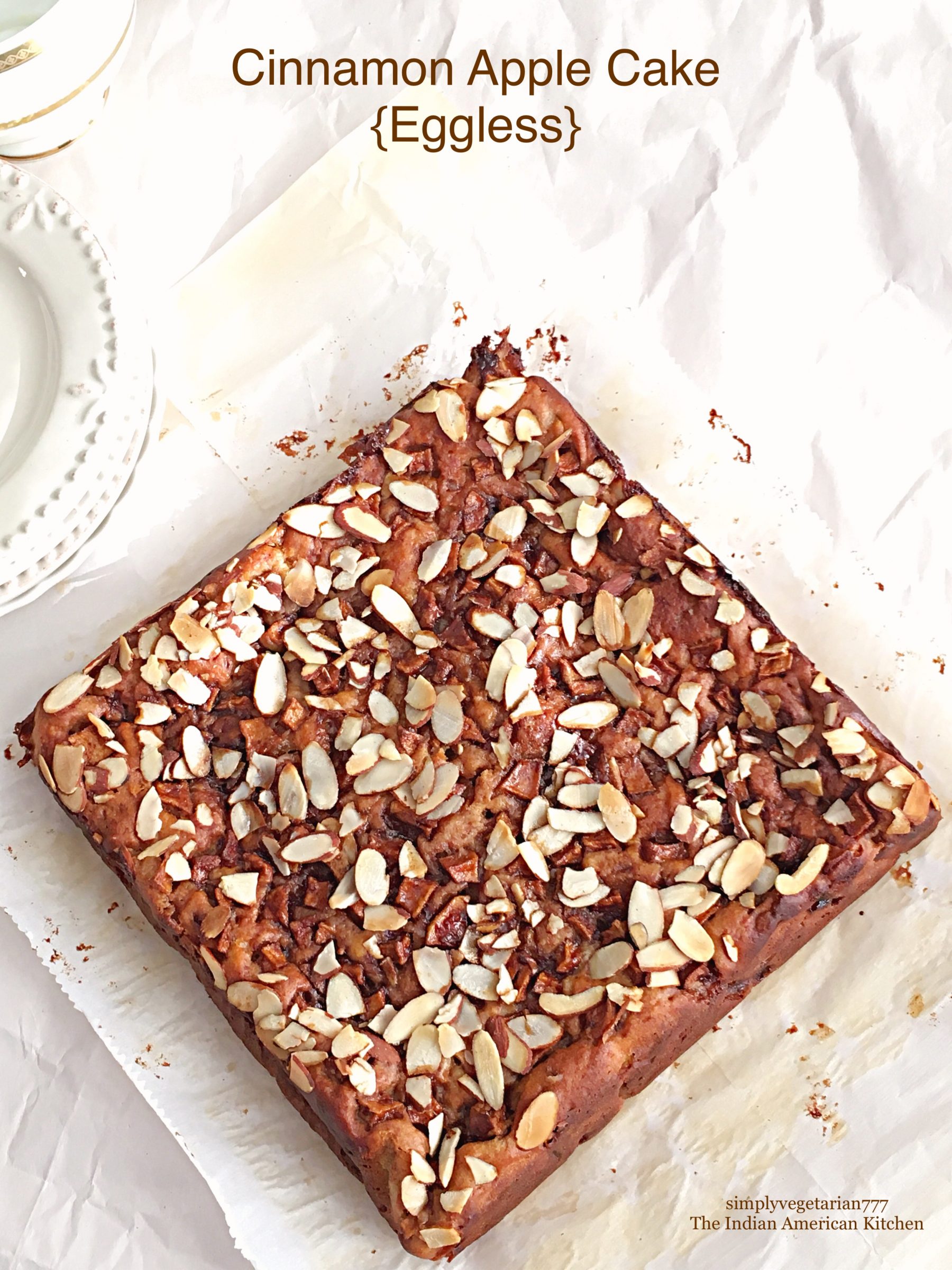 Cinnamon Apple Cake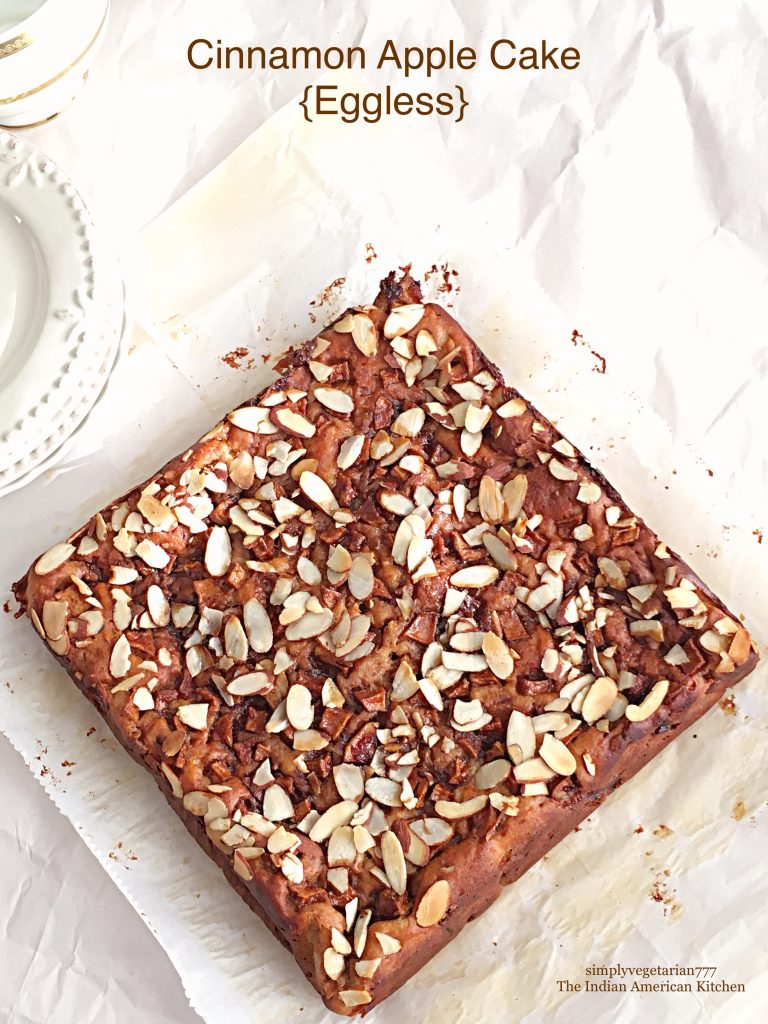 Are you done planning the main menu for Thanksgiving and now stuck at Desserts? Let me tell you dear friends that things not be complicated just because you are hosting. Sometimes, easy and simple can totally steal the show, like this Super Easy & Eggless Cinnamon Apple Cake.
The warm aroma of cinnamon and Apples fill the whole house with Holiday Whiff, that brings the family and friends together on the dinner table. This simple and elegant cake tops the charts, since it is eggless as well. You can totally make it with eggs but if you have guests who are allergic to eggs, then this Eggless Cinnamon Apple is a fitting treat for them. They will thank you for a long time, I promise. You can bake it ahead of time and serve later.
I have to admit, that since I have started baking eggless cakes, I am more motivated towards baking. Now when I think back, I laugh at myself with amusement. There was a time, when Baking Cakes stressed me out completely.
Since I called myself an untamed cook, baking came as a challenge. Where I would eyeball and adjust the flavors, baking had taken that independence out of me. I was mad and I was frustrated when it came to baking 3 years ago. Slowly and slowly, I started learning and reading more about baking. Finally I can say that Baking has made me a DISCIPLINED COOK, which absolutely is a good virtue in any cook. Don't you agree?
Did I mention above that my kids are a huge fan of Apple Desserts? My oldest daughter Aanya, had been asking me to bake an Apple Galette since a long time and finally I gave into her Apple requests and bakes this oh-so-delicious FALL PERFECT CINNAMON APPLE CAKE.

Coming back to Eggless Cinnamon Apple Cake, I had thought of calling this cake as Sticky Pudding Cinnamon Apple Cake. This cake has beautiful natural caramel taste with all that brown sugar and apple syrup working its way around. It makes cake not only caramel-ish but also like a sticky toffee kinda texture, and at the same time, it is soft and mushy and warm almost like an Apple Pie. I got you drooling, right? Apples are really forgiving when used in cooking and so much more to the dish.
SO the HIGHLIGHTS of this CINNAMON APPLE CAKE are –
It is EGGLESS
It is Sticky Toffee-ish
It is Caramel-ish
It is Apple Pie-ish
Made with handful easily available ingredients, just like most of my recipes – easy, efficient, effortless and delicious.
This is how you make Eggless Cinnamon Apple Cake !
Cinnamon Apple Cake - Eggless Easy Recipe
Easy Egg-less Cinnamon Apple Cake for Holidays.
Ingredients
Dry Ingredients
All purpose Flour - 1&1/4 cups

Sugar

fine (not powdered) - 3/4 cup

Baking Powder - 1 tsp

Salt - 1/8 tsp
Wet Ingredients
Vegetable Oil - 1/3 cup

Greek Yogurt or thick yogurt - 1 cup

at room temperature

Milk - 1/4 cup

Vanilla Extract - 1 tsp
Apples - 3 medium. I have used red delicious apples. You may use Gala apples as well.
Garnish - Almond Flakes or Broken small pieces of Walnuts
Instructions
Preheat the oven at 350*F / 180*C. Line a 8x8 inches or 9x9 inches cake pan with a parchment or butter paper.
Preparing the Apples
Take 3 medium apples. Wash them and peel them. Core and remove the seeds. Cut them into small 1/2 inch cubes.

Take a bowl. Add all the apple cubes, cinnamon powder and brown sugar to the bowl. Give it a good toss and mix well. Set aside.
Making Cake Batter
Take a large bowl. Add all purpose flour, baking powder, salt and sugar to it. Mix well with a fork.

Now add vegetable oil, greek yogurt or thick yogurt, milk and vanilla essence to the bowl with flour mix. Mix well with a fork. It will be a slightly tight batter.

Add 2/3rd of the apple cinnamon mix to the batter. Fold it gently into the batter.

Pour this cinnamon apple cake batter into the cake pan. Spread it out gently in the cake pan.

Now spread the remaining 1/3rd of the cinnamon apple mix over the cake batter. Spread it evenly. Apples will create apple cinnamon syrup, while soaked in the brown sugar. Pour this syrup at the top of the cake, evenly. This syrup will provide sticky toffee kind of texture and taste to the cake.

Now sprinkle the almond flakes or small pieces of walnuts on top of the cake batter.
Baking the cake
Put this cake batter pan in the oven. Bake it at lower shelf.

Bake the cake for about 55-65 minutes. Start checking for done-ness at about 55 minutes.

This cake takes good 60 minutes to bake. The wooden tooth pick test will not be exact for this cake since the soft and mushy apples mixed in the cake will always leave crumb on the tooth pick.

Take the cake out. Switch off the oven. Let the cake sit in hot pan for 10 minutes.

Now take the cake out with parchment paper and keep on the cooling rack.

Let it cool for 10 more minutes and then place it directly on cooling rack minus the parchment paper. Handle this cake carefully since it is a delicate cake with all that apples going on.

Once it is cooled further, Slice it into squares further, with a sharp serrated knife in one stroke. Cutting the cake with continuous motion will spoil the cake.
NOTES
Important thing to know is that it is a square cake and baked almost like a blondie, so this cake is not high in height. It is rather a flattish cake, but with tonnes of flavors.

The edges of this cake are slightly crispier due to that cinnamon apple sugar syrup.
STORAGE
Once cooled completely, you can store it in an air tight container at the room temperature. It should be finished in 2-3 days.
SERVING SUGGESTION
It is enjoyed very well when served warm with cold vanilla ice cream. You may drizzle it with some caramel sauce or cinnamon sugar syrup for more flavors.
This cake is perfect for your special family and friends' gatherings or bake it to take it as a HOSTESS GIFT! Bake it just for yourself or to show gratitude to your favorite neighbor or show up with this cake at a friend's door who needs cheering. Warm it up, scoop a dollop of Vanilla Ice-cream and top the cake with it and enjoy a delicious treat. Also, this is a great cake for bake sales, especially at schools with kids having eggs allergies. You can skip the nuts garnish to make it nuts allergy free as well.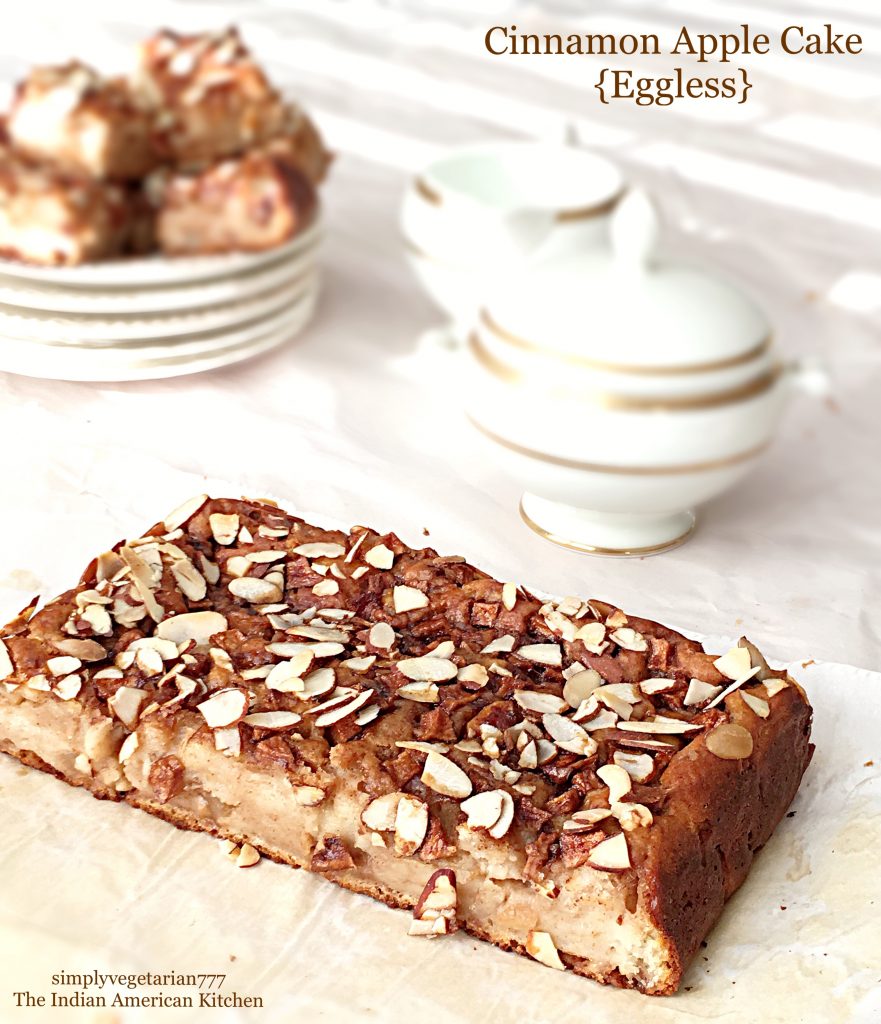 Some other delicious recipes made with Apples are – Gluten-free Apple Pear Tart , Paleo Apple Blondies , Vegan Apple Tea Crepes , No Bake Caramel Apple Protein Bars , Vegan Mini Apple Pies .
Some products that you can order from amazon for baking this cake and for Thanksgiving are
Thanksgiving Vegetarian Recipe Book
Can't BAKE it now? PIN EGG-LESS CINNAMON APPLE CAKE FOR LATER!


I am sure that you will be trying this delicious Cinnamon Apple Cake, that is super easy and delicious. If you try it, then do send me the feedback.
IN my kitchen, you will always EAT HAPPY & STAY HAPPY!
Sonal
Save your time and order fresh grocery here