Dahi Pakodi (Urad Bean Dumplings in Yogurt)
As an Amazon Associate and member of other affiliate programs, I earn from qualifying purchases.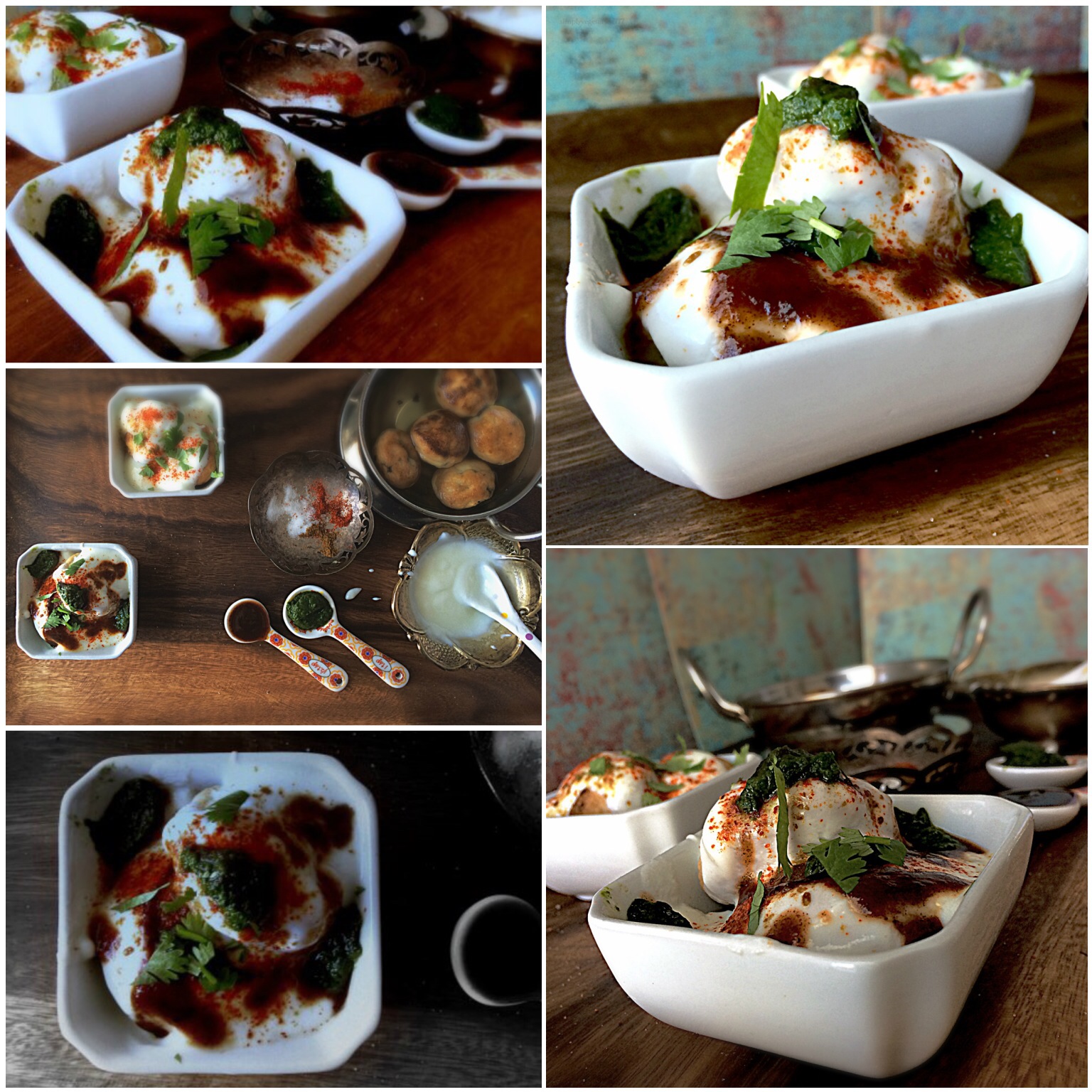 There is no Indian I have come across, who doesn't enjoy a bowl of good Dahi pakodi.
Dahi = Yogurt &
Pakodi = Fritters made with either urad or mung or mix of both.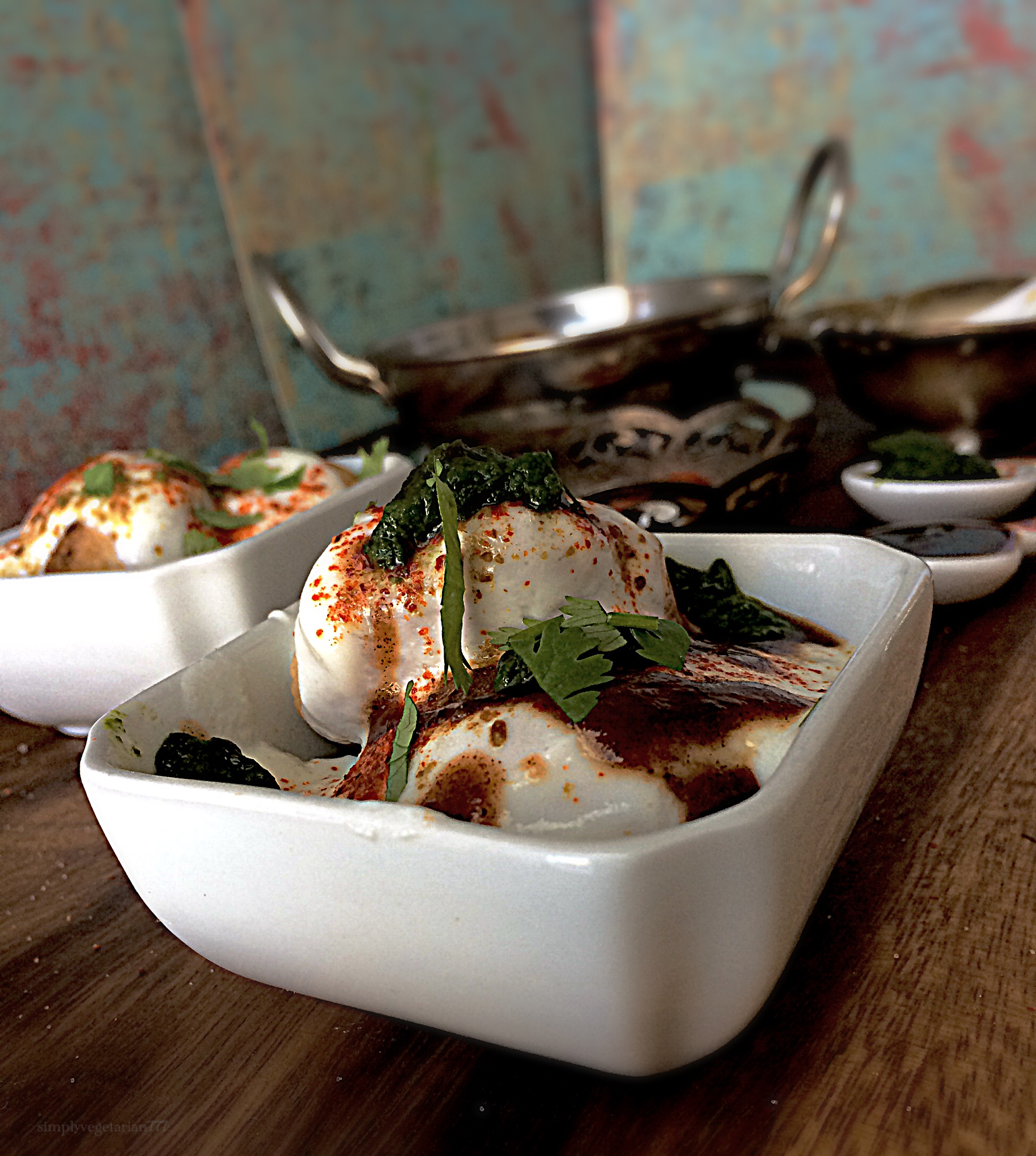 Creamy yogurt, melt in the mouth pakodis, the smoke of the cumin powder, the heat of the chili powder, spicy cilantro green chutney, the tang of tamarind chutney…all in all a food haven in one bowl! Do you agree with me? If yes, nod your head ☺️. The tongue clatters with your upper palate to make that "ttttt" sound and that's the expression for it.
Kuchh Teekha, kuchh meetha, kuchh khatta, bilkul is zindagi ki tarah!
( Translate – Little hot, little sweet, little sour, just like this life!)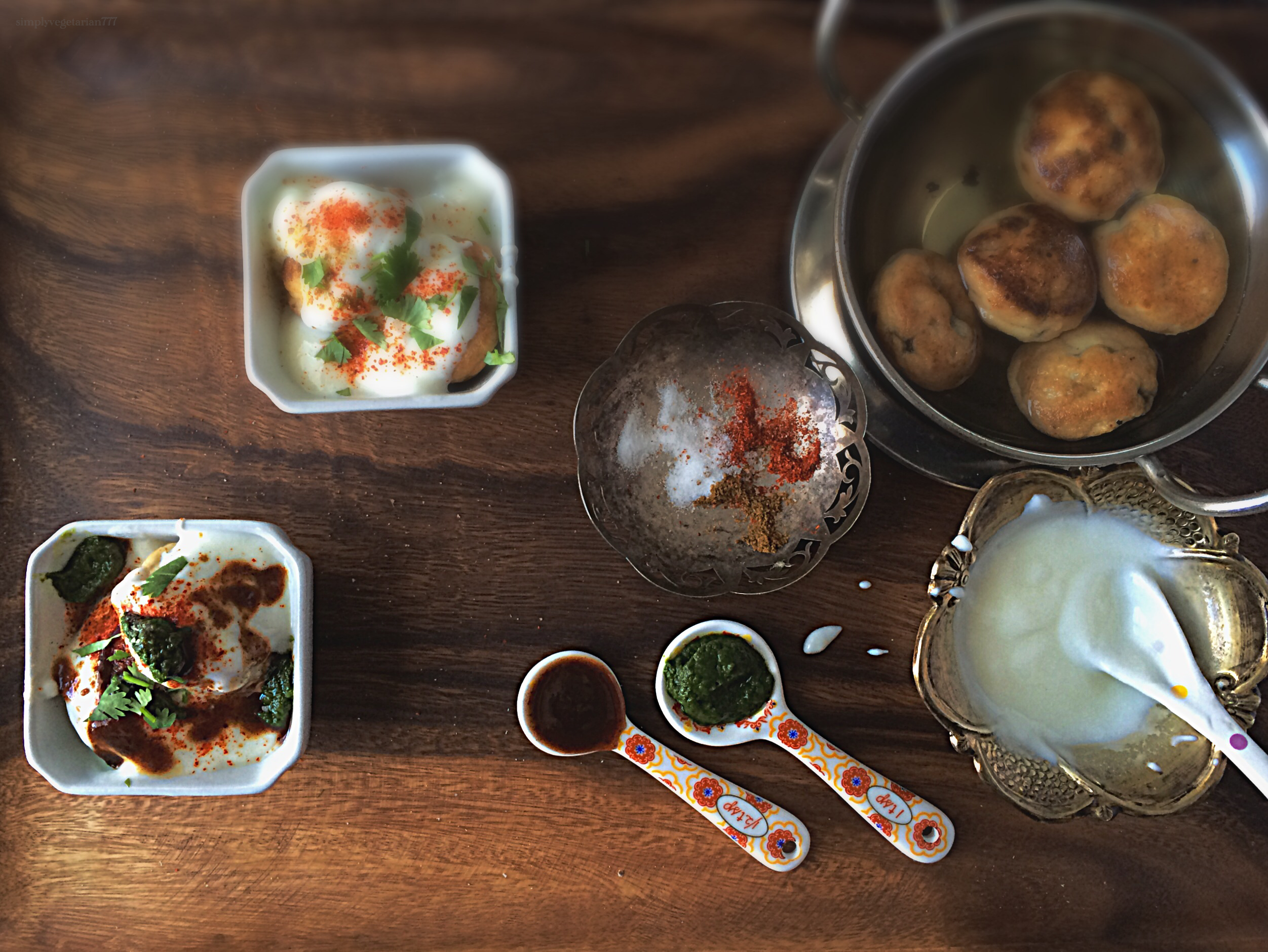 Normally, the urad dal pakodis or urad fritters are deep fried. I being the "oil pauper", didn't fry my fritters. I made them in my appe pan ( paniyaram / abelskiever pan). Yes you heard it right. One pan, hundreds of uses. Amazing, Isn't it? Honestly, there was no difference in taste in the final product, since these are soaked in warm water first, anyways.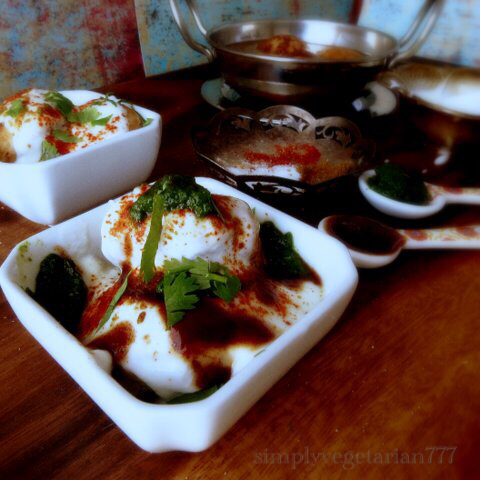 This dish is pretty staple at parties, weddings, festival food etc in North India. The other avatar of this dish is Dahi-Wada, which is very popular in southern India.
Making the Urad Fritters / Pakodis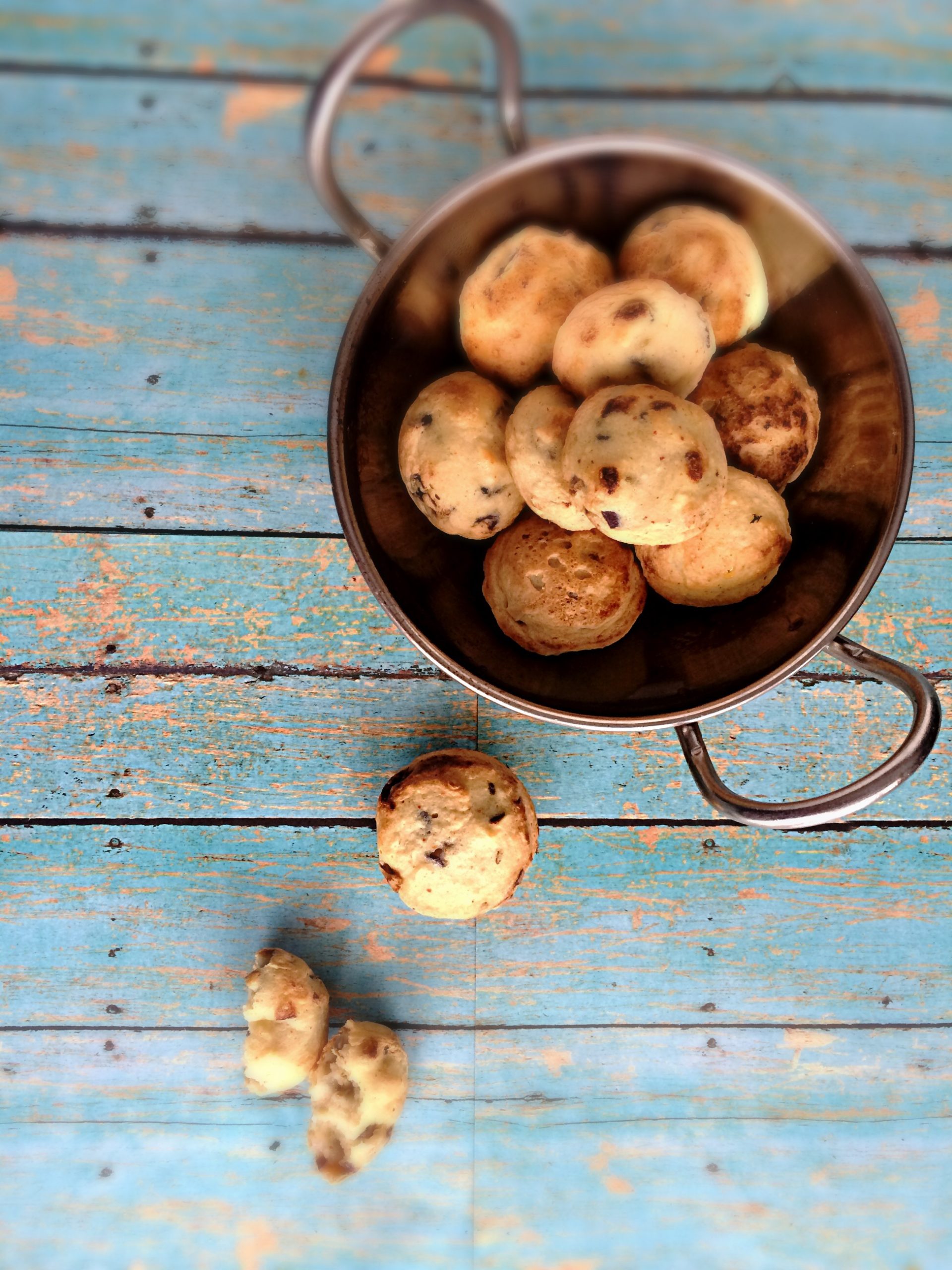 Makes – 20 to 22 mini size pakodis or 12-15 big ones.
Kitchen Equipments Required – Bowl to soak the dal, sieve, blender, appe/paniyaram pan with lid, or frying pan, a small bowl with water
Ingredients
Urad Dal , dhuli/dehusked – 1/2 cup
Ginger – 1/2 tsp, freshly grated
Cilantro/ coriander leaves – 1 tbsp, optional
Asafetida – a small pinch, optional
Cumin seeds – 1/2 tsp
Red chili powder – 1/4 tsp
Salt to taste
Baking soda – a pinch
Oil – a little to grease the appe pan or enough to deep fry, your choice.
Method
1. Wash and soak the urad dal in 1 cup water for 3 hrs.
2. Drain the water from the dal completely through sieve.
3. Put the soaked dal in the blender and start grinding it. Use 1 two of water at a time to make a thick paste. We don't want loose or runny paste but we are looking for solid thick paste. So scrape in between from the sides, while grinding. You will use 1-2 tbsp around water at the most to grind it.
Take the thick paste out in the bowl. Start whisking it with your hand for 3-5 minutes till the batter becomes light and loose because of air incorporated. Here is the trick – dip your hand in the bowl of water every now and then and then beat it. The water will loosen the batter slowly while incorporating volume and air.
5. Grease and heat the appe pan, meanwhile. For deep frying, refer to the foot notes.
Add all the other ingredients to the beaten and lighter batter and mix them gently with hand or fork.

Use hand or spoon to drop 1 tsp of batter in each mould of the pan. Lower the flame. Cover with lid and let cook on slow flame for 1&1/2 to 2 minutes. Remove the lid. Flip and cook from the other side, uncovered, for another 1&1/2 to 2 minutes, till done.

Take them out. Finish the batter likewise.
Assembling the Dahi Pakodi
I am going to give you an idea on assembling, with no fixed measurements. You can add one thing more or less to your desire.
Ingredients
Urad dal pakodi / fritters , soaked in hot water for 10 minutes. Soaking makes them spongy to absorb flavors of the added condiments.
Yogurt, thick and beaten smooth. If desired, then dilute a little. I like mine thick.
Cumin powder, roasted
Red chili powder
Salt
Green coriander / cilantro chutney
Tamarind chutney
Cilantro leaves
Assembly
Take the fritters out of the hot water and squeeze them between palms to get rid of any remains of the water.

Take a bowl. Place the squeezed pakodi / fritter. Add the beaten yogurt and drench the fritters well in yogurt.

Add sprinkles of cumin powder, red chili powder and salt, as light or heavy, to your taste.

Now ladle green cilantro and tamarind chutneys on the top. Garnish with fresh cilantro leaves.

Serve to your family and friends.
Notes
The pakodis or fritters can be deep fried. Heat the oil and fry pan full of these together on medium flame till light gold.

These fritters can be eaten as is for the snack as well.

Other garnishes that can be used are pomegranate seeds, julienned ginger, chaat masala etc.

The dahi wadas can be made in advance and stored in refrigerator. Assemble at the time of serving.
Enjoy this Holi with some fun, healthier food and frolic.
Sonal