Double Baked Potato Jackets : Meatless Monday
As an Amazon Associate and member of other affiliate programs, I earn from qualifying purchases.
Potato! Batata! Aloo! One humble tuber and hundred of names and thousands of dishes and millions of lovers! Such a stud he is! POTATO! No kidding! It is serious stuff.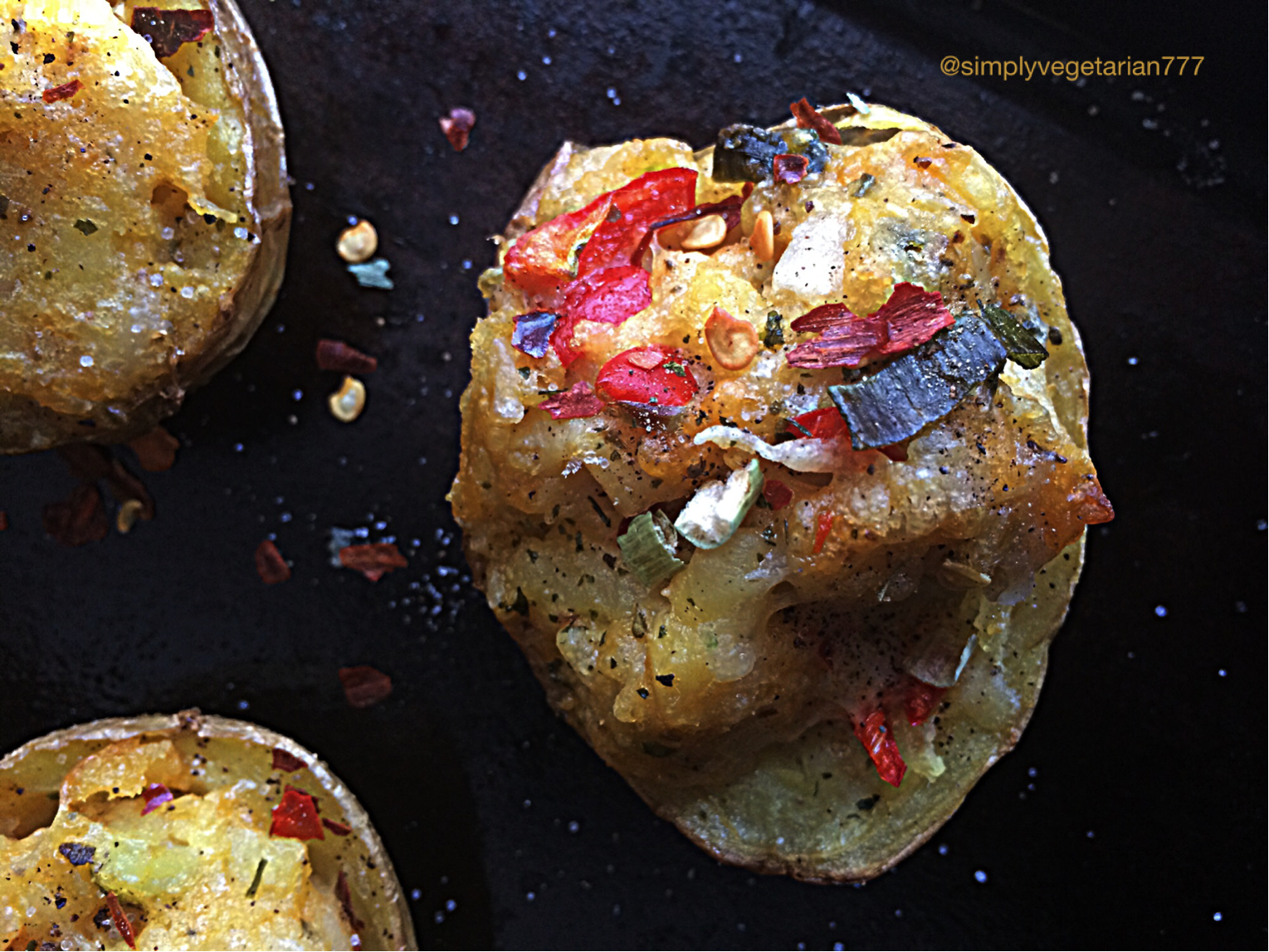 I know, the big game night is over so why now? Well, there is no time to eat a snack! Right? Especially Double Baked Potato Jackets. Ummmm, well if it was summer, I would have called them skins but it's brutal winter here, so gotta have jacket!! Brrrrrr!! It's that comforting as a warm jacket! Yes 2+2 is 4. Duh!! I know I am blabbering. But am I making you laugh? That's the point :). If annoying you, then skip the crap, and go to the recipe.

Hahaa! You are to the recipe anyways here 😂. This is what you gotta do for this easy and delightful snack, which is good for yourself or for any party or brunch.
Serves : 2 to 4
Kitchen Equipments Required : Chopping board, knife, baking sheet, oven, fork, a mixing bowl, spoon.
Ingredients :
Potato : 4 medium. I used Golden Yukon (naya aloo) but you can use russet which is more prominently required but then baking temps will vary.
Oil : 1&1/2 tbsp
Mayonnaise : 2 &1/2 tbsp
Mustard sauce : 1 tbsp. Use grainy mustard for more pungent flavor
Onion : 1 tbsp, finely chopped
Bell pepper : 1 tbsp, finely chopped
Oregano : 1/4 tsp
Cheddar cheese, shredded : 2 tbsp
Chives to garnish
Salt and black pepper to taste
Red chili flakes and Tobasco for additional flavors if required.
Method :
Preheat the oven at 400F or 200C. Keep the baking tray ready.
Wash the potatoes thoroughly and slice them horizontally into halves.

Poke them with a fork deeply. Brush them with oil nicely. Sprinkle salt and pepper. Bake for 25-30 minutes.

Take the potatoes out. Let them sit for 5-7 minutes.

Take a bowl. Add all the other ingredients as mentioned above to the bowl.

Take a spoon and delicately scoop the baked meat of the potato out without hurting the baked skin. Add that scooped baked potato to the bowl with other ingredients. Mash these well together with fork. Now fill these scooped potato skins with the ready mix, loading them up. Garnish with chives and chilli flakes.

Put these back in the oven and continue baking for another 20-25 minutes at 400*F.

Take these out. Sprinkle some Tobasco and serve these warm!
Enjoy with family and friends!!
Sonal