Elegiant Wireless Pedometer Fitness Tracker
As an Amazon Associate and member of other affiliate programs, I earn from qualifying purchases.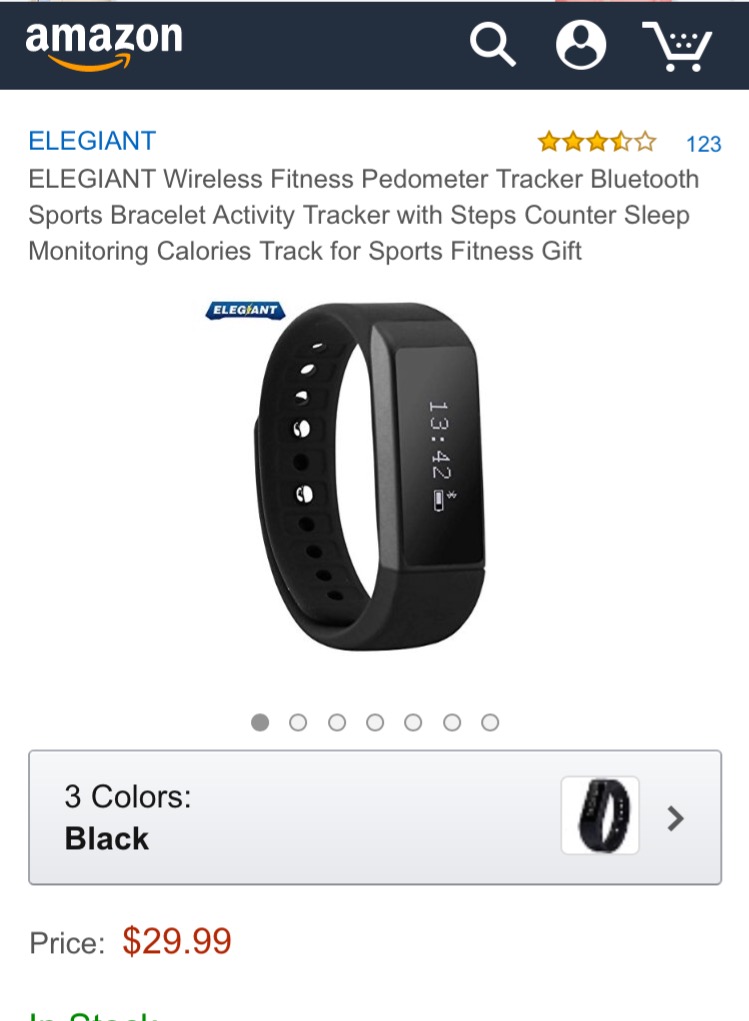 Disclaimer – I am not being paid for this review. This is from my personal experience and I am a very happy & satisfied user of Elegiant. Sharing my reviews for your benefit too.
You must be thinking why this post amongst my food posts and that too around the festive season. So my dear readers, this is the exact time to check this out. We tend to over eat during festivities and then not only weight but other issues crop up too.
The beginning of 2016 brought along minor health issues for me and that was an enough nudge for me to get on the track to be more careful about my health, not only in general but also exercise wise. I lacked motivation and winter time is not particularly good to gear up either with cold front, gloomy and shorter days.
I started researching on Fitbit and Garmin etc… The cost scared me. I didn't want to spend $100.00 plus on a small gadget. After much researching, I set my heart on Fitbit and asked Amit to order Fitbit for me. When he sat down to order, he browsed a bit more and found Elegiant.
It was $29.99 and with all the features. We thought why not give this a try and if it works, then good and if not, then Fitbit is there. So we went ahead and ordered Elegiant.
It has been almost 2 months that I am using it.
The excellent features of this gadget are
It obviously syncs to your smart phone through a downloadable app. The instructions come with the gadget.
It shows time.
It lets you set the goal of number of steps that you want to walk every day. I have made a goal of 10,000 steps a day and I keep checking my Elegiant and it motivates me to walk that much. As a result, I feel more energetic and more in control and in charge of my health. Keeps my heart healthy. Helps controlling my raised level of Tri-glycerides.
It records your sleep pattern on the app through Elegiant. I check that too and make sure that I sleep on time for a good heart and better health. It shows the deep sleep and light sleep pattern.
It has GPS to record your running and cycling also.
It has a camera synced with App and the phone.
Once synchronized through the Bluetooth, you get all your phone updates on the Elegiant, be it Facebook, what's app, Emails, texts etc.
For fashion conscious people, Elegiant comes in different colors.
I am not a person who likes to wear wrist watch but it is very light and has adjustable band.
It is my walking companion who keeps motivating me to do better next time.
Do check out the product and I am sharing it because I care for all of you, who are stuck in between making a decision between a Fitbit or any other gadget, and also for the people who lack motivation.
Now is your chance to take charge of your health and stay fit!
Taking my review of Elegiant to Angie's Fiesta Friday, co-hosted by lovely ladies Naina of Spice in the City and Juliana of Foodie on Board ! I am sure people love the review and find some missing answers to take charge of their health.
Sonal