Garlic and Basil Marinara, a wholesome and preservative free Pasta Sauce right at home!
As an Amazon Associate and member of other affiliate programs, I earn from qualifying purchases.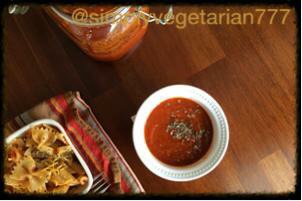 Tomatoes are dirt cheap these days and that too "on the vine" ones which are more juicy as compared to the other varieties. I have to admit that I am neither a marinara fan nor a big béchamel fan either. I like to mix both the sauces and reach the middle flavors for my pasta. That béchamel is next on my list that I can store for sometime just like this one.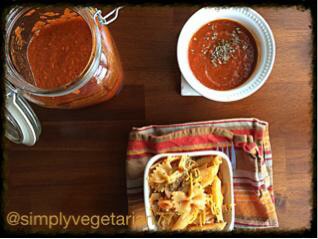 I am very happy with the results. It was smooth and silky. It was lighter in texture as compared to the store bought ones. Also, I got to play with the ingredients as per my family's taste. I wanted to add some red chili flakes but didn't since my girls are going to consume most of it and then I can always add those on the top.
Here is my take on the home made marinara !

Home Made Garlic and Basil Marinara Sauce
Ingredients :
Olive Oil : 3 tbsp.
Tomatoes : 8-10, medium size, chopped
Onion : 1 big, chopped
Garlic : 7-8 big pods, chopped
*Basil Leaves, fresh : handful, torn or chopped
Salt to taste
Black pepper powder : 1 tsp
*Brown sugar : 1 tbsp, you may skip it too but then the sauce will be tart.
Distilled Vinegar : 2 tbsp
Water : 1&1/2 cups + 1&1/2 cups
*Note :
1. If you can't find fresh basil leaves, then use 1&1/2 tbsp of dried basil leaves.
2. If you don't have brown sugar, then use regular sugar or for diabetics, use 1 tsp of sugar free additive.
Method :
1. Heat oil in a deep pan. Lower the flame to slow. Add chopped garlic and sauté till they turn slightly pink. Don't burn them.
2. Add chopped onions. Sauté till they are tender and pink.
3. Add sugar, chopped tomatoes, basil leaves, salt, black pepper powder and Distilled vinegar. Mix well. Add 1&1/2 cups water. Cover the pan. Simmer for 45 minutes to 1 hr on slow, till the sauce is reduced to less than half.
4. Take it off the flame. Let it cool to the room temperature. Once cooled, purée it in blender with 1&1/2 cups of water.
5. Put it back in pan. Heat it again and let cook for another half(1/2) an hour. Let it thicken and the raw water heat and mix well.
6. Cool it and store in a jar. Refrigerate it.
Disclaimer : It should stay well for a month in the refrigerator, if no wet spoon is used to dish it out!

The best part is that you can spice this sauce up as per your taste. Another great way to use this sauce is as Pizza sauce. A simple sauce with clean and direct flavors!