Garlic Cheese and Chives Biscuits
As an Amazon Associate and member of other affiliate programs, I earn from qualifying purchases.

It was a soup kind of Dinner yesterday! But you need something filling on the side so that you are not hungry in another hour and munching on chips later.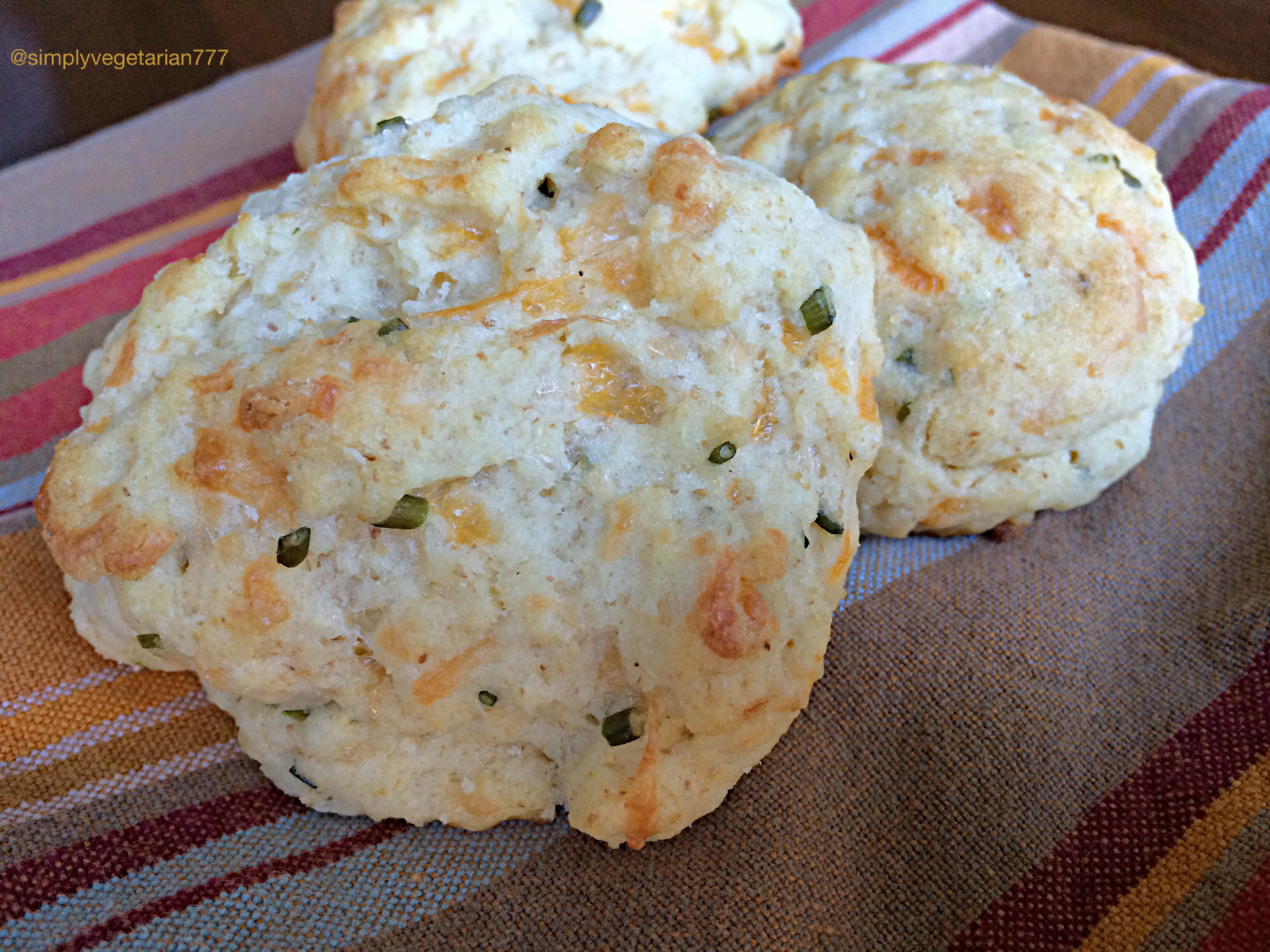 I had been thinking of making Cheese Biscuits for a while now. It's the quickest bread to assemble and bake. So flipped through a lot of recipes online and finally settled on one which I could easily adapt to ! Here is the Original recipe from Food.com by Alyx!
This is how I adapted and made!
Garlic Cheese and Chives Biscuits
Servings: 6
Difficulty: easy
Kitchen Equipments Required : bowl, fork or spatula, baking sheet, butter or parchment paper, oven.
Ingredients :
All purpose flour : 1 cup
Whole wheat flour : 1 cup
Butter, melted : 1/2 cup or 8 tbsp
Baking powder : 1 tbsp
Milk : 1 cup
Cheese, shredded : 3/4 cup. Cheddar preferred but I used a mix of cheddar, asiago, Queso.
Salt : 1/4 tsp
Sugar : 2 tsp
Garlic powder : 1/2 tsp
Chives, dried : 1 tbsp
Method :
1. Preheat the oven to 450*F / 220*C. Line the baking tray with butter or parchment paper.
2. Take a bowl and add flours, sugar, salt, baking powder, garlic powder and dry chives to it.
3. Stir in milk and melted butter and mix lightly with a fork to combine them together.
4. Add shredded cheese and mix lightly. Donot knead or press the dough hard.
5. Gently pinch the portions out as big as 2 tbsp or a small ice-cream scoop and drop on the baking sheet.
6. Bake biscuits for 10-12 minutes until golden on the edges.
7. Take them out and serve warm.
These are the most delicious, melt in the mouth and soft cheese biscuits ever. Went so well with tomato and vegetable soup. Or serve them for the appetizer along side of some garlic butter! Ah-some!
I am working in lighter version of these biscuits. 8tbsp of butter is quite an amount for 2 cups of flour and that too when I reduced it from 12 tbsp! Gosh :O . But indulgence is allowed when measured right ;).
Bake these for a dinner or take them for a picnic or potluck! You will be happy :).
Sonal