Grilled Bell Peppers (Capsicums) with Achari Paneer / Pickled Ricotta Stuffing
As an Amazon Associate and member of other affiliate programs, I earn from qualifying purchases.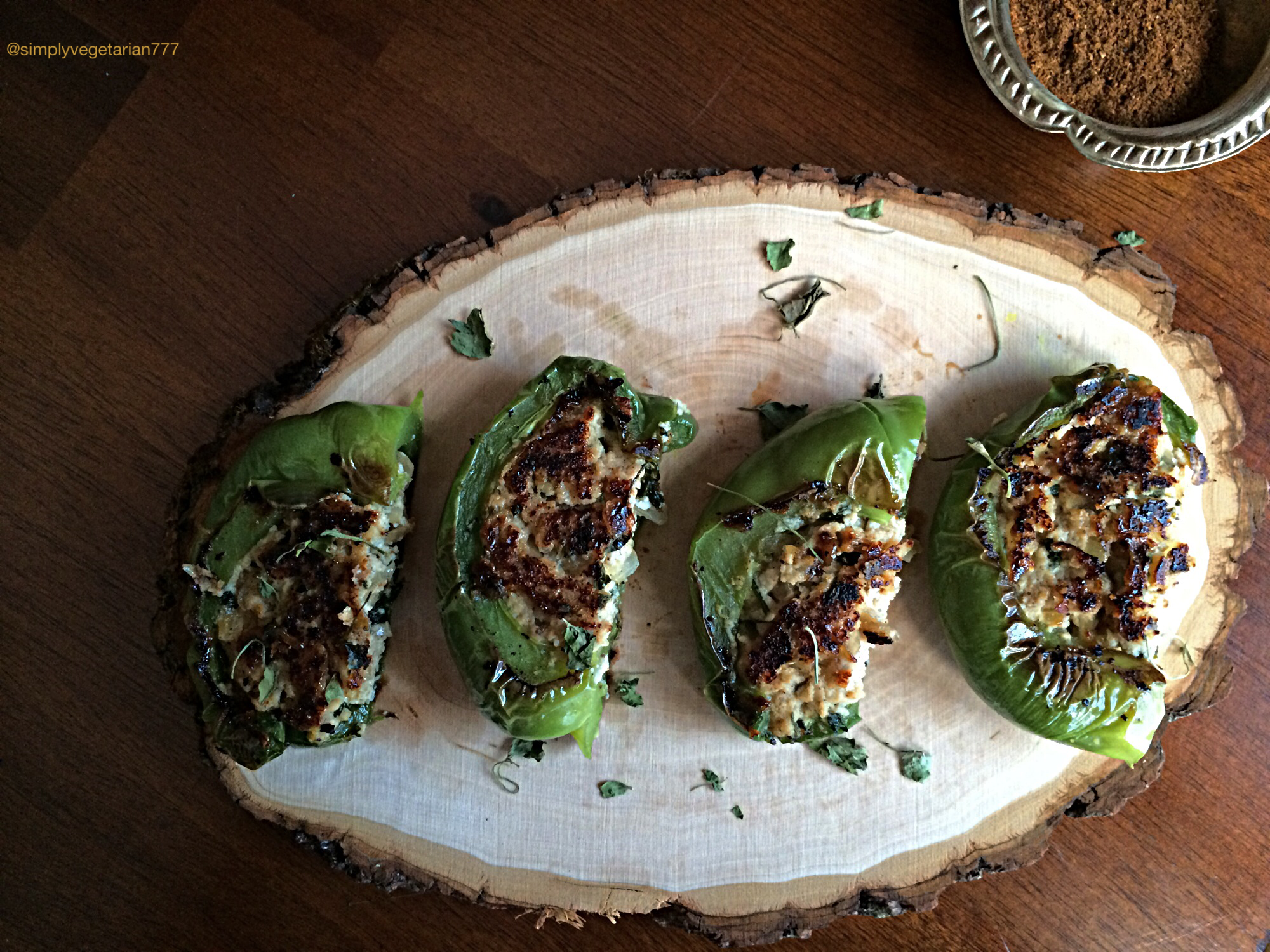 Just a few days ago, I saw these stuffed pan grilled bell peppers on one of the food forums called Experimental Cuisines, on Facebook ! Kirti had tried making my half n half tawa naan and had made some side dishes to go along with that including this gorgeous Paneer stuffed Capsicums, known as bell peppers in USA ! She has such a finesse in her cooking and love for her family reflects from her dishes. I thanked Kirti for posting it and promised her that I would make the Stuffed bell peppers soon and relive some old golden memories.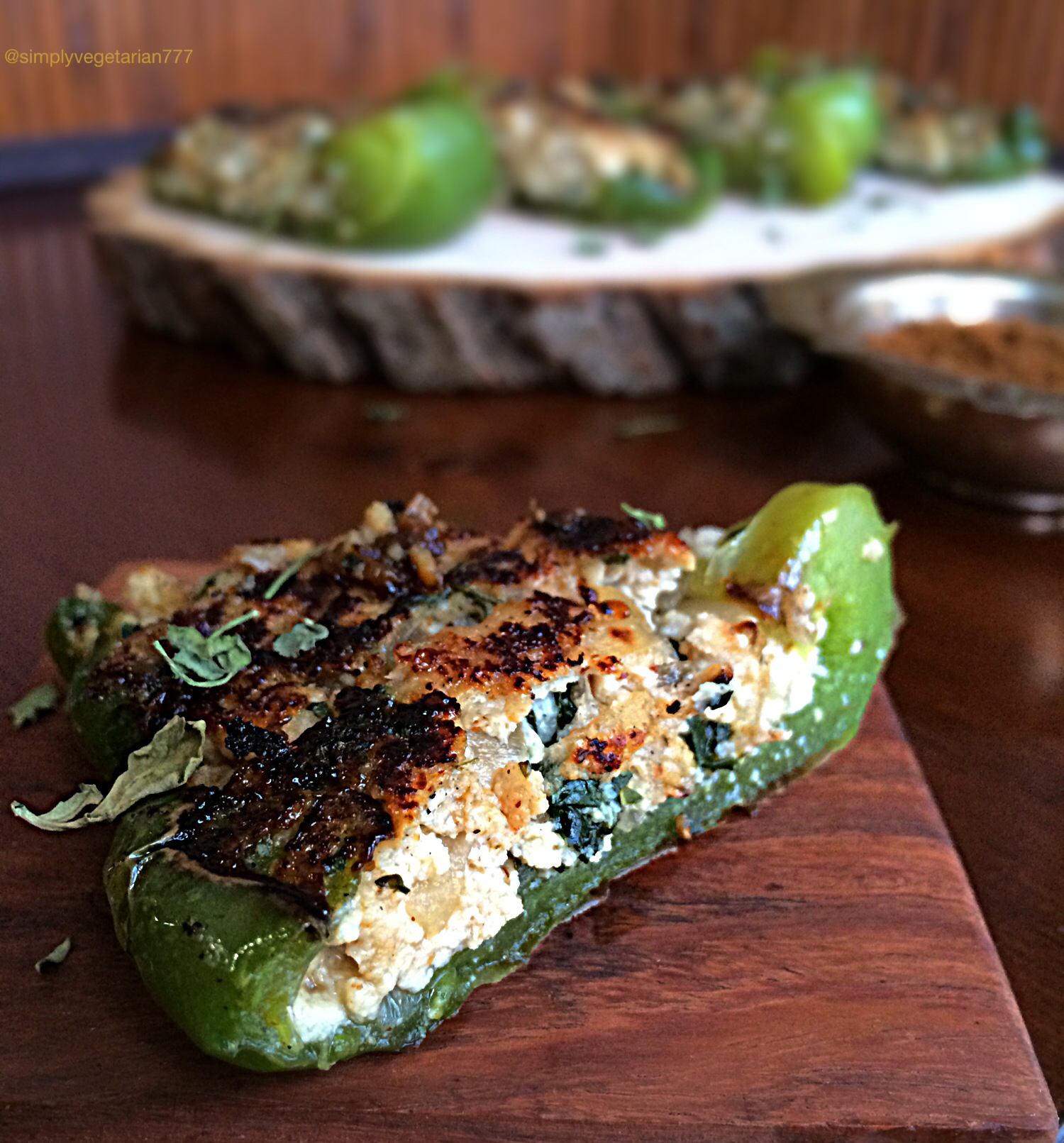 While doing the preparation, I remembered of the Achari Spice Blend that I had recently prepared inspired from Sarika's Achari Spice and Farrukh's Achari Spice blend! I thought of spiking my stuffing with it and voila, the result was outrageously delicious. I swear! So much so that I cooked just one bell pepper and I finished it all ;). It was that good.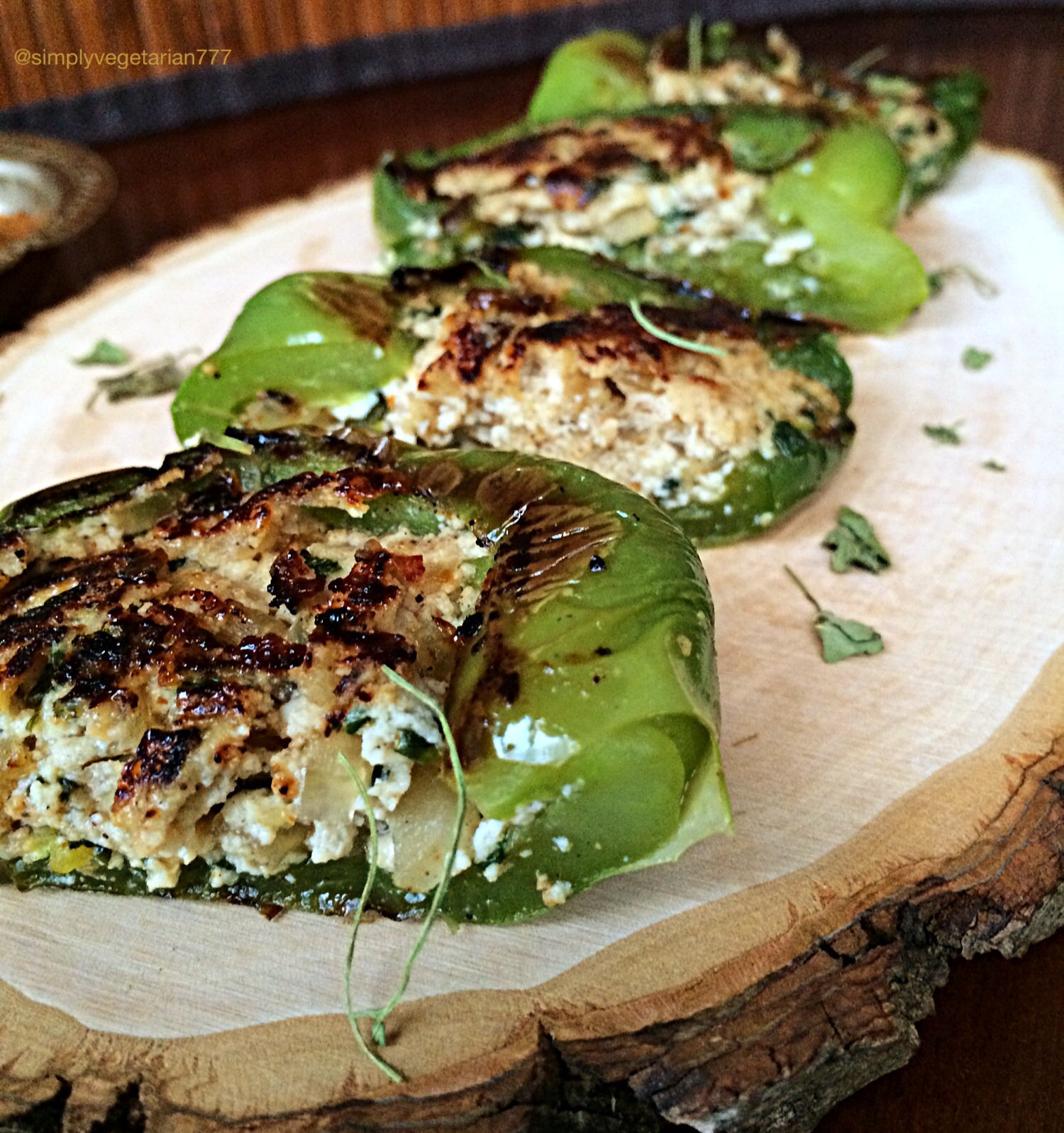 Get started now !
Ingredients :
Bell pepper : 1 medium
Ricotta or Paneer : 1/4 cup, grated fine
Ginger : 1/4 tsp, minced
Onion : 1/3 cup, chopped fine
Cilantro / coriander leaves : 2 tbsp, chopped fine
Kasuri methi : 1/2 tsp
Achari masala : 1/2 tsp. You may use any curry spice blend in case you don't want to use the Indian pickle blend or may be use the spices of your choice!
Salt to taste
Oil : 1/2 tsp + a spray
Method :
Making the stuffing :
Take a hard anodized or non stick pan. Heat oil in it. Lower the flame. Add onions and ginger to it. Sauté the onions for 2-3 minutes. Add cilantro leaves, Kasuri methi, salt and masala. Mix well. Now add grated paneer or ricotta to the pan. Sauté for another 2 minutes on low flame.
Preparing the Dish :
1. Wash the bell pepper. Wipe it dry. Cut in half from stem to bottom. Clean seeds and vines from inside. Fill the cups with the stuffing equally.
Take a microwave safe plate. Microwave the stuffed bell peppers for 3 to 4 minutes.

Heat the same pan again. Spray it lightly with oil. Place the softened bell peppers bottom side down. Grill for 2-3 minutes on. Medium lower flame. Turn it carefully with stuffing side down. Press the top gently down so that the stuffing can grill. Lower the flame and let it cook like that without touching for 1-2 minutes. Switch off the flame.

Take a flat spatula and very carefully slide it under the grilled capsicums and pick these up. Place them on a platter, stuffing side up.
Serving suggestion :
Slice them or serve them as is while hot!
These can be served as a side with the main meal or can be served as an appetizer as well! For more handle safe appetizer, use smaller baby bell peppers and follow the steps. Microwave time might differ for small bell peppers.