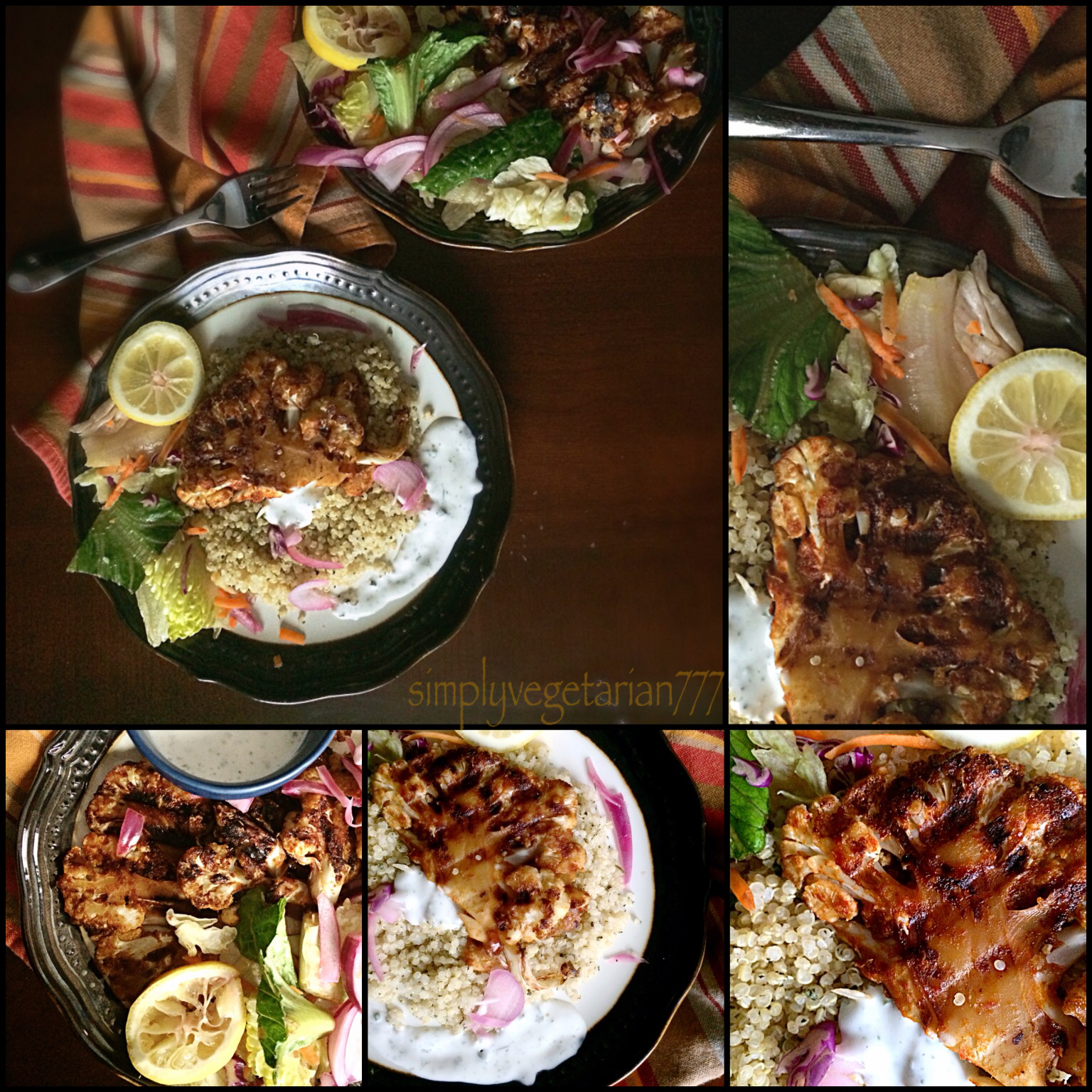 Meatless Monday calls for a full meal sometimes. Grilled Cauliflower Steaks in Home Made Buffalo Sauce, served with Mint Quinoa and Parsley Chives Yogurt Dip is one such meal! Firey, Grilled and perfect for summers.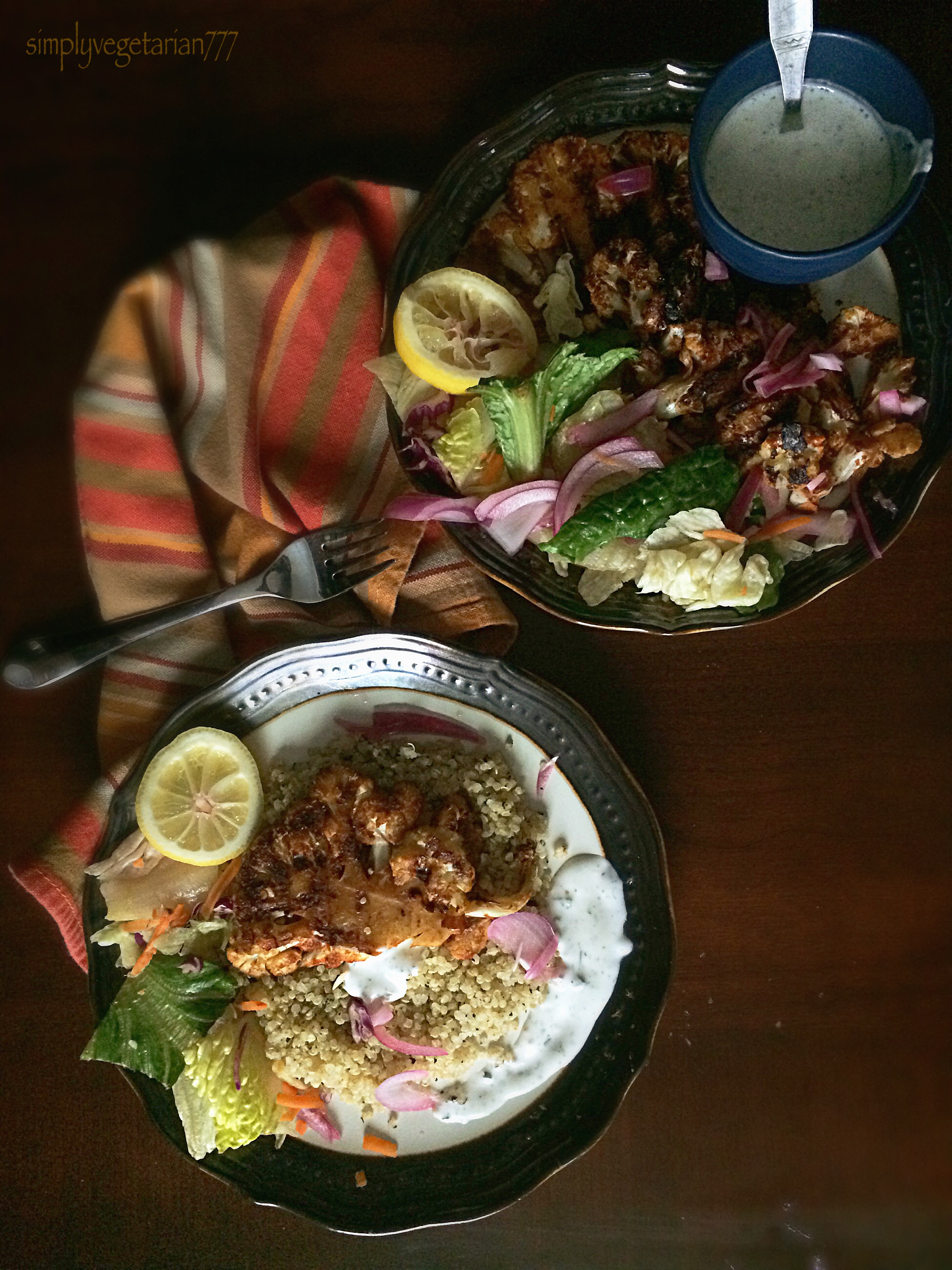 Cauliflowers when grilled with hot buffalo sauce become juicy and succulent. Minty Quinoa along with cooling yogurt dip is a perfect compliment along the side of firey cauliflower steak.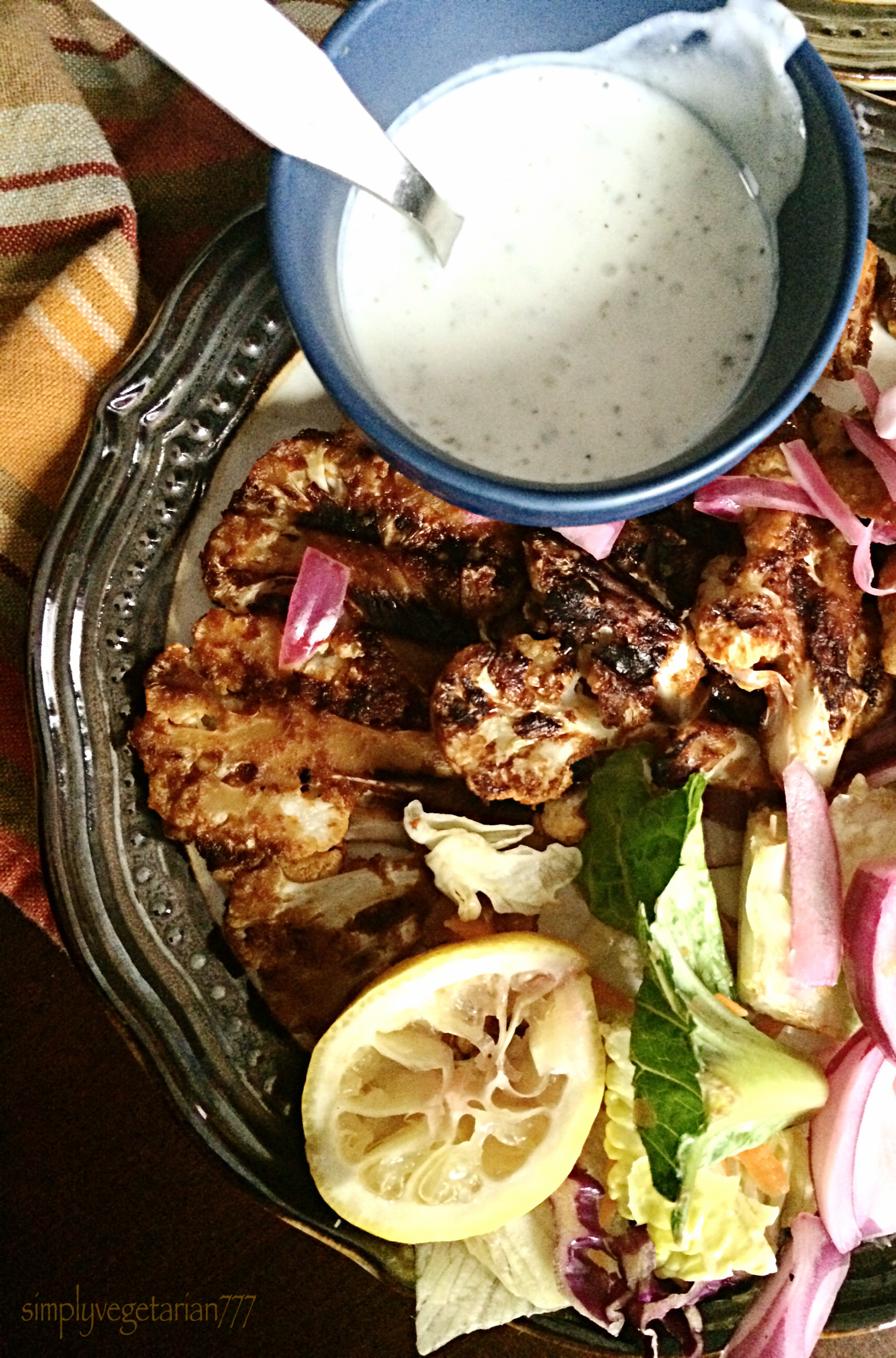 Let's get cracking to this meal. It is really easy to put it together.
Grilled Cauliflower Steaks in Home Made Buffalo Sauce, served with Mint Quinoa and Parsley Chives Yogurt Dip
Servings: 2
Difficulty: easy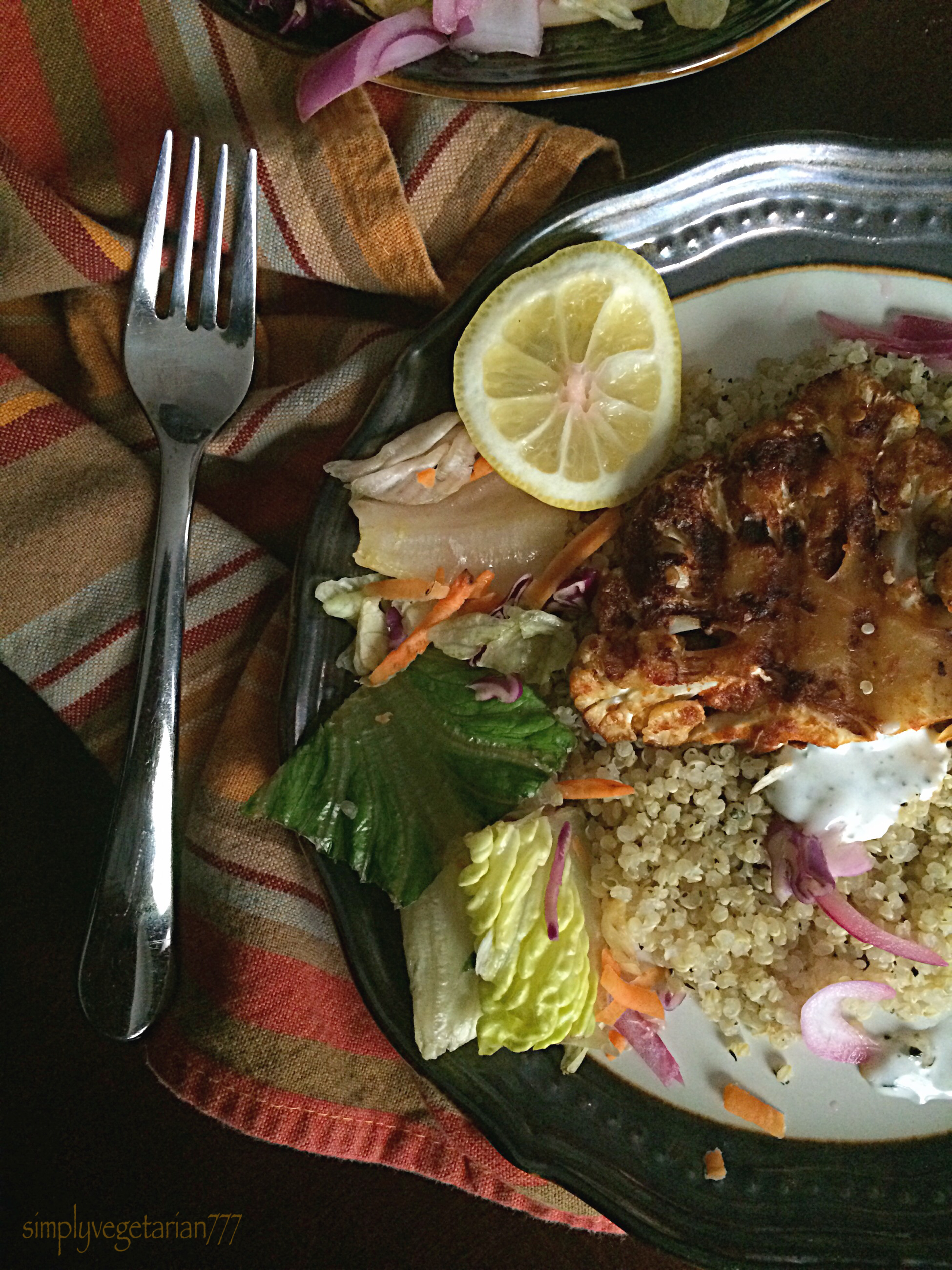 Home made Vegeatrian Buffalo Sauce – This sauce is native to the city of Buffalo in New York state of USA, invented in a bar to give a new spin to chicken wings. It is my take on this fired up sauce.
Kitchen Equipemnts Required
Microwave safe bowl and Blender
Ingredients
Dry Red Chillies, whole – 4
Garlic cloves – 2 big
Distilled white vinegar – 1 tsp
Soy sauce – 1 tsp
Kashmiri lal mirch powder or fancy paprika – 1 tsp
Salt to taste
Hot water – 3 tbsp
Butter, cold – 1/2 tbsp
Method
1. Take a microwave safe bowl. Add water and dry red chillies to the bowl. Microwave for 1-2 minutes. Bring out the bowl and add rest of the ingredients to soak in hot water along with chillies, besides butter. Soak for 10 minutes.
2. Take the blender and add all the ingredients from the bowl to it along with cold butter. Blend till it is smooth. Buffalo hot sauce is ready.
Grilled Cauliflower Steaks
Kitchen Equipments Required
Chopping board, knife, electric grill or you may grill in the pan too.
Ingredients
Cauliflower Steaks – 4 steaks, half inch thick. From steak I mean, flat thick slab of cauliflower cut from in between.
Hot Buffalo Sauce – 2 tbsp
Method
1. Slather the hot buffalo sauce on both sides of the cauliflower slabs.
2. Heat the electric grill to medium high. Place the cauliflower slabs on the grill. Cook from each side for about 5-6 minutes each, till caramelized. Cauliflower Steaks are ready.
Mint Quinoa
Method
1. Toss 1 cup of cooked Quinoa with some finely chopped mint, lemon juice and salt. Mint Quinoa is ready.
Parsley Chives Yogurt Dip
Method
1. Take the blender. Add 1/2 cup thick yogurt, salt to taste, 1 tsp chopped parsley and 1/2 tbsp chopped chives to the the blender cup. Give it a quick churn and dip is ready. Yogurt Dip is ready.
Serving Suggestion
Take a plate. Layer 1/2 cup of mint Quinoa on it. Layer with Cauliflower steaks, some yogurt dip, lemon slice and some fresh garden salad on the side.
Enjoy a complete meatless meal on Monday!
Sharing this yummy lip smacking delicious meal at Angie's Fiesta Friday, co-hosted by J & J team aka Josette and Julie !
Sonal