Guest Post by Elaine Boddy : Roasted Aubergine/ Eggplant Salsa and Roasted Butternut Squash & Cauliflower Dip
As an Amazon Associate and member of other affiliate programs, I earn from qualifying purchases.
Ah! Elaine who blogs at foodbod is simply amazing. Her honesty and sincerity reflects through her work…simple, useful, creative and most of all so so so flavorful. I always have loved middle eastern food but never thought of cooking at home. I met Elaine, I don't remember when but feels like a loooooong time back….and she hooked me up to try cooking middle eastern flavors at home. Every time, I click to read her posts…there is a magic and excitement to see what she has done with her vegetables today. If I call her Dips Geenie, then I am not exaggerating ;). I am calling her genie because of the middle eastern tones in her food. It seems like a colorful flavorful middle eastern soul trapped in a British Body :))). Elaine, loads of love for giving us all an out of body experience too ;).. You rock Girl! She says," I am a Balaboosta and am proud of it :))". You have to ask her the meaning of Balaboosta. I want her to explain it to you all :).
Some of her lovely flavorful posts are :
Marinated Cauliflower Homous and Chermoula Baba Ganoush
Crunchy Nutty Dukkah
Goodness Balls
And Much More!
Now off to Elaine, as she says it !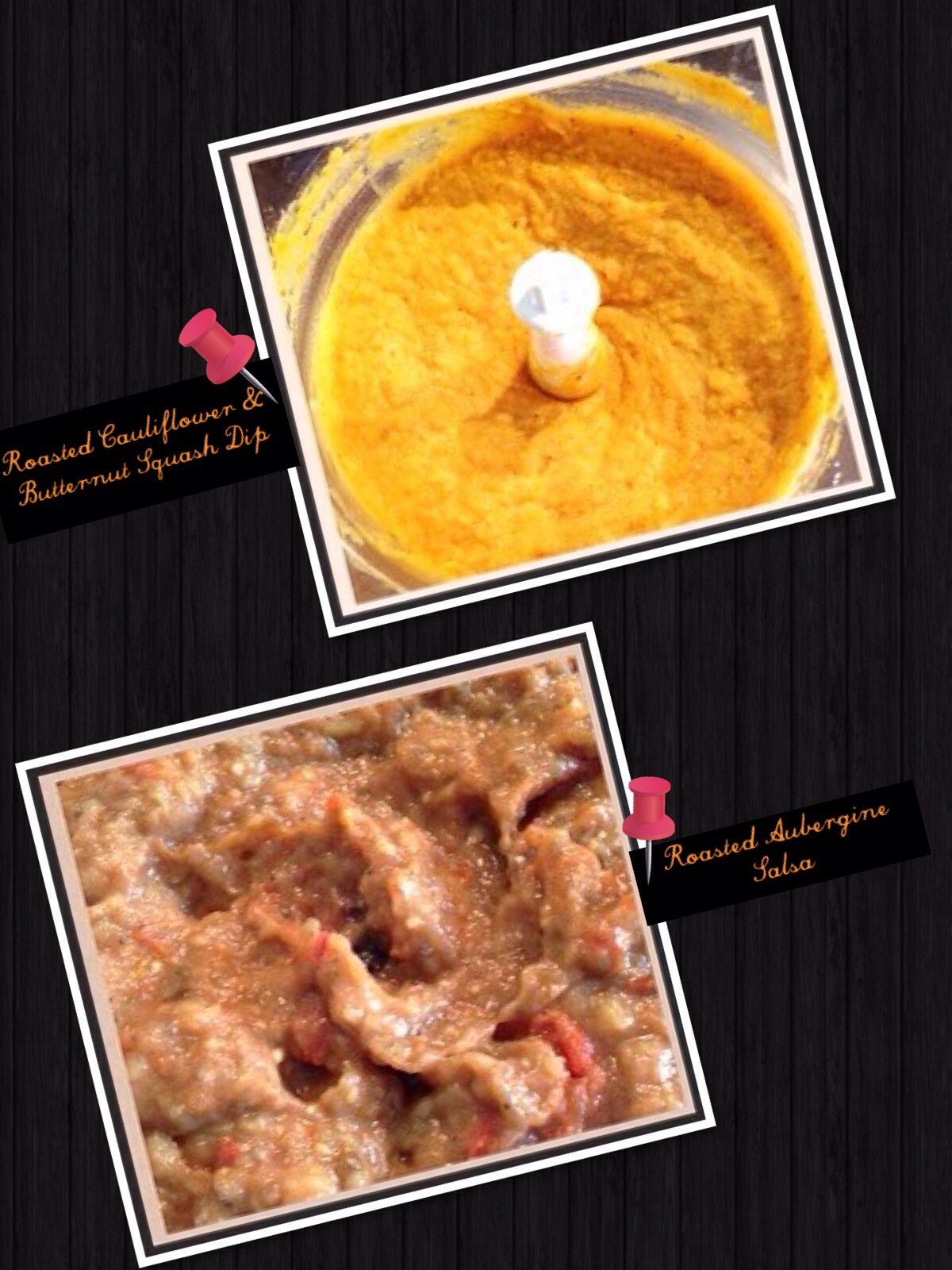 I love to eat food that feeds my body and my mind; I only eat things that I know I will enjoy and that will ensure that I feel good about eating it mentally and physically. I love fresh, tasty, flavoursome food; I love to feel healthy and nurtured. I hope you like these couple of simple dips..
I like utilising my oven; if it's on, I roast or cook as many things as possible in one go and make the most of the power; last week I was already roasting butternut squash and a whole cauliflower broken into florets and drizzled with olive oil, and I looked around me in the kitchen to see what else inspired me; I grabbed what was in front of me and roasted a couple of whole aubergines, a handful of baby plum tomatoes and a whole bulb of garlic cloves and drizzled liberally with olive oil too.
Roasted Aubergine/Eggplant Salsa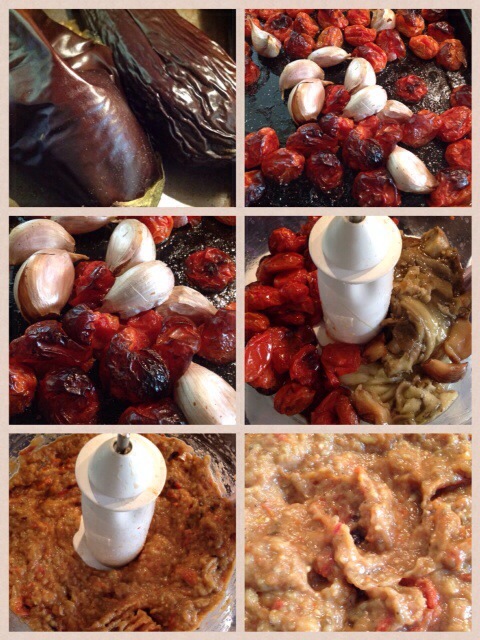 I peeled the roasted aubergines, and mashed the flesh then whizzed mashed eggplants, roasted baby plum tomatoes and some garlic up in a blender, and added some salt to create an aubergine salsa! It was fresh and full of flavour and so simple!!
The best bit was not blending it too much so it stayed chunky and every so often biting into a big chunk of sticky lovely roasted garlic clove.
Roasted Butternut Squash & Cauliflower Dip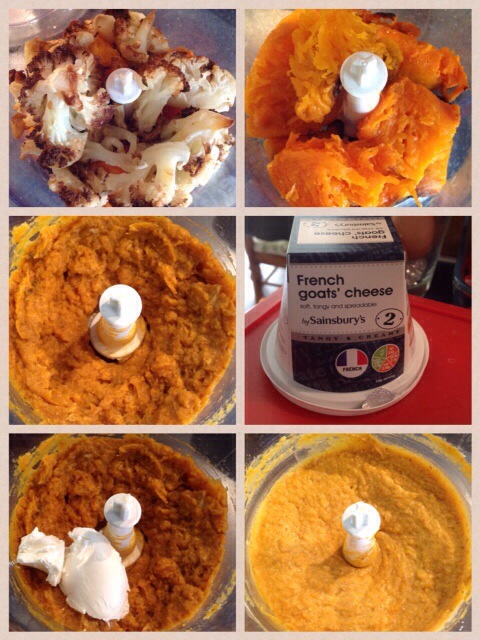 With the butternut squash and roasted cauliflower (with what I had leftover once I'd eaten half of them!), once they had cooled I blended up an equal amount of the squash and the cauliflower and added some soft goats cheese to the mix, which was equally tasty!! I've made a dip before with heavier goats cheese and roasted butternut squash and it was really very rich, so my idea with this was to tone the richness down with the cauliflower and it worked.
I love a pile of salad leaves topped with various dips like these, I use them almost like thick dressings to create great big bowls of healthy, fresh loveliness 🙂
My Tag : The best part about Elaine's dips, is that you can add any kind of flavoring to these dips to personalize them. Enjoy !