Guest Post by Sujatha : Beans Usili
As an Amazon Associate and member of other affiliate programs, I earn from qualifying purchases.
Phew last week was so very busy that for me the March is already over :). But the fact is that March is stretching long. The spring break is around the corner and I am still discovering some new bloggers who are so sweet and so talented. I met Sujatha at a Facebook forum called Chef at Large. We clicked instantly and had a chance to have a good chat over the phone. She is sweet, she is shy, she is simple and she is talented :). She blogs from www.blogger.com at Spices n Treats. Such a talented photographer she is, that her work speaks thousand words. Do visit her when you get time :).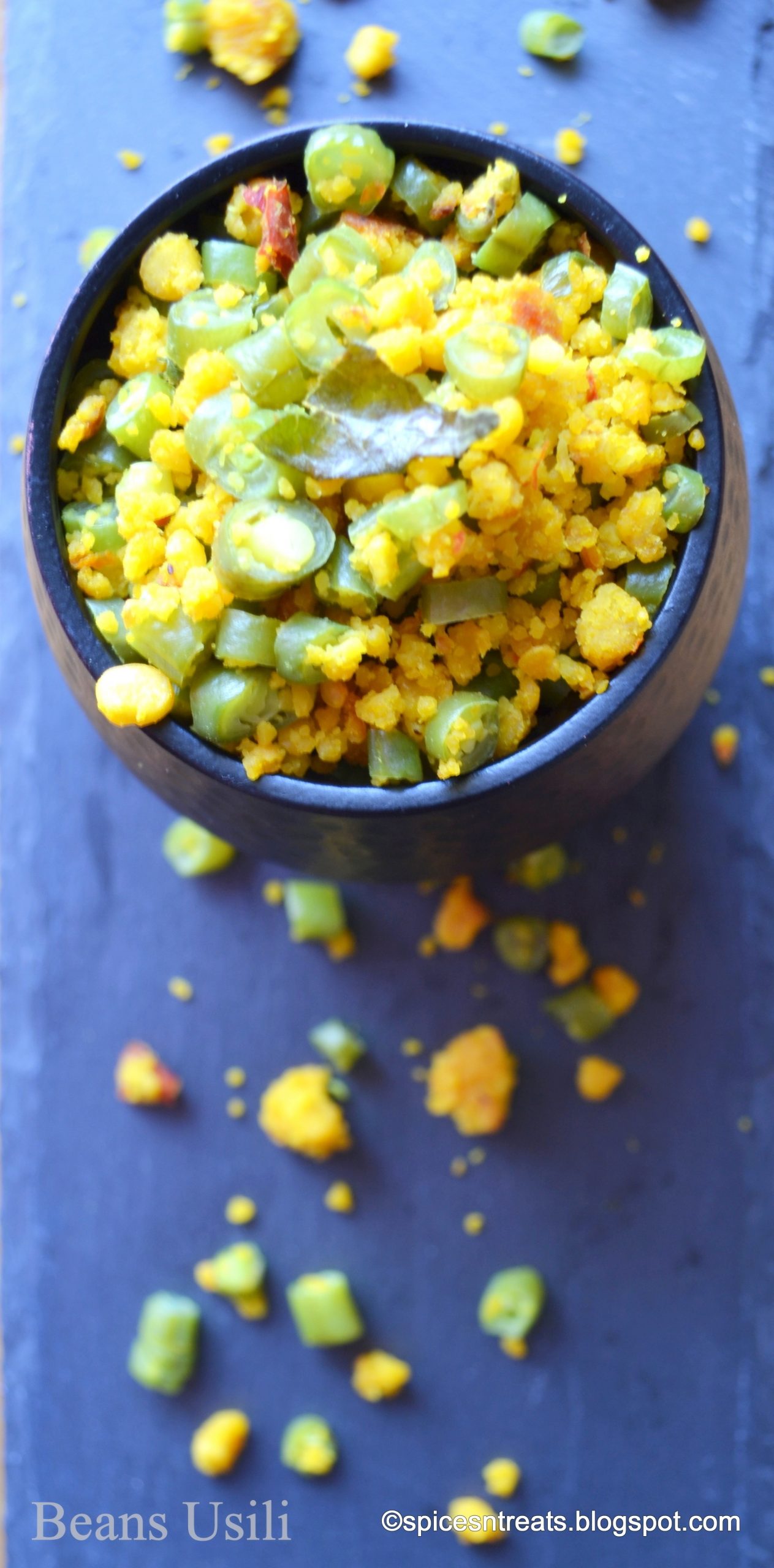 Isn't this a gorgeous capture of light, colors and the dish :).
Now over to Sujatha, as she says it !
I'm Sujatha. A complete home maker, after 6 years of IT. I'm from a family where food is a top most priority. Eventually I started learning new cusines and varieties. It is fun to make your own twist to a traditional recipe and make it my signature dish. When I got appreciation from family and friends,I gained some confidence. Now, I'm happy to have my own blog. The idea of having a blog just happened on Jan 10,2014. So I have made my baby steps on blogging.
Reasons for blogging
I can have a digital book of my recipes.
Share my recipes to others who are in need.
To tell people that Indian recipes are not at all complicated but simple and fun.
In today's world,where everybody goes towards fast and faster and fastest food, I want to show people that cooking food on your own is easy and very healthy too.
If,I can inspire some one to cook , that would be the best reward for me.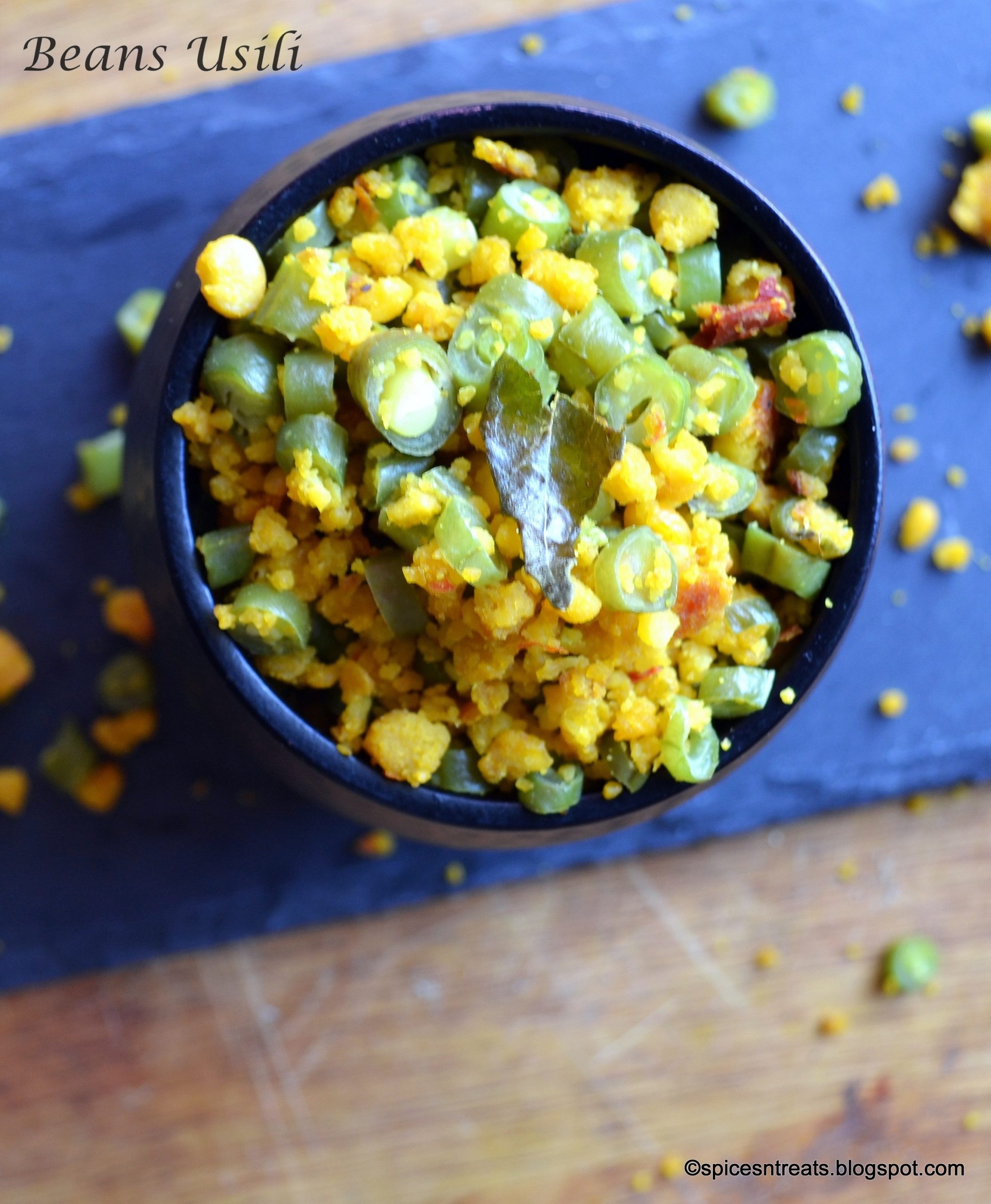 I'm so happy and excited to do guest post here as this is my first experience of this kind.
We all are connected beyond boundaries for one reason,yes it is FOOD. With that common interest as my spoon I'm here to feed you all a very traditional recipe from Tamil Nadu called 'Usili'.
It is a simple ,yet very nutritious and tasty item in most of the Tamil marriages.
Usually it is done with green beans or cluster bean but choice of vegetable is yours.
Ingredients :
Green beans 11/2 cup (Finely chopped)
Split Bengal gram 1/2 cup
Dry Red Chillies 3
Turmeric Powder 1/4 tsp
Asafoetida 1/4 tsp
Salt To taste
Tempering :
Oil 2 tsp
Mustard Seeds 1/2 tsp
Split Urad Dal 1/2 tsp
Curry Leaves 1 sprig
Method :
1.Soak Bengal gram for an hour along with dry chillies.
2.Grind soaked Bengal gram , red chillies, Asafoetida, turmeric and salt and some water (2 tbsp) to a coarse paste.
3.Boil the chopped green beans with very little water and little salt for few minutes so that it is cooked but still crunchy and set aside.
4.Heat oil in wide pan and add mustard seeds.
5.When mustard starts crackling, add the rest of the tempering ingredients.
6.Now add the coarsely ground paste and continue to stir continuously and cook in medium flame.
7.Slowly you will see the Bengal gram starts to form a mass and try to break them into tiny pieces.
8.This will take around 15 minutes but keep stirring and breaking the pieces into tiny balls and crumbs.
9.The size of the crumb should resemble petite green peas.
10.The end product is called Usili in Tamil.
11.Now add the cooked green beans and mix well.
12.Give it a taste and adjust if you need some salt.
13.Simmer and cover and cook for 5 minutes.
Traditionally this dish is served with Mor Kuzhambu but you can also enjoy with Kadhis too.
Serve it as a side dish for rice or enjoy with roti.
Note :
You can try this recipe with long beans / cluster beans/capsicum too.