Guest Post : Chop Suey by Jhuls of The not so creative cook
As an Amazon Associate and member of other affiliate programs, I earn from qualifying purchases.
Jhuls! Jhuls! Jhuls! She doesn't need an introduction. Does she ? Bubbly, cheerful, happy, naughty, talkative, and super creative blogger! More so a fantastic person and a dear friend :). She blogs from The not so creative cook. Don't get fooled by her blog's title. She is one mighty cook and a creative one too :D. I love her Tricky Tuesdays, where she talks about different kitchen tricks, cheat sheets, short cuts and common mistakes that can be taken care of. So so so informative. Another of her series is Introducing New Bloggers, where she introduces new bloggers every week to her community. That needs a big heart and lot of reading to introduce new people without fail. Hats off to you for that Jhuls :).
I just adore her. The moment I asked her to do a guest post for me, I think she fainted out of pressure ;)…lol ! A carnivore suddenly goes weak because of no meat on her plate ;)… Lol! Sorry Jhuls, I am laughing. Whenever we interacted after that, she wouldn't forget to mention that "she was working on the post" and then I realized that it wasn't fair on my part but what did I know? Awwww, Jhuls, sorry darling but a big hug to you for this fantastic post :).
Now off to Jhuls, as she says it !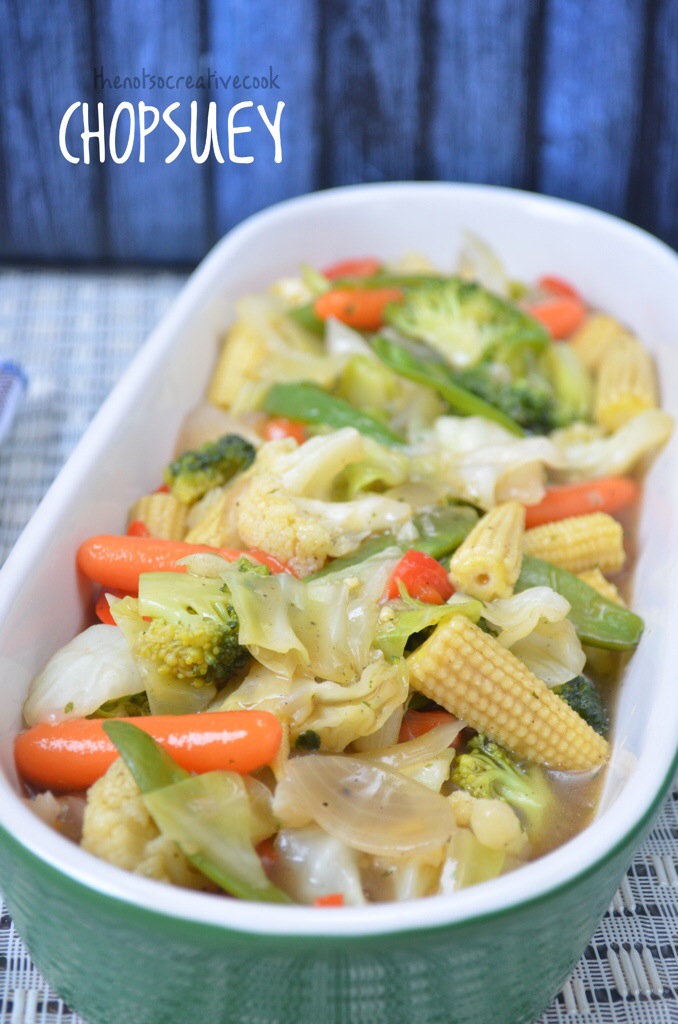 It is such an honor to do this guest post on your wonderful blog simplyvegetarian777, Sonal.
Sonal creates such wonderful meals and she is beautiful inside and out. She always leaves you comments that will keep your day brighter. She inspires many of us by her encouraging words and healthy meals.
I am so happy to be doing this post today. And guess what? This is my first guest post. Since the day Sonal talked to me about doing a guest post, I never stopped thinking of what to make for her lovely blog. NO, I did not (literally) dream of what to make. But as soon as I wake up, I always ask myself 'Okay, what to make for Sonal?'. The first choice did not work, so I had to move to the next. But I skipped and moved to the third one. Well, the third one was perfect. The photos were not. (Maybe, I will have the chance to post them in the future.)
Anyway, let's forget about the unsuccessful attempts and photo shoot as I present you this – CHOP SUEY. First, I want to give a BIG THANK YOU to my friend who suggested this meal. If Sonal bugged me on my guest post, I am also bugging my friend for suggestions. 😀 I kept on telling her what I want to make and I also tell her that those were not worth to be posted (because they did not turn into what I expected of them). So this was her first suggestion and I wanted to hug her for that. Ahh! Brilliant idea for a vegetarian blog, I said. 😀 She even asked me to cook this for the longest time, but I don't know why I haven't done it.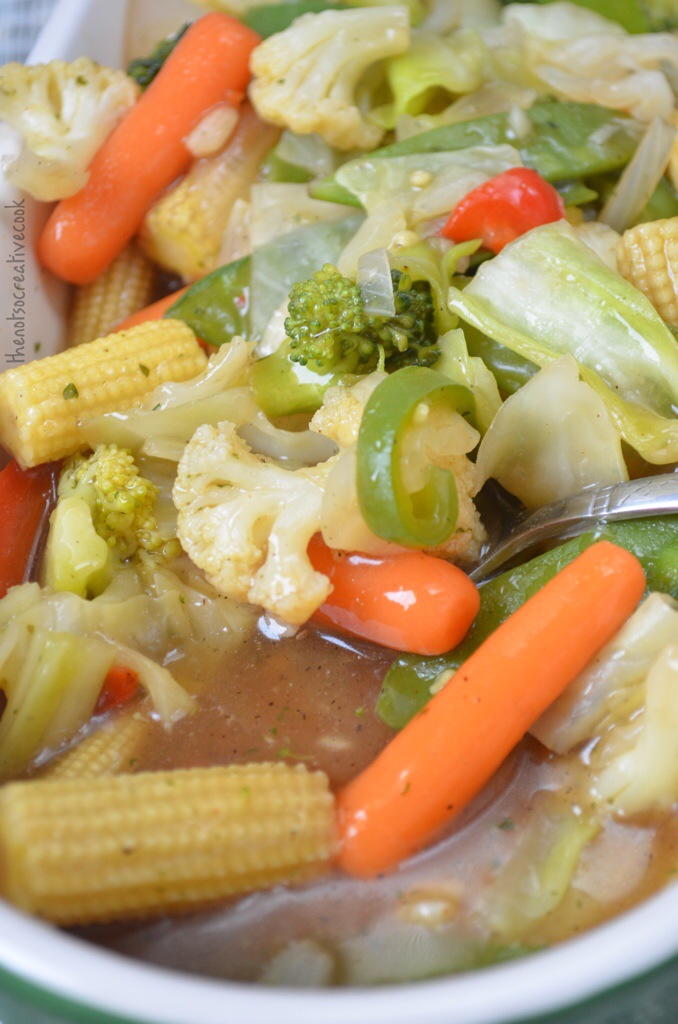 Now, about this meal… CHOP SUEY is a common food in the Philippines. From the start, I thought it's 100% Philippine dish. I just found out from my dear friend, Google, that CHOP SUEY is an American-Chinese dish which literally means 'assorted pieces' (in Chinese). This dish can be a complete vegetarian, or one can simply add choice of meat. But since this is for my lovely friend, Sonal, I decided to omit the chicken from the recipe and I believe this is 99% (if not 100%) vegetarian. I am not a vegetarian, so I don't know how does complete vegetarian meal goes.
CHOP SUEY RECIPE
Ingredients:
½ cup broccoli florets
½ cup cauliflower florets
½ cup cabbage, chopped
½ cup carrots, sliced
½ cup baby corn
½ cup snow peas
½ cup green bell pepper, sliced
½ cup red bell peppers, sliced
2-3 cups vegetable stock
3 tbsp soy sauce
2 tsp pepper
Salt, to taste
3 cloves garlic, chopped
1 medium onion, sliced
2 tbsp cornstarch dissolved in ¼ cup water
*2-3 pieces vegetable cubes dissolved in 2-3 cups water can be used in replacement of 2-3 cups vegetable stock. If you are a 'saucy' person, you can make it 3 cups, adjust the seasoning (salt and pepper), but make sure not to add too much soy sauce (if using soy sauce) |
Instructions:
Sauté garlic and onion in hot oil. Add all veggies except the bell peppers and cook until tender (about five minutes).
Note: If using baby carrots, cook them before the other veggies as baby carrots need longer time to cook.
Also, add the vegetable stock and soy sauce in this step.

Add the bell peppers and cornstarch slurry (2 tbsp cornstarch dissolved in ¼ cup water). Turn off the heat when the sauce has thickened.

Season with salt and pepper. (I didn't find the 2 tsp of black pepper that spicy, so you may add more or less.)
Jhuls
I hope you guys had fun meeting my bubbly friend Jhuls. Let us know of you try it :). I surely going to try it soon :).
Sonal