Guest Post : Confused Bawarchis present Avocado Chocolate Pudding
As an Amazon Associate and member of other affiliate programs, I earn from qualifying purchases.
I had been lucky that I have made quite a good number of friends in blogosphere. Or if I may say, whoever I connected with, became a good friend and my strength.
I don't remember when I came across Aditi and Nikhil aka Confused Bawarchis. What I remember is that the connection was immediate and admiration was mutual. A super duo of a husband and a wife who blog together….isn't that awesome! Where, Aditi is a well cautioned and dessert queen in the partnership, Nikhil is the adventurous and savory king amongst the duo. One writes and another clicks! Beautiful relationship that comes through a blog as a great team and harmony!. Their beautiful pictures, heartfelt writing style, very urban feel to the posts is beyond description. What I like the best is their effort to go that extra mile to try something new, breaking out of their comfort zone and add their own zing to it! I can go on and on but I will let them speak now ;).
Off to Aditi and Nikhil, as they bring their beautiful guilt free dessert! Yes a dessert that is guilt free and healthier. :).
Avocado Chocolate Pudding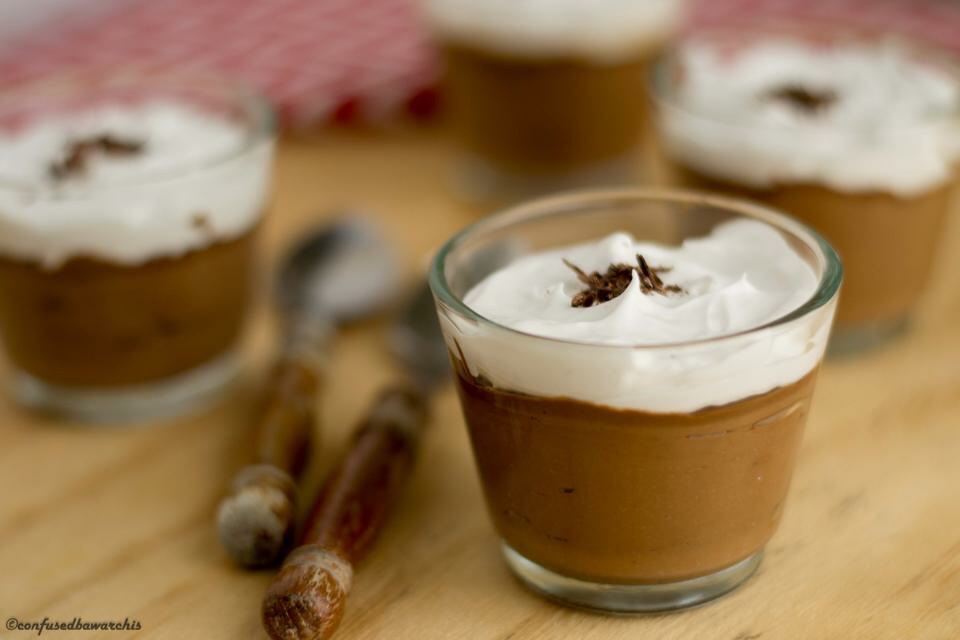 We were extremely excited about writing a guest post for Sonal at simplyvegetarian777. When we started blogging we had no clue what we were getting into or what we were doing. Her blog was one of the first that we started following and reading and she was one of the first few people who we started interacting with in what we all call the "blogosphere". Her blog was like a guide for us to get better at blogging, writing and staying in touch with fellow bloggers. And wait did we mention how small the world is- we realized much later that we live in the same city.
When we first explored Sonal's blog we were super impressed with the vegetarian spread she laid out. We are not big meat eaters as such but we used to struggle with thinking of different vegetarian options and Simply Vegetarian made us realize that a lot can be done. Thank you, Sonal for that and making us feel comfortable around here.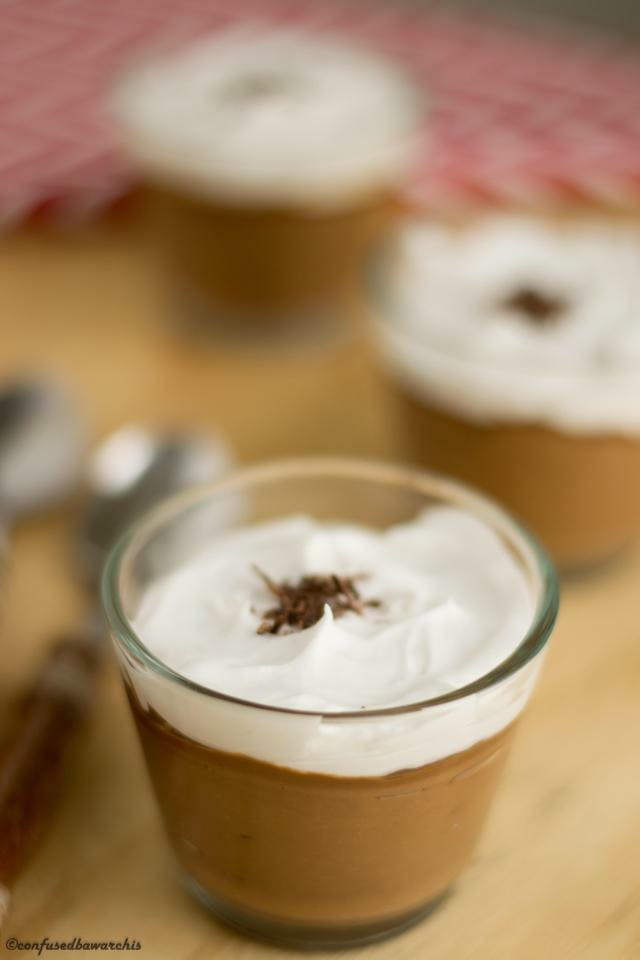 Now getting to business. We had to get something special for Sonal's post and here we are with a super creamy and delicious Chocolate Pudding. Sounds too easy and simple right? Well, it is. But it is your good old chocolate pudding with a slight twist- it's healthy and the actual pudding has no added sugar. We did indulge with a teaspoon of sugar for the coconut cream that we dolloped but we think that's allowed.
Being around here with so many blogger friends has made us realize that as much as we love indulging in all the goodness, it is very important to stay healthy and in check. We won't deny we don't eat grilled cheese sandwiches and sugar-laden cheesecakes but once in a while we do try and come up with healthier versions of our favorite foods too. So we've made this Chocolate Pudding with avocado, bananas and of course chocolate and no one (but you) who has it will know how it got so creamy and healthy!
Here is how we made it

Ingredients :
For the Pudding
1 ripe avocado
2 ripe bananas
juice from one orange
a couple drops of vanilla essence
¼ cup Greek yoghurt (or sour cream or regular yoghurt), optional
2 tablespoons honey (or maple syrup)
½ cup semi-sweet chocolate (or any other chocolate of your choice)
¼ teaspoon instant coffee powder
½ teaspoon orange zest
For the coconut cream
1 can chilled full fat coconut milk (don't worry you won't be using all of this)
1 teaspoon of sugar
a few drops of vanilla essence
Directions :
For the Pudding
Scoop out the avocado and get the bananas out of their skins and place them in your blender.
Add orange juice, vanilla essence, honey and Greek yoghurt and blend all these ingredients together until they form a smooth creamy paste.
In the meanwhile, melt the chocolate chips over a double boiler together with the coffee granules and allow this to cool.
Mix the melted chocolate with the avocado banana mix and add in the orange zest and blend everything well. There- your healthy chocolate pudding is ready.
Put these in cups/ bowls of your choice and chill them in the refrigerator for at least half an hour (or longer).
For the coconut cream
Make sure the can of your coconut milk is absolutely chilled.
Take it out and place it upside down and open the can.
You'll notice opaque thick creamy fat from the coconut milk settled (or some of it sinking).
Take about 2-3 tablespoons of the coconut fat and place it in a small bowl together with the sugar and vanilla essence. Keep the rest of the coconut milk in the refrigerator for later use.
Using a hand mixer, whip it the way you would usually whip cream. Do this for about 4-5 minutes until it's nice and fluffy and dollop these over your prepared chocolate pudding.
Don't worry about the taste of the coconut in the cream, the subtle flavor of the coconut works really well with chocolate and you'll be amazed at how great it tastes. You could of course use regular whipped cream in place of the coconut cream as well.
Notes
1. You could make this vegan by omitting the Greek yoghurt altogether. It will still be as creamy without it.
2. To make it even healthier, in place of the semi-sweet chocolate chips, you could use raw cocoa powder. We have tried this but we felt the raw cocoa makes it a bit bitter.