Holi Recipes Collection – 2016
As an Amazon Associate and member of other affiliate programs, I earn from qualifying purchases.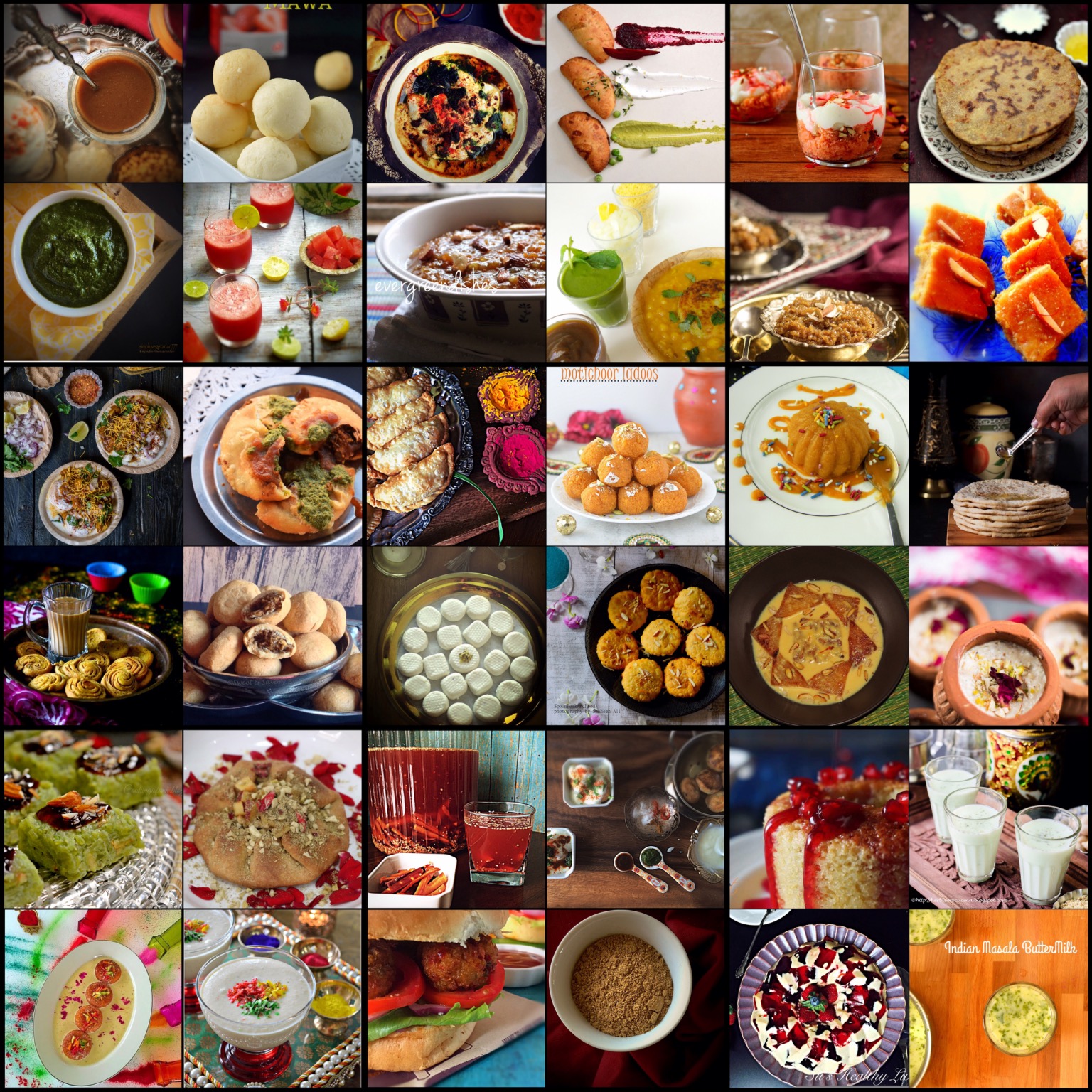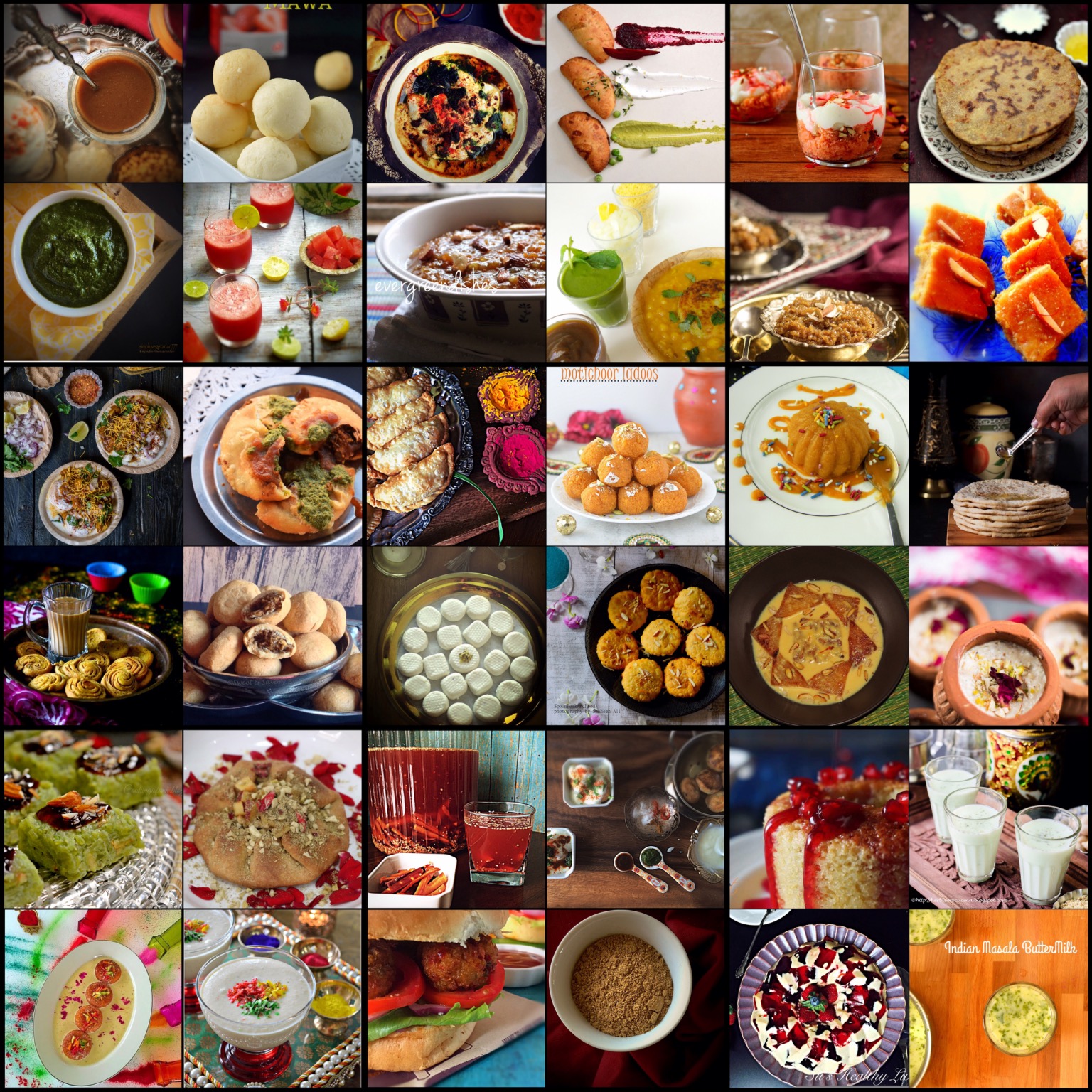 Are

you

ready

for

Holi

Recipes

Collection –

2016

?

If

yes,

say

H
O
L
I
H
A
I
!
!
!
!
!
Holi is around the corner and the Indian households are getting ready to celebrate it with lot of oopmh and pomp amidst all the laughter, fun and the gorgeous food. It is often said and believed that Holi is one festival, where people tend to forget their grudges and misunderstandings and welcome each other in their lives with warmth and love.
Holi ke rang ka nasha aur suroor hi kucch aur hota hai. Udhta Gulal, bheeni bheeni tesu ki khushbu, gujiya aur kanji ki mehak, teekhi chatpati chaat, masti, thahake, hansna, roothna, manana, gile-shikawe…..sab holi ke rang mein dhul jate hain… click here for translation (copy and enter the text in first box and google will translate for you in your language).
Holi is not only the Elaan of settling Gorgeous Spring, but it is also about new beginings, new relationships, celebrating together as a community. That is the reason, I asked the fellow bloggers to contribute to my HOLI COLLECTIVE and so many people graciously joined my collective. The best part is that all the entries are new, besides mine ;). All the dear creative blogger friends, went out of their way, squeezed in a bit of extra time and created posts, ESPECIALLY, for the Holi Collective.
You will find, tradional mithais, namkeens, drinks and some fusion goodies and thandai infused khana plus basic condiments like chutneys chaat masala, home made mawa and chashni recipes towards the end. This is one treasure of a post to bookmark. Where else will you find so many creative people under one roof, and that too virtually. LOVE YOU ALL – the contributing bloggers and dear readers.
PLEASE SHARE THIS POST WITH 35-40 RECIPES, AS MUCH AS YOU CAN AND HAVE A GOOD & SAFE HOLI!!!!
And no Holi is complete without the legendary Rang Barse Song of Silsila, sung by Amitabh himself.
---
Mithai Recipes
Ruchi Dua's Motichoor ke Laddoo
2. Sonal's (my) Gujiya
3. Meena Kumar's traditional Sandesh or Kacha Gola
4. Shaheen Ali's Mawa Kachori
5. Binjal's Puran Poli / Vedmi
6. Tanvee Sharda's Besan Barfi
7. Anjana's Meethi Sewayi Parfait
8. Naina Puthran's Holige Pooran Poli/ Obbattu
9. Aruna's Shahi Tukda
10. Anupama's Broken Wheat Sweet Sanja Sheera with Jaggery 
11. Jayashree's ABC Halwa
---
Namkeen Recipes
12. Shailja's Gujju Kachori
13. Swati Neeraj Goyal's Dahi ki Gujiya
14. Subhasmita's Dahi Bara Aloo Dum
15. Sapana's Matar Kachori
16. Apsara's Millet Chivda
17. Anjana ji's Masala Mathri
18. Sonal's (mine) Dahi Pakodi
19. Priti Shetty's Ragda Pattice
20. Uma Raghuram's Manchurian Burger
Pooja's Mini Snack Calzones
---
Thandai Inspired Recipes
21. Pinkz' Thandai Mousse
22. Alka Jena's Thandai Phirni
23. Rupal Patel's Thandai Shahi Tukda
24. Preethi's Thandai Nectarine Mini Galettes
25. Waagmi Soni's Black Cherry Glazed Thandai Burfi
---
Fusion Recipes
26. Sandhya's Butter scotch Toffee Sheera
27. Suchitra Kamath Bhatt's Stained Glass Cake
28. Anshu Wadhwa Pande's Vanilla Pomegranate Cake with Pomegranate Syrup
---
Drinks
29. Sonal's (my) Kanji
30. Smruti's Gulkand Paan Shots
31. Sathya's Masala Buttermilk
32. Sonal's (my) Jal Jeera
Shakunthala's Watermelon Slush
Recipe – Take 3 cups of de-seded watermelon, 1 lime, 1 cup of ice, 1 tbsp of sugar & 1 tbsp of water. Blend it  up and enjoy a refreshing drink on Holi.
---
 Condiments
33. Khatti Meethi Quick Chutney
34. Chaat Masala
35. Home Made Khoya/Mawa by Ruchi
36. Chashni Recipe for 1 string & 2 string by Ruchi
37. Hari Dhaniya ki Chutney
Hope you will try some of these recipes and save and give your valuable feedbacks 🙂
Happy Holi once again!
Sonal