Home-Style Minestrone Soup in Pressure Cooker & Garlic Cheese Disks
As an Amazon Associate and member of other affiliate programs, I earn from qualifying purchases.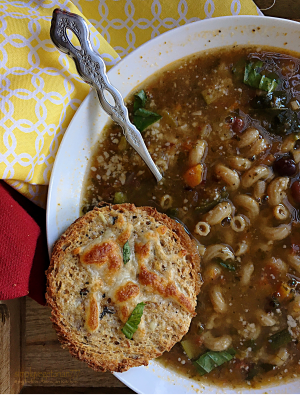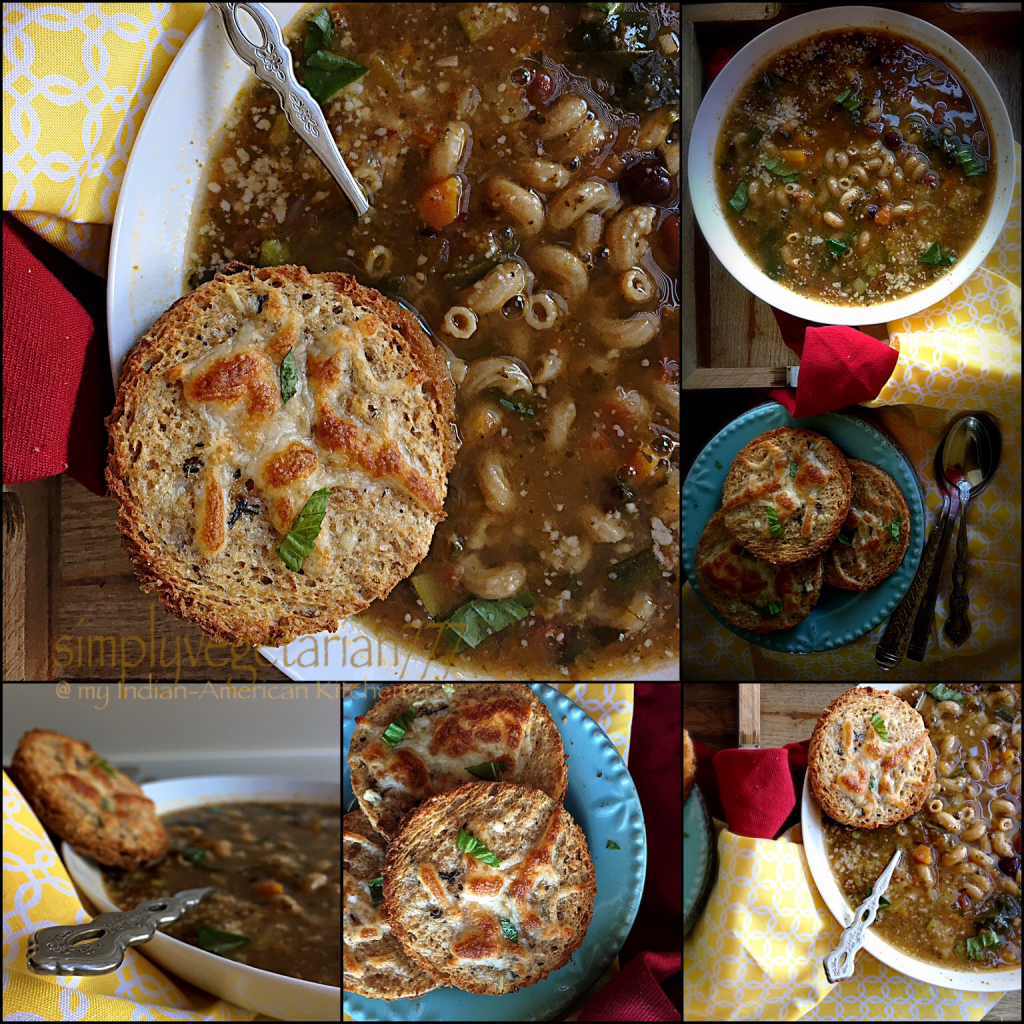 My kids are Italian food crazy kids. Now many of you might be thinking, well whose aren't! I swear that I haven't met any family yet, whose kids do not eat Italian food, at least in America. My oldest, Aanya loves her Italian soups and stews and Myraa, my younger one, can hog on pasta for the whole day. I often use whole wheat / whole grain pasta, which the kids donot mind at all!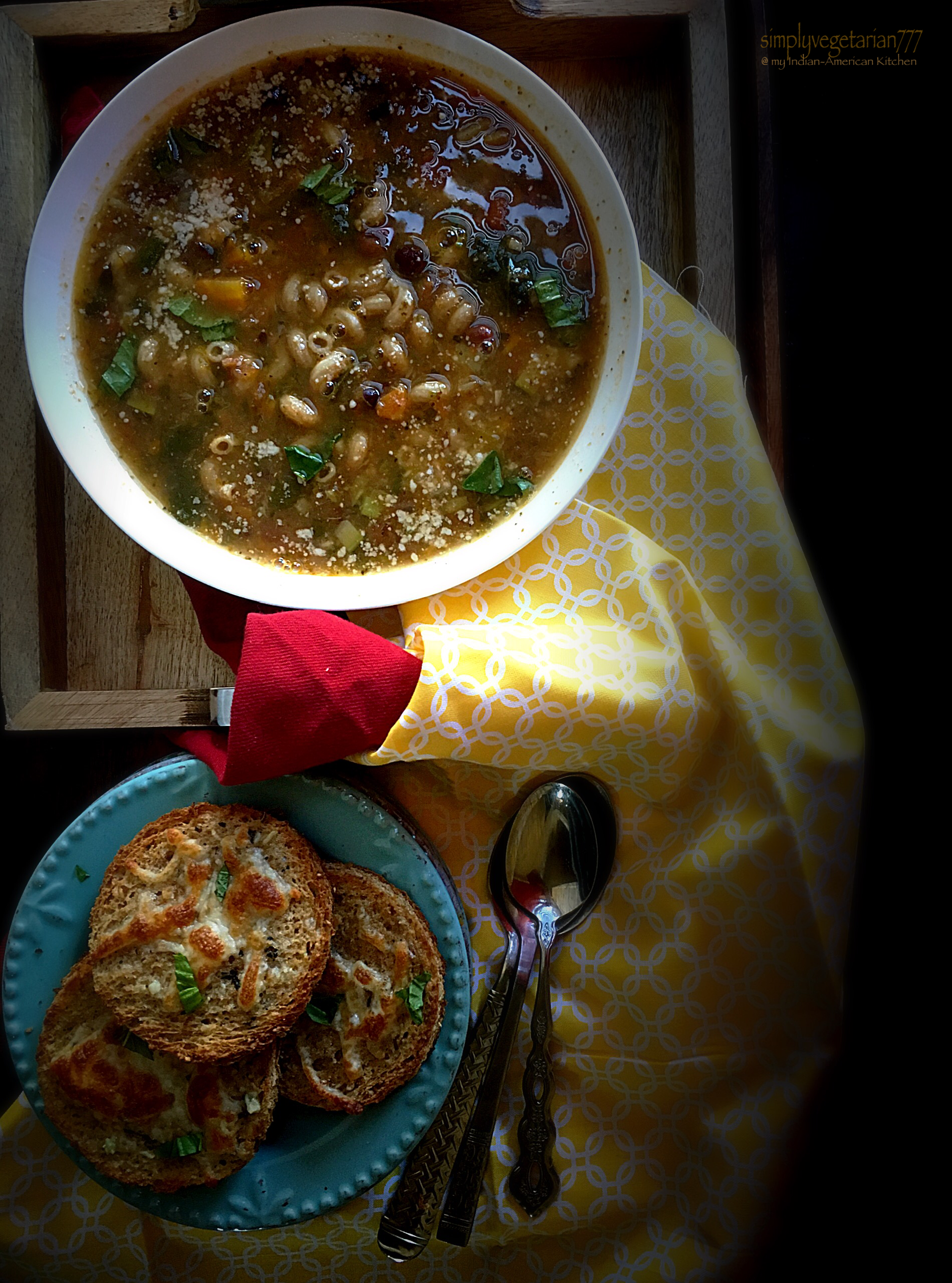 Minestrone hits the right cord for a complete Italian meal. It is a stew consistency and filled with the goodness of beans and vegetables and enriched with pasta for some rich carbs. Garnished with some Parmesan, it is a much desirable dish, especially on a cold cold day.
The girls loved the soup and went for the seconds.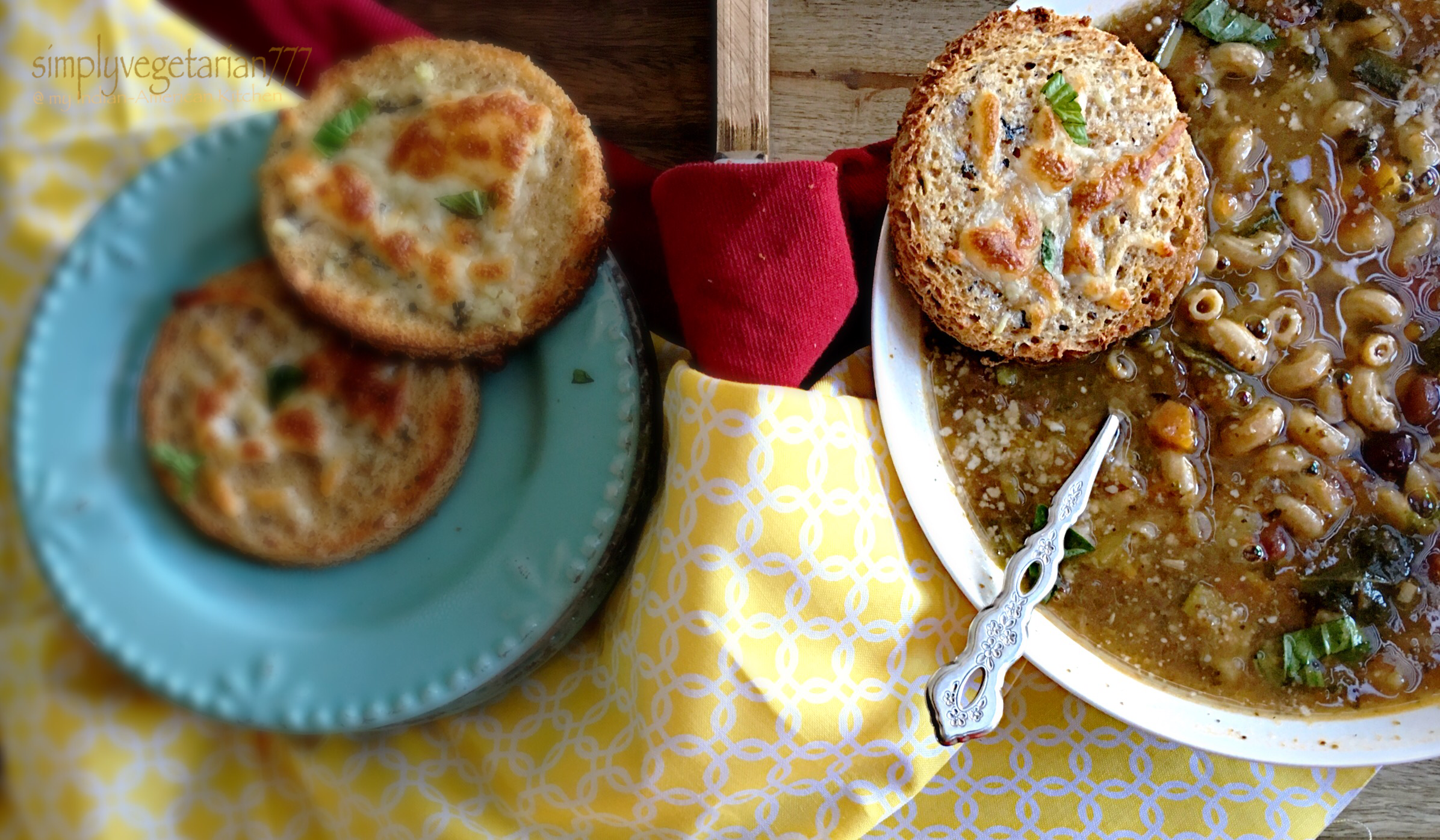 If you are thinking about the pressure cooker part, then my dear friends, this year is going to to be pretty interesting where I will be creating a lot of recipes in pressure cooker, making the meal quick and easy, time friendly and energy friendly. I will soon be essaying a post on the pressure cookers and its use and care. If you don't own a pressure cooker, I suggest you to buy one. It not only fastens the cooking, it is multi purpose and no compromise on the taste.
This is how I made it! Read notes at the bottom of the recipe for more choices and tips.
Home-Style Minestrone Soup in Pressure Cooker
Servings: 4-6
Difficulty: easy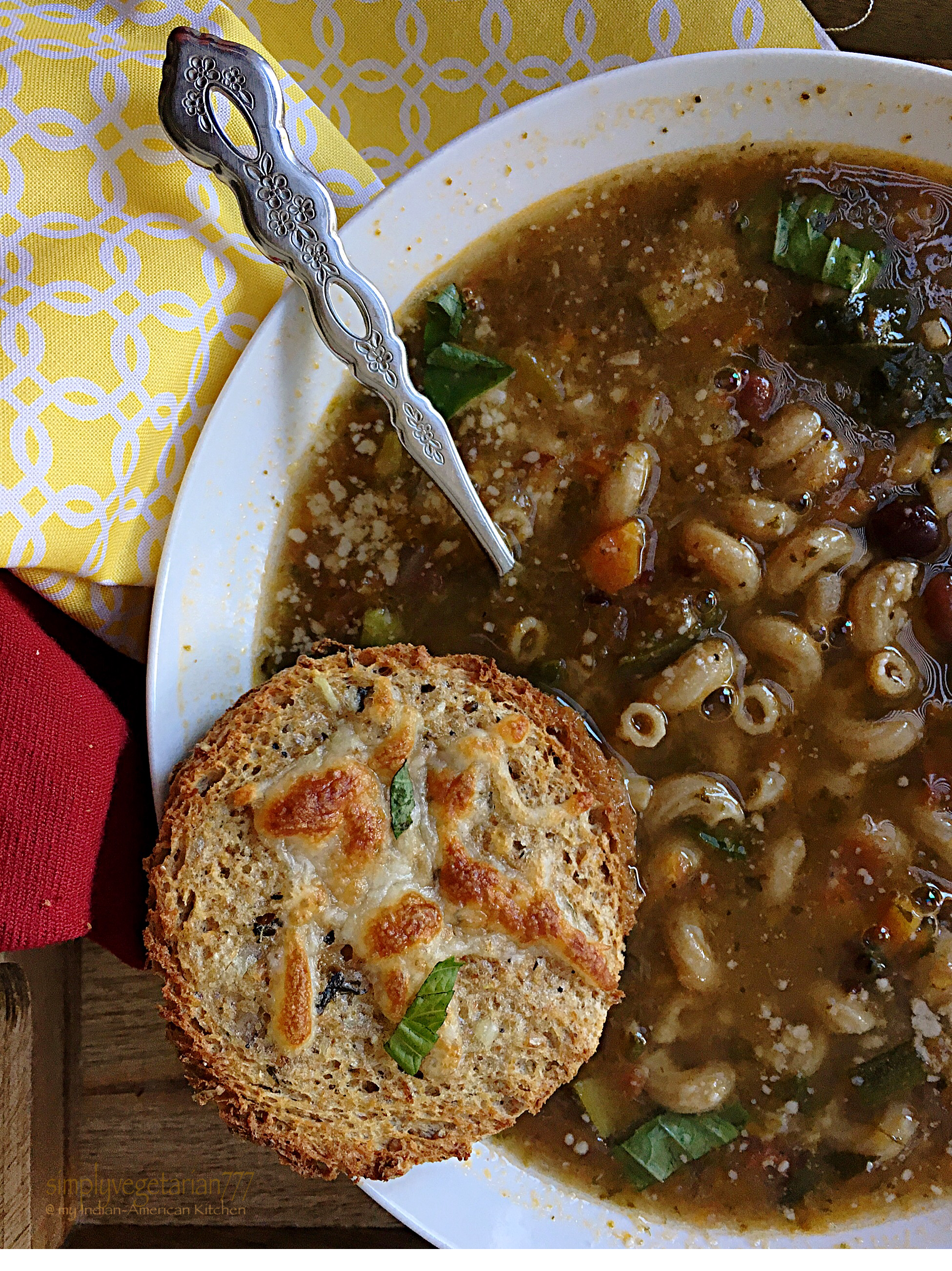 Kitchen Equipments Required
Chopping board, knife, pressure cooker with its lid and weight/whistle, stirring spoon, hand blender or regular blender.
Ingredients
Onions – 1/2 cup, finely chopped
Garlic – 3 big cloves, finely chopped
Carrots – 1/2 cup, finely chopped
Zuchhini – 1 small, finely chopped
Tomatoes – 3 large or 400 gms, finely chopped
Spinach – handful, roughly chopped
Red Kidney Beans & Canellini Beans – 1 cup mixed and boiled soft. You may use just 1 kind of beans too. Garbanzo or chickpeas can be used as well. I used canned beans and washed them well under running water for about 1 minute.
Water – 4&1/2 cups. You may use vegetable low sodium Broth also.
Macaroni Pasta – 2 cups, cooked al Dante
Parmesan Cheese – for garnish, optional
Oils & Spices
Olive Oil – 1&1/2 tbsp
Basil –  8 to 10 leaves fresh or 1 tsp dry
Oregano – 1 tsp, dry
Black pepper, freshly crushed – 1/2 tsp
Salt – 1&1/2 tsp or to taste
Method
Heat olive oil in the pressure cooker. Lower the flame and then add chopped garlic and onions. Sauté till onions are slightly soft and translucent, about 3 minutes.
Add chopped carrots and sauté for 2 minutes.
Now add zucchini, tomatoes, Spinach, fresh basil leaves, oregano, salt, pepper and beans along with water in the pressure cooker.
Give it a stir. Put the lid of the pressure cooker on. Close it and put the weight/whistle of the pressure cooker.
Increase the flame to high. Cook for 2 whistles on the high flame. Switch off the gas stove. Set the pressure cooker aside.
Let the pressure of the cooker release on its own. Now open the pressure cooker. Let sit for 5 minutes.
Take the hand blender and blitz through the soup/stew 4 times. Make sure to stand behind so that te hot soup doesn't spill on you. Be careful.
The home style minestrone soup in pressure cooker is ready to be served.
Serving Suggestion
Take a soup bowl. Add 1/3 cup of al Dante pasta to it first in the center.
Now ladle about 2/3 to 1 cup of stew to the bowl. Garnish with some torn basil leaves and Parmesan cheese if desired.
Serve it warm with Garlic Cheese Discs on the Side.
Notes
Keep the size of all the chopped vegetables same.
You may add squash, broad green beans and peas also, if required.
Always cook pasta al Dante, which means slightly uncooked. If you will boil pasta to mush consistency, then it will become texture less with soup under more heat.
Always add pasta towards the end in the serving bowl. If you will add all the cooked pasta to the soup, it will absorb all of the soup and it won't be soup anymore but a messy pasta dish, which still will be tasty but not appealing. 🙂
To make it restaurant style, add 1/2 cup of tomato purée also while cooking and adjust the salt etc.
If you do not want to use the pressure cooker, make it in a pan or even slow cooker or crockpot. Adjust the water, spices and time accordingly. For open pan, you need more water (about 6 cups). For crock pot and slow cooker, you need less water ( about 3 cups).
You may make batches and freeze this soup.
It is filling and really nutritious as is with out the addition of pasta and makes an excellent choice for weight watchers and diabetics.
Most of the time, the pastas and stews/soups  are accompanied with garlic bread sticks or garlic knots or some kind of artisan bread on the side, though it is not necessary. But we live in a carb-heavy nation, so even if the restaurants do not serve it, people often end up asking for a bread on the side. To cut the boredom down of the regular breads served, I made it fun for the kids by shaping them as discs and used healthier bread to make it good-carb laden :D.

Check out how to Bake super easy and utterly delicious Garlic Cheese Discs !
<
p style="text-align: left;">
Garlic Cheese Discs
Servings: 4
Difficulty: easy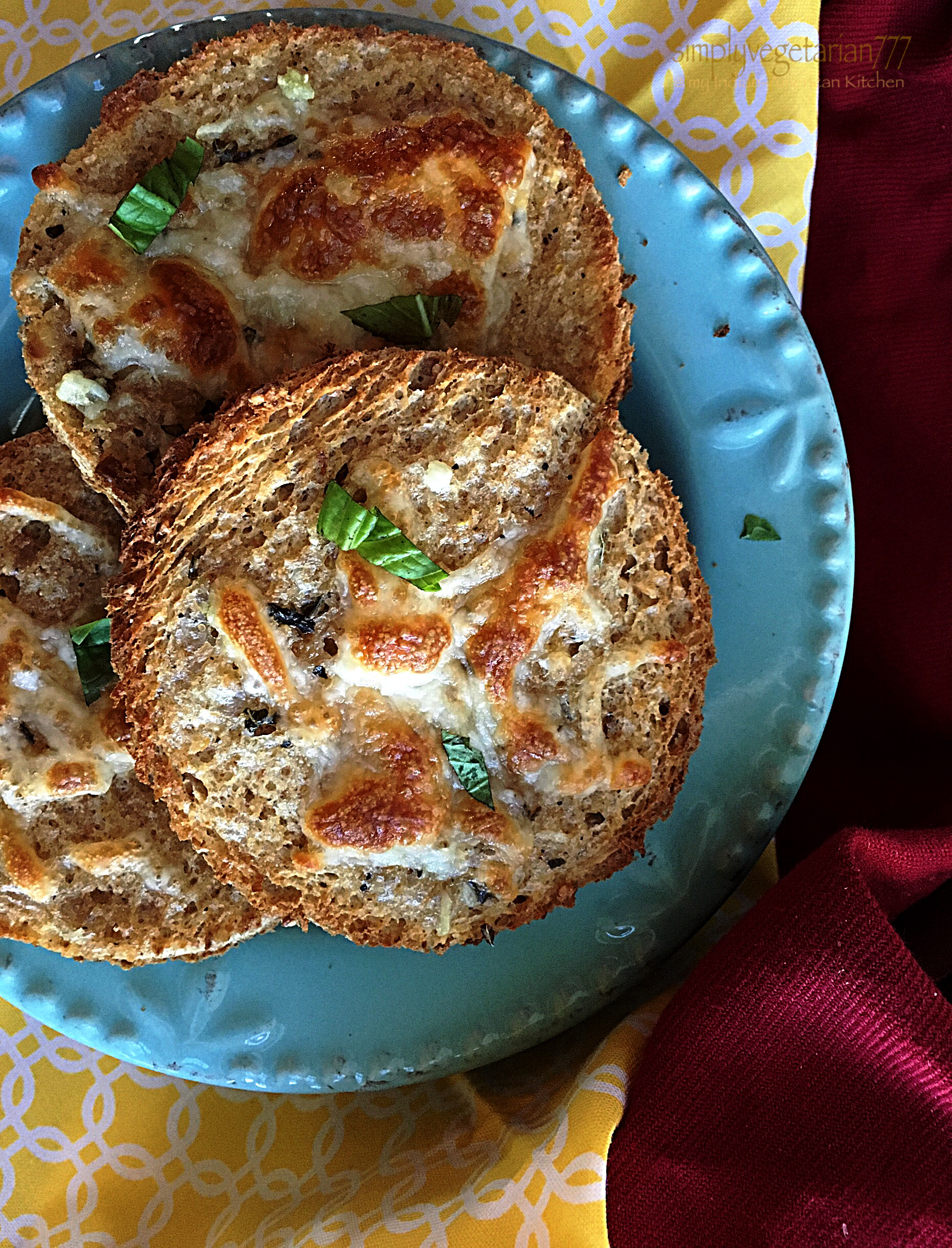 Kitchen Equipments Required
a microwave safe bowl, a pastry brush or butter knife, a 3 inch cookie cutter or use a sharp edges bowl to cut discs, baking tray, oven, chopping board.
Ingredients
Bread Slices – 8 to 10. I used whole grain. You may use any kind that is handy.
Butter – 1&1/2 tbsp
Garlic cloves – 2 big, minced or grated fine
Basil – a pinch, dry
Black pepper – a pinch
Salt – a pinch
Mozarella Cheese – 2 tbsp, shredded
Method
Preheat the oven at 400*F / 190*C.
Take a microwave safe bowl. Add butter, minced garlic, salt, pepper and dry basil to butter. Microwave it covered for 10-15 seconds just to loosen it up. Set aside.
Keep one Bread slice on chopping board. Cut out a circle with the help of a cookie cutter of bowl.
Spread about 1/4 tsp or more butter mix on the slice. Sprinkle with some mozzarella and set on the baking tray.
Finish the other bread slices like wise.
Bake it in the oven for 7-9 minutes till golden brown, on middle shelf of the oven. If your oven is small or OTG, use grill option and grill till slightly golden on the edges and the top.
Delicious Garlic Cheese Discs are ready to be served.
Notes –
Please DO NOT TRASH the left over bread sides. Leave them out on the counter in a tray and let them air dry or put them in cooling oven. Once dried, crush them and store. Use as bread crumbs when and as required.
These are excellent as is as a starter or finger food for game nights or get togethers. You may shape these as you want!
Sharing a complete fulfilling meal from my Indian American Kitchen to yours! Enjoy a hearty meal, any weekday or the weekend supper. Make it as a meal or separate! It will not fail to surprise you with warmth and heartiness.
Loads of Love!
Sonal