Hot Chocolate Classic Recipe
As an Amazon Associate and member of other affiliate programs, I earn from qualifying purchases.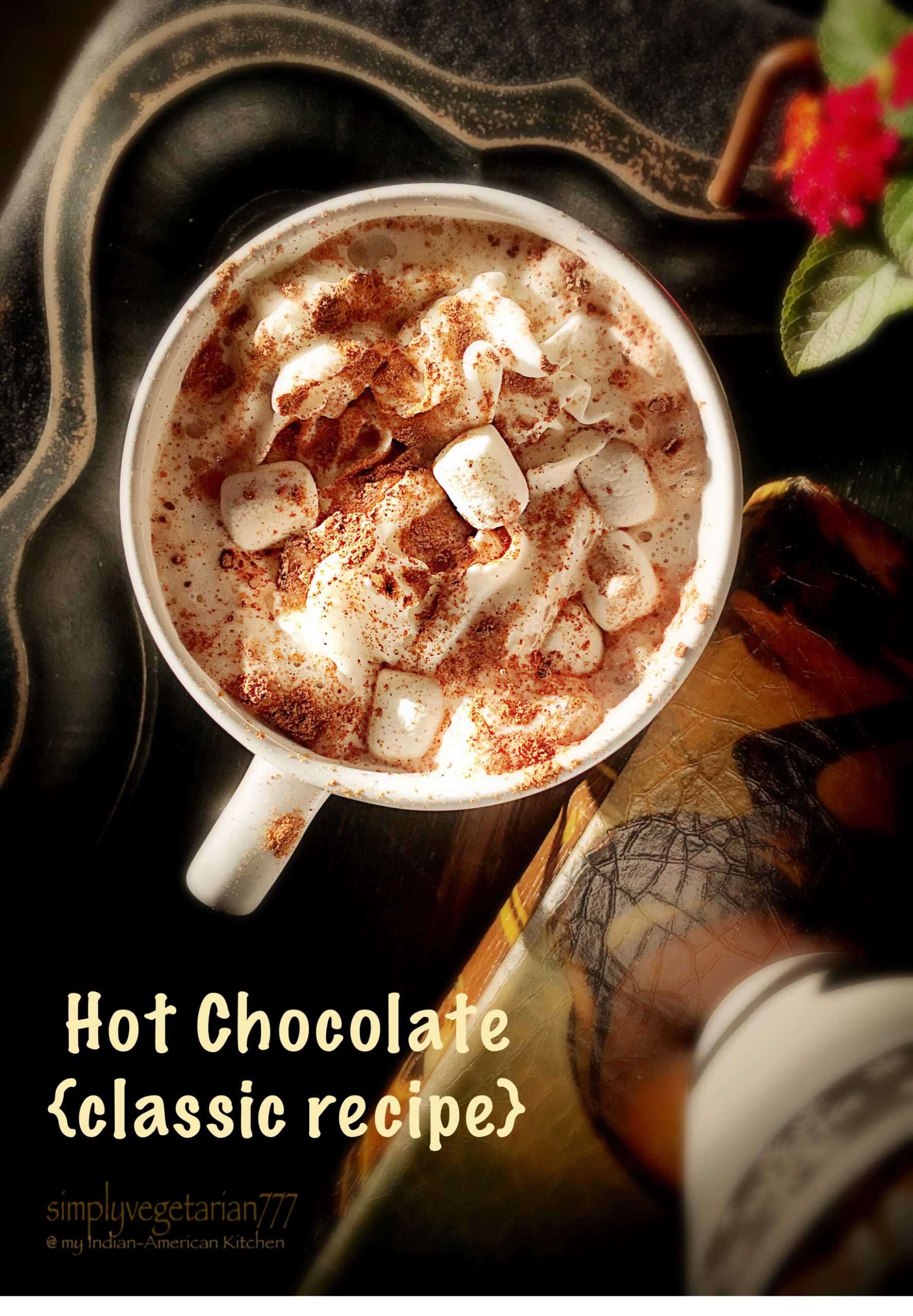 Hot Chocolate Classic Recipe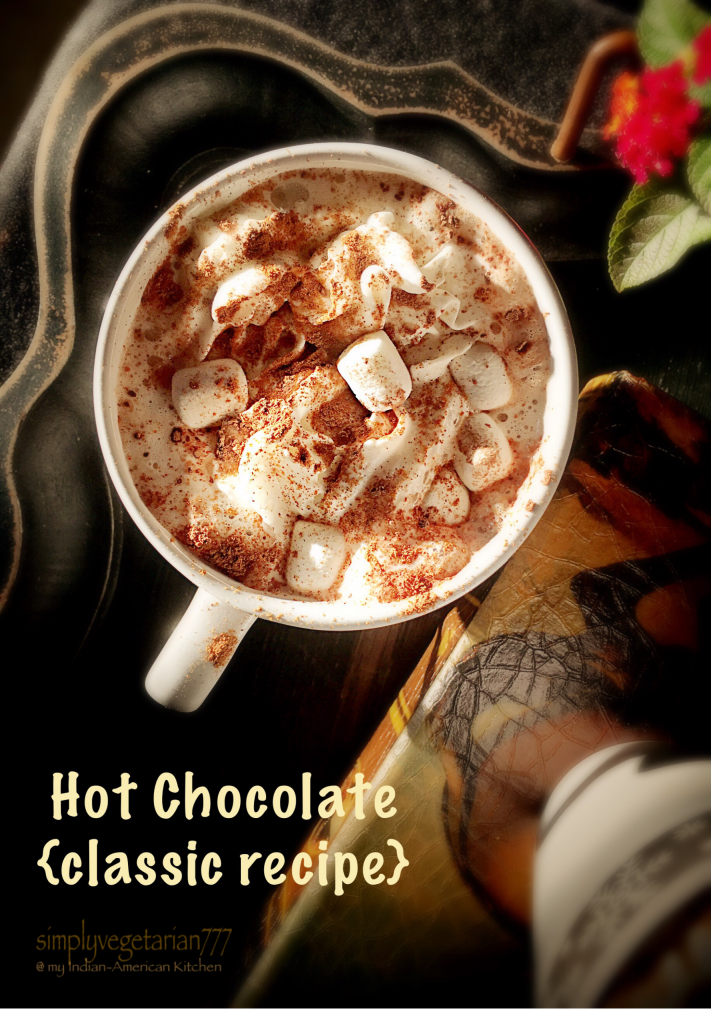 Hot Chocolate Classic Recipe is a simple, easy and elegant recipe that too for keepsakes, bookmarked and scribbled in your recipe diary, saved forever.
My girls love their Hot Chocolate. If they had their every wish granted then all their drinks would be Hot Chocolate. :D…
There is this perfect chemistry between cooler temperatures and the Hot Chocolate, topped with whipped cream, sprinkled with coco powder and cinnamon, flavored delicately with Vanilla. The heavenly whiff in the air, while the hot chocolate comes to a rolling boil makes everybody really happy.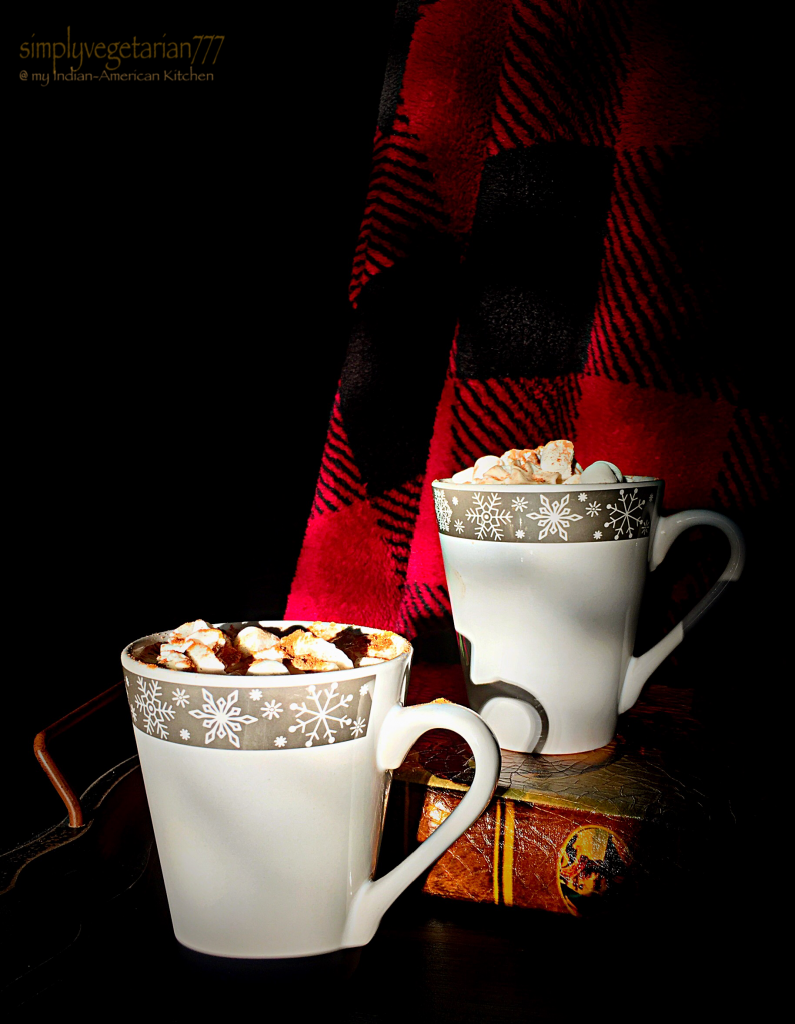 Hot Chocolate is often called as Hot Cocoa or Drinking Chocolate. It is a hot beverage made with either melted chocolate or cocoa powder. Either of the ingredients is mixed with hot water or milk and sweetened with sugar.
As many of you may already know, cocoa or chocolate is native to Latin America. It is believed that the first Chocolate beverage was created by Aztecs in 1400 AD.
The beverage became popular in Europe in 1900s and has undergone many variations since then. Though Hot Chocolate was used for medicinal purposes earlier, now it is consumed as a comfort food. Hot Chocolate is rich and relaxing. [1]
There is no 1 particular recipe that is followed for making Hot Chocolate. Every family has their own recipe. I am calling it Hot Chocolate Classic Recipe, since I have been following it since a long time to make Hot Chocolate at home.
This recipe has never disappointed me and I have always had a bunch of giggling and happy kids, sharing stories and laughter over a good warm cup of Hot Chocolate.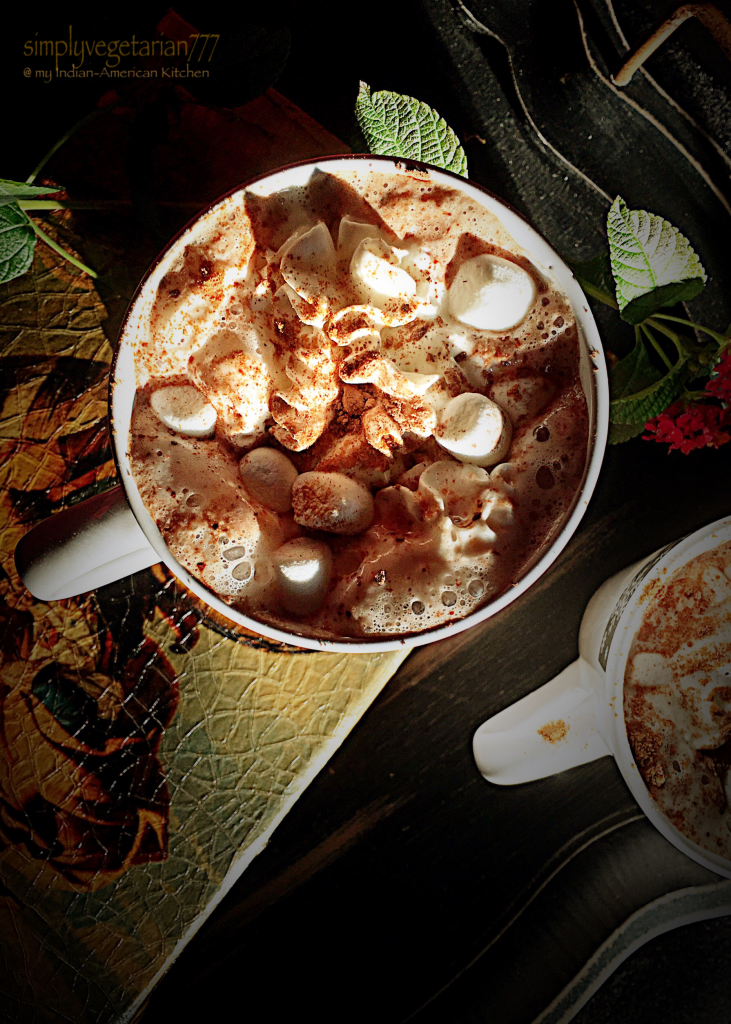 Some other interesting drinks from my blog are – Mathura ki Lassi , Pear & Apple Jaljeera , Cardamom Tea , Pinacolada Mocktail and more.
This is how you make Hot Chocolate Classic Recipe.
Hot Chocolate Classic Recipe
Hot Chocolate or Hot Cocoa
Ingredients
Milk - 2&1/2 cups.

Cocoa powder

unsweetened - 1 tbsp

Vanilla essence - 1/2 tsp

Sugar - 1 tbsp or to taste

Cinnamon powder - a fat pinch

Garnish - Whipped cream

cinnamon powder, cocoa powder and marshmallows. All of these are optional.
Instructions
Take a heavy bottom pan. Add cocoa powder, milk, cinnamon powder, vanilla essence to it. Stir and mix well with a whisk.

Put it on the heat and bring it to a boil. Keep stirring continously with whisk till it boils, to avoid any burning at the bottom.

Once it reaches a boil, put the heat off and add sugar and mix it well.

Pour the hot chocolate mix in 2 cups.
Garnish (optional) - Add a dollop of whipped cream on top of the hot chocolate. Sprinkle a very small pinch of cinnamon powder and cocoa powder. Add few marshmallows.
Other Options - You may add small cacao nibs or small chocolate chips. Drizzle with some nutella or caramel sauce.
Normally, I do not doll up the Hot Chocolate so much for the kids, it is very rare. Today it was special since it was the first cold day of the winter and then they had their karate class later. So it was totally cool to let the kids enjoy a loaded cup of Hot Chocolate and see their innocent eyes lighten up like Holiday Lights.
Hot Chocolate Classic Recipe is perfect for the Kids' Party and sleepovers. Spike it with some brandy and make it Adults' Friendly! ;).. Make it skinny or make it loaded. Churn it Dairy free and vegan by using Dairy free milk like Almond milk or Soy milk and skip the whipped cream.
Many possibilities and Pleasing Flavors, what more can one ask for? :D..
Bookmark this recipe and I promise that you will not regret it.
Can't make it now? Pin Hot Chocolate Classic Recipe for later!


In my kitchen, you will always DRINK HAPPY & STAY HAPPY !
[1] – Source of Information – wikipedia .