How To Train Your Dragon Vikings Punch
As an Amazon Associate and member of other affiliate programs, I earn from qualifying purchases.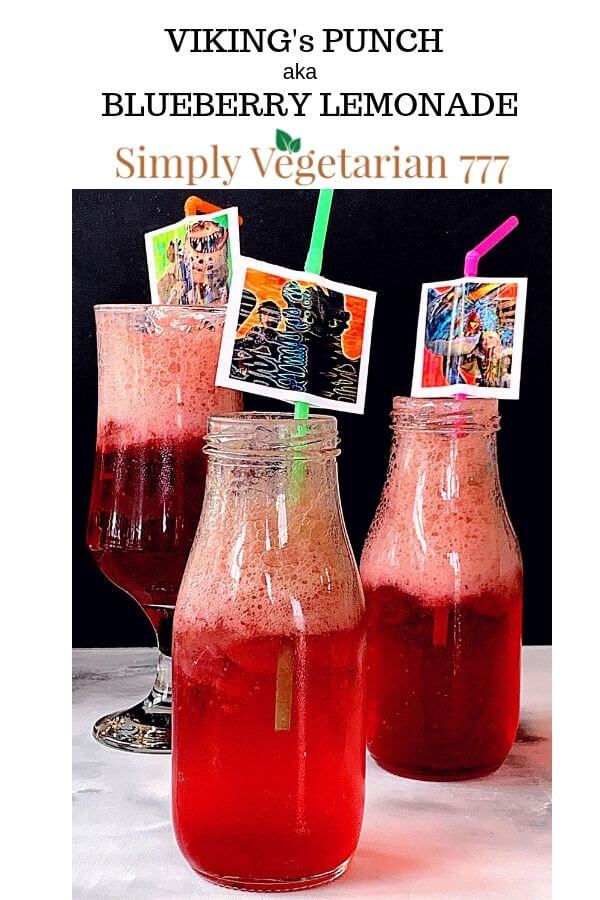 This How to train your dragon Vikings Punch or Blueberry Lemonade is perfect for all your movie needs. My 8 years old is a huge fan of the Dragon Movie series.
We watched the first 2 movies but somehow missed THE HIDDEN WORLD at the movie hall. Since then we have been waiting for the release of HOW TO TRAIN YOUR DRAGON 3 WALMART EXCLUSIVE DVD GIFT SET.
Walmart released How to train your dragon 3 Walmart Exclusive DVD Gift Set on May 21st. I was the first one at my WALMART, to purchase the EXCLUSIVE DVD BLU RAY SET.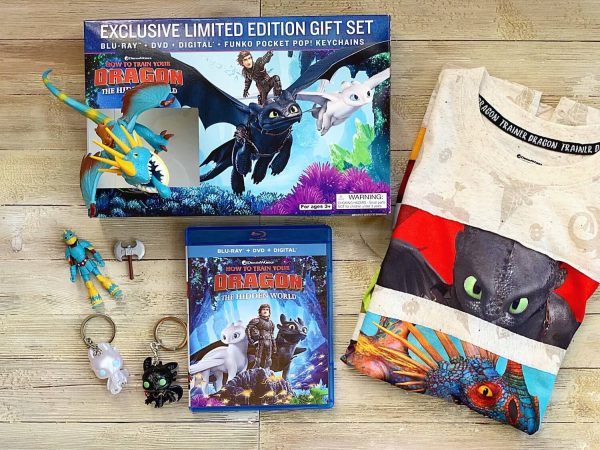 End of the Year School Party with How to Train Your Dragon Vikings Punch
The Dragon Movie Series has been such a treat not only for the kids alone but for the whole family. And The Hidden World Exclusive DVD GIFT SET is released at the right time.
The schools are going to be out for Summer Break this week. I organized END OF THE YEAR SCHOOL PARTY for Myraa.
She invited 2 of her best friends to the party. And boy did they have fun with the theme, toys and the food. It was too cute to watch them giggling while playing & enjoying their VIKINGS PUNCH. Throughout the pretend play time, they actually took their part as VIKINGS seriously.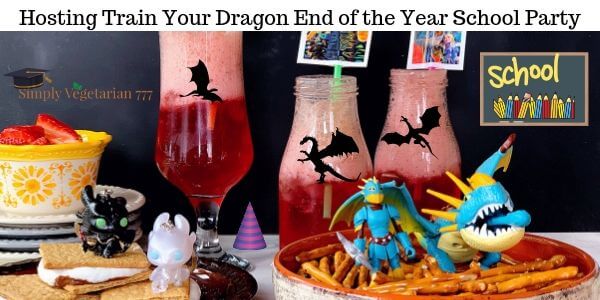 End of the Year School Party Menu + Theme for 8 to 10 year olds
I had kept the MENU simple & staged the Toys creatively. That gave them enough space to be creative with their roles and food.
The 2 Cute Funko Keychains of NIGHTFURY (Toothless) & The LIGHTFURY stole the show. I placed them over the pretend play SMORE'S ROCKS. These smores are so quick to make. Just assemble and microwave.
Myraa's favorite ASTRID & her dragon STORMFLY landed on the LAND OF STICKS created with thin PRETZEL STICKS. And then there were strawberries & blueberries. Girls had a great time making VIKING TOOLS by sticking pretzel sticks through the blueberries and eating like that.
To top it all, I made a special drink – VIKINGS PUNCH. It is a simple Blueberry Lemonade. The RECIPE is given at the bottom in RECIPE CARD. I made special straws for their drinks. Got some Train your Dragon stickers and marked the straws with these stickers from both the side. This way, every girl had her own personalized straw for the punch.
This How to train your dragon Vikings Punch or Blueberry Lemonade is a MUST MAKE since it –
is PRESERVATIVE FREE
has NO ARTIFICIAL COLOR
is a VERY EASY RECIPE
and VERY REFRESHING
Once they were done eating, the girls sat down to watch THE HIDDEN WORLD together, while still chomping on their snacks.
They tried to create a fort with blankets but that didn't work. Then they settled down on the sofa and cuddled while watching.

The Hidden World – How to train your dragon 3 is a MUST WATCH
To tell you the truth when the girls were watching the movie, I watched it with them. And since its release on MAY 21st, I and Myraa have already watched it a few times. It is that good. Not only from the kids' point of view but from a parent's POV, IT IS A MUST WATCH MOVIE.
If you haven't watched it yet, then go grab your own How to Train Your Dragon 3 Walmart Exclusive DVD Gift Set from WALMART. There is a BONUS for your kiddo in the GIFT SET. Guess what? 2 FUNKO KEYCHAINS – Toothless the NightFury and his sweetheart from the 3rd movie – LIGHTFURY.
This is why I am recommending you to watch The Hidden World movie –
They have introduced the cutest and the sweetest new SHE-DRAGON in the movie. She is Bright white in color with shimmer all over. She doesn't have a name since she is from the Hidden World and not trained. But she is known from the LIGHTFURY CLAN. It is a pure joy to watch Toothless the Nightfury romance The Lightfury.
It is adorable to watch these 2 cute dragons together. They fly to the highest heights and chase each other with such playfulness.
The Cinematography and the animation of the movie are very engaging and surreal. Kudos to the makers of the series.
Myraa and her friends loved the fact that finally Hiccup (the Kind Viking King) took the call and freed the dragons. There is a momentary lesson in that thought. Loved the theme of the movie since it revolves around Care & Love for the dear ones, be it pets or your own clan.
The Hidden World is magical. All those colors..is an OMG moment…we all watched it with eyes wide open.
The Meatlug and her Baby is a treat to watch. I think Myraa loves Meatlug the most amongst all the dragons.
And oh oh…do not forget to watch RoughNut……she is hilarious once again.
I can go on and on about the movie and keep spilling all the beans here. But I guess I will stop here and have to let you figure out the rest of it yourself.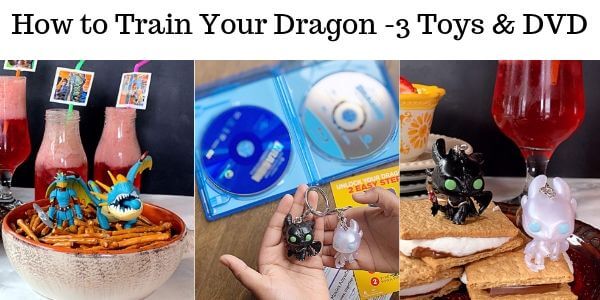 How to train your dragon 3 GIFT IDEAS for School Party or Birthday Party for 8 to 10 year olds
When you are there, do not forget to pick up the T-SHIRT + your child's favorite toy set from Walmart.
You can find the T-shirt in the Boys' Clothing section. My daughter loved it so I picked one for her. You can find the toys in the Toys section. Pick your child's favorite Character with his/her dragon. They will be thrilled.
I think this How to Train Your Dragon 3 Walmart Exclusive DVD Gift Set can be a great gift for kids between 8 to 10 year old. The Exclusive GIFT SET has a regular DVD and BLU RAY as well. It comes with 2 FUNKO Keychains. My daughter was ecstatic to find the keychains. she loves to hang these on her school bags or shopping bags. Combine the DVD SET with a T-shirt or a Toy, you will make the birthday kid super happy.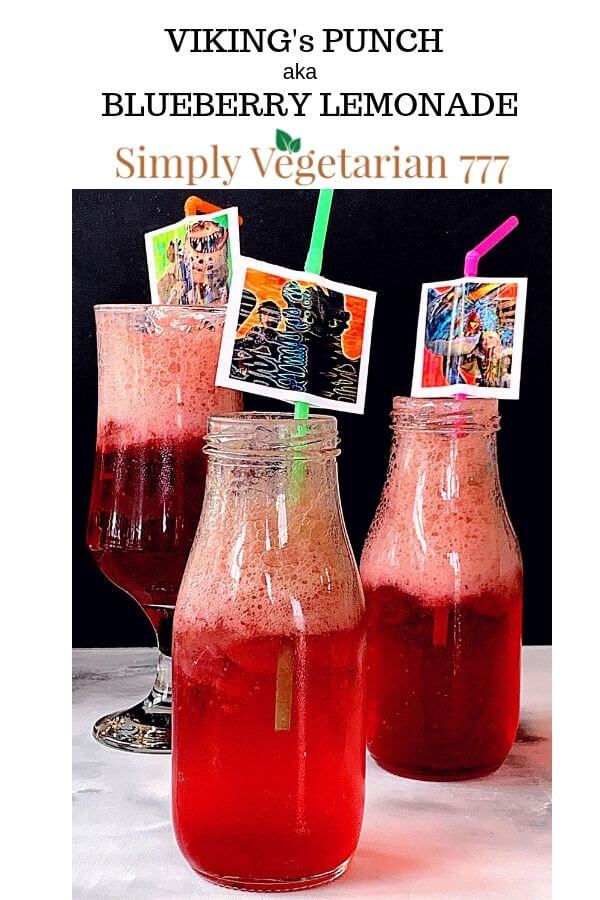 How to make VIKINGS PUNCH or BLUEBERRY LEMONADE at home?
Blueberry Lemonade or Vikings Punch
Host a Train your Dragon party for your kids and make this VIKINGS PUNCH to keep the theme fun.
Equipment
Heavy Bottom Pan, Measuring Cups, Stirring Spoon, Kitchen Strainer, Blender
Ingredients
1

cup

sugar

1

cup

water

1&1/2

cup

Blueberries

washed

1

cup

Lemon juice

freshly squeezed

Club Soda

low sodium
Instructions
Place Sugar and Water in the heavy bottom pot. Put it on the medium high heat. Stir in between. When sugar is completely dissolved in water, switch it off. We are not making a thick syrup.

Meanwhile wash the blueberries under cold running water. Then put the blueberries and lemon juice in a blender and blend till smooth.

Now strain this blueberry and lemon juice mixture through a strainer and add it to the hot sugar syrup. Mix it well.

Close the lid of the pot. Let it stand together till it comes to the room temperature. This is your BLUEBERRY LEMONADE CONCENTRATE. Once cooled, you can store it in an air tight jar and refrigerate it. Use it as desired.
How to make Blueberry Lemonade from Concentrate
Take an 8 ounce glass or jar. Fill a bit of it with ICE CUBES. Now pour about 1/4 cup of Blueberry syrup/concentrate to it. Fill the remaining glass with LOW SODIUM CLUB SODA. You may fill it up with regular cold water as well. But club soda makes it fancier and fizzy which kids really like.
Notes
You may use this concentrate to make popsicles or ice cone. Also you may use any other berry of your choice.
I am sure you are going to host a party for your kid with the VIKINGS & DRAGONS theme and will make this VIKING PUNCH for them. If you do, then share your feedback under comments.
Thanks,
Sonal
Disclosure – This post is part of a social shopper marketing insight campaign with Pollinate Media Group® and Universal Pictures Home Entertainment, but all my opinions are my own. #pmedia #TrainYourDragonAtWalmart http://my-disclosur.es/OBsstV