Ice-cream Falooda
As an Amazon Associate and member of other affiliate programs, I earn from qualifying purchases.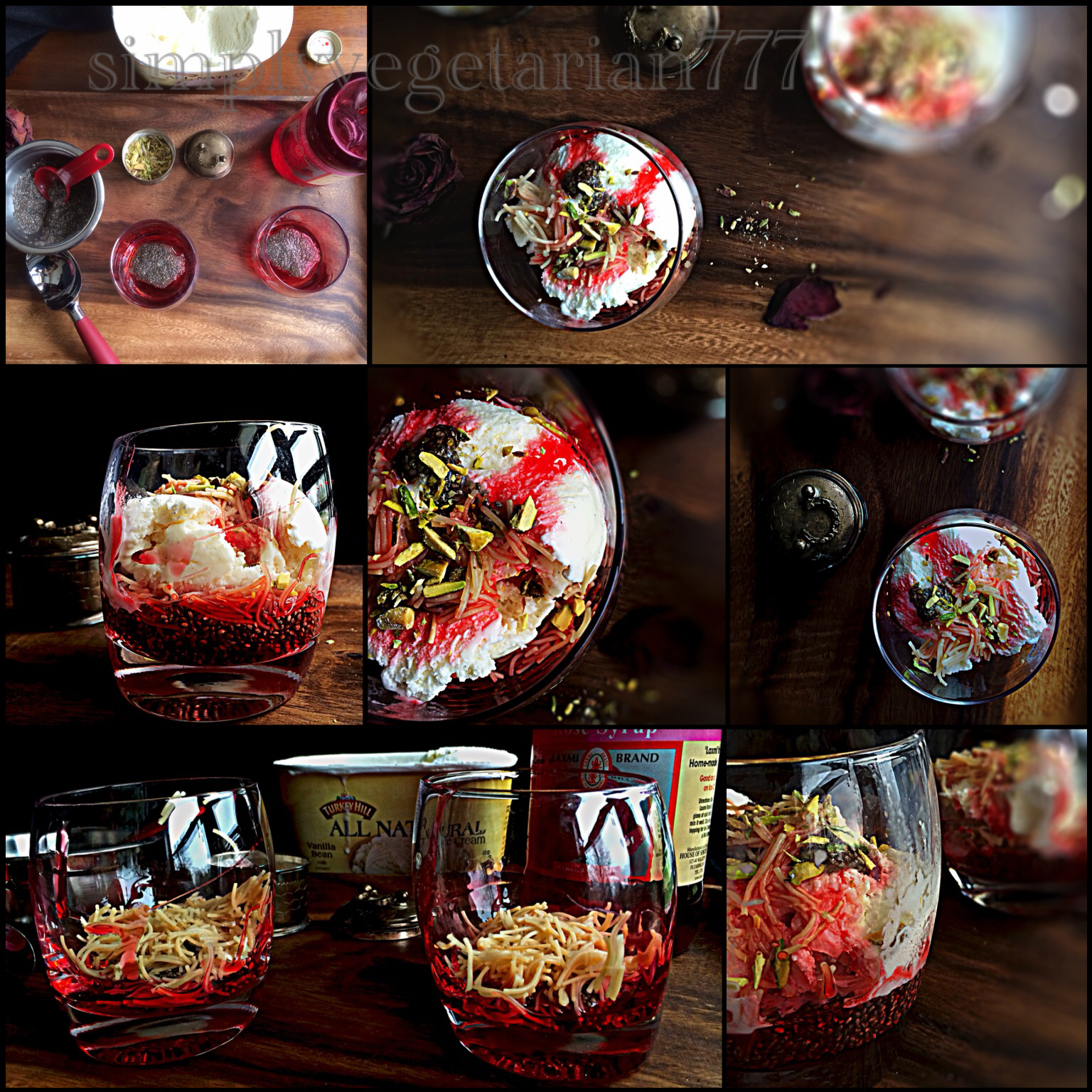 What do I say about this cold concoction that is super fun, gorgeous, cooling, rich, decandent and what not!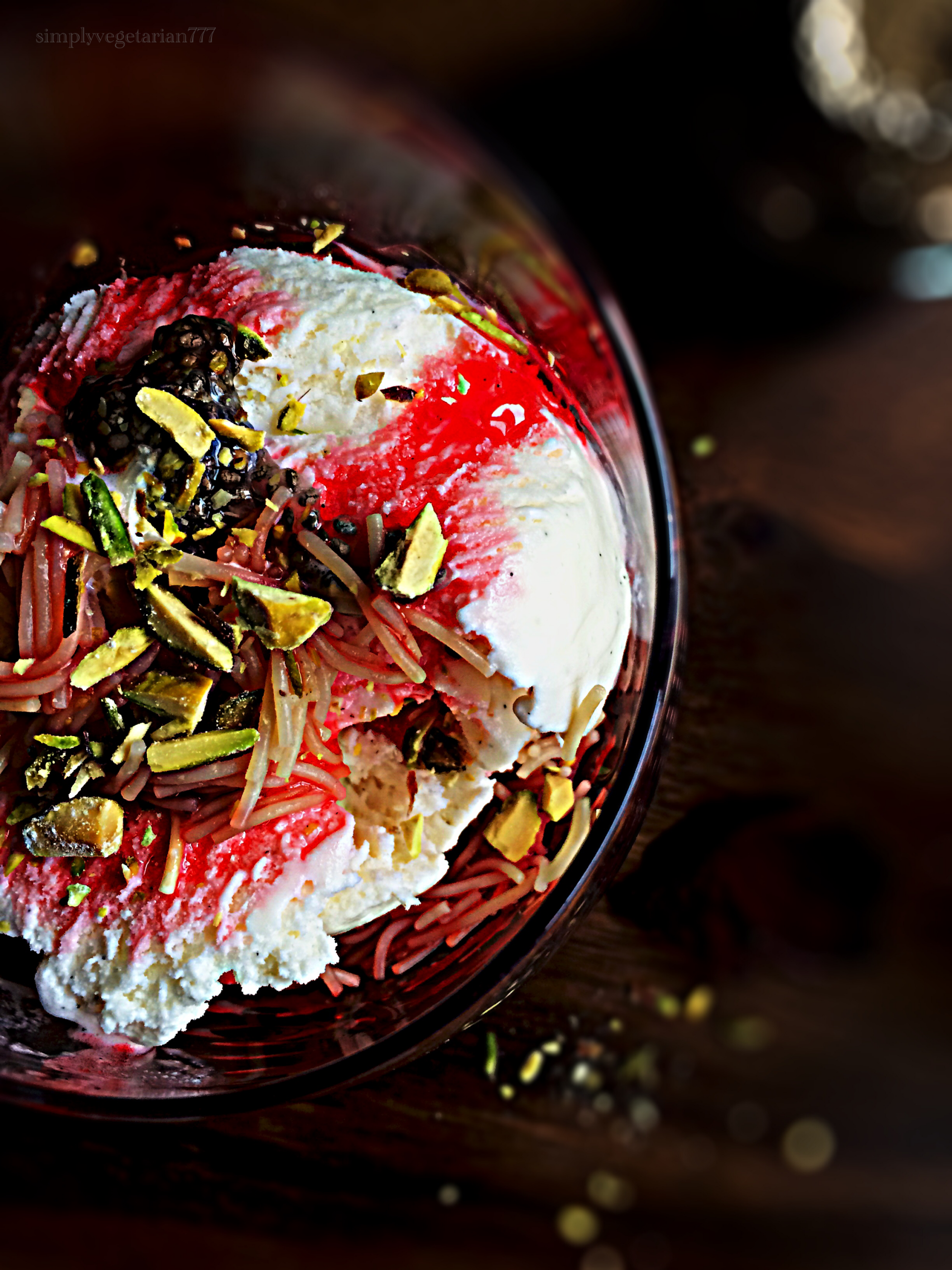 Falooda is a version of persian dessert known as faloodeh and is believed to have been brought to India during the Mughal period.
It is a layered desert which is an amalgam of Rose syrup, Chia seeds (sabja seeds), vermicelli made with arrowroot flour traditionally, milk, kulfi which is an Indian version of icecream, milk and nuts.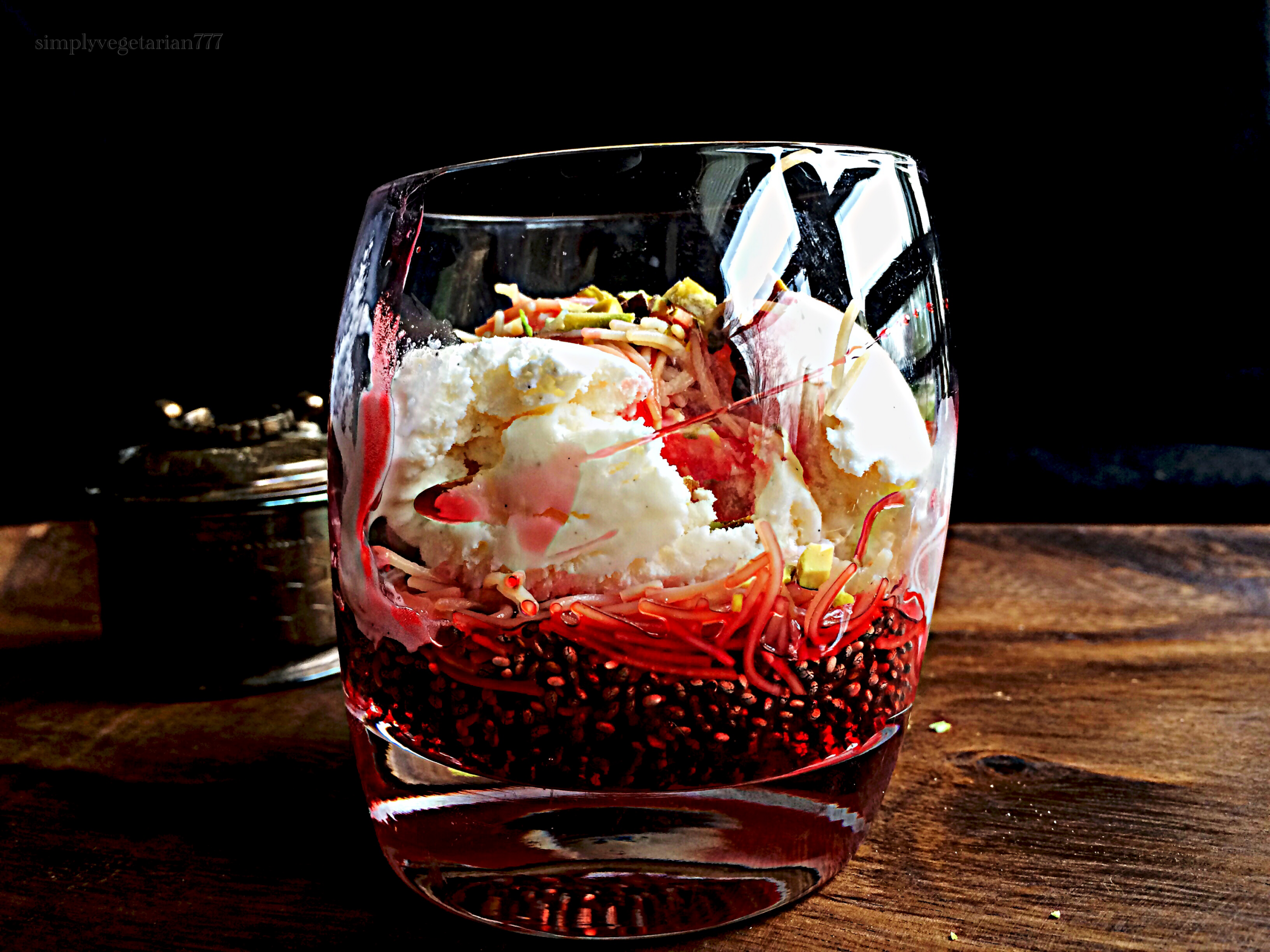 Served in clay mugs called kulhad or clear glasses, it is a beauty to ogle at. Rich red color of rose syrup makes it so desirable. The beautiful aroma of rose syrup brings the life to it. I have used ready made wheat vermicelli to create this Falooda along with Vanilla bean icecream that was free of any additives. So basically, a very doable recipe without much prep. Just assembly required.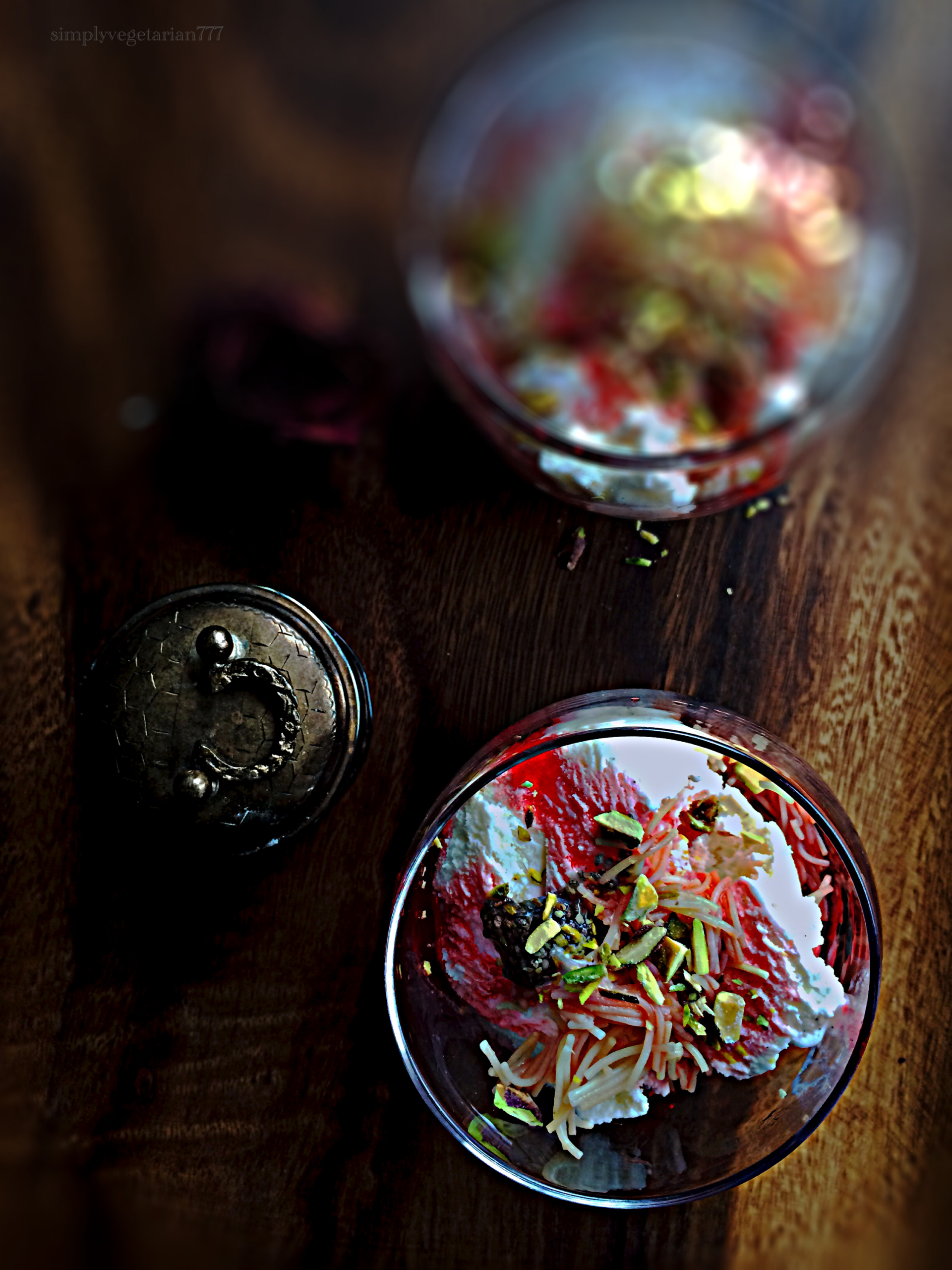 Chia seeds can be sustituted with sabja seeds as available in India. Chia seeds are not only rich in protein and fiber but also have cooling properties to soothe the scorching heat of the summers. These are the latest super food in trend, good for diabetes and weight watchers and a revolution in eggless baking.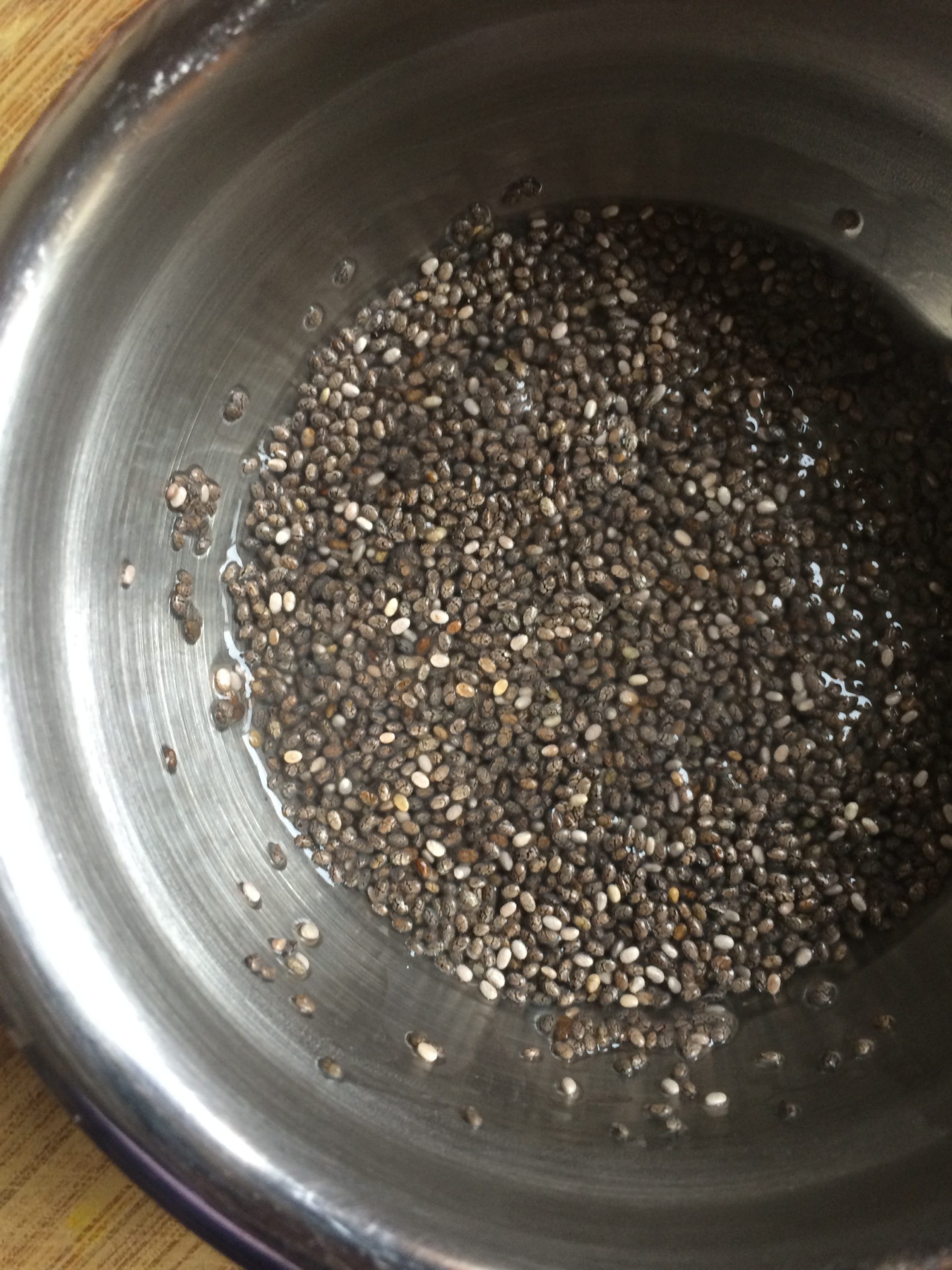 You may completely use kulfi and original falooda or arrowroot noodles and create the magic.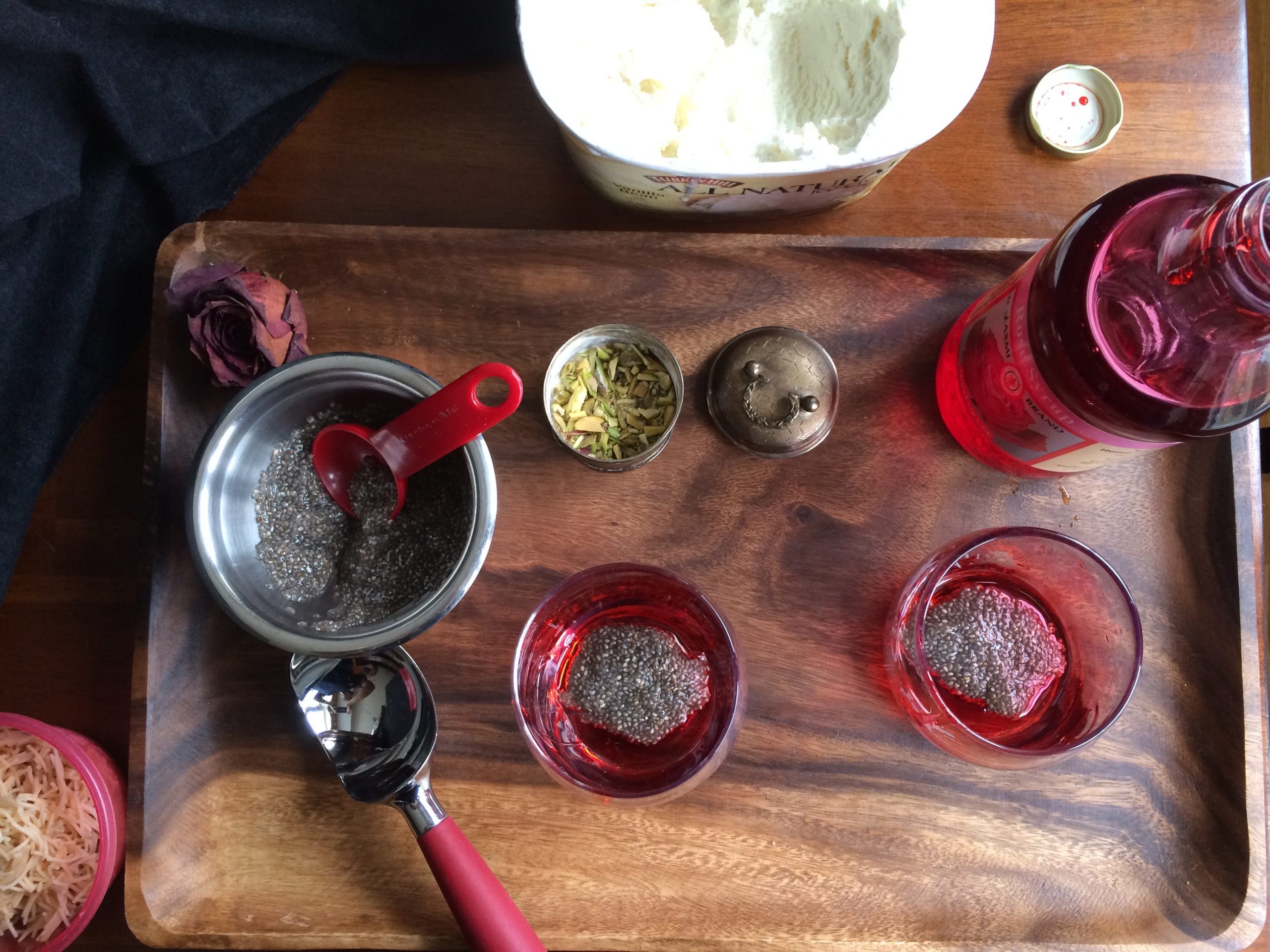 Just start layering and serve to dig in the food heaven. Honestly if there is any food heaven then this is it!! I promise.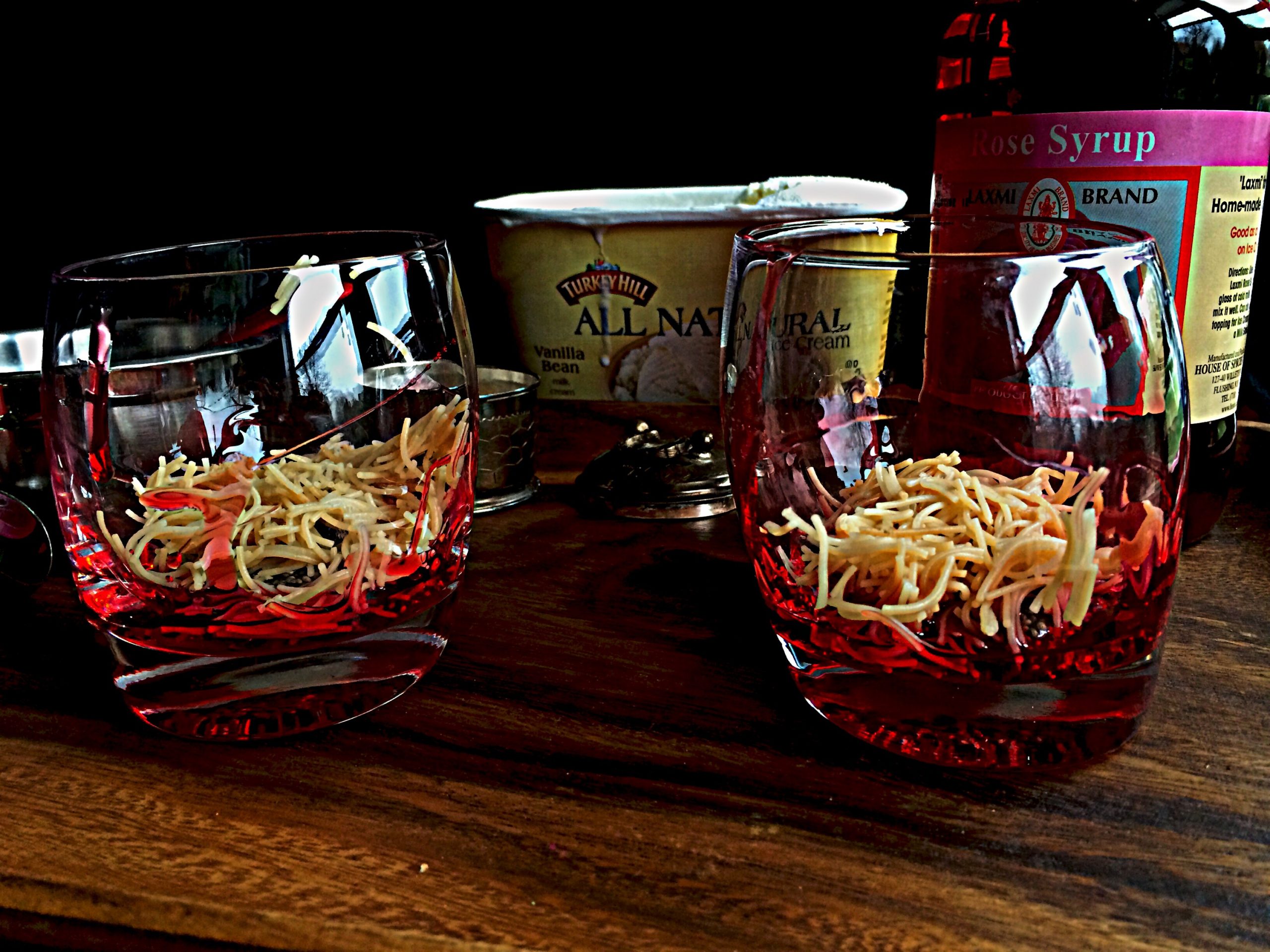 Serves – 4
Kitchen Equipments Required
4 clear glasses of 8 oz capacity, spoons, chopping board, knife
Ingredients
Chia seeds / Sabja seeds – 2 tbsp, soaked in 1/2 cup of warm water for 1/2 and hr.
Vermicelli – 3 tbsp, cooked in water and drained. I used the bambino vermicelli which was already roasted. You may use any variety available.
Rose syrup – 4 tbsp. I used Laxmi brand. It has 12 gms of sugar in 1 serving as compared to 24 gms in Dabur variety. You may use roohafza from dabur.
Vanilla Ice cream – 6 -8 scoops. You may use kulfi instead.
Pistachio slivers – 4 tsp
Method and Assembly
Take the clear glass. Add 1/2 tbsp of rose syrup at the bottom of the glass and kind of swirl it around by rotating the glass in all the directions.

Add 1 tbsp of Chia seed jelly to the glass.

Layer with 1 tbsp of cooked vermicelli on top.

Add 1-2 scoops of vanilla ice cream on top of te vermicelli.

Add some more of chia seeds and vermicelli. Pour 1/2 tbsp of rose syrup more on top. Garnish with 1 tsp of pistachio slivers.

Serve with a spoon.

Dig in and enjoy this gorgeous dessert. I bet this will give competetion to the famous Karol Bagh (Delhi) Falooda wala'a Falooda 😉. Just saying..you know☺️☺️.
My family loved it and I am sure torus will too!!
Have fun!
Sonal