Instant Oats & Rice Mini Uttapam (Savory Pancakes)
As an Amazon Associate and member of other affiliate programs, I earn from qualifying purchases.
Oats are hard to incorporate in my family breakfast most of the time, since everybody has their own pick. One child wanted to eat as a Porridge, another wants to much like a granola for the brekafast, I want  Oats Pongal and my husband wants like a bar. I can't fulfil everybody's demands at the same time.  These savory pancakes or Instant uttapams were loved by everbody at home so much so that the kids have packed these for their school lunch today.
These are perfect as a meal, as a snack and as a school lunch. I have used no pre-made mix from the market. Life is so much more beautiful with easy recipes and "debris-free" food. This is healthy, nutritious and really filling!
This is how I made it.
Instant Oats & Rice Mini Uttapam
Servings: 6
Difficulty: easy
Kitchen Equipments Required
Heavy bottom non stick pan with lid, flat spatula, a mixing bowl, measuring cups, fork, a small bowl with water and a kitchen paper along side, a small bowl with oil and spoon and a kitchen paper along side
Ingredients
Oats Flour – 1&1/4 cups. I used quick cooking oats and milled them in the blender at home.
Rice Flour – 1/2 cup
Yogurt, thick – 1 cup
Water – 1 cup
Baking soda – a small pinch
Salt – 1 tsp
Red chili powder – 1/2 tsp or to taste
Oil – little to grease
Generous Garnish of – finely chopped onions, tomatoes, green chilli, bell peppers and coriander (cilantro) leaves
Method
Refer to the pictogram given at the bottom of the post.
1. Take the mixing bowl. Add both the flours and yogurt and mix. Start adding water, 1/4 cup at a time and mix well with fork, till you reach a pancake kind of drop consistency. It shouldn't be flowing. When you drop, it should stay and not spread. 1 cup water will be adequately used since after resting, it will thicken a bit.
2. Add salt and red chili powder. Cover and set aside for 15 minutes.
3. When ready, add a pinch of baking soda and mix well. Heat the heavy bottom pan and grease it with a kitchen paper lightly. Don't burn your fingers.
4. Lower the heat to medium low. Take 1/3 cup of batter. Pour it on the greased surface. Add the desired amount of vegetable garnish on the top. Cover with the lid. Let it cook on low flame for 2&1/2 to 3 odd minutes. The way to check is that the surface of the uttapam will have no wet surface.
5. Add few drops of oil on the surface. Gently flip the uttapam and let cook from the other side for another 2 minutes.
6. Serve it warm with my quick Coconut & Chana Ginger Chutney!
Coconut & Chana Ginger Chutney
Take equal amount of dry coconut and daliya dal (split bhuna chana). Add small piece of green chili and a small stub of ginger. Add some water and make a thick paste in the blender. Add salt. A delicious refreshing chutney is ready.
Notes
For kids lunch box. Cool it down to room temperature before packing. It is really nutritious for kids with the goodness of oats, vegetables and yogurt. A complete meal.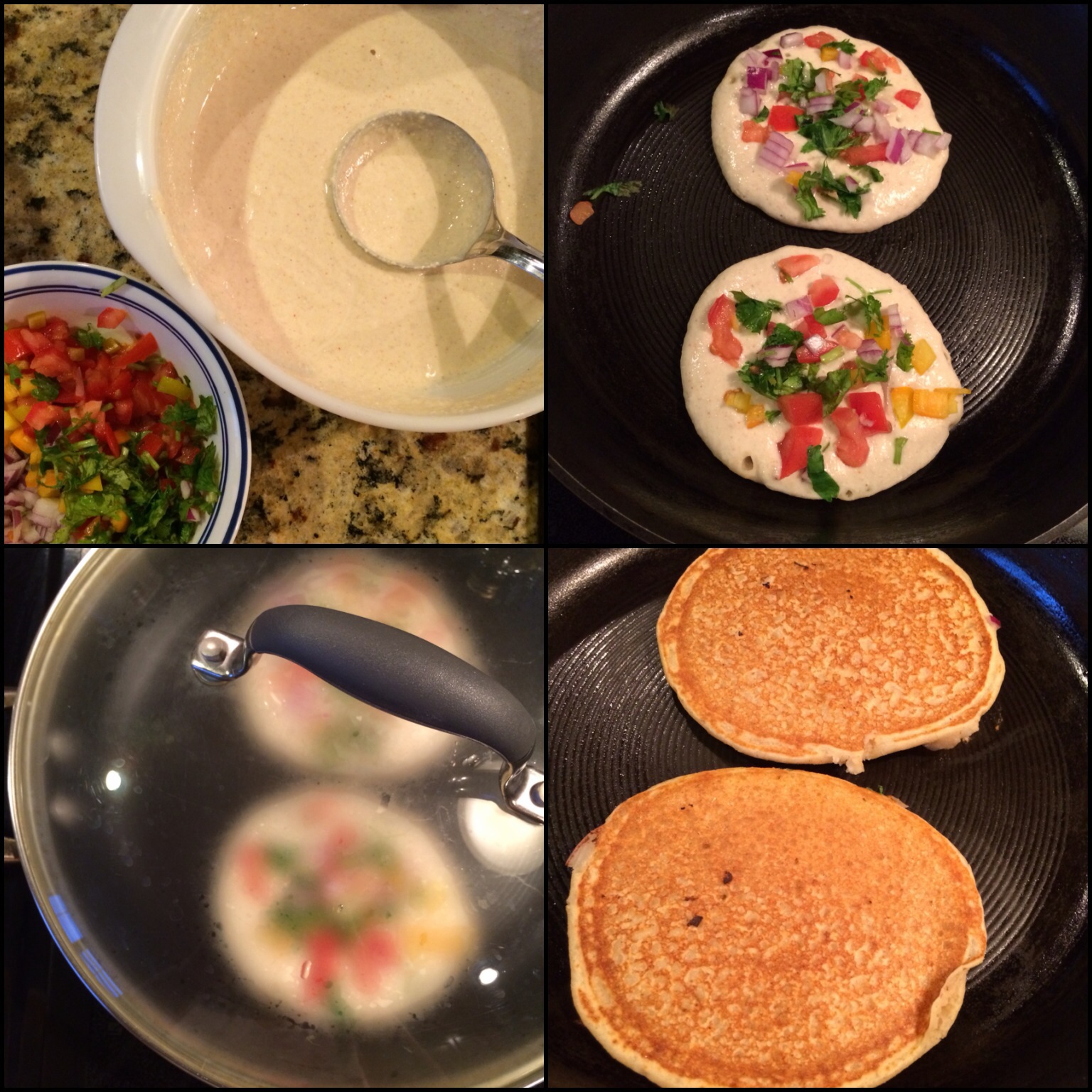 Cook healthy and stay healthy!
Sonal